Coming to theaters and Disney+ on March 5, 2021, is Walt Disney Animation Studios' latest animated feature, Raya and the Last Dragon.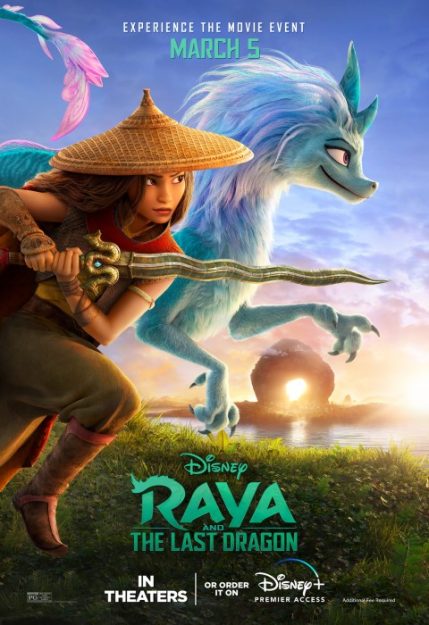 Raya and the Last Dragon introduces us to the fantastical world of Kumandra–a place where humans and dragons co-existed until all the dragons sacrificed themselves to save humanity from a dark plague.  500 years later, an act of betrayal sets the lands of Kumandra against each other and the plague in motion once more.  Raya must now set out to find the last dragon and help her seal the darkness away again, assisted by a ragtag band of misfits she picks up on the way.
Recently WDAS held an Early Press Day for Raya, and filmmakers Don Hall (Director,) Carlos Lopez Estrada (Director,) Osnat Shuru (Producer,) Qui Nguyen (Writer,) and Adele Lim (Writer) joined us by Zoom to give us an overview of the film and its star cast.
The Story
Kumandra, once a peaceful and harmonious world, becomes divided into five lands after the mighty dragon Sisu frees the humans from the Druun plague:  Heart, Talon, Fang, Spine, and Tail.  Raya's father is Chief Benja, of Heart, whose dreams of unifying the lands ends in disaster and a return of the Druun.
We catch up with Raya years later, older, hardened, and determined to traverse the now chaotic and barren Kumandra in search of Sisu.  When she does find her, Sisu agrees to help her rid the world of the Druun once again and the odd couple embark on an adventure that will see them joined with a shrimp boat captain, Boun, a baby con artist, Noi, and the fearsome warrior Tong.  Facing down both external enemies and internal demons, the group must learn to work together and trust one another to have any hope at revitalizing their land and saving their people.
The Cast
Kelly Marie Tran plays Raya, Disney's first Southeast Asian princess.  From the first time the filmmakers heard her as Raya, they knew she brought with her the humanity, humor, and badassness that the character required.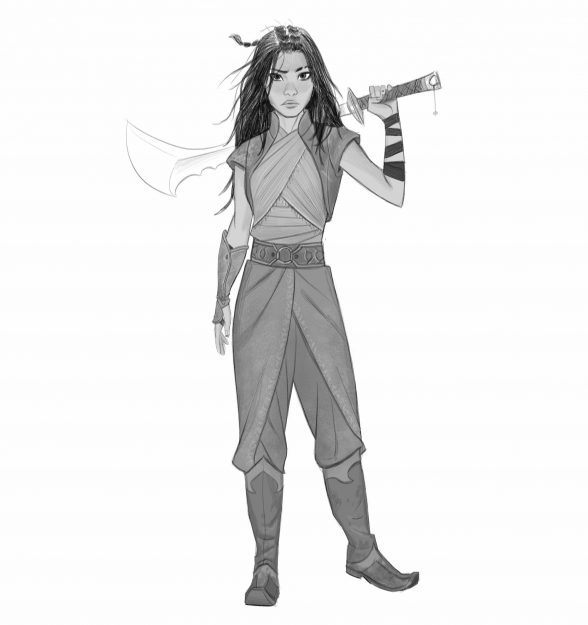 Awkwafina is Sisu, the last dragon.  While her range of drama and comedy was already well known to the filmmakers, her ability to improvise brought a special fun to every recording session as she created the dragon with a blend of self-doubt, humor, heroism, and great wisdom.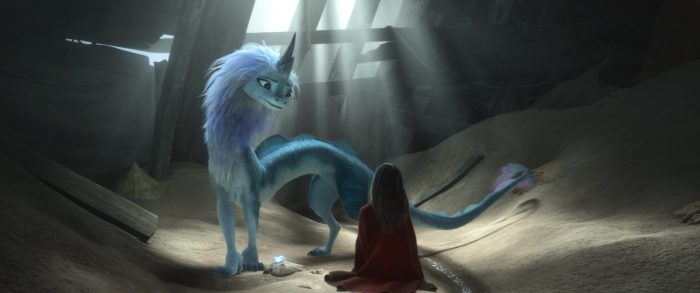 Gemma Chan is Raya's nemesis Namaari.  While she, like Raya, also seeks to protect her people and help her land prosper, she goes about it in a very different way.
Izaac Wang plays Boun, an adult in a ten-year-old body and the owner of the Shrimporium.  After having auditioned a lot of candidates, Wang stood out with his ability to play the captain as fun and sassy, but with moments of vulnerability as well.  Destiny seemed to play a hand in the casting, as he was later found to be the son of one of the traditional dancers that had just performed at Pixar in a Laos ceremony just weeks before.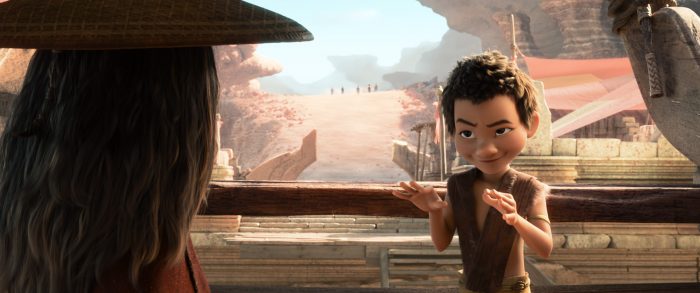 Benedict Wong is Tong, bringing a delivery that ranges from Shakespearian to pro-wrestling, and creating a warrior who is equal parts strength and softness.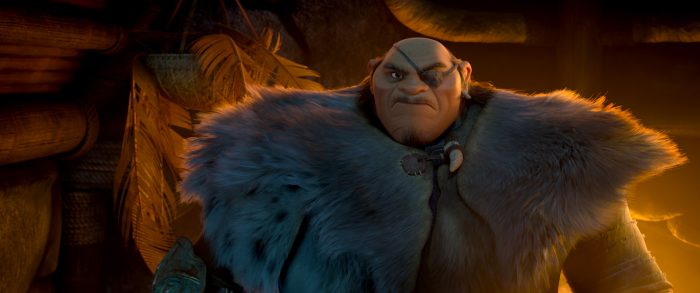 Thalia Tran is Baby Noi.  Faced with the challenge of expressing emotion and thought processes from a baby who is also the head of an animal crime syndicate, Tran found a way to vocalize for her so that the audience understands what Noi is trying to say using just baby sounds.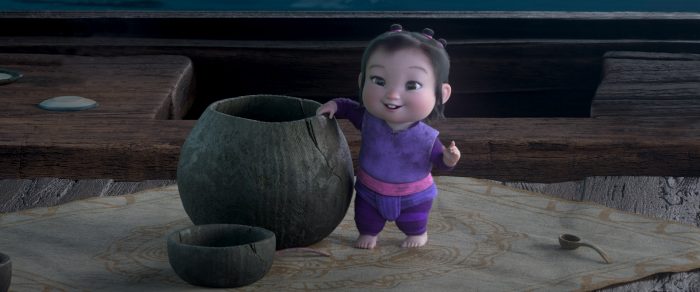 Daniel Dae Kim voices Chief Benja, Raya's father.  His warmth and compassion and sense of authority enable audiences to immediately feel Benja's relationship with Raya in the first few scenes of the film.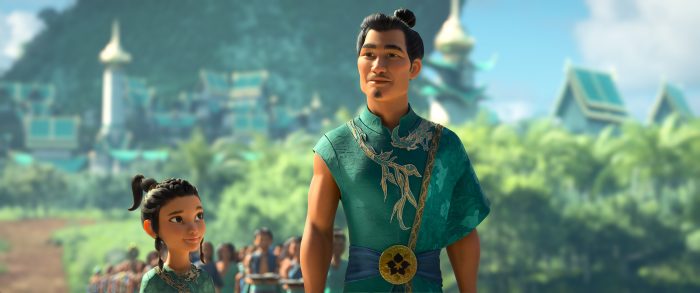 And lastly, WDAS' lucky charm Alan Tudyk lends his Juilliard-trained tones to Raya's faithful friend and steed, Tuk Tuk.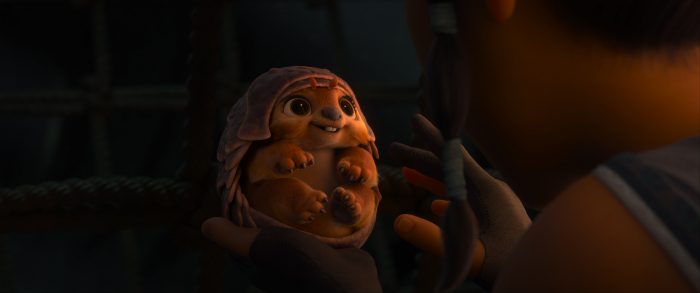 The Themes
Similar to how one of Don Hall's past films Big Hero 6 gave us a look into grief and how people deal with loss, Raya and the Last Dragon delves into the timely concept of trust.  How do you learn to trust others, when the world is so broken?
In Raya, we see a character whose early experience with betrayal has left her with deep-seated mistrust of everyone outside of Tuk Tuk.  In the course of the story, she must regain her ability to connect with others if she is to bring her divided world together again for the greater good.
Although a fantasy world, Kumandra is heavily influenced by the beautiful cultures of Southeast Asia.  Inspired by the cultural teams and methods that helped make one of Osnat Shuru's last films Moana authentic to the Polynesian experience, the Raya team took research trips to Indonesia, Laos, Cambodia, Thailand, and Singapore, and formed a Southeast Asia Story Trust made up of artists, performers, architects, linguists, and anthropologists.  Details that reflect the region are evident in both character design and costuming, as well as Kumandra mannerisms and food.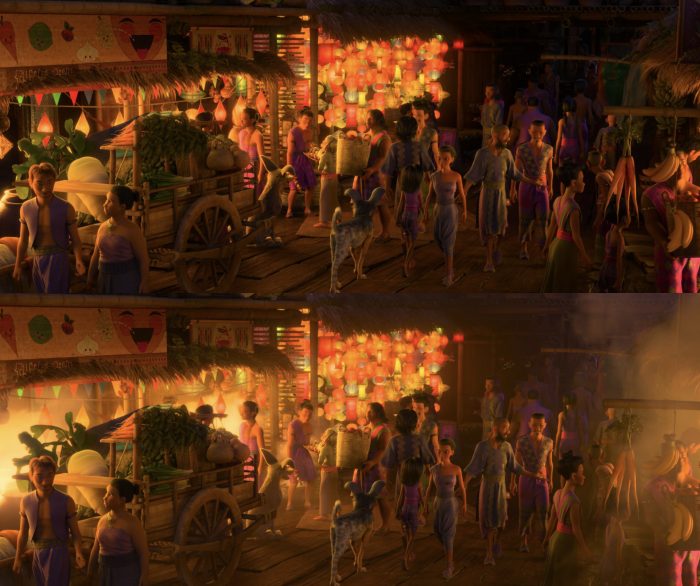 This level of respect and authenticity gives representation to a segment of the population who rarely get to see themselves in an American film.  Both Qui Nguyen and Adele Lim take immense pride in being part of a Disney movie that celebrates their culture and gives Southeast Asian children a superhero in whom they can see themselves.
Business in the time of COVID
There were over 450 people working on Raya that had to work from home after March of last year.  Coupled with that, all the voice talent ended up recording remotely–Awkwafina from Australia where she was working on Marvel's Shang-Chi and the Legend of the Ten Rings.  Accomplishing the creation of a film under those circumstances often mirrored the demands that Raya herself labored under, requiring an abundance of hard work, cooperation, and trust.
Enjoy the new trailer for Raya and the Last Dragon, just out today!
Raya and the Last Dragon will be available on Disney+ with Premier Access in most Disney+ markets, at the same time as it is released in theaters on March 5, 2021.  Premier Access for the title will be priced at $29.99.
Questions?  Comments?  Suggestions?  Drop us a line below.
Be sure to follow @allearsnet on Facebook, Instagram and Twitter!
Check out our YouTube Channel for reviews, news, information and more!
Click below to subscribe to the AllEars® newsletter so you don't miss any of the latest Disney news!