I first interviewed Dave Bossert, then of Walt Disney Animation, during the summer of 2013. I had the honor of meeting him in person during a book signing event later that year in Fullerton, Calif.
At that point in his life, Bossert had enjoyed a distinguished 30-plus-year career with Disney Animation. His credits included work on Who Framed Roger Rabbit? (1988), The Little Mermaid (1989), Beauty and the Beast (1991), Aladdin (1992), Tim Burton's The Nightmare Before Christmas (1993), The Lion King (1994) and Fantasia 2000.
Thanks to that stellar resume, Bossert is considered an authority of Disney Animation history and art, which is quite an accomplishment. At the tail end of his animation career, Dave Bossert decided to take a stab at writing. His first book, Remembering Roy E. Disney, was a loving tribute to his friend and former colleague, a man Dave referred to as "the richest man in the trailer park."
Roy E. Disney was, of course, the son of Roy O. Disney, Walt's financial genius of a brother. It was Roy E. who helped revitalize Walt Disney Animation in the 1980s and 1990s and who helped steer the company toward, at that time, the uncharted waters of computer-generated animation.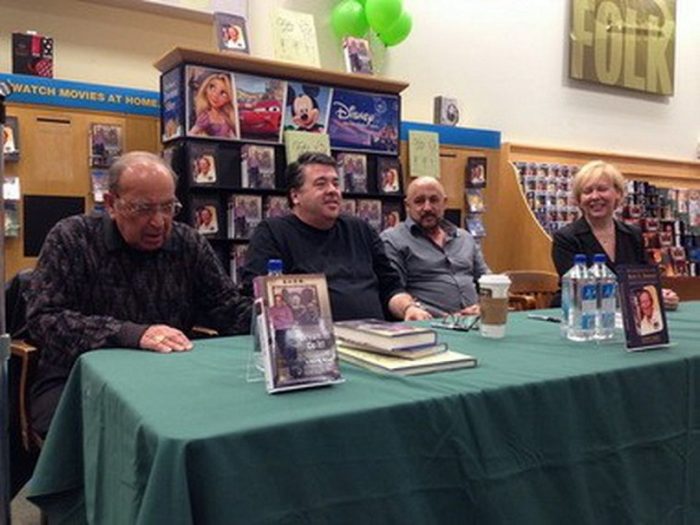 When I spoke to Bossert after the release of Roy E. Disney, he said he really enjoyed writing the book and that he might consider writing another. That turned out to be a gross understatement.
After Bossert retired from his "day job," he banged out one extraordinary, insightful book after another, on such diverse topics as Oswald The Lucky Rabbit, Dali and Destino, The Art of Tennessee Loveless, Tim Burton's Nightmare Before Christmas: The Visual Companion, and a book about Disney Studios furniture designer Kem Weber.
His latest work, 3D Disneyland: Like You've Never Seen It Before [published by The Old Mill Press], is scheduled to be released in November. "I regularly tell people that if you'd have asked me 10 or 15 years ago that I'd be writing books, I would have laughed," Bossert said during a recent interview. "And here I am with the 3D Disneyland book. I think it's my seventh book."
The seeds for 3D Disneyland project were planted nearly 30 years ago. Most of the photos in the book were shot by a colleague of Dave's, Ted Kierscey. Ted and Dave shared an office while they were working on Beauty and the Beast back in the early 1990s.
"One day, I mentioned to Ted how the first time I went to Disneyland wasn't until 1981, because I grew up on the East Coast [Dave was born in the New York City borough of Queens and grew up on Long Island]. In fact, I visited Walt Disney World before I visited Disneyland.
"Ted then mentioned that he had a whole bunch of 3D photographs of the park from opening week [July of 1955]. He brought a bunch of 'em in and showed them to me."
It turns out the then-15-year-old Kierscey had a keen interest in 3D photography. He even bought a Kodak Aniston 3D camera and decided to bring it along during his first visits to Disneyland. His interest peaked, Bossert set up a more formal presentation of the photos and invited a special guest to join in the viewing.
"We commandeered a conference room after-hours at the Roy E. Disney Animation Building to show them," Bossert said. "We ordered some pizza and a small group of us sat in the dark with our 3D glasses on, enjoying more than an hour of slides from the first five years that Disneyland was open.
"The bonus was that Disney Legend and Imagineer Tony Baxter was there regaling us with behind-the-scenes stories of the attractions that Ted had captured decades earlier.
"I was just dumb-struck by it. I mean it was so amazing, not only to just see a photo of Disneyland the week it opened in 1955, but to see it in 3D. He didn't just capture a moment, he was capturing a moment in time and space and I was blown away by it."
Fast-forward some 25 years. Kierscey has retired from the Disney Studios and is living a few hours outside of Los Angeles. Bossert stays in touch with his friend and former colleague and visits him regularly.
"On one of my visits to Ted's new place, we were sitting chatting over lunch and the subject of those 3D Disneyland pictures came back up and I said, 'Hey, you know, I'm doing books now. Let's do the 3D photos as a book,' and he agreed.
"We went through all the photos and we narrowed down the selections."
As luck would have it, a few months later, Dave mentioned the 3D-book-in-progress during a podcast … with a rather fortuitous result.
A 3D PHOTOGRAPHER FROM MINNESOTA HELPS OUT
"I mentioned that I was working on this 3D Disneyland book on the podcast, toward the end of the interview. A guy named Patrick Swinnea from Minnesota was listening to the podcast and reached out to me. He told me he was a 3D photographer and offered to help out."
At the time, Dave was trying to figure out exactly how he was going to convert Ted Kierscey's 3D images into anaglyph photos for the book [According to Wikipedia, anaglyph 3D is the stereoscopic 3D effect achieved by means of encoding each eye's image using filters of different colors, typically red and cyan. Anaglyph 3D images contain two differently filtered colored images, one for each eye.]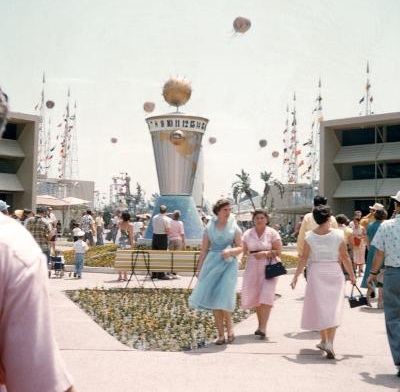 "So, I wrote back to Patrick and said, 'Hey you know, I'd love your help on converting these images to anaglyph.' He was eager to help." In laying out the book, Dave decided to give readers what he calls "a walking tour of Disneyland."
"You start outside the berm, looking at the train station, then you're in Town Square, then you go up Main Street to the hub. Then you go to the left to Adventureland and then you're eventually in New Orleans Square, Critter Country, Rivers of America, Frontierland, the Castle and Fantasyland.
"I threw in a couple of photos that Patrick had taken of Toontown, just because I wanted a sort of a representation of all the areas. But by all means, it's not a complete representation.
"But the pictures from the 1950s are just spectacular because many people today never experienced the park that way." In fact, younger visitors to the park may not recognize attractions such as The Skyway, the original submarine ride and Tomorrowland before its many makeovers.
When Dave was done with his preliminary design, he realized that something – make that, someone – was missing. Walt Disney.
"I licensed two photographs of Walt Disney, one from the opening of Fantasyland and one where he's sitting by himself on a bench in Town Square.
PHOTOS OF WALT CONVERTED TO 3D
"Those are the only two photos that we had to use some digital technology to convert them to 3D, but when you see them, you're going to be blown away because it's the first time you're going to see Walt Disney in 3D."
Appropriately, Dave placed one Walt photo at the very beginning of the book and a Walt photo at the end. To further enhance the project, 3D glasses are included with the book.
"It's a fun book and I'm looking at doing some others," Dave said. "I may do a 3D national parks book, so I'm breaking out of just writing about Disney.
"I do have a bunch of other Disney books in the pipeline and things I'm researching and I'm just going to continue to write and enjoy myself and I'm picking topics that excite the audience and things that haven't been written about before.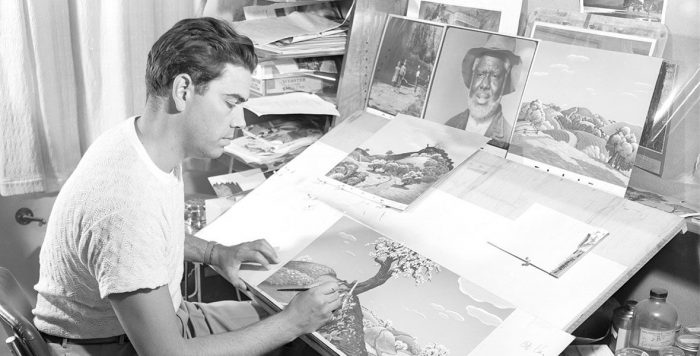 "That's the one thing I don't really want to do: I don't want to write about something that has already been covered ad nauseum, so I'm picking things that I'm passionate about, things that are good stories that most people might not have heard about."
His next project is a detailed look into the life and work of Disney Legend Claude Coats. Former Imagineer Tony Baxter has been asked to write the foreword for the book because, as Dave puts it, "Tony was mentored by Claude." Dave's also enlisted the help of Alan Coates, Claude's son, for what should be an in-depth look into the gifted Legend's life.
"I knew Claude Coats personally," Dave said. "When I first started working at the Disney Studios, he and I used to have breakfast a couple times a week for about 18 months before he retired and then he passed away about a year after he retired. I just want to honor the guy because he had a magnificent career in animation.
ENJOYED TWO SEPARATE CAREERS AT DISNEY
"Actually, he had two separate careers at Disney. For the first 20 years, he was a background painter and color stylist on all of those classic films – Snow White and Pinocchio, Bambi and Dumbo. I mean just go down the line: Victory Through Air Power, Song of the South, Alice in Wonderland, Cinderella, Peter Pan, Lady and the Tramp.
"He did all those beautiful backgrounds on all those films and then he pivots and becomes an Imagineer and helps Walt build Disneyland.
"That's what the book is focusing on, those first 15 years of Disneyland. He really had an incredible career and it's a great story that people aren't aware of."
Join the AllEars.net Newsletter to stay on top of ALL the breaking Disney News! You'll also get access to AllEars tips, reviews, trivia, and MORE! Click here to Subscribe!