Walt Disney World is packed with iconic classic attractions beloved by millions. However there have been some bizarre shows over the years that many, including Disney, have forgotten about (or wanted to forget).
Here are a few of the most bizarre shows in Walt Disney World history.
Teenage Mutant Ninja Turtles
We're going to start with a strong one that is possibly the most 90's thing in history: the Teenage Mutant Ninja Turtles. Yes, there was a live stage show in Hollywood Studios (then MGM Studios) featuring the green machine and their reporter pal, April O'Neil. This show ran from 1990 to 1996, and after the show you could meet the heroes in a halfshell by their Party Wagon.
The Magical World of Barbie
If you thought it was odd that the Ninja Turtles were in Disney World, did you know Barbie spent some time performing in Epcot? Yes, the Barbie of Mattel doll fame. Barbie had a 20 minute show on the stage in the American Adventure Pavilion in Epcot that also featured some of her doll friends like Ken and Skipper. The American Garden Stage was completely re-done for her show. In addition to the show Barbie rode around the World Showcase in a pink limo to great guests. Thanks for this magic, 1994.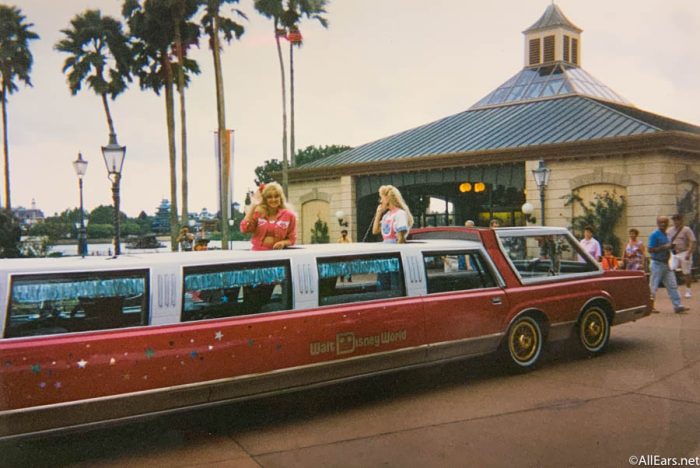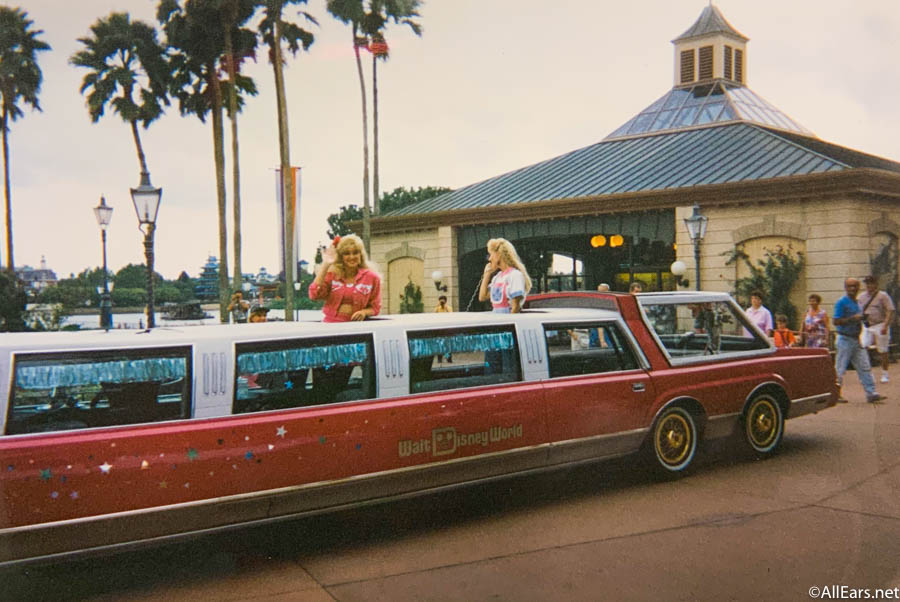 Here Come The Muppets
The Muppets have been a staple of Hollywood Studios since 1991 when the fan favorite Muppet Vision 3D opened. Before Muppet Vision 3D opened there was a stage show called Here Come The Muppets in Hollywood Studios (MGM Studios). It featured full body Muppet costumes instead of puppets and pre-recorded clips. The oddest part was when the Monorail crashed through the wall delivering the Electric Mayhem, mostly cause the Monorail doesn't go to Hollywood Studios. Another bizarre thing about Here Comes The Muppets was it opened on May 25th, 1990, just a few days after Jim Henson passed away.
Dinosaurs Live!
Most people don't remember the 90's TV series Dinosaurs, and even fewer remember that Disney owns it and had a parade/show featuring the Sinclair family from Dinosaurs. (You can even watch the series on Disney+ now!) The Sinclairs would ride in a mini parade on a float and the parade would end with a short show to the hit song Walk The Dinosaur. The show only lasted from 1991 to 1992.
Doug Live
Doug was one of best animated series of the 90's, and that includes both the Nickelodeon and Disney versions. After Disney launched their version we got the Brand Spanking New Doug animated series and the feature film, Doug's First Movie. We never got a second one, which is a shame, but we did get a live show in Hollywood Studios (MGM Studios) called Doug Live. The most bizarre thing about this show was how they chose to make the characters look. Unlike Ninja Turtles or Muppets, these weren't big headed, full-costumed characters. These were people with make-up and odd hair, and they performed this show from 1999 to 2001.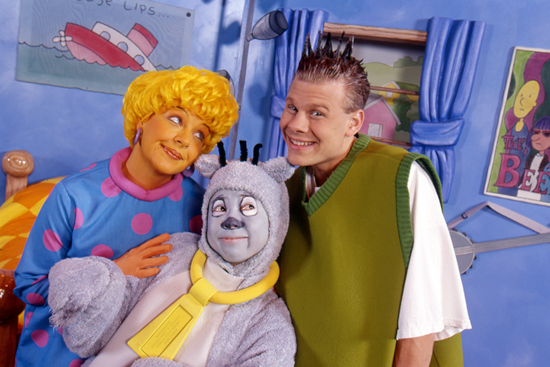 Honey, I Shrunk The Audience
We all remember the Honey, I Shrunk The Kids films, and some us remember the TV series. (Disney, please add the series to Disney+ ASAP, thanks!) In Epcot there was a 4D show in Future World where Wayne Szalinski shrank the audience. It involved 3D glasses, a moving theater, and water effects. The show lasted from 1994 to 2010. Oddly enough it replaced Captain Eo and was then replaced by the Captain Eo Tribute.
The Timekeeper
The Timekeeper was an attraction in Tomorrowland in Magic Kingdom that featured an animtronic robot named Timekeeper and his sidekick Nine Eyes. It was a Circle Vision show where Timekeeper took the guests through time and showed them different important figures from world history, including Leonardo Davinci and Jules Verne. Timekeeper was voiced by Robin Williams, the show ran from 1994 to 2006.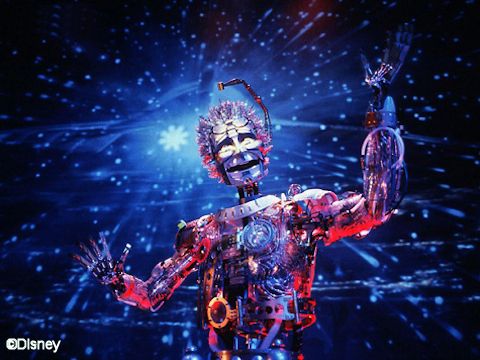 Power Rangers
The Power Rangers were at one point owned by Disney, and during that era there were multiple appearances at Hollywood Studios. In 2001 Disney acquire the Power Rangers, and from then until 2010 when Nickelodeon licensed the Power Rangers you could meet them in the park. Depending on the year and what version of Power Rangers was airing you could even meet different versions over the years. The Power Rangers appeared in the parades and would end with a little show and meet and greet.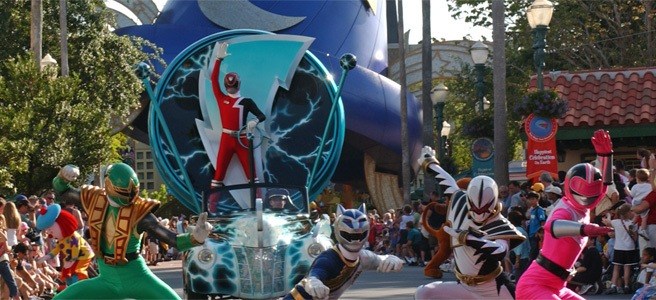 Goosebumps HorrorLand Fright Show and Funhouse
Goosebumps seems like a distinctly un-Disney property, but from 1997 to 1998 there was a Goosebumps show in Hollywood Studios. The showed featured Amaz-o the Magician as he performed some tricks, but things start to a take a turn as some of the monsters and villains from the Goosebumps books come out and take over. Including the horrifying ventriloquist dummy Slappy. It honestly felt like it would've been more at home in Universal Studios.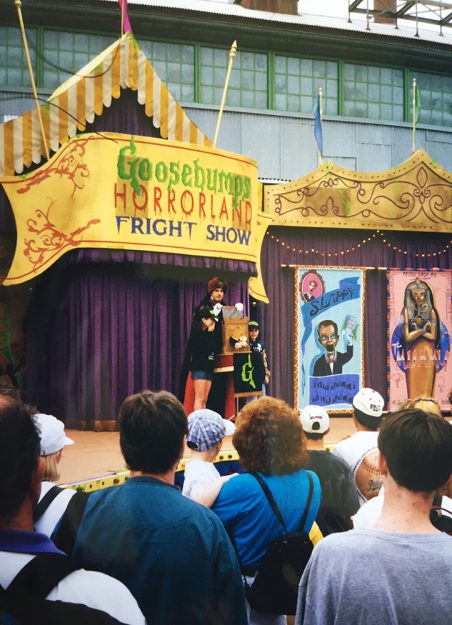 Ace Ventura Pet Detective: Live in Action
Ace Ventura is another one that doesn't feel like Disney, but for a brief period of time was in Hollywood Studios. The show consisted of Ace Ventura coming from his office, climbing buildings, ziplining between buildings, cracking a couple of jokes, and trying to locate a missing animal. The show managed to cut some of the rude and crude humor from the movies. It even featured a few birds who flew from Ace's office.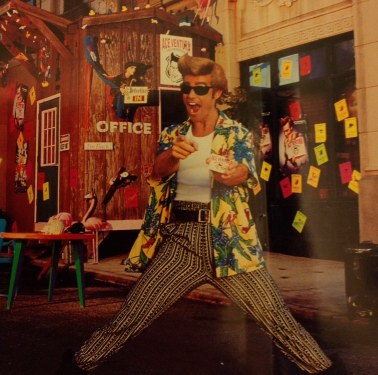 Dick Tracy Starring in Diamond Double-Cross
Many people forget that Disney made a Dick Tracy movie in 1990 and how wonderful it was. From 1990 to 1991 you could catch the yellow clad hero right in the heart of Hollywood Studios. In this show Dick Tracy went up against some of the classic villains form the comic strip and the feature film, Big Boy Caprice, Mumbles, and Flattop. This noir stage show involved a stolen diamond and a chase scene where the diamond changed hands a bunch of times. Unlike some of the others on this list, there is something about Dick Tracy that naturally fit in with the classic Hollywood vibes of Hollywood Studios.
Some of these are better forgotten, but we do miss a few of them. A lot of them are a snapshot of an odd era for Hollywodd Studios when things were very much in flux. We'd love to see Disney take these bizarre shows out of mothballs for one last performance one day.
What is your favorite bizarre show from Disney World's past? Let us know in the comments.
Join the AllEars.net Newsletter to stay on top of ALL the breaking Disney News! You'll also get access to AllEars tips, reviews, trivia, and MORE! Click here to Subscribe!