Earlier this week, it was announced that Universal Orlando's dining and shopping complex, CityWalk, would begin partially re-opening starting today, May 14th.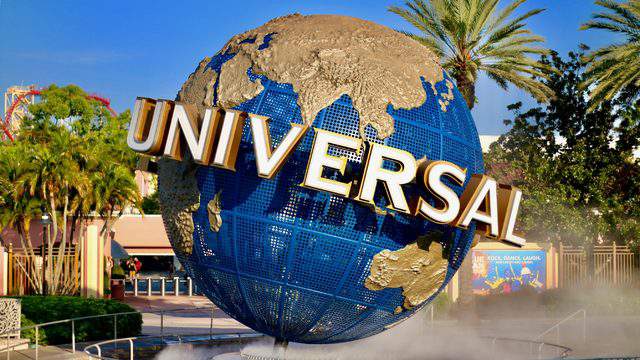 Today we're visiting the shopping complex for its first day of being re-opened. From health and safety screenings to what was open, stay tuned with us as we take you through everything you need to know about CityWalk's re-opening!
CityWalk, the main shopping and dining district at Universal Orlando Resort, has officially re-opened with limited operations!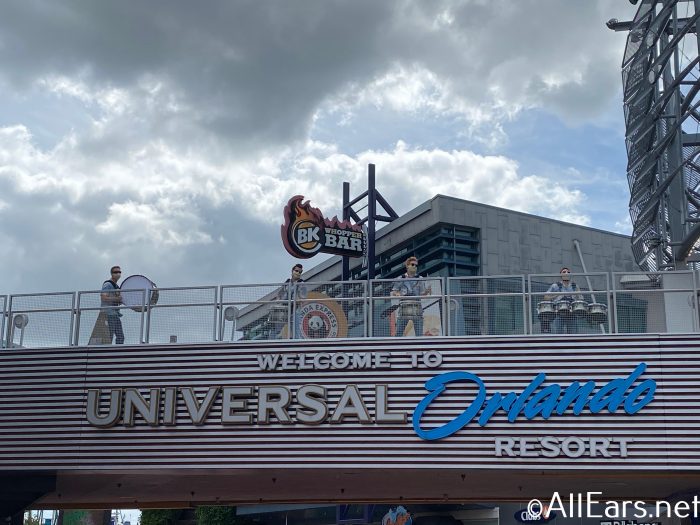 The dining and shopping center is planned to be open daily, from 4PM to 10Pm. Self-parking is currently complimentary, with the following vendors open:
Full-service restaurants and quick-service food locations:
Auntie Anne's Pretzels
Bubba Gump Shrimp Co. Restaurant and Market
Jimmy Buffett's Margaritaville (outside seating & Lone Palm Bar)
Red Oven Pizza Bakery mobile ordering available
Voodoo Doughnut mobile ordering available
Shopping venues:
Airbrush
Hart & Huntington Tattoo Company (retail only)
Universal Studios Store and select merchandise carts
Entertainment venue:
Parking and Entry
For guests visiting, there are some pre-cautionary measures in place. When you pull up to the gate, a sign reminds guests that face masks and temperature checks are required (children under two do not need to wear one). Any guest or team member with a temperature of 100.4 degrees or greater will not be admitted.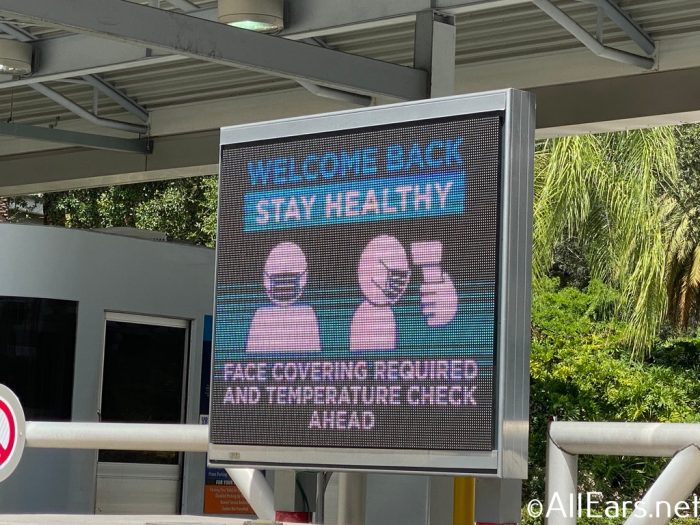 When we parked, there are signs throughout the garage that remind guests of all precautionary measures that are in place, including face masks, temperature checks, frequent hand-washing, and requested spatial distancing.
There is also a sign reminding guests that, while CityWalk is currently open, Universal Orlando and Island of Adventure theme parks are not.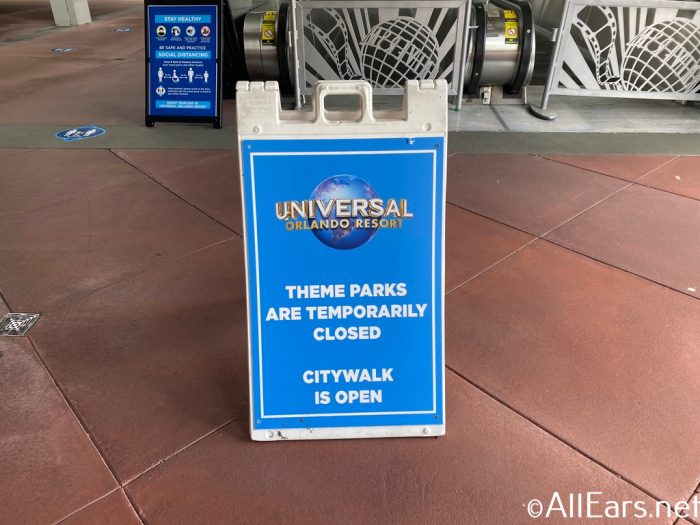 In order to better implement spatial distancing, there are also markers throughout the walkway, indicating a six foot distance.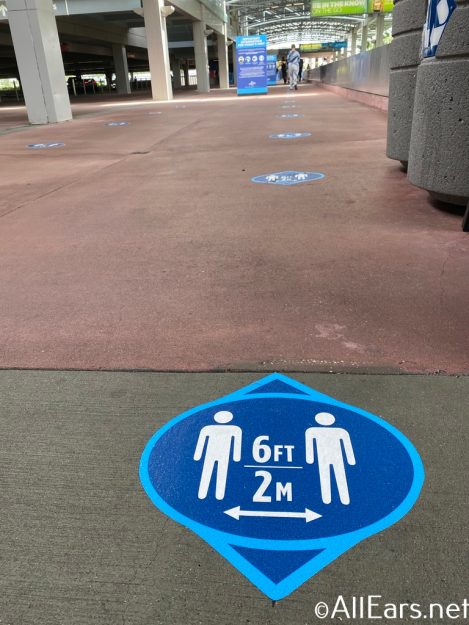 Anywhere that would be frequently touched by guests is being frequently sanitized, as you can see from these pictures of team members cleaning the handrail of the moving walkway.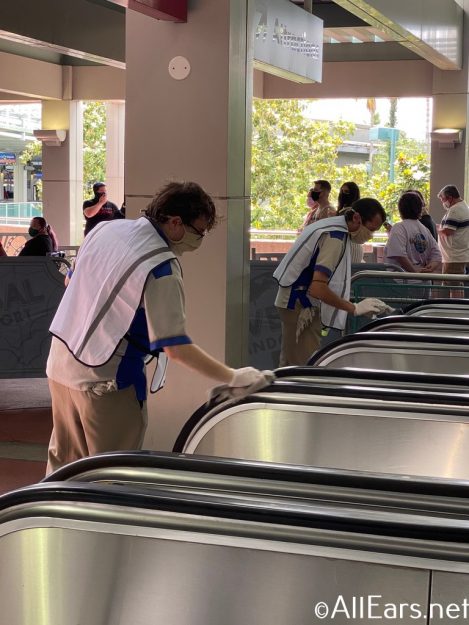 Temperature Screening
When you get to security, you will first undergo a temperature check (using a contactless thermometer), followed by the usual bag check.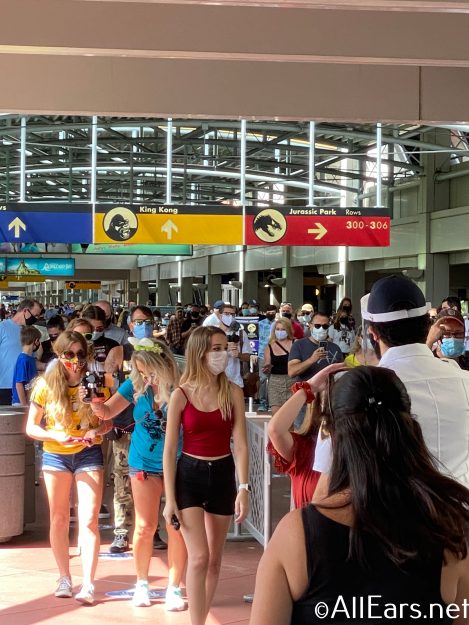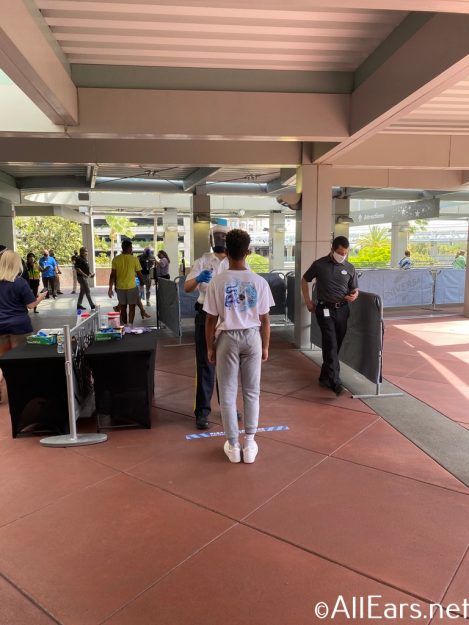 Before and after the temperature check, you will also find sanitizers stations that you can use.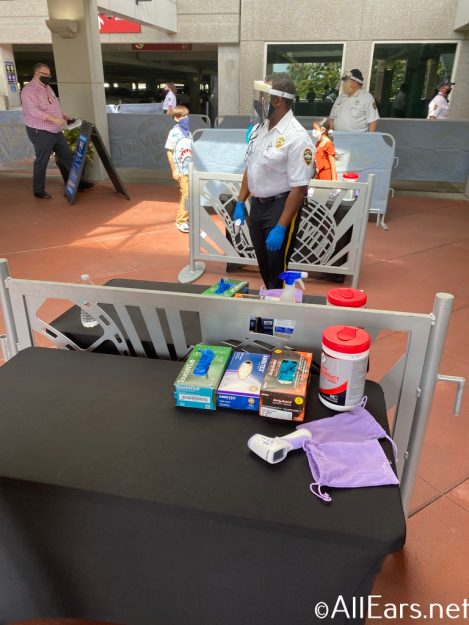 Restaurants and Stores
And from there, you're on your way to Universal CityWalk! Bubba Gump Shrimp Factory is one of the restaurants that is open with limited capacity.
Red Over Pizza Bakery is another restaurant that has re-opened with the shopping and dining center.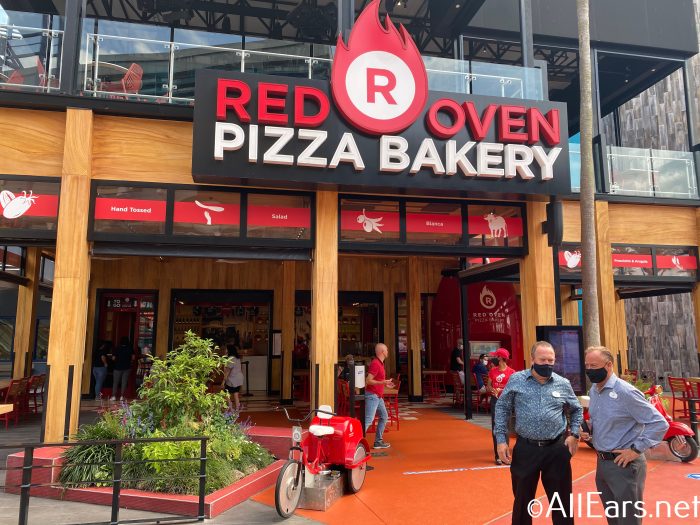 Throughout CityWalk, there are also several team members taking surveys in a modified format! Simply scan the QR code to participate in the survey.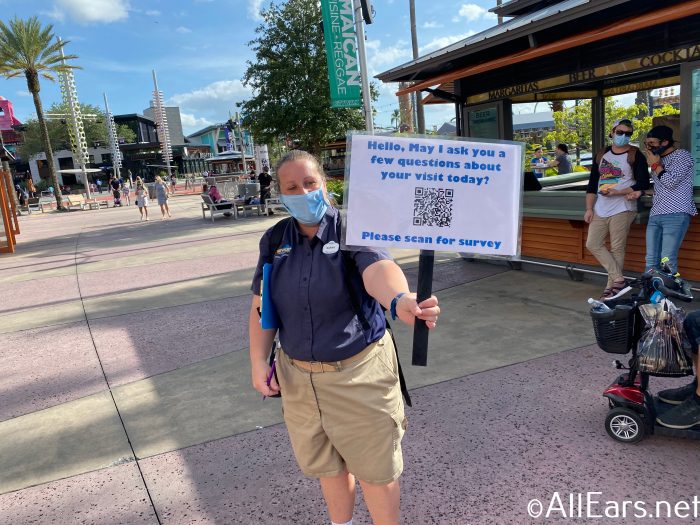 For retail locations, the Universal Studios Store is open for business. The outside of the store designates a specific door for entry, and one for exiting guests.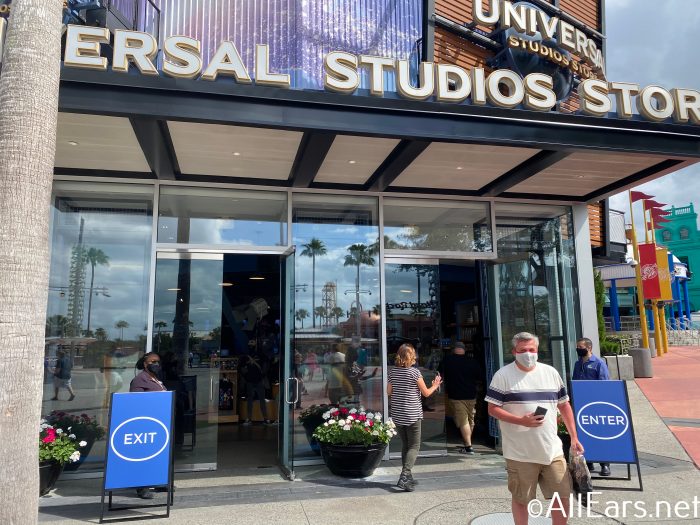 Inside, there are signs throughout asking that you maintain spatial distancing between other guests.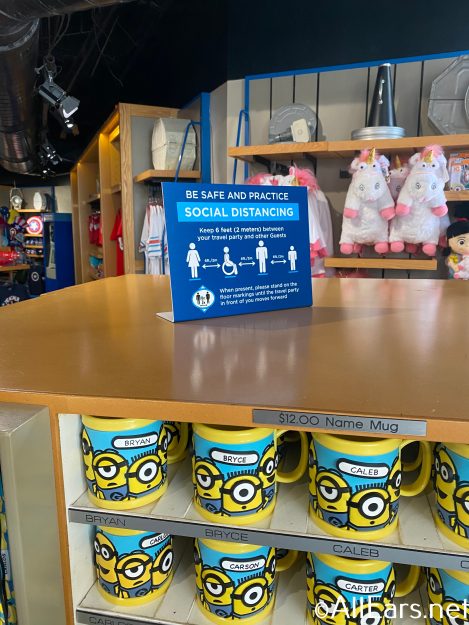 As a sanitary precaution, there are also hand sanitizer stations set up throughout the store for you to use.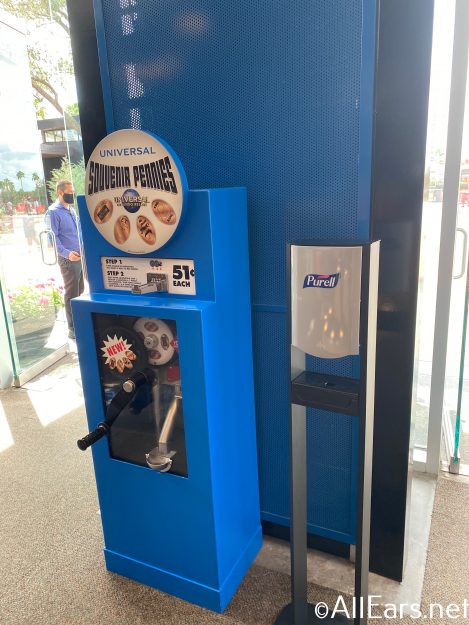 For purchasing merchandise, a line is set up with stickers throughout helping you to maintain proper distancing between other guests.
The stickers mark where you should stand in an effort to maintain a safe distance from other shoppers.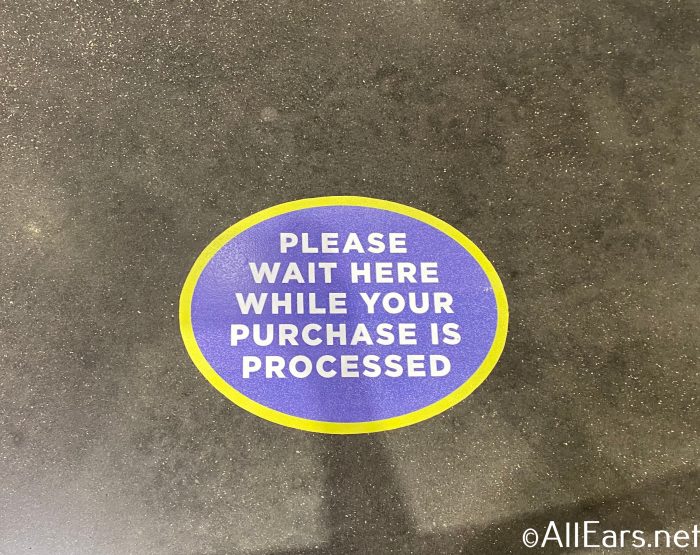 The store is also currently selling hand sanitizer and face masks for guests to purchase.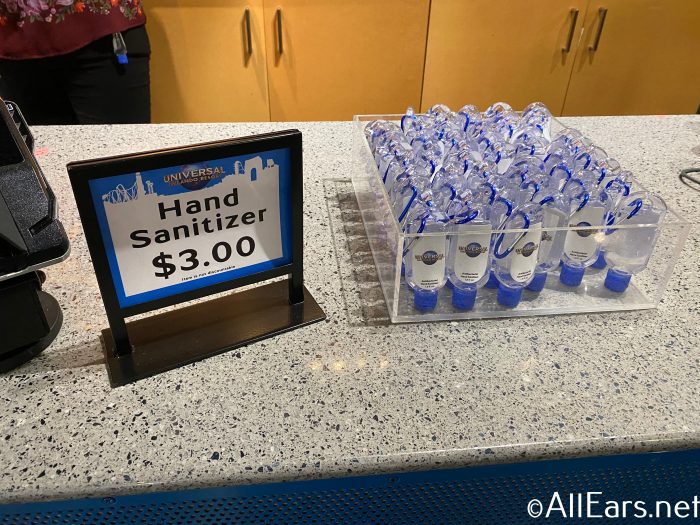 A similar line set up is in place for the popular Voodoo Donut location!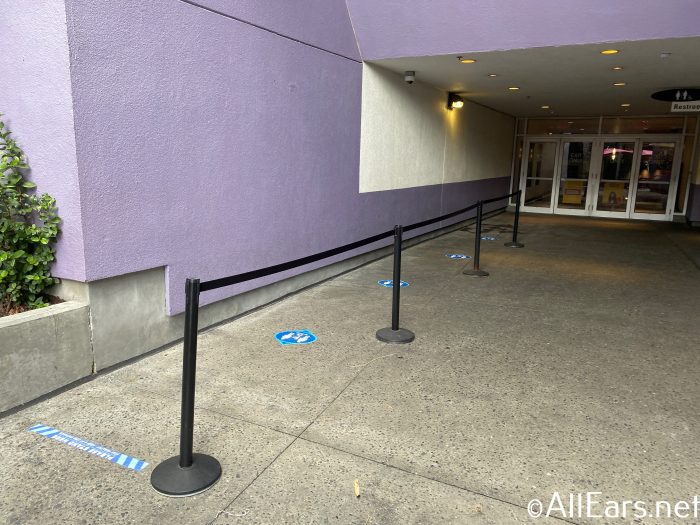 If you do not want to go inside to order, mobile express pick up is also available for the store.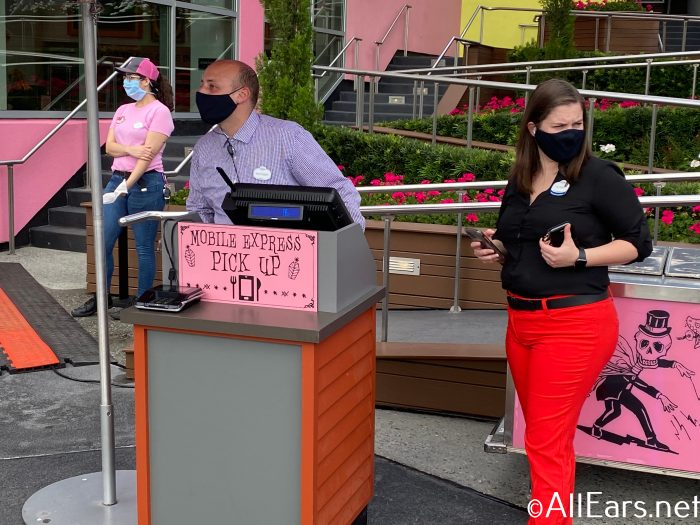 The memorable donut throne outside is still there as a photo-op spot, however it's being frequently cleaned by team members between visitors.
Inside the shop, stickers were again placed throughout the ensure the proper amount of spatial distancing between guests waiting in line.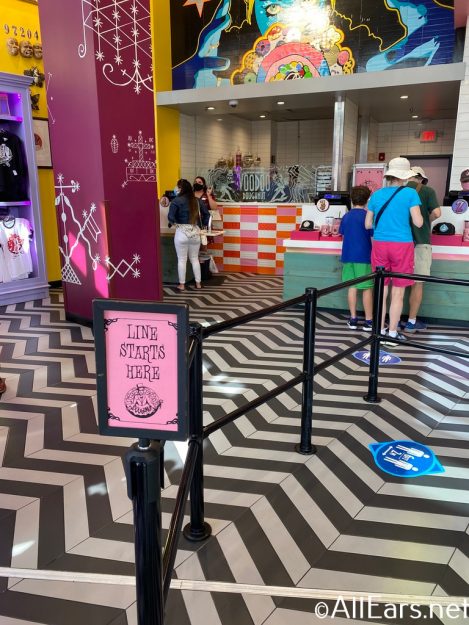 Luckily, the shop is still serving up the same iconic donuts as usual!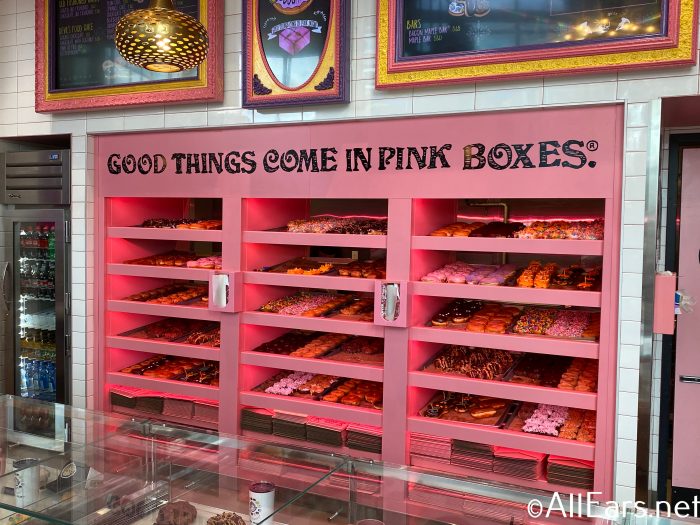 Other than the precautionary measures set up throughout, the store still looked the same as before!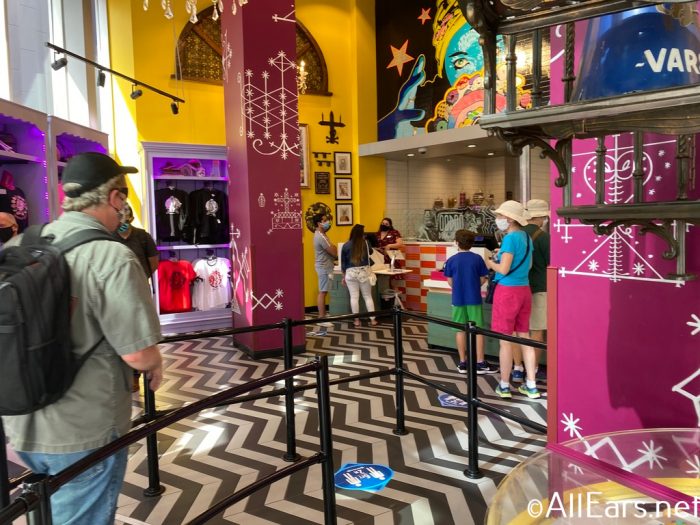 Luckily, the donuts are just as delicious as we remembered!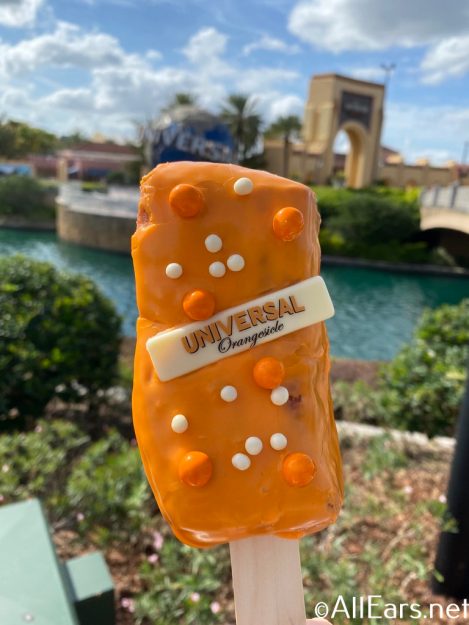 Voodoo Donut isn't the only eatery that's open at CityWalk. Margaritaville is also open, with over a two hour wait to get in! To implement this, they will take your name and phone number, and text you when your reservation is ready.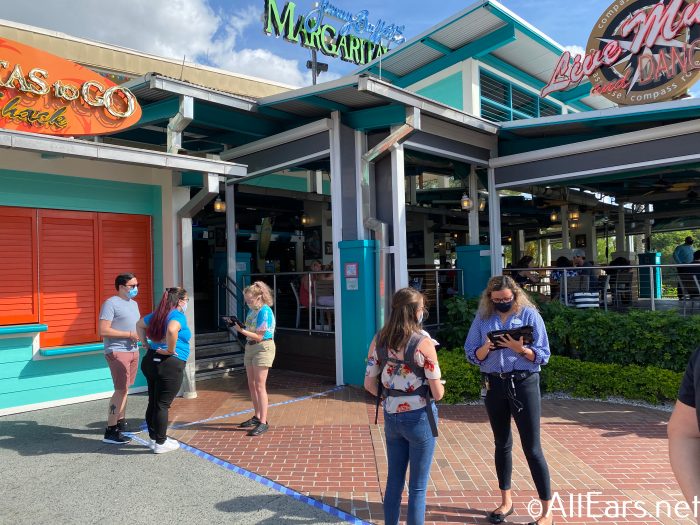 For those wanting to stop by for a drink, Lone Palm Bar is also open outside, with spaced tables to enjoy your drink at.
Another food stop that is open is Auntie Anne's Pretzels, where they had an extra precautionary measure to ensure sanitation.
With a hand sanitizing station out front, there were containers to place both "sanitized" and "un-sanitized" trays, so you could take a tray from the "sanitized bin", placing into the other container once done.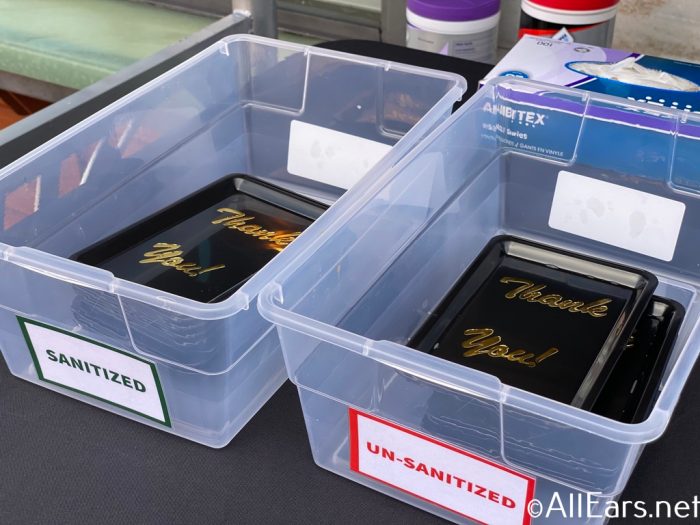 One of the stores currently open is Hart and Huntington Tattoo Company.
It's important to note that only the merchandise part of the store is currently open, so you are not able to get tattoos!
With a variety of stores and restaurants open, guests also enjoyed just walking around the area.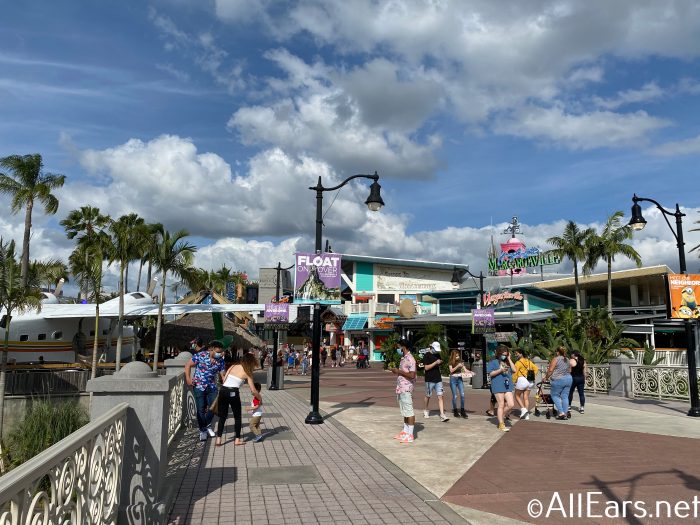 Throughout the outdoor areas, you will find signs with general safe practices for Universal, including spatial distancing, required face coverings, and recommended frequent hand-washing.
While not open at this time, you are able to walk by Hard Rock and Toothsome Chocolate Emporium.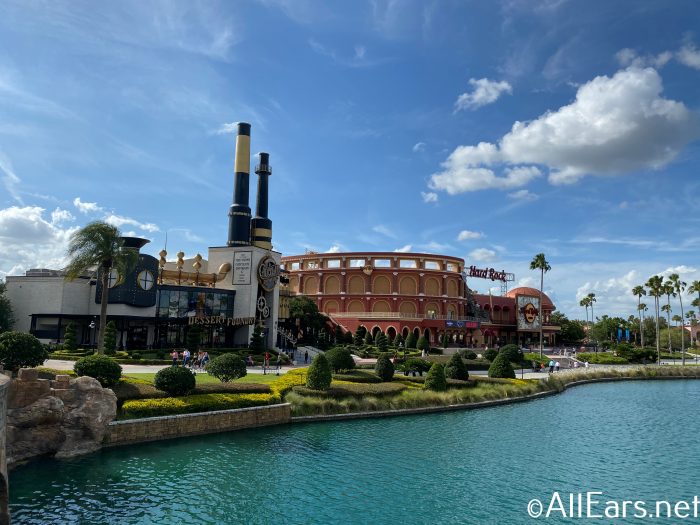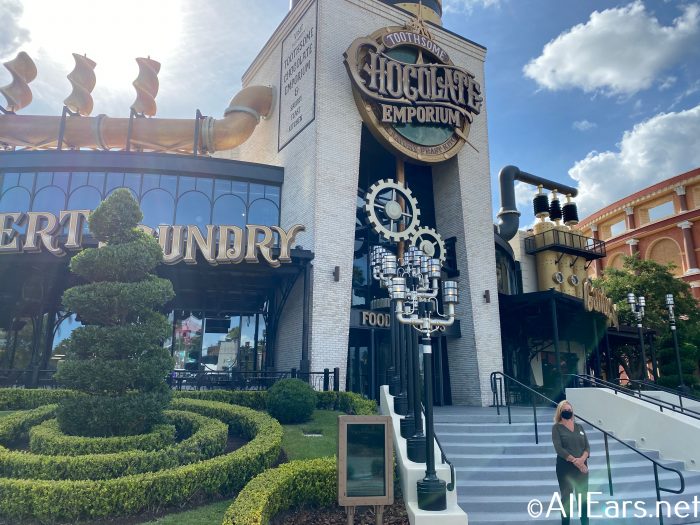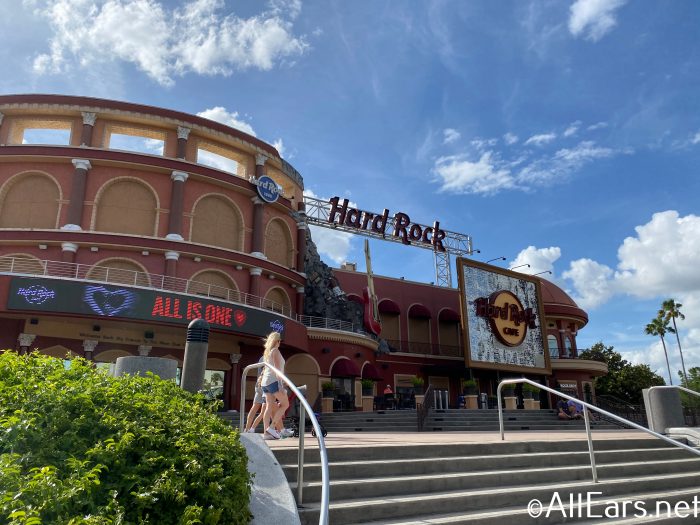 You are also able to walk directly up to the gates for both Universal Studios and Islands of Adventure!
Since both theme parks are not currently open, at the moment you can just use this time to take a nice photo op outside the gates!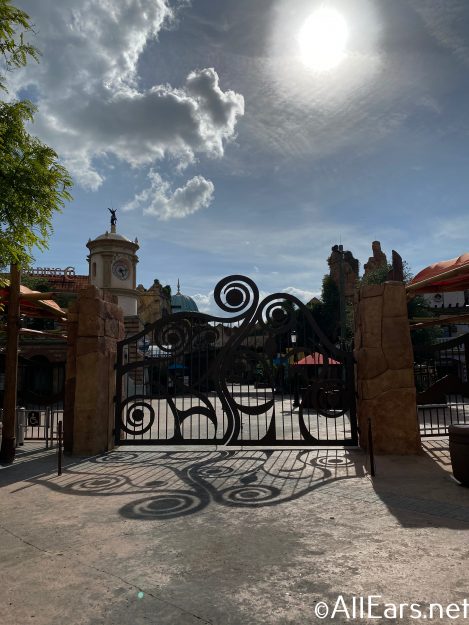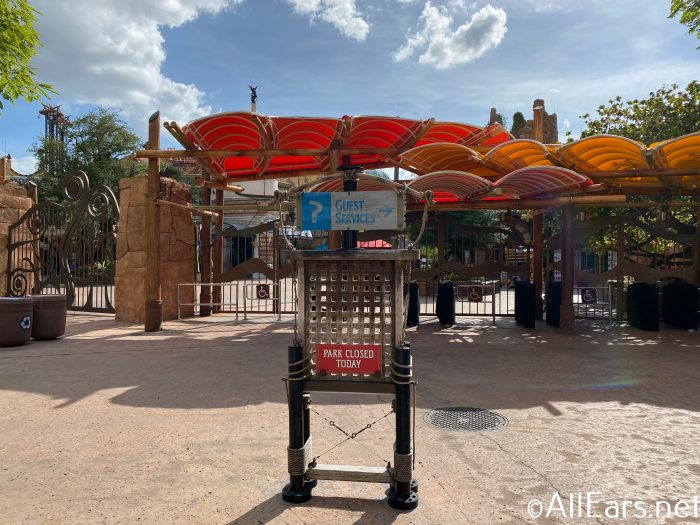 Hollywood Drive-In Golf
Mini golf is currently the only attraction open at CityWalk! Both Haunted and Sci-Fi Courses will be available at the Hollywood Drive-In Golf, though today, only Haunted was available as an option.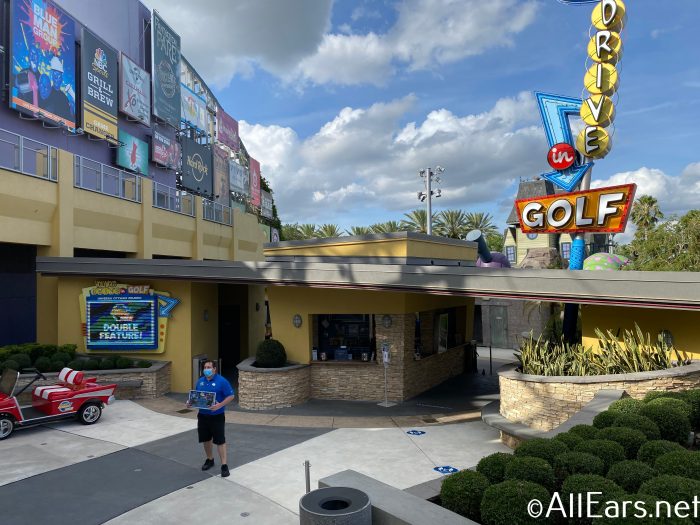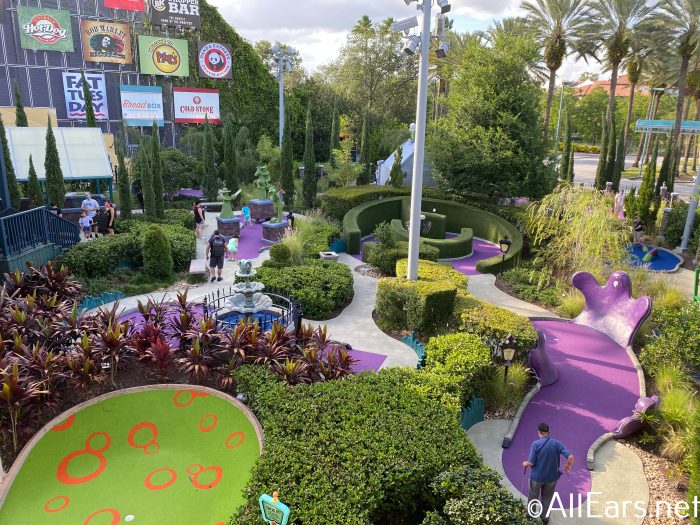 When playing, you are asked to keep a gap between each party. For example, if you're playing hole one, you must wait until the group in front of you is on to hole three to be able to proceed to hole two.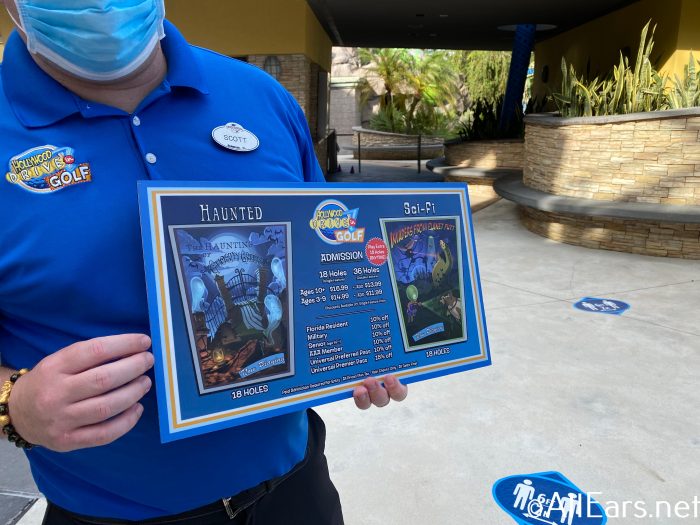 Additional Sanitation Measures
Another notable change is the addition of a lot more soap dispensers within the bathrooms.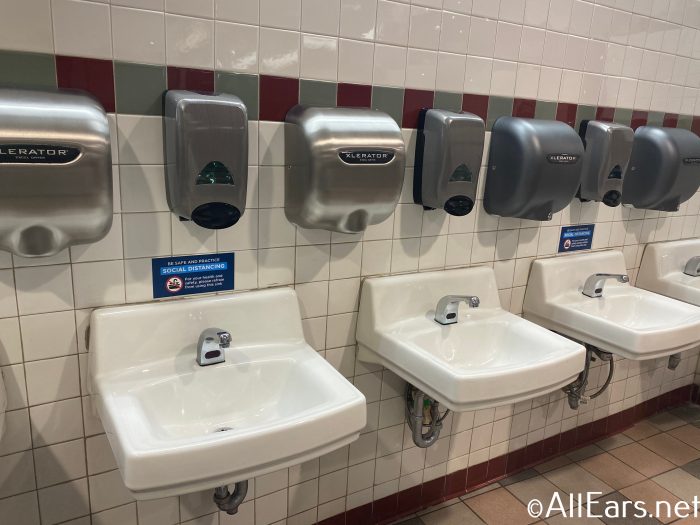 Also in the bathrooms, there are reminders of the importance of hand-washing, as well as maintaining spatial distancing between other guests.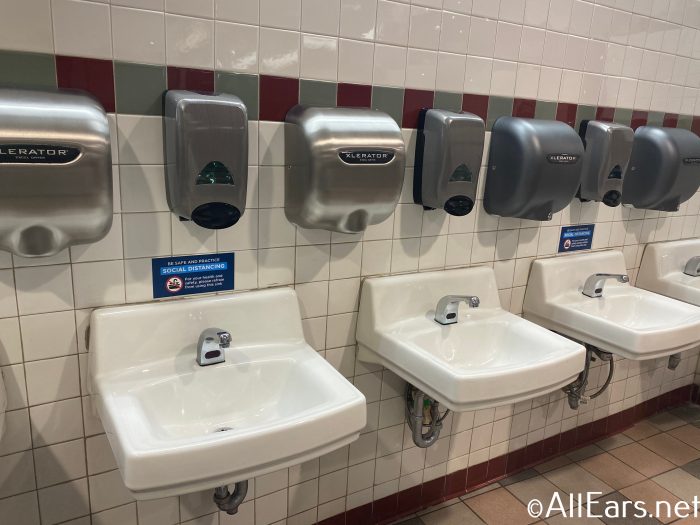 Also of note, there are signs that mention bathroom will be closed "periodically" to ensure team members can properly, and frequently, disinfect and clean bathrooms.
Sit-Down Dining
Margaritaville is one of the restaurants available for reserved, sit-down dining. You'll notice that the seating is all outdoors, with tables spaced further apart to promote spatial distancing.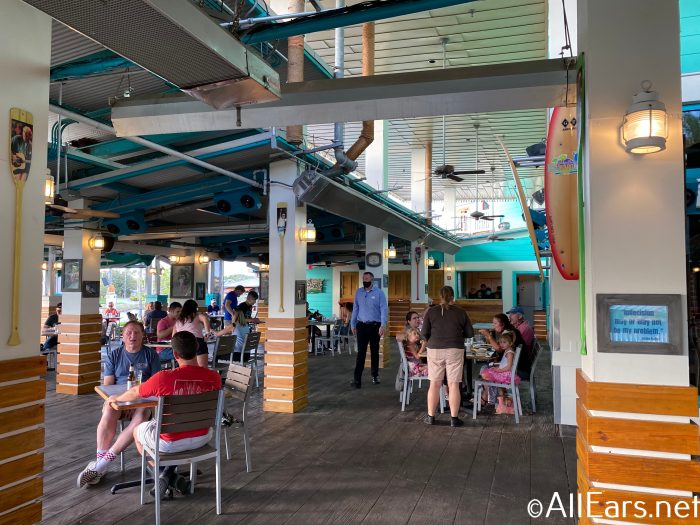 The menus are also one-time use, so are printed out and thrown away after a guest uses.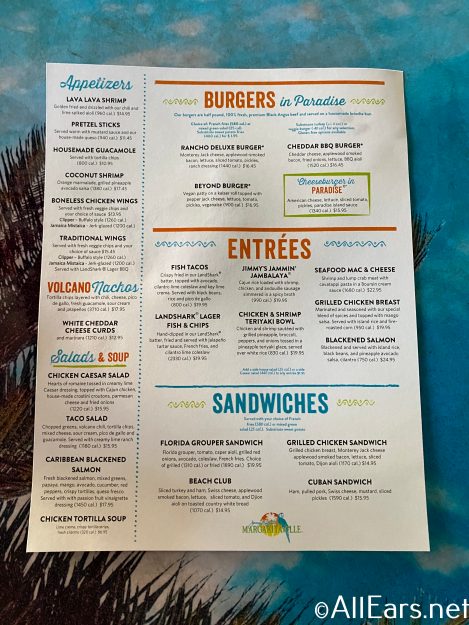 We will continue updating this post throughout the day, so stay tuned as we bring you more from the first day of re-opening at Universal CityWalk!
Will you be visiting the newly re-opened CityWalk? Let us know in the comments.
Join the AllEars.net Newsletter to stay on top of ALL the breaking Disney News! You'll also get access to AllEars tips, reviews, trivia, and MORE! Click here to Subscribe!