While it's official premiere date isn't until tomorrow, February 28th, Disneyland had a little extra magic today, with a special preview of their new Magic Happens parade!
Magic Happens is the most innovative parade that Disney has ever produced, featuring music by Todrick Hall, stunning floats, colorful costumes, and dancers making their way down Main Street USA.
This will be the first new daytime parade at Disneyland in nearly a decade, and they've pulled no punches. This thing is a spectacle in every sense of the word, packed to the gills with runway glitz, and Disney glamour.
The parade runs twice daily, at 3:30 PM and 6 PM, and runs from the "it's a small world" Promenade to Main Street Town Square, with dedicated viewing areas at the following locations.
small world Promenade, across from Fantasy Faire.
Fantasyland, near the entrance to Alice in Wonderland.
Central Plaza, by the "Partners" statue.
Main Street USA, by the park entrance.
However, you can catch the parade anywhere along the marked route!
There's also a reserved viewing area near Plaza Inn, for guests who purchase the Magic Happens Dining Package. This package costs $40 for adults and $25 for children, but is only valid for the second performance of the parade. Guests watching the morning performance will need to mingle with the masses.
What to Expect
The parade is divided into several stories, each focusing on a different Disney film. Mickey Mouse takes the lead in this stylish new rendition of his Sorcerer's Apprentice costume.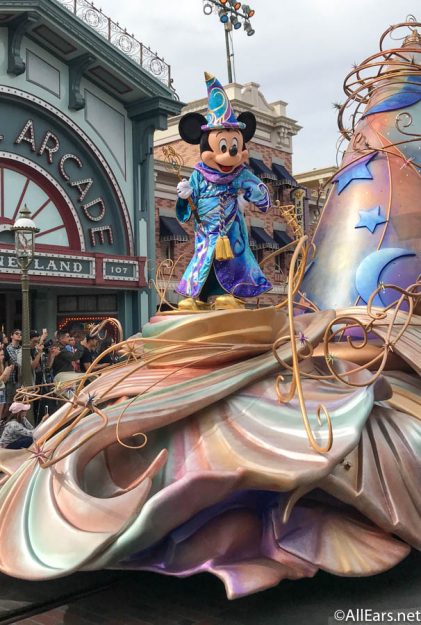 Following Mickey's lead are Minnie, Pluto, and the rest of Mickey's pals in their own special costumes.
Moana will sail by on this beautiful boat float…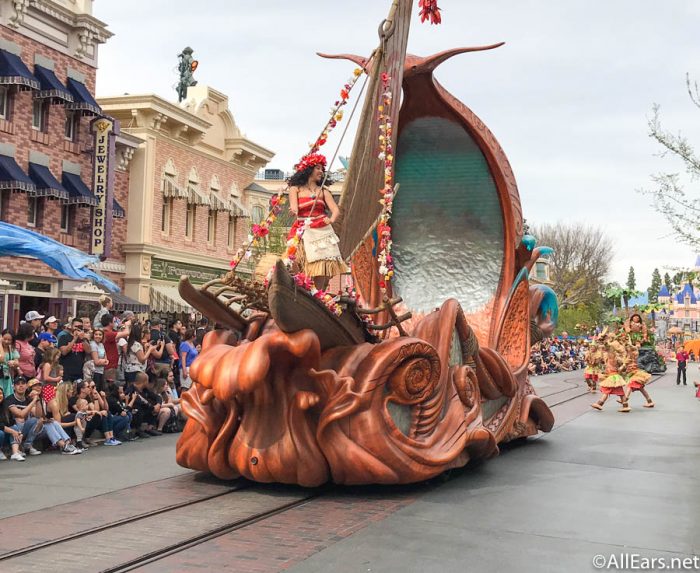 …trailed shortly by Maui (odd, we thought he could do anything BUT float!).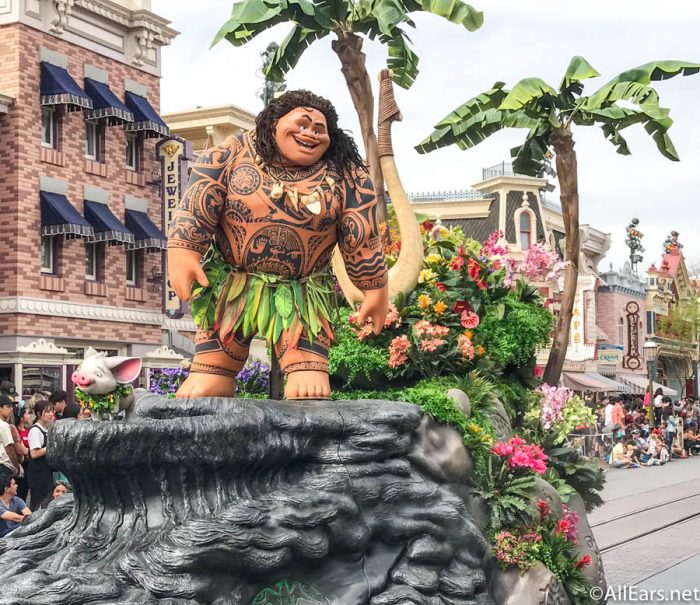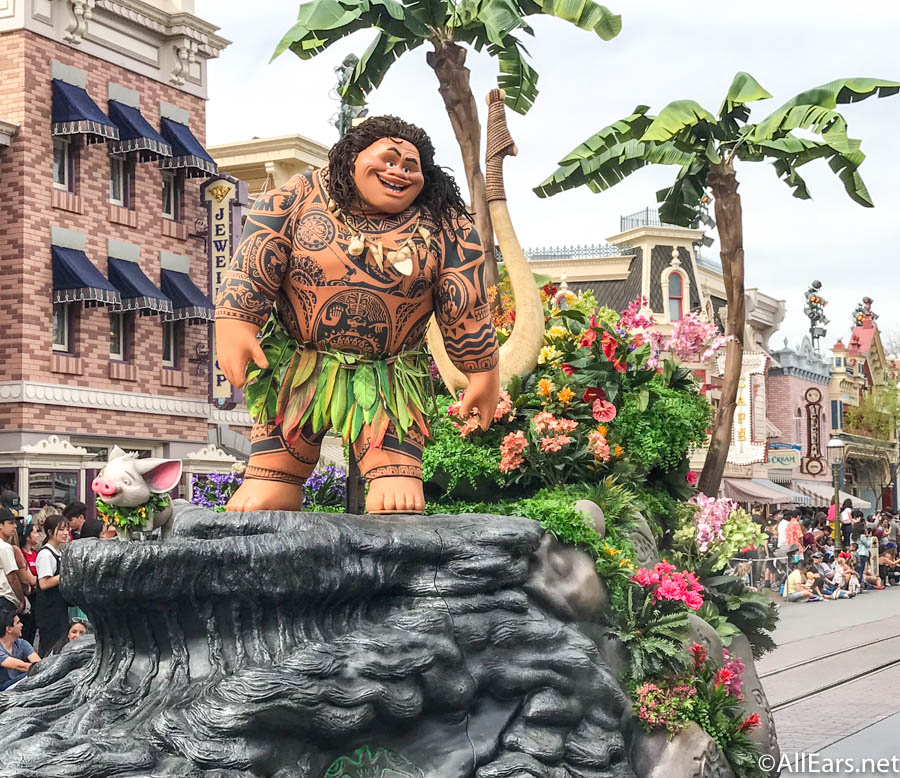 Maui
Hei Hei is even in the mix!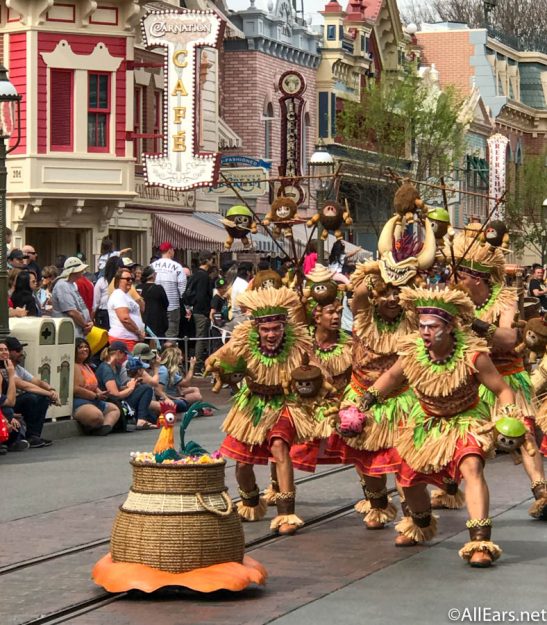 Miguel and Dante from Coco take center stage on this marigold-covered float. This is the first time Miguel has ever appeared in person in the parks. Mama Imelda and Hector are represented by animated figures.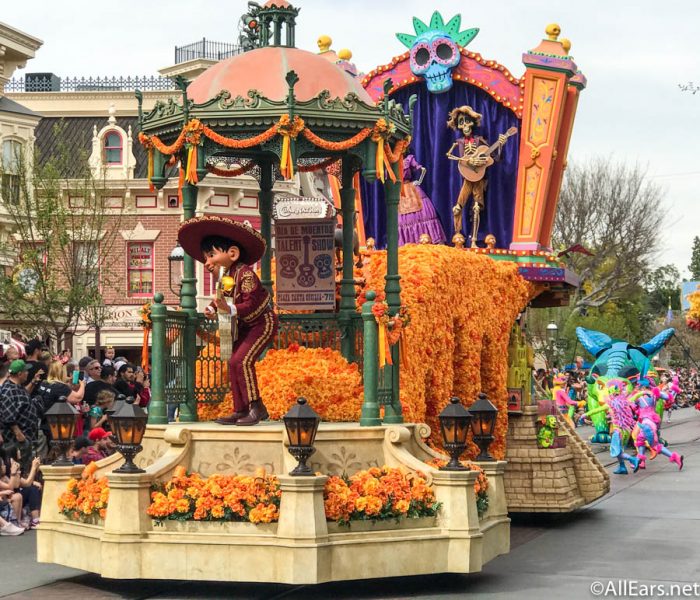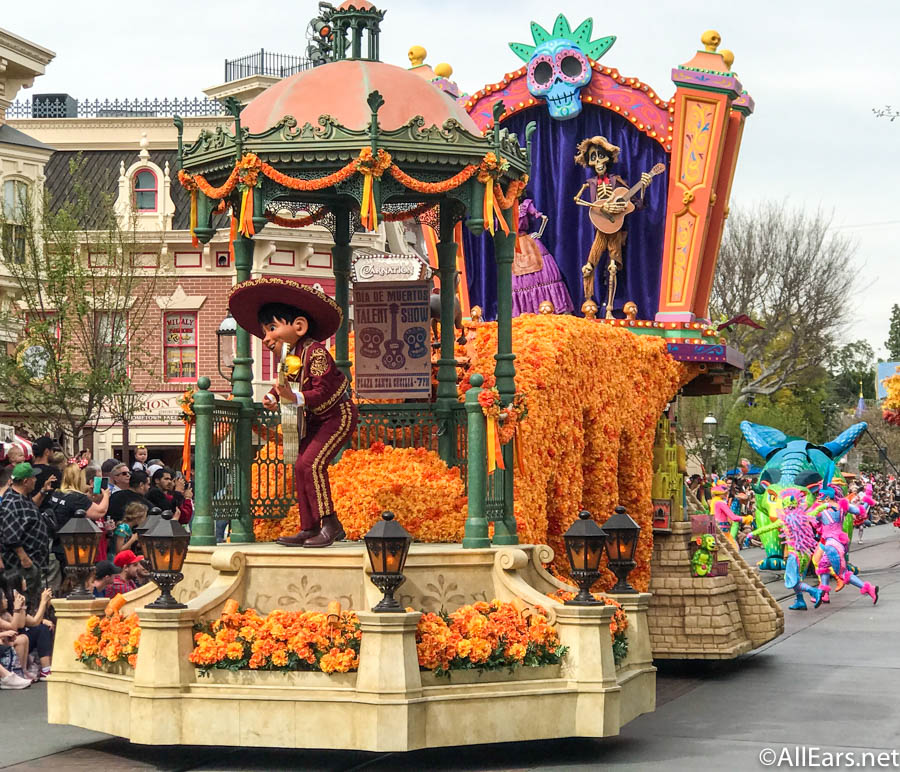 We love the huge Pepita puppet! What a surprise — she even roars!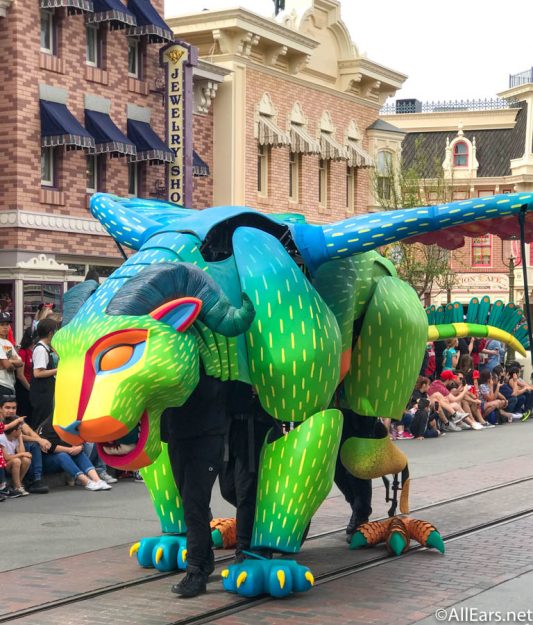 All of the dancers near the Coco float are dressed in colorful alebrije costumes.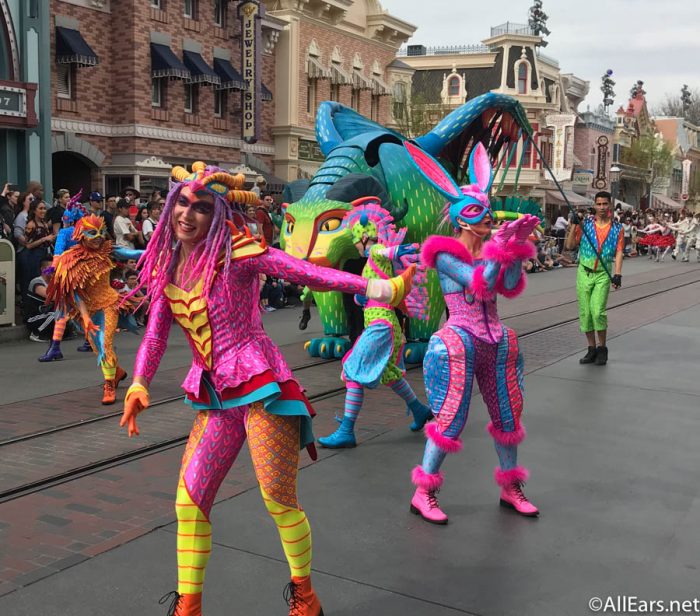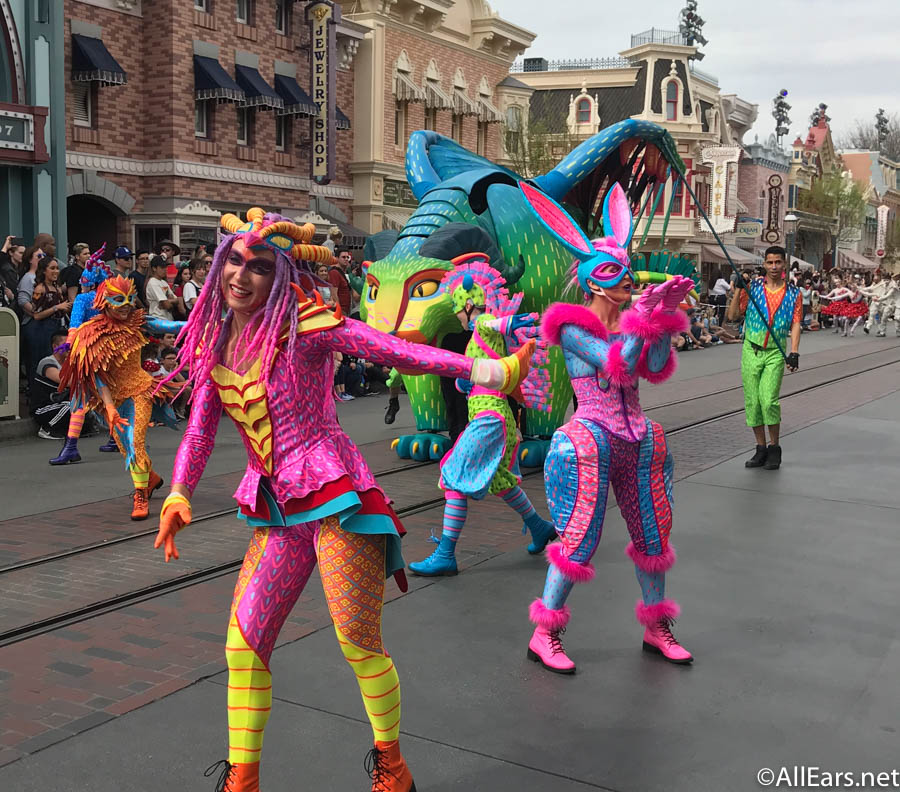 Soon after, this Frozen II float brings the enchanted forest to life with Anna, Elsa, and Olaf!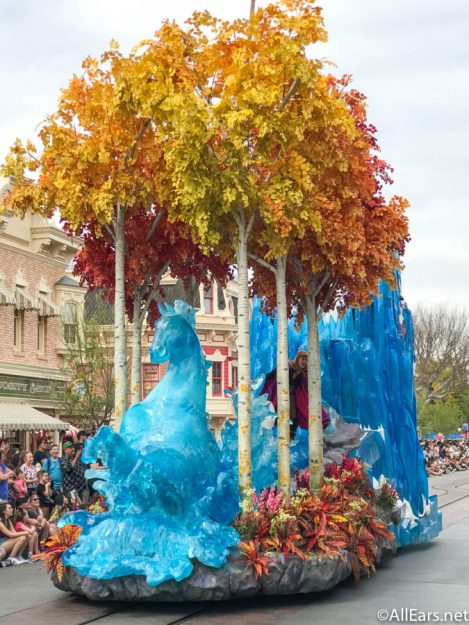 The dancers with this float are dressed like the enchanted forest from Frozen II.
And, don't worry — Sven and Kristoff are there, as well!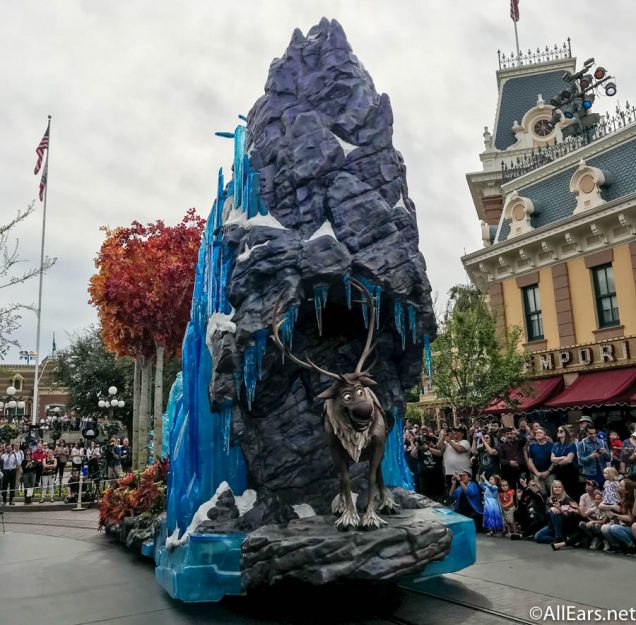 Then comes the massive parade finale, led by a wandering group of characters including Fairy Godmother, Genie, Aladdin, Tinkerbell, the Blue Fairy, and Pinnochio!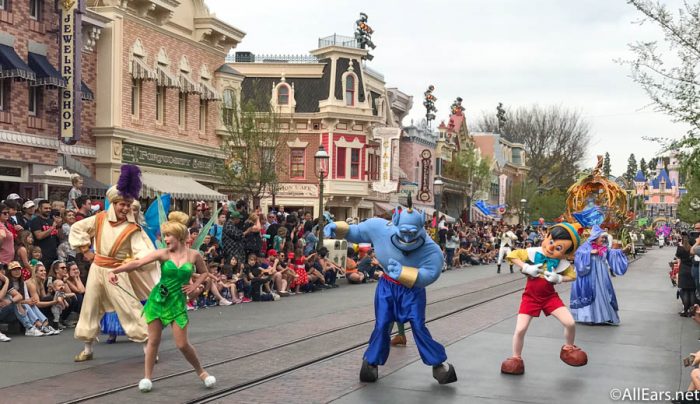 Cinderella rides along in her pumpkin, midway between its transformation from gourd to the beautiful carriage!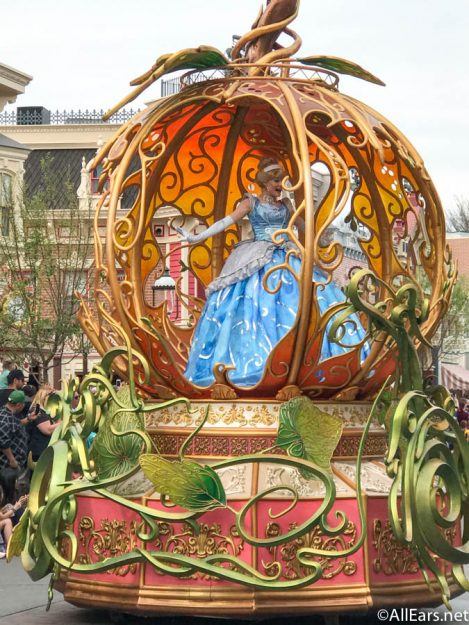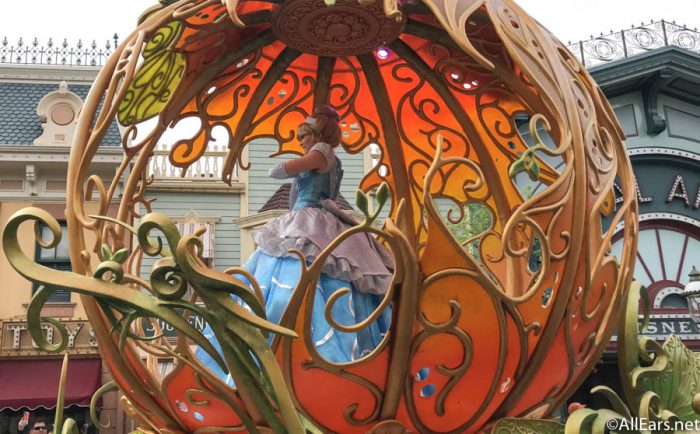 The Sword in the Stone float is so fun and Merlin and Arthur have a ton of spunk. Is there anything more magical than watching him pull the sword from the stone?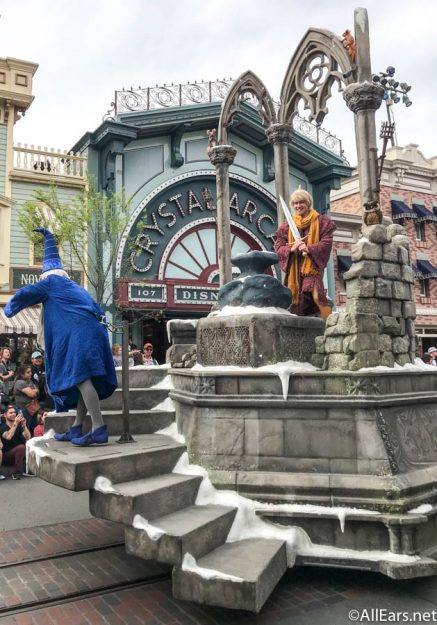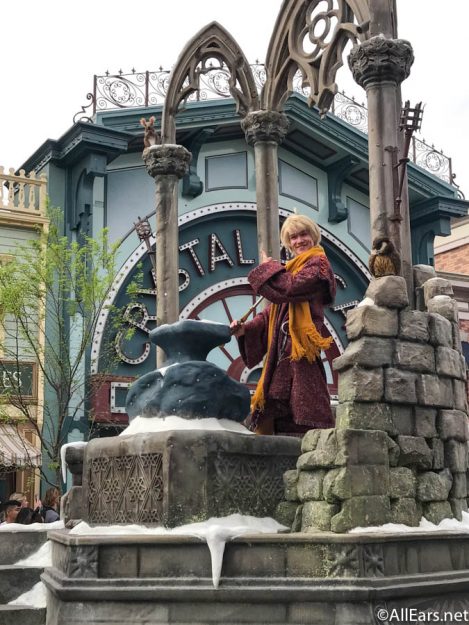 Tiana and Naveen share true love's kiss as they celebrate the moment they turned back from being frogs to being a prince and princess.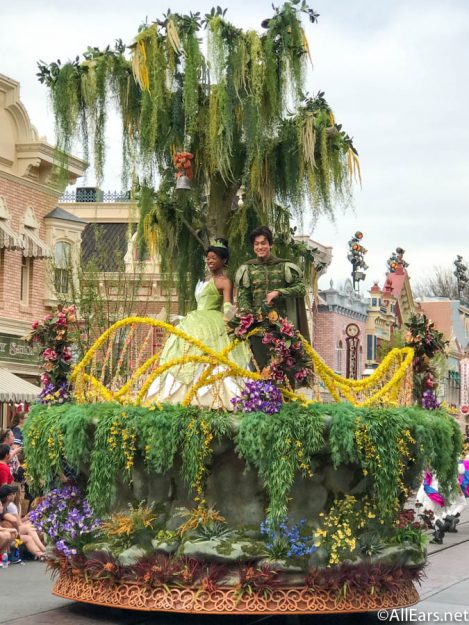 The biggest parade float, though, is Sleeping Beauty's (fitting, since the park is home to her castle)! The three fairies float in circles as they cast their magic and Aurora dances with Prince Phillip as her dress is midway between pink and blue. So pretty!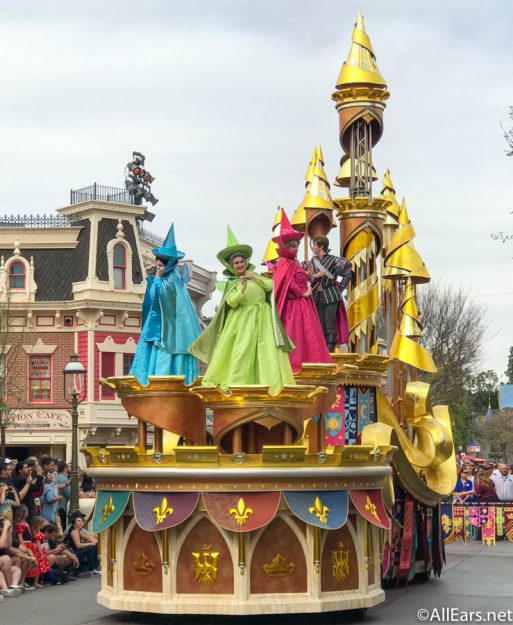 After so many previews, we adored getting to see these beautiful floats in person for a truly magical show! And, if you can believe it, the show gets even cooler at night. The nighttime version of the show features a variety of LED lights to enhance the experience, so you can truly get two different views of the same parade in one day!
Magic Happens officially opens tomorrow, so make sure you check it out during its daily showings at 3:30 PM and 6 PM!
What do you think of the new parade in Disneyland? Let us know in the comments!