You want to know why we love Epcot's festivals? …Yes, we love the celebrations of art, culture, and nature from around the world but honestly? It's the food.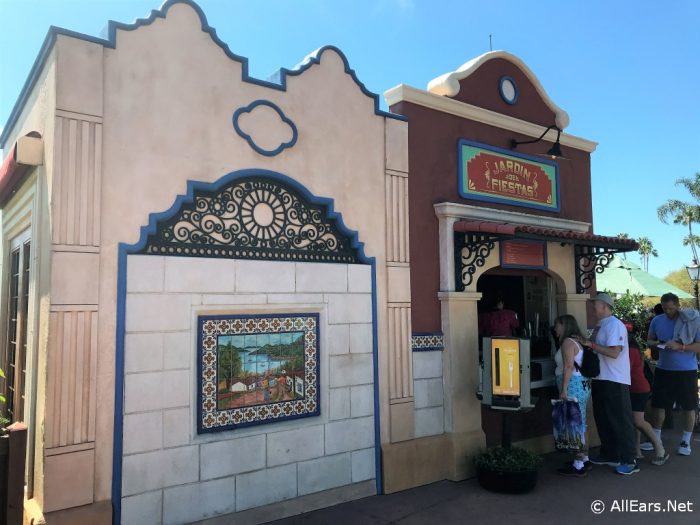 That's why we're so excited to share the upcoming menus for the 2020 Epcot International Flower and Garden Festival, featuring the freshest eats around! Let's take a look at this year's selection of Outdoor Kitchens!
Every festival has a culinary theme. Food and Wine is gourmet cuisine and international delicacies, Festival of the Arts is food that is just as aesthetically pleasing as it is delicious, and Festival of the Holidays is… well, holiday food. But Flower and Garden? It's all about that fresh. Freshly grown ingredients transformed into some of the most incredible food you'll taste at Disney World. Each of the 16 Outdoor Kitchens takes this theme and runs with it, producing food and drink that is sure to delight.
Citrus Blossom
Lemon, orange, and lime are Florida staples, which is why this charming stand puts such an emphasis on the tangy flavors of citrus!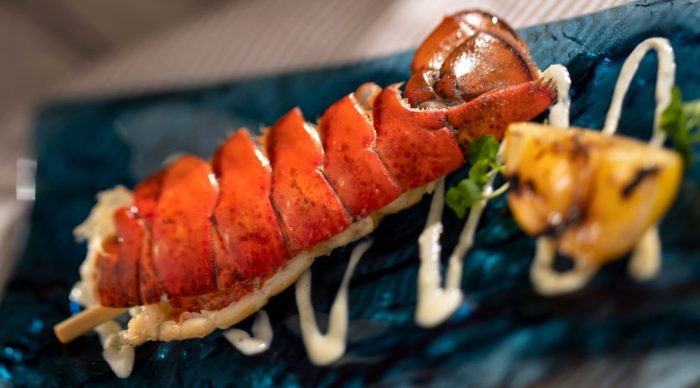 Stop in for a selection of citrus flavored drinks, including an Orange Cream Shake served in an Orange Bird Sipper, or an Orange Sunshine Wine Slushy! Then fill up on citrus accented treats like the Lobster Tail with Meyer Lemon Emulsion and Grilled Lemon, or Tuna Tataki Bowl with Spicy Yuzu Glaze, Mango, Avocado and Pappadam Crisp.
Honey Bee-stro
You better Bee ready for this kitchen, which serves food and drink infused with the sweet, sweet taste of honey.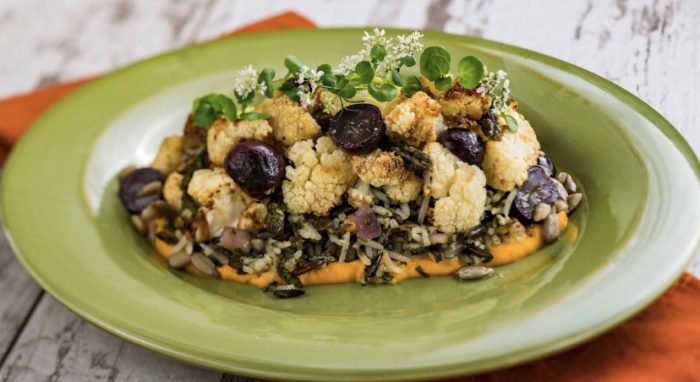 Wander around outside to learn how to bee a good friend to our hive-dwelling neighbors, then try out the Honey-Peach Freeze in a Souvenir Spike the Bee Sipper Cup, maybe paired with the Honey Tandoori Chicken Flatbread, served with clover sour honey cream!
Trowel & Trellis
Since this is the Flower and Garden Festival, fans of plant based foods will find no shortage of delicious options. The star, however, is the Trowel and Trellis kitchen, hosted by Impossible Foods. Impossible Foods are super hot right now, thanks to the runaway success of the Impossible Whopper and the introduction of Impossible-based dishes at major restaurant chains around the world.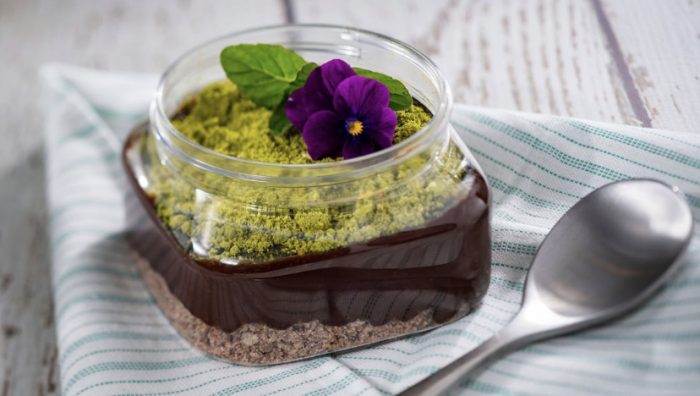 Everything here is 100% plant based, including the Grilled Street Corn on the Cob, and Impossible Farmhouse Meatball with Lentil Bread. Plus, you can wash it down with drink options like the Bloomin' Blueberry Lemon and Ginger Tea, and more! Who knew going vegan could be so delicious?
Bauernmarkt: Farmer's Market
Venture to Germany for Bavarian bites sure to sate foodies of all ages—every dish is köstlich!
This delicious booth is serving up German-inspired delights such as Potato Pancakes with House-made Apple Sauce, and Warm Cheese Strudel with Mixed Berries! You can pair that with brew options like Bitburger Premium Pils from Germany, or Stiegl Brewery Radler Zitrone from Austria!
Flavor Full Kitchen Hosted by AdventHealth
Flavor Full Kitchen focuses on healthy food, with lots of delicious veggies!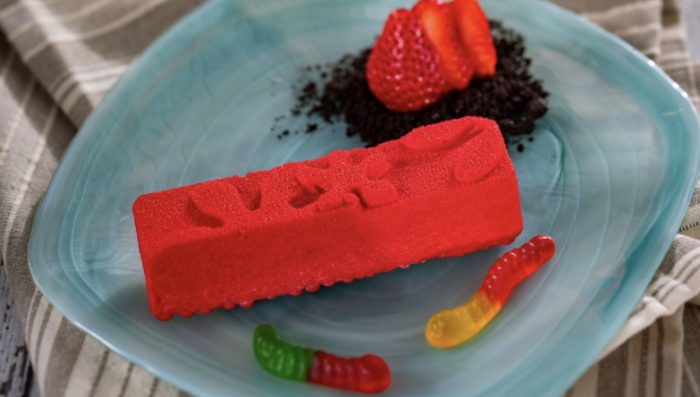 Some examples of that include their Grilled Baby Vegetables with Hummus Cream and Red Pepper Coulis, which you can finish off with the very sweet Strawberry Mousse with Chocolate Crisp Pearls. Pair it with drinks like the Blood Orange Agua Fresca. There's also the Cookie Butter Worms and Dirt for dessert, which we are very intrigued to learn more about!
Fleur de Lys
Indulge in some Parisian delights with the Fleur de Lys booth, which takes inspiration from French cuisine!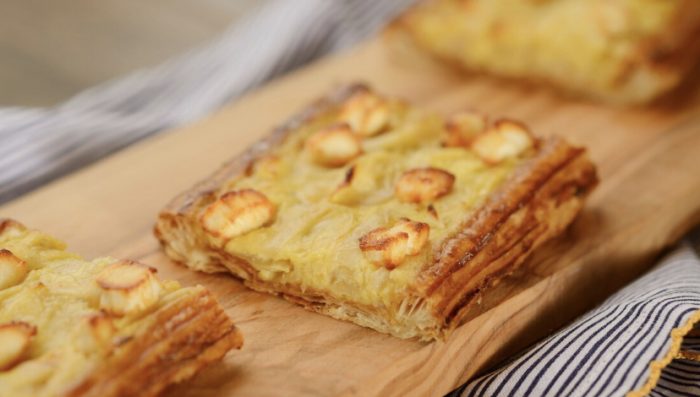 Delicious pastries are the name of the game here, with options like their Tarte aux Oignons Caramelises et Chévre, which is a goat cheese tart with caramelized onions on pastry crust!  For something sweeter, you can also try the Éclair Chocolat Framboise which is filled with raspberry and chocolate mousse. Libations include the La Vie en Rose Frozen Slushy, made with Vodka, Grey Goose l'Orange Vodka, St. Germain Liqueur, as well as both white and red cranberry juices.
Florida Fresh
Enjoy the standout culinary flavors of Disney World's home state of Florida at the Florida Fresh booth!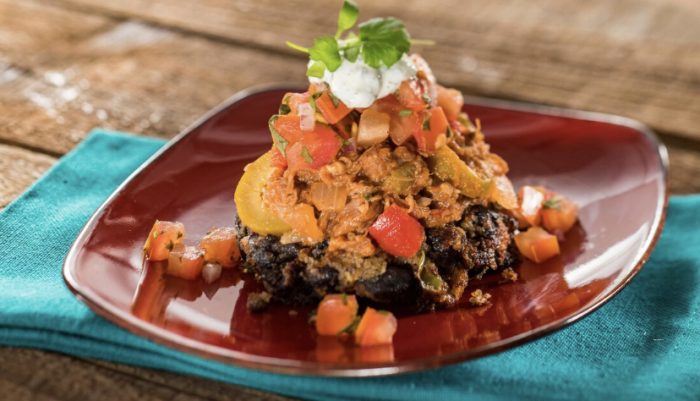 You'll find this booth between the France and Morocco Pavilions, serving up an array of tangy flavors, and seafood options such as Spicy Blackened Shrimp and Cheddar Cheese Grits with Brown Gravy and Local Sweet Corn Relish, which you can pair with a Key Lime Tart with Toasted Meringue! For drinks, there are a variety of Florida-based brews, as well as cocktails such as the Watermelon Cucumber Slushy with Gin (you can also get it served without alcohol for a refreshing option).
Hanami
The Hanami booth offers a menu of eats and drinks from Japan!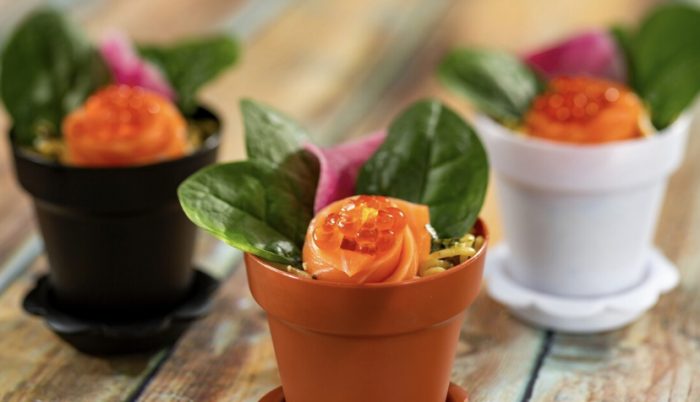 The booth is bringing back their iconic Frushi, which is strawberry, pineapple and cantaloupe in sweet rice and pink soy paper that is topped with whipped cream, berry sauce and toasted coconut. For a more savory option, the menu also includes their Menchi Katsu Slider. For drinks, you can enjoy the Furano Martini, or Strawberry Nigori Sake!
Jardin de Fiestas
Over in the Mexico Pavilion, you'll find the Jardin de Fiestas booth!
Some of the delicious options here include the Chilaquiles de Pollo, which is chipotle-braised chicken and tortillas served with salsa, Monterey Jack cheese, Crema Mexicana, and guajillo cheese! For drinks, of course there are some Margaritas on the menu! These include the Rosita Margarita, and the Mango Mexican Lucky Margarita.
La Isla Fresca
La Isla Fresca booth is serving up Caribbean-inspired delights!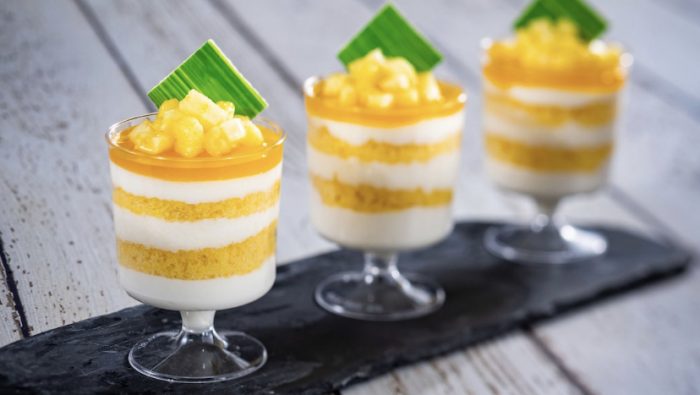 For food, you can enjoy a Sugar Cane Shrimp Skewer, which is served with steamed rice and coconut lime sauce. For something sweeter, there's the Tropical Mousse Cup with layers of passion fruit cake, coconut mousse, and a tropical fruit glaze. For drinks, you can get the booth's Tropical Freeze, which is served non-alcoholic, or can be paired with Parrot Bay Mango Rum.
Lotus House
Over in the China Pavilion, you'll find the Lotus House booth.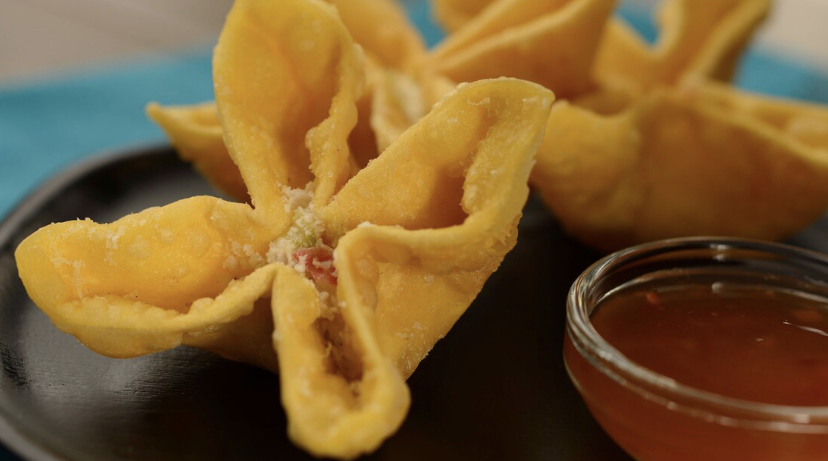 Indulge in the delicious eats like the Bon Bon Chicken Skewer with sesame and peanut sauce, or the House-made Crab and Cheese Wontons. For drinks, you can enjoy picks like the "Panda" Bubble Tea which is a classic milk tea with black and white Boba Pearls.
Magnolia Terrace
The Magnolia Terrace booth takes its inspiration from the Gulf region, with plenty of shellfish and southern food!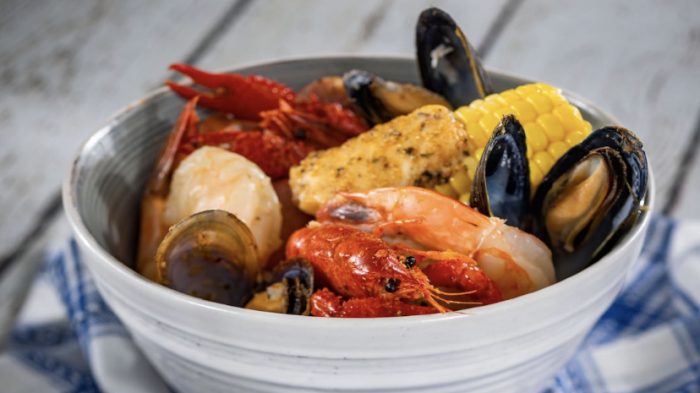 One of the standouts here has to be the Southern Seafood Boil, which includes shrimp, mussels, crawfish, potatoes, corn, and andouille sausage! Grilled Oysters are also on the menu, as is Praline Pie. For sips, enjoy brews from southern regions such as Georgia, Louisiana, and North Carolina.
Northern Bloom
The Northern Bloom booth takes inspiration from our neighbors from the North — Canada!
As usual, the Canada booth is bringing it with some delicious eats, including the Beef Tenderloin Tips, served with mushroom bordelaise sauce, whipped potatoes, and veggies. Drinks include a variety of brews, as well as the Maple Popcorn Shake, which can be served non-alcoholic, or paired with Maple Rye Whiskey.
Pineapple Promenade
The Pineapple Promenade booth specializes in all things tropical!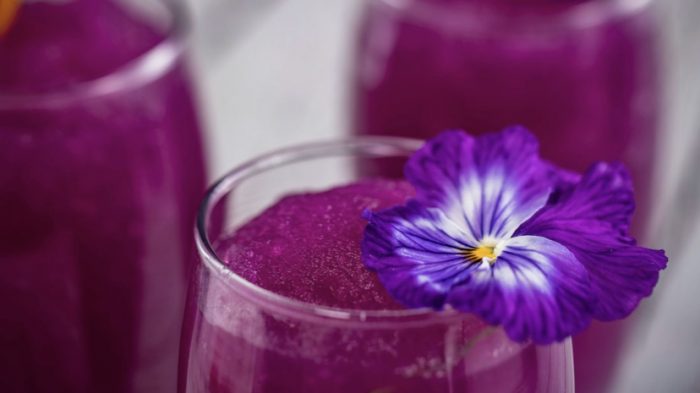 What's important to know is that the Dole Whip is here! Also on the menu you'll find a Spicy Hot Dog with pineapple chutney and plantain chips, which you can pair with drinks like the Frozen Desert Violet Lemonade, which can be enjoyed with or without alcohol.
Primavera Kitchen
It's time to head to the Italy Pavilion to check out the menu of the Primavera Kitchen booth.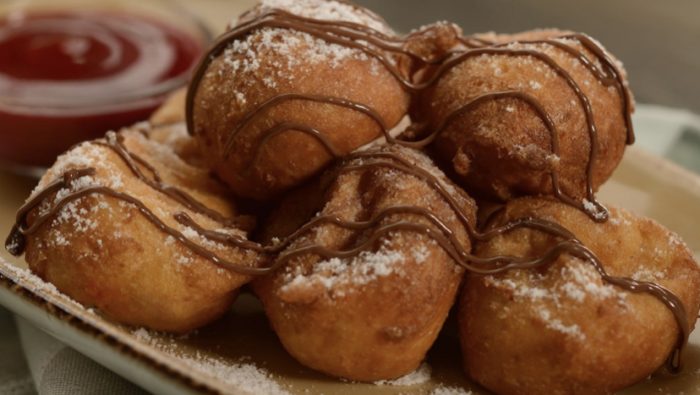 Here you'll find options like Ravioli with chicken and veggies, or Zeppole, which are Ricotta cheese fritters with powdered sugar, topped with raspberry sauce, and chocolate-hazelnut drizzle. For drinks, you'll find a variety of wines on the menu, along with a Frozen Italian Margarita made with limoncello and tequila.
Taste of Marrakesh
Enjoy the flavors of Morocco at the Taste of Marrakesh booth in the Morocco Pavilion.
The menu includes eats like the Harissa Chicken Kebab with dried fruit couscous salad and cilantro oil, or Walnut Honey Baklava. For drinks, White Sangria is an option, along with Desert Rose, which is sparkling wine topped with pomegranate liqueur.
Which Outdoor Kitchen is your favorite? Did any of your faves return from last year? Let us know in the comments!
Join the AllEars.net Newsletter to stay on top of ALL the breaking Disney News! You'll also get access to AllEars tips, reviews, trivia, and MORE! Click here to Subscribe!