It's a well-known fact that Walt Disney wanted Disneyland to be a place free of alcohol, and that's stayed (mostly) true over time.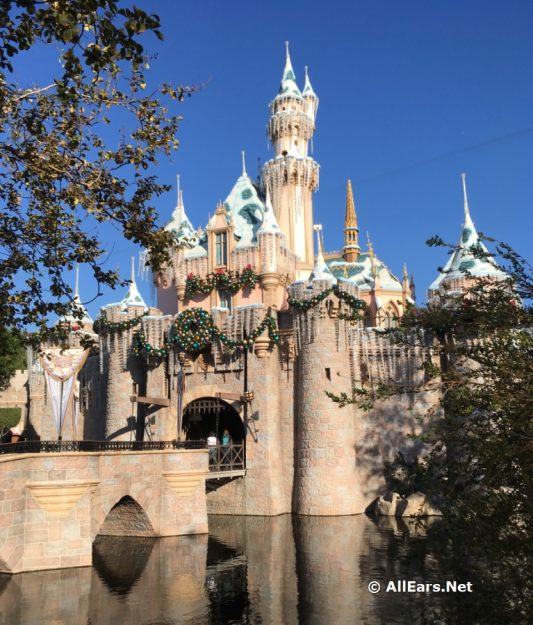 With the exception of Oga's Cantina in Star Wars: Galaxy's Edge, there is nowhere to purchase alcohol in Disneyland Park. Sure, we love the fun cocktails in California Adventure and at Walt Disney World, but there are definitely positives to abstaining.
One of those positives are the delicious, gorgeous, and often iconic "mocktails" that are sold around Disneyland Park. So we thought we'd run through our favorites in no particular order.
Here's a list of 10 of our favorite "mocktails" in Disneyland!
1. Black Spire Brew — Oga's Cantina
First stop is Oga's Cantina! Even though Oga's is the only place in the Park that sells alcohol, they also have some pretty tasty mocktails like the Black Spire Brew. It's a combo of Cold Brew Joffrey's coffee, honey, falernum, passion fruit, and citrus — perfect for those early Batuu mornings!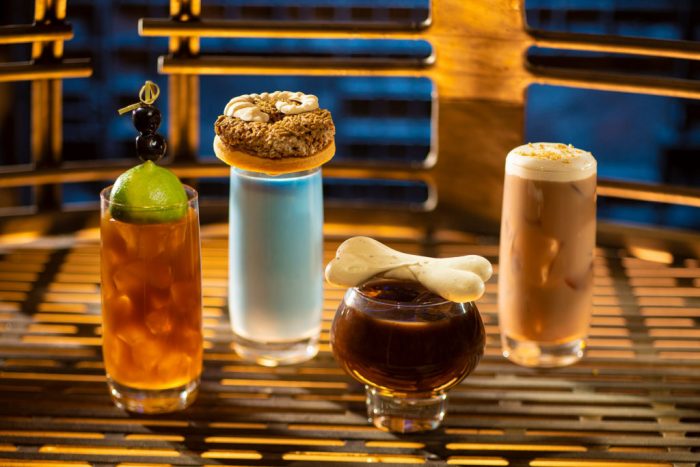 2. Jungle Julep — Bengal Barbecue
Swinging over to Adventureland, we're sipping on the Jungle Julep from Bengal Barbecue. This mocktail is a refreshing slush of pineapple, orange, grape, and lemon juices. It's the fruitiest and freshest drink on the list.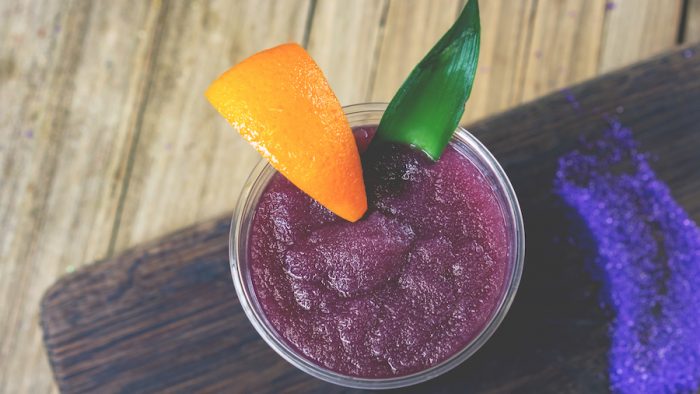 3. Mint Julep — The Mint Julep Bar
Now for the most iconic of Disneyland mocktails: the Mint Julep. This thing is a staple of Disneyland just as much as beignets or Mickey Bars, and we can see why. It's hard to pass up on this super tasty mint drink with just a hint of lime — and while it used to be bright green (see below), this drink did get a little tweak not too long ago. It's less green but just as tasty. Find it (and sometimes other seasonal varieties) at The Mint Julep Bar!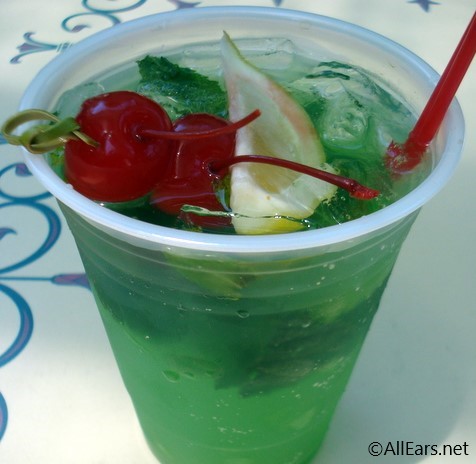 4. Enchanted Cherry-Apple Lemonade — Troubadour Tavern
This one is pretty simple and pretty delicious! At Troubadour Tavern, you can grab a cherry-apple version of frozen Odwalla lemonade. It comes topped with whipped cream and sometimes a pretty apple chip.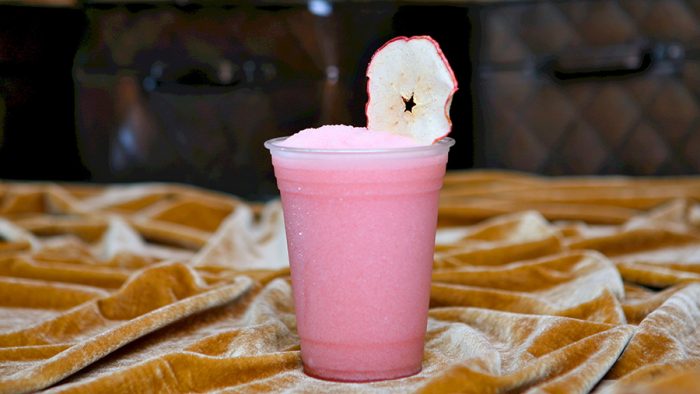 5. Boysen Apple Freeze — Maurice's Treats
Speaking of apple, we can't pass up on Maurice's Treats' well-known Boysen Apple Freeze! This freeze is a yummy apple slush that comes in an iconic souvenir mug. In the Beast stein it looks like a real, frothy ale.
6. Dole Whip Float — Tiki Juice Bar
We might be pushing the boundaries of "mocktail" with this one, but you can't deny that it would be good with rum! So it makes the list. Head to the Tiki Juice Bar to grab this float made with Dole Whip and pineapple juice.
7. Cliff Dweller — Oga's Cantina
We're back at Oga's! This next mocktail is more iconic for the souvenir Porg mug that it comes in. The Cliff Dweller is a yummy blend of citrus juices, coconut, hibiscus-grenadine, and Seagram's Ginger Ale.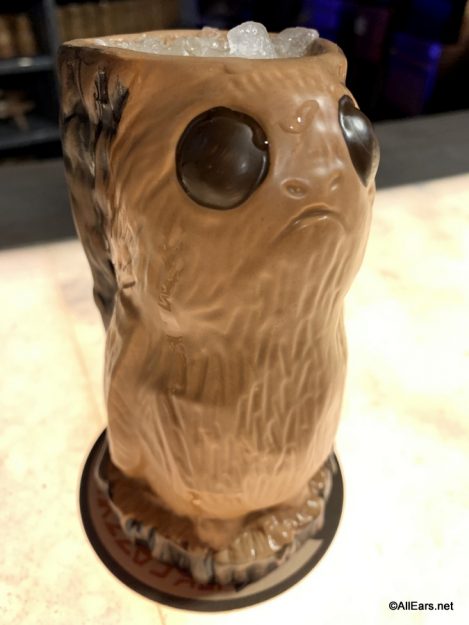 8. Louisiana Lemonade — Blue Bayou Restaurant
Yes, another Louisiana-inspired mocktail! This concoction at Blue Bayou combines Minute Maid lemonade, Sprite, mango juice, and raspberry juice. Plus you get to take home a souvenir glow cube.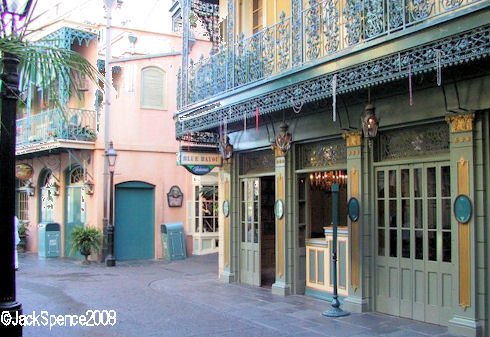 9. Moof Juice — Docking Bay 7 Food and Cargo
Back in Star Wars: Galaxy's Edge at Docking Bay 7, we love the Moof Juice. It's another fruity combo with Simply Fruit Punch, Simply Orange, pineapple, and Chipotle-pineapple. If you like a drink with a little kick, this one's for you!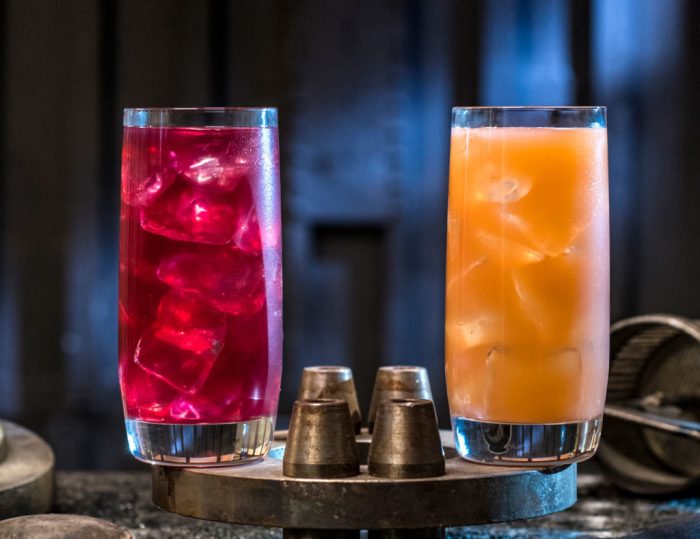 10. Gaston's Famous Brew — Red Rose Taverne
Last, but certainly not least, is Gaston's Famous Brew at Red Rose Taverne in Fantasyland. This drink looks a lot like beer and tastes nothing like it! It's an apple-mango punch topped with passion fruit foam and makes for a mildly sweet, majorly refreshing sip.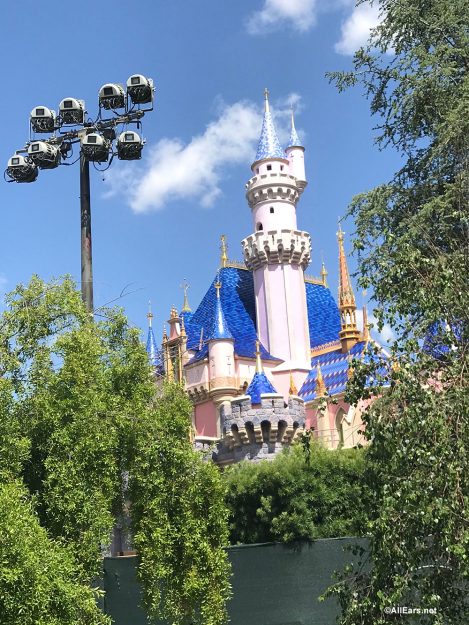 And there you have it! That's our run down of all our favorite mocktails in Disneyland. Happy sipping, friends!
Do you have a favorite Disneyland mocktail? Tell us in the comments!
Join the AllEars.net Newsletter to stay on top of ALL the breaking Disney News! You'll also get access to AllEars tips, reviews, trivia, and MORE! Click here to Subscribe!