To all who come to this photo trivia game, welcome! Along the way, the photos can make us relive memories and see details that Walt's Imagineers put into everything we love in Walt Disney World!
600 posts! Wow! Who would have thought?!

Now for Challenge #599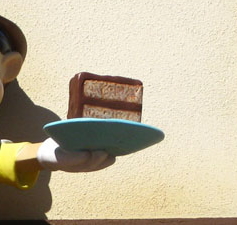 And here's the answer:
Pinocchio Village Haus! Claire Gregory let me know that they replaced the cake with an apple when healthy items were added to the menu. I hope that didn't throw anyone off. Let me know if it did.
The Gunnels Family, I don't know why the Italian Pinocchio has a German restaurant. Maybe he did a DNA kit from ancestry.com and found ancestors from Germany?
Scott C. was the first to send in the correct answer! Congratulations to Scott,  and to all our winners this week!  Adolph And Kimberly Timm, Belicia, Tammy Warmouth, Karen Fichter, Joann Albrecht, Team Hill, Margaret Convery, The Kuroly Family, Gloria Martin, Glenn And Nancy Motson, Mike Haeberle, The Kertes Family, Carla Nale, Phyllis, Ken Savage, Diane Curfman, Tricia Petty, Laurie Walker, Linda College, Susan Higginbotham, Grumpys Groupies, Bonnie Jean, Smitty, Robert Wescovich, Luis Rodriguez, Karen Schlumpf, Al & Kerry Ganter, Barbara Hicks, Claire Gregory, Jeremy A Hardy, Melissa, Tony Bivens, The Gunnels Family, Jeff Mcginley, Megan Krainski, Sue And Ed Adams, Jessica Ballard, Chris Kelly, Herb Miller, Ed Suscreba, Debby Stailey, Jodie S., Karen Ramirez, Jim & Lorie Sonnen, Erin Hammer, Sands Family, Theresa Maradei, David Crockett, Laura Sponaugle, Arlene Vicek, Melissa Littman, Jim Finley, Jeff Blank, Beau Harrison, Josh Weiss, Dallas Hamilton, Carla C, Bob Hawley, Rebecca Keenan, Sarah Kreps, Kerry A., Michelle Fure, Shannon Benton, Deanna, Mark Hardy, Janet T Thorn, Dee Dee Kenney, Scott Sangston, Beth Wolf, Maribeth Jackson, Craig Wolf, Shellie Wilson, Vicki Britt, Steve Knapp, Mis Jamie Marie, Pensacola Glenn, Rick Shingler, Lori Rienhardt, Melissa N, Jamie Poynton, Wendy T Faler, Jackie, Sandra Debow, John Debow, Sue Bridges, Kayla Ankeny, Donald Purney, Barclay Bakkum, Cheryl Costello, Sherri Pell, The Patterson Family, Ruth Cookson, Jamie Steiner, Jane Johnson, and Emma Ramsey!
It's time for the July drawing! And the winner is: Luis Rodriguez! Congratulations, Luis! I will be contacting you soon over claiming your prize!
______________________________________________________
Challenge #600 Where in the world is this?
Let's do a character! We're outside the parks, but just tell me who this is. Don't worry about where. Those eyes: LOL!
Do you know? Do you have a guess? Please send in your answer before the end of the day on Thursday, August 8th by clicking on the blue box below. Please do not post your answers on this blog post.
See you soon, Players!

_____________________________________________________________________
Everyone who sends in a correct answer to a Where in the World Challenge this month will be entered in a drawing at the end of the month for some special AllEars® goodies!
Be sure to follow @allearsnet on Instagram and Twitter!
Check out our YouTube Channel for reviews, news, information and more!
Click below to subscribe to the AllEars® newsletter so you don't miss any of the latest Disney news!