Even if you're not a Star Wars enthusiast, you may know the famous scene in which Obi Wan Kenobi uses a Jedi mind trick on a Stormtrooper to convince him that C-3PO and R2-D2 "aren't the droids you're looking for."
via GIPHY
Now with the opening of Star Wars: Galaxy's Edge at Disneyland, you can BUILD the droids YOU'VE been looking for at the Droid Depot. Here's how!
You'll find the Droid Depot over near the entrance to Galaxy's Edge that's behind Big Thunder Mountain at Frontierland. It's a roundish building with an awning, but like many places in Black Spire Outpost, it's not well-marked, so it's hard to know if you're in the right place.
The inside of the depot is a large room, overflowing with droid parts on the counters and even overhead. There are a number of droid-building stations in the center of this room.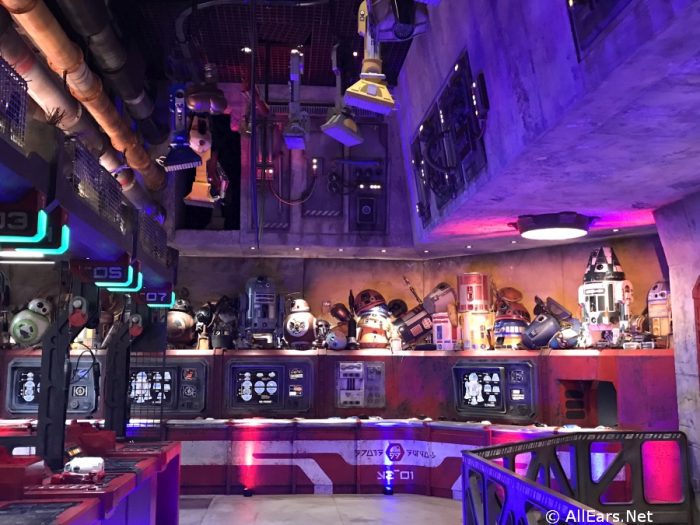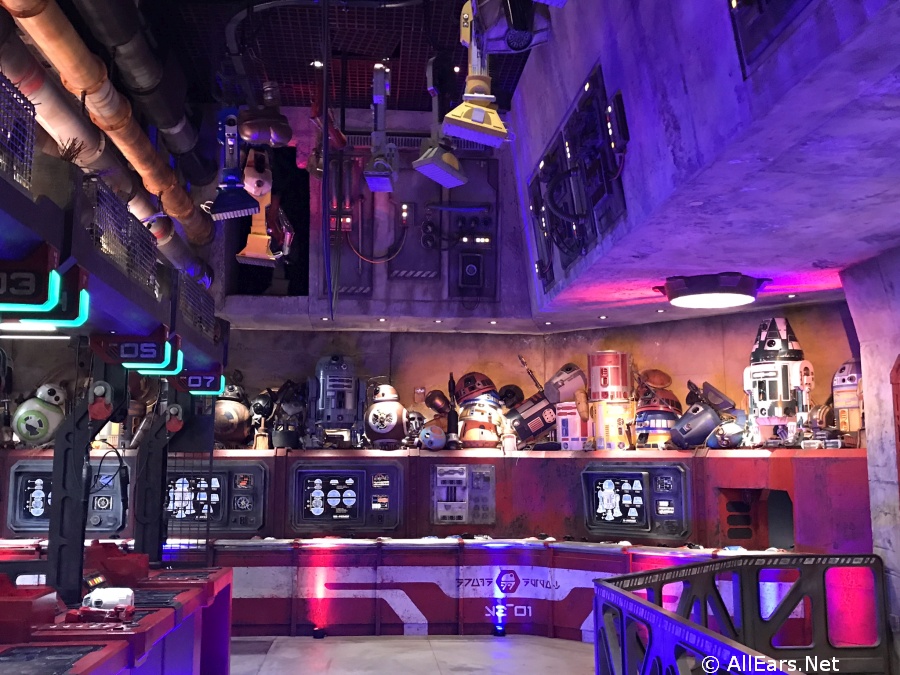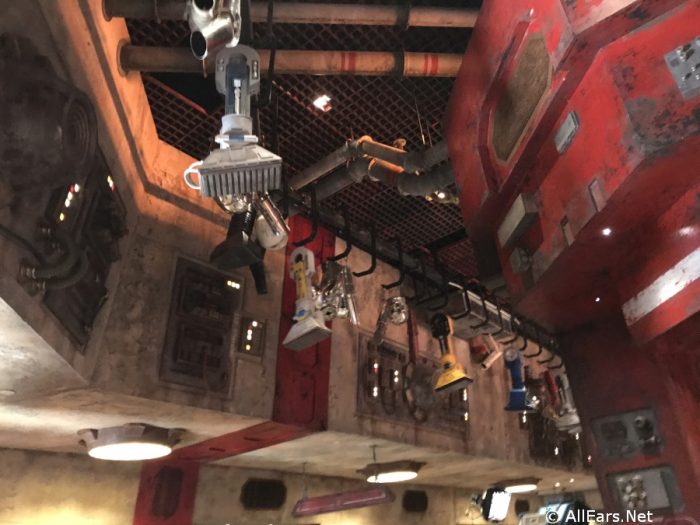 This is a totally immersive, hands-on experience that takes a while to complete, not just "shopping," so be prepared to enjoy it! (Note: This experience is recommended for ages 3 and up.)
To build your own droid, you must first pay for it, of course. Get in the line on the left when you first walk into the Depot and go to the checkout counter that is for droid-builders exclusively.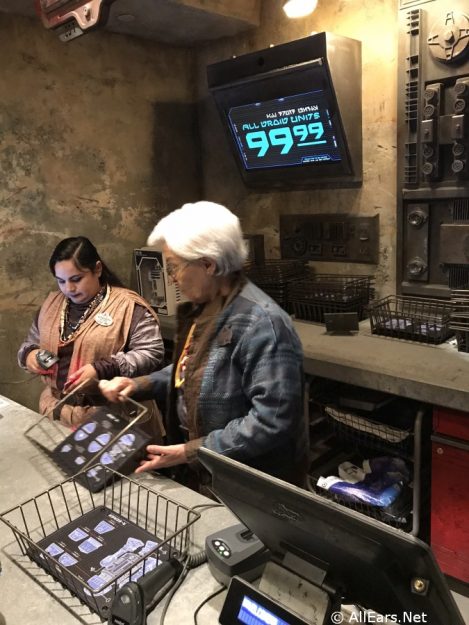 After you choose whether you want to build a BB-series (round like BB-8) or R-series (like R2-D2) unit and you've paid your $99.99, they'll give you a basket and a blueprint that you then take to the conveyor belt at the back of the store.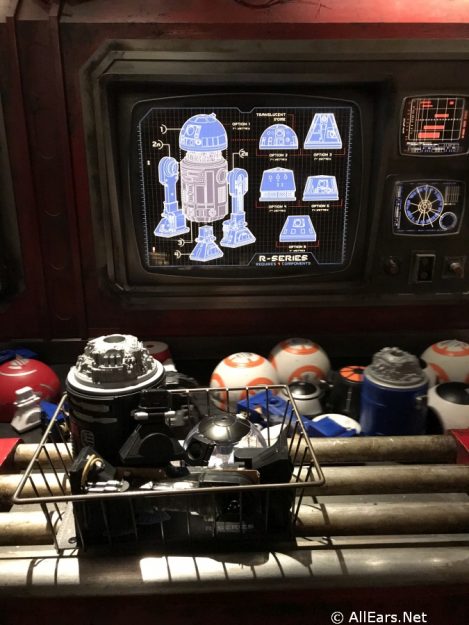 There you'll find all the parts you need. There are all different colors of plastic parts and posted schematics to help you determine exactly which to get.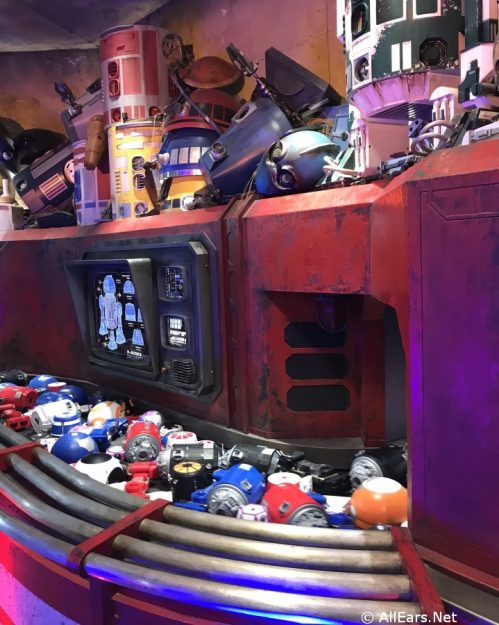 Once you've gathered everything together, you head to a droid-building station — be forewarned that there may be a wait as there are a limited number of stations.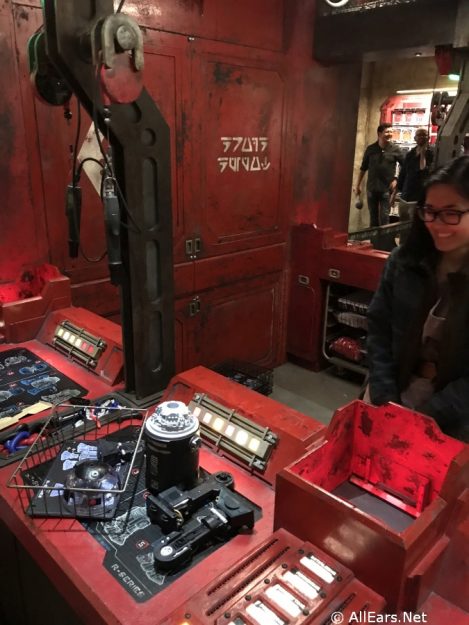 Droid-building stations have instructions and a little tool suspended from the top of the structure. You can put your droid together yourself, or if you need some help, press the "Alert Tech" button to summon a cast member.
Once you've assembled your new sidekick, your droid will be paired with a remote control and activated. Your droid comes with a personality when you build it, but you can also buy an additional personality chip, if you'd like to tailor your droid's responses to be allied with the First Order or the Resistance, or perhaps more neutral. Using Bluetooth® technology, the droid's personality type will determine how it communicates with other astromech droid units as well as how it responds to certain other elements and objects on Batuu.
You can further customize your droid with additional accessories that can be purchased in the depot — there are tool service kits, decals and plastic replacement panels if you want to change the droid's appearance.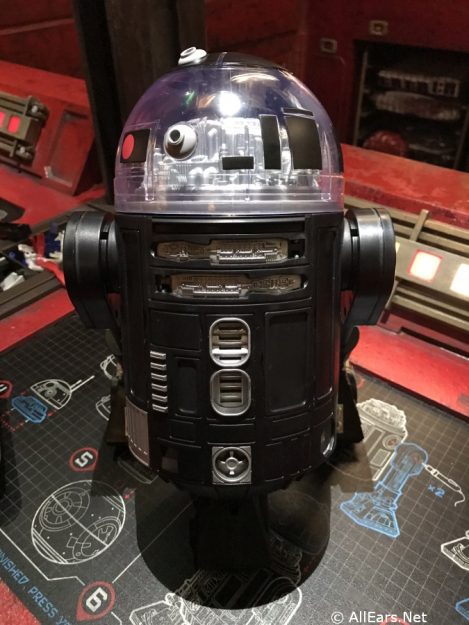 Your finished droid is put into an octagonal carrier box with a clear plastic window so it can peek out… and you can peek in. Note that you MUST carry your droid in the park and elsewhere at the Resort — you can't use a remote control and let it wander on its own!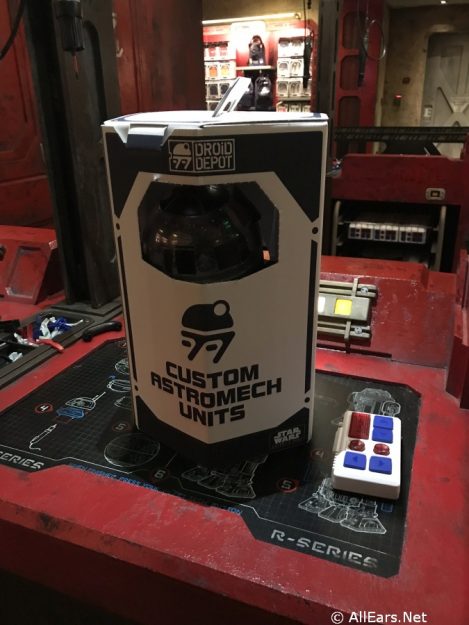 REMEMBER: Each astromech droid unit will cost you $99.99, plus tax. Custom astromech droid units are nonrefundable and are not eligible for Annual Passholder or other discounts.
In addition to droid parts, you can buy other merchandise in another room off to the side of the main droid-building room.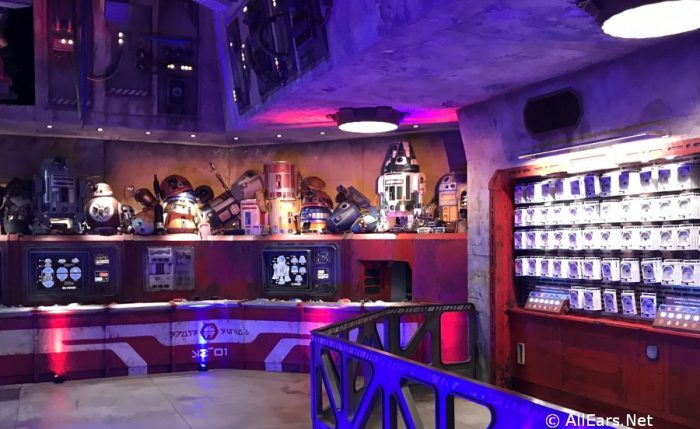 There's a variety of apparel, including t-shirts, sweatshirts, and hats, home decor and kitchenware (bottle openers, oven mitts, aprons, mugs, photo frames, shotglasses, wall signs), toys, and some very cool BB-8 and R2-D2 light-up and talking headbands, droid hair bows, and light-up wallets plus a $25,000 R2-D2  beeping around by the register.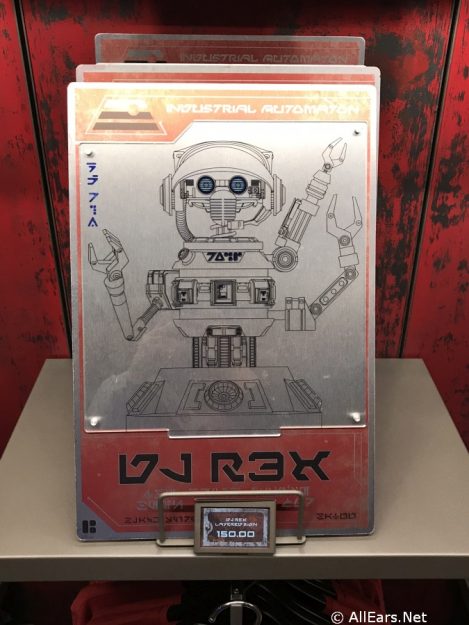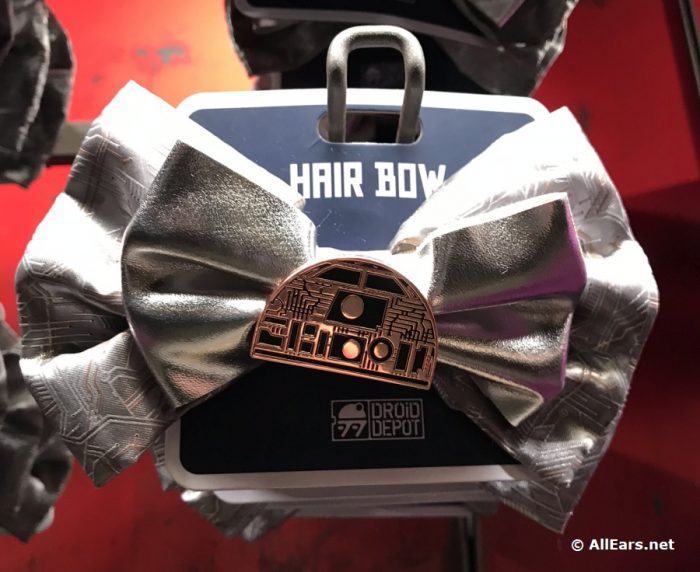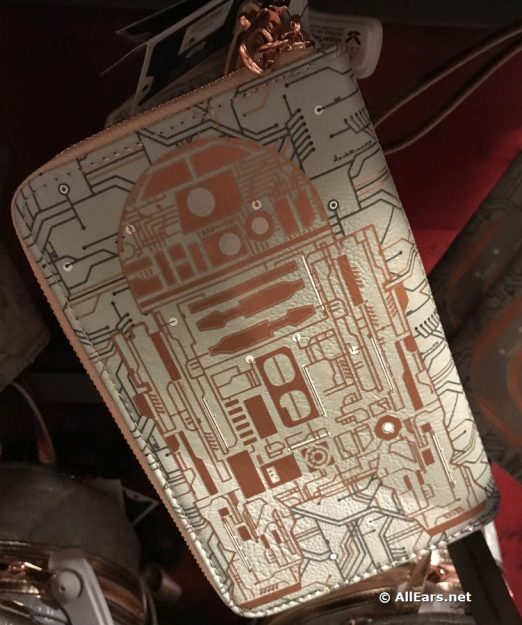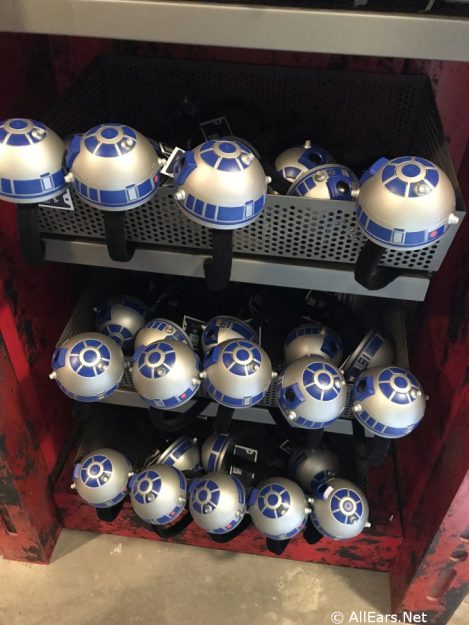 The check-out for these merch items is at the front of the room. We thought it was cool that even this area is appropriately themed!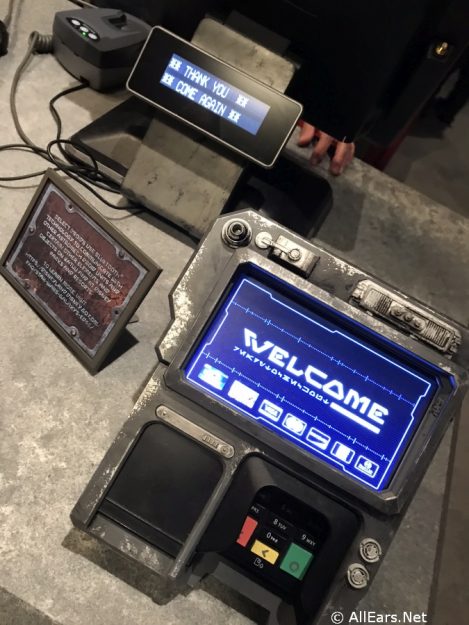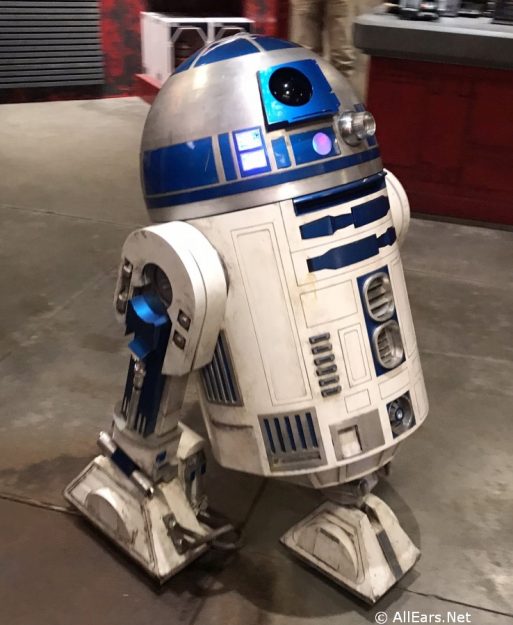 Are you ready to build your own droid or lightsaber? I sure am! Let us know your thoughts in the comments below!
Disclaimer: AllEars.Net was an invited media guest of Disney at the debut of Star Wars: Galaxy's Edge, but this did not affect our opinions. Our opinions are our own!
Star Wars: Galaxy's Edge at Disneyland is NOW OPEN! Don't miss these posts about the new land:
Be sure to follow @allearsnet on Instagram and Twitter!
Check out our YouTube Channel for reviews, news, information and more!
Click below to subscribe to the AllEars® newsletter so you don't miss any of the latest Disney news!