"LET'S GET READY TO DUMBOOOOO!"
–Michael Buffer
"Dumbo," Walt Disney Studio's latest in their ongoing string of live-action remakes, shows an expanded version of the long-eared elephant's story filtered through the always-esoteric sensibilities of director Tim Burton.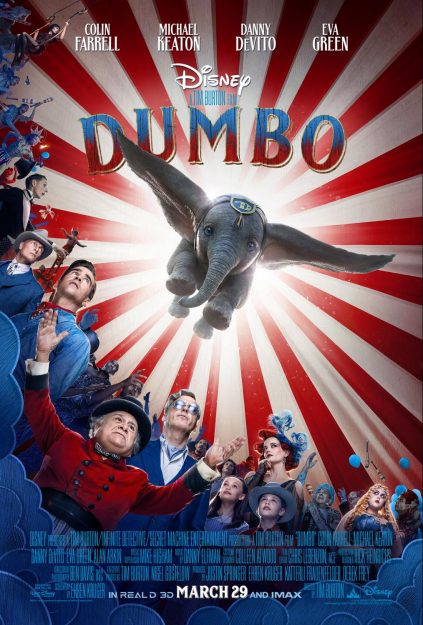 This version of the story focuses more on Dumbo's human associates, specifically Holt Farrier — a trick horseback rider who leaves for World War I with a starring act in the circus, a loving wife, and an intact body, and comes back to a life with none of them.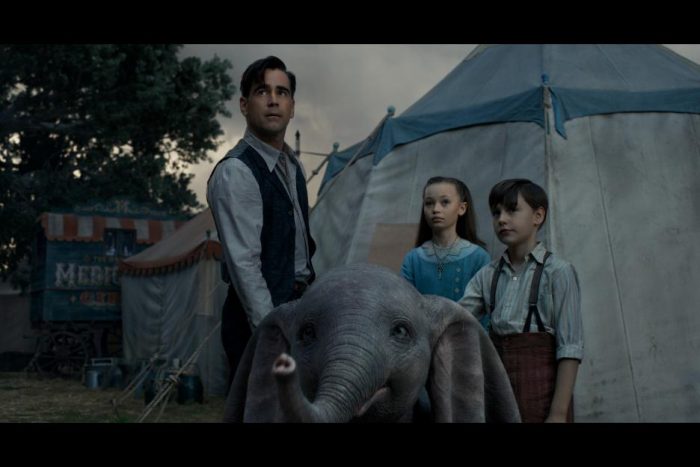 The Medici Bros. Circus, run by Max Medici, has fallen on hard times (he can't even afford a brother). The days of the traveling circus may be waning, and having already sold Farrier's horses, Medici has bet his bankroll on the draw of a pregnant elephant's cute offspring.  He is disappointed, to say the least, when her baby turns out to be a bit differently proportioned.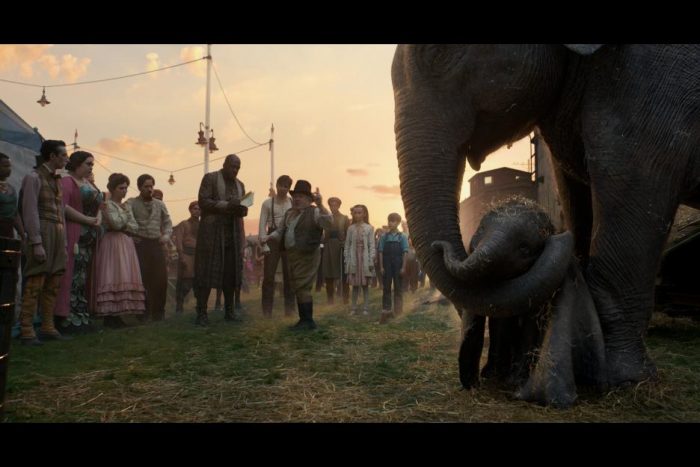 After an initial period of shunning, Dumbo turns out to be the financial savior of the circus when they realize his powers of flight make him box-office gold.  Enter V.A. Vandevere: A dazzling and persuasive entrepreneur with a brand-new theme park who sees Dumbo as an attractive acquisition. Soon, the entire circus is packed up and absorbed into Vandevere's fantastic Dreamland park, where they may discover that some dreams come with too high a price.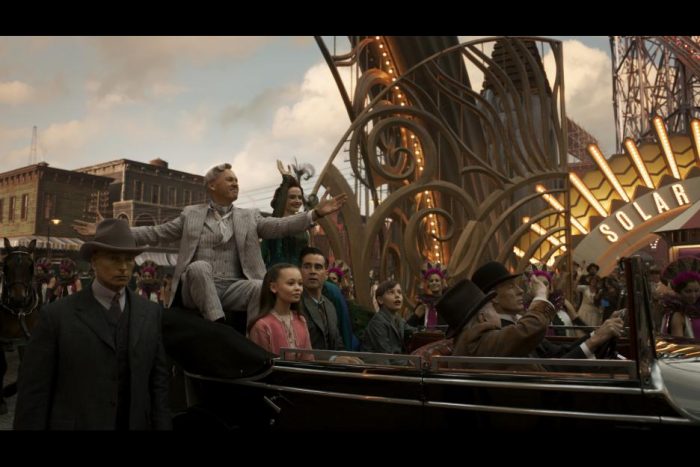 Performance-wise, the film is a triumph of the character actor, as the trio of Michael Keaton, Danny DeVito, and a criminally underused Alan Arkin are complete standouts. DeVito gets to play against his usual antagonist typecasting as the mercenary, but essentially good-hearted, Medici.  A bewigged Keaton gives us a compelling character that borrows more than a little from Walt Disney's innate showmanship, self-confidence, and single-minded dedication to a project, down to his slogan "we make the impossible, possible!" Arkin, meanwhile, Arkins his way through the movie as he usually does, managing to make his most offhand lines the funniest of the film.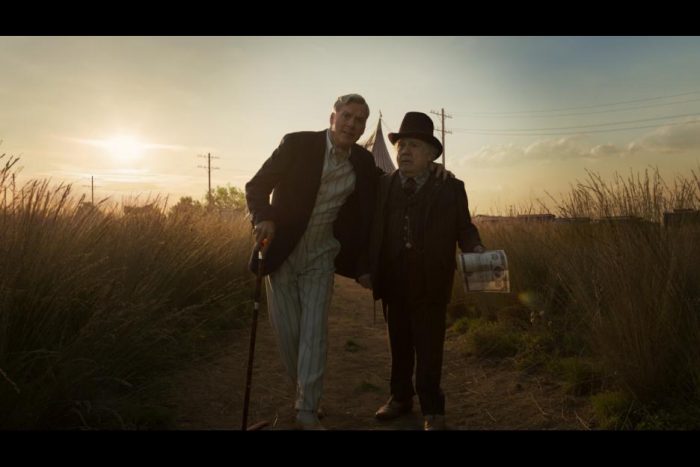 Where the film struggles a little is in the development of some of its other main characters. We aren't shown much of Farrier — beside the fact that he's pretty self-centered and a poor father — to really make us care all that much about his recovery process. The kids fare a little better, but anyone having seen much of the recent Disney film output ("Nutcracker and the Four Realms," "Mary Poppins Returns," "Christopher Robin") may have started to feel that, like "The Importance of Being Earnest's" Aunt Agatha, losing that many parents is going past misfortune into carelessness. Dumbo himself, CG and all, is suitably adorable, which makes the beginning puzzling: At first, everyone turns away with shock and disgust at him, when he looks for all the world like a regular baby elephant with slightly long ears that they can barely see between the hay and his mom. One wonders how they even knew that he was abnormal — I would have just figured maybe that's how they look when they're born?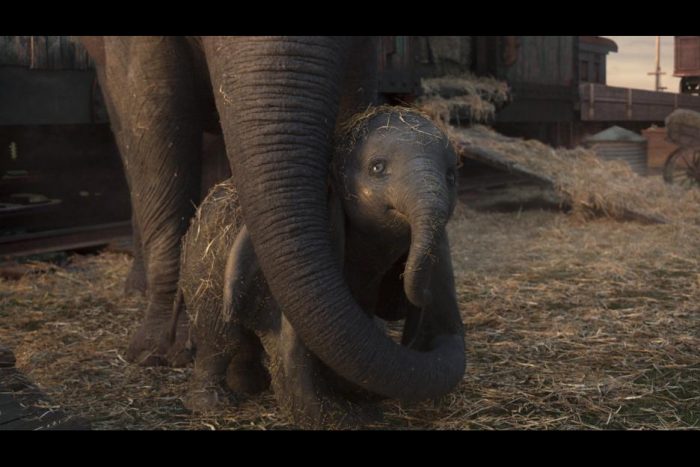 For me, however, the best part of the film is the glimpses we get of Dreamland — a gorgeous, Utopian theme park that looks something like if BioShock's Rapture and Disneyland had a baby, with a touch of 1930's World Fair thrown in.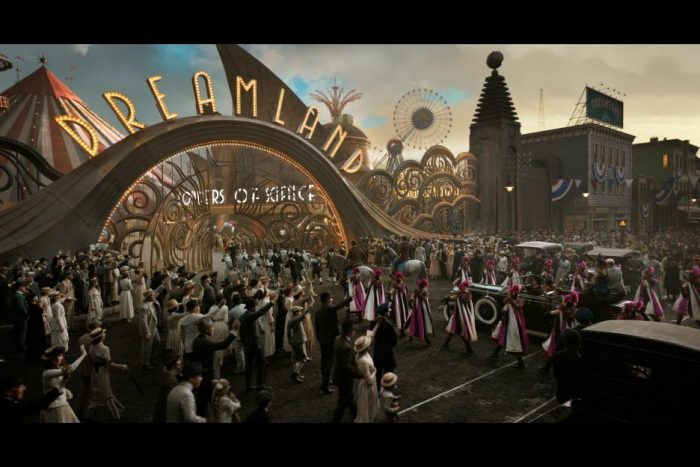 Although we are clearly meant to see it as a cold, ultimately heartless venue in comparison to Medici's family-oriented circus, I found it absolutely compelling (this may say more about me than anything else) and very distinctly part of the Burton aesthetic. From the obviously OSHA-violating carnival rides, to the ambitious "WONDERS OF SCIENCE" pavilion complete with audio-animatronic dioramas, to the elaborate Busby Berkley-esque numbers with 54 synchronized dancers, it's a place more well-realized than almost anything else in the film.  Even in its darker, creepier lands, familiar announcements like "Nightmare Island has come to the end of its operating day" can't help but give the regular Disney park visitor a quick jolt of nostalgia.
When it was originally announced that Tim Burton was going to direct this remake, it seemed like a strange choice:  The sentimentally sweet and short tale of an elephant who learns to have confidence in his individuality didn't sound like an immediate match for the director who brought us the dark and quirky "Beetlejuice" and "Edward Scissorhands." The difference in vision, however, helps keep the film from simply plodding through and hitting the same beats of the animated classic. Whether you consider it a success or not, it at least provides the audience with a new film-going experience from the 1941 feature, which is probably the only reason why a remake should exist in the first place.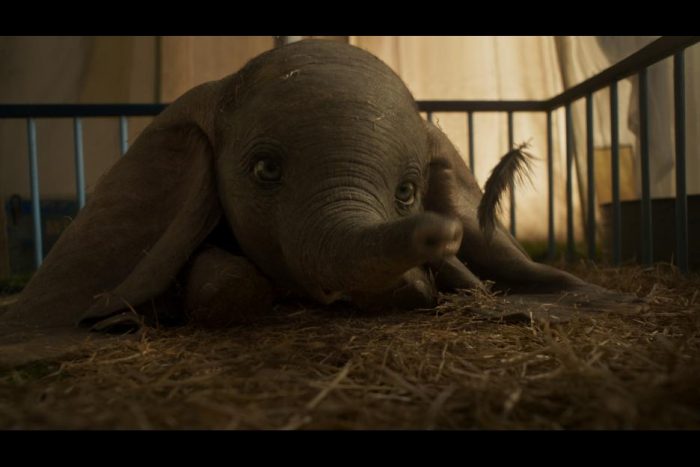 "Dumbo" is presented by Walt Disney Studios. Rated PG, it stars Colin Farrell, Michael Keaton, Danny DeVito, Eva Green, Alan Arkin, Finley Hobbins, and Nico Parker.
Directed by Tim Burton and produced by Justin Springer, Ehren Kruger, Katterli Frauenfelder, and Derek Frey. Executive Producer is Nigel Gostelow. Screenplay by Ehren Kruger.
The film enters general release today, March 29, 2019, and is distributed by Walt Disney Studios Motion Pictures.
In case you've missed it, here's the official trailer of the film:
Want to learn more about "Dumbo" before you go? Check out these posts:
Are you ready to see this new version of the Disney classic? Have you seen it? Let us know with a comment!
Subscribe to the AllEars® newsletter so you don't miss any of the latest Disney news!