Marvel lovers listen up! This weekend, Marvel unveiled its 2019 publishing slate. This information was revealed to a hall of fans attending Marvel's Next Big Thing panel during this year's Chicago Comic & Entertainment Expo.
The panel was hosted by Editor-in-Chief C.B. Cebulski along with some of Marvel's biggest creators.  Not only did the panel recap some of the weekend's biggest Marvel Comics news, they also teased what's next in the Marvel Universe – pointing to a yet-to-be-revealed story in December.

"We're only a few months into 2019, and we've already seen how our amazing fans – all of you – are inspiring some of the most outstanding storytelling in comics to date," said Cebulski. "Whether you choose to read your favorite Marvel books – like the Immortal Hulk, Venom, Avengers: No Road Home… or you want to read about the entire Marvel Universe – there's truly a story for every type of fan to dive into and experience this year. With that in mind, this new publishing slate for Marvel Comics is a guide to help you see where things are going and choose your favorite stories and characters to follow."
Since the convention's opening on Friday, attendees have received new looks at Marvel's world-shaking War of the Realms series, written by Jason Aaron and drawn by Young Gun; the deadly Absolute Carnage event, written by Donny Cates and drawn by Ryan Stegman; and the next monumental chapter for the X-Men with House of X and Powers of X, written by Jonathan Hickman and drawn by Young Gun Pepe Larraz and R.B. Silva respectively.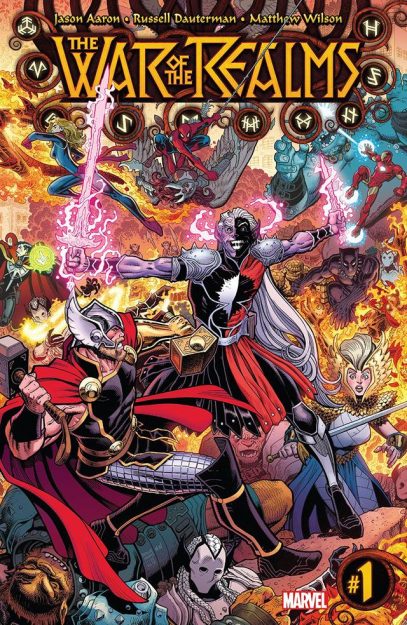 Each of these standalone series will introduce fans to new ideas and shocking implications for the Marvel Universe. This will set the scene for Marvel's most iconic and popular Super Heroes later this year.
"The Marvel Universe is a tapestry of connections, with hidden clues and
incredible details woven into every story. Our new publishing slate highlights the biggest moments for us this year… and we think you all will be excited for the next reveal planned this December," added Cebulski.
Marvel announced that starting next month, we should get ready for some of the biggest stories ever in the pages of Marvel Comics!
Comic Summaries listed below: 
On
April 3
, Marvel's
War of the Realms
commences, featuring Marvel's
greatest heroes such as Thor,
Captain America
, Iron Man,
Spider-Man,
Black Panther
, and
Captain Marvel
! In the comic, the dark sorcerer Malekith wages a war that has spread from one otherworldly realm to the next, razing each one to the ground as his armies move from conquest to conquest. Now
there's only one realm left standing: Ours. Sounds interesting, right?
This July, Marvel's House of X and Powers of X will mark the next major milestone in X-Men history. Since their introduction by Stan Lee
and Jack Kirby over 50 years ago, fans around the world have followed
the extraordinary stories of the X-Men through seminal moments like
Giant-Size X-Men, 1991's X-Men #1, Age of Apocalypse, and New X-Men.
Each of these moments introduced a new era for mutantkind – and starting
this summer, the world will experience the next seminal moment in the
history of the X-Men.
This August, the Marvel Universe will need to survive Absolute Carnage
– and no one is safe. Beginning in Free Comic Book Day Spider-Man/Venom
#1 (out May 5), Cletus Kasady is back, and he's deadlier than ever. On a
hunt for every Super Hero in the Marvel Universe who has worn a
symbiote, Carnage has his eyes on his first victims…starting with some
of our favorite Marvel heroes. Everyone is a target!
More details on Marvel's 2019 publishing slate will be revealed in the
coming weeks.
Pretty exciting, huh? I wonder what December will bring!
Do you think that you will be reading these new Marvel comics? How do you think these comics will influence future Marvel Studios films? Let us know in the comments below! 
Stay on top of the latest Marvel Studios news – click below to subscribe to the AllEars® newsletter!