"Fall seven times, rise eight."
–Japanese proverb
"Captain Marvel," the final entry of the Marvel Cinematic Universe's "Phase Three," introduces a new player on the board currently set up for "Avengers: Endgame"  and gives us a glimpse at the very beginnings of the Avengers —  right before what may be the end of them.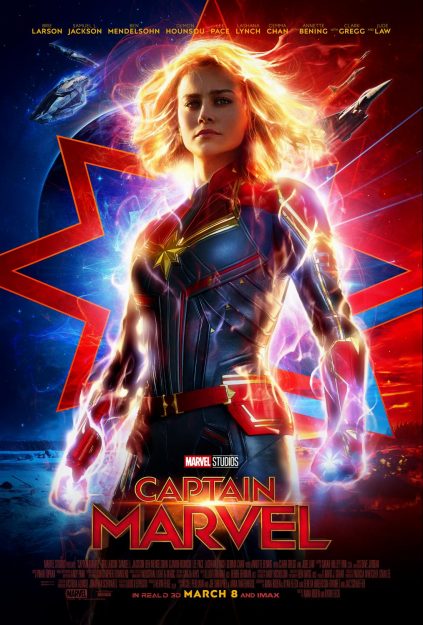 We meet Vers, our hero, on the planet Hala, capital of the Kree Empire.  She is part of the Starforce — an elite military unit that protects the interests of the Kree who are "noble hero warriors" against the duplicitous shapeshifting Skrull.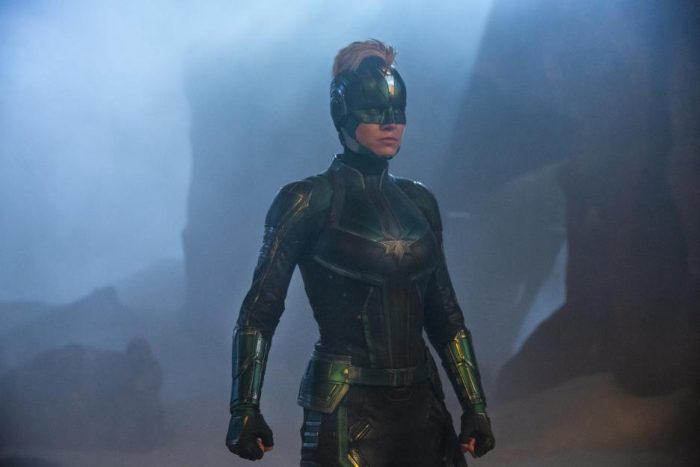 That the Kree look like Jude Law while the Skrull are represented by a lizard-y devil-like Ben Mendelsohn should tell you immediately which side you want to be on.  Vers is anxious to prove herself both to Law's Yon-Rogg and the Kree's ruling AI, Annette Bening's Supreme Intelligence, but is constantly hampered by her overt emotionalism and tendency to trust her gut rather than follow orders.  The fact that she has no memory of her past beyond her Kree training only adds to her uncertainty.
After a series of mishaps lands Vers on the planet Earth in 1995, she is forced to work with a young binocular Nick Fury (who looks fabulous — visual effects house Lola is no joke) to try to stop a Skrull infiltration and attempt to recover her lost past.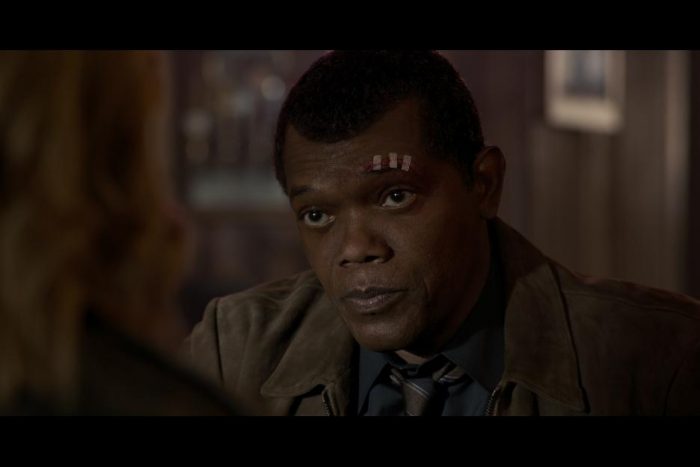 Each MCU film tends to borrow from a different genre or era — spy thriller, WWII, heist, etc.  "Captain Marvel" is solidly set in the '90s from the moment Vers crash-lands in one of the then-ubiquitous Blockbusters, to the instant she hands Fury a two-way pager so he can contact her in emergencies.  Taking place years before Stark gets hit by shrapnel or Rogers gets thawed out of ice, Captain Marvel's influence on the cosmically naive Fury may very well make her the actual First Avenger.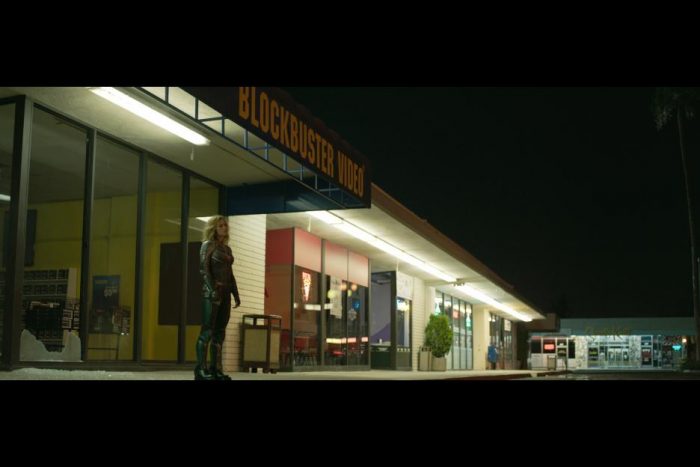 The film manages to feel a little more intimate than the rest of the MCU films (at least as much as a film with space battles can be), with its loving emphasis on period details of 1990s Los Angeles, such as VHS tapes and internet cafes. If the scope seems a little limited, it may be because so much of Vers' journey is internal.
Lashana Lynch does a terrific job as Maria Rambeau, Carol Danvers' best friend and fellow pilot, who serves as her link back to her former self.  In a more conventional film, we would be treated to a long scene explaining why Rambeau is a single mom: The father would be either cruel or saintly, his absence a tragedy or an escape… but thankfully this is not that sort of film. Rambeau is not defined by a missing man any more than any father of a Disney Princess is defined by his lack of a wife. She, along with Danvers, are strong and rambunctious and always a little bit angry at never getting to fulfill their potential at a time when women were not allowed to fly big missions.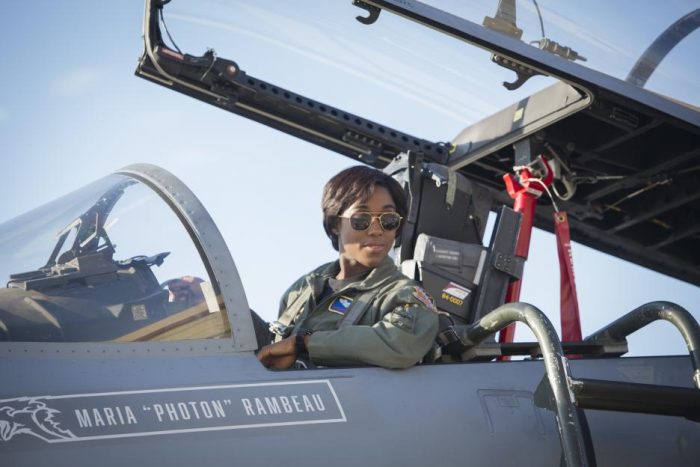 Larson brings a nice humanity to Captain Marvel, a character that is as flawed as she is admirable.  Both arrogant and insecure by turns, the moments where she bonds with Maria Rambeau's daughter Monica (destined to become herself a superhero in the comics) show the lighthearted caring person she might have stayed in a kinder, gentler world.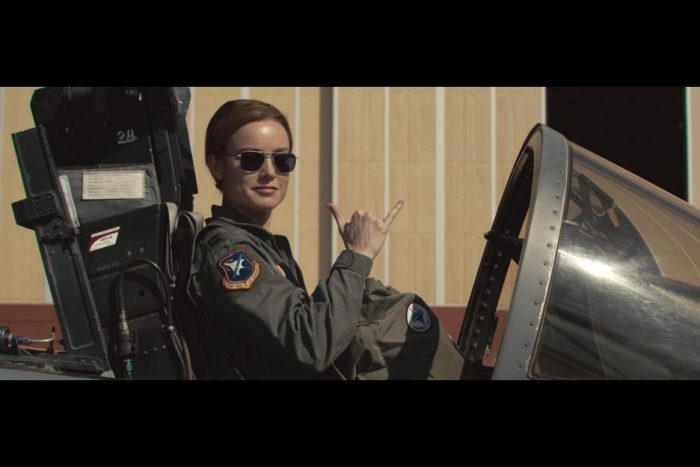 While "Captain Marvel" is a perfectly fun romp, it does not quite have the sparkle and panache of some of the other MCU offerings.  As the first one of the bunch to have a female lead and director, its trailblazing status may have weighed a little heavy on it, giving it an occasional ponderous quality.  Fortunately there are just as many engaging scenes with the scene-stealer Goose who may be… a cat? Or something else? And the ever-amusing Clark Gregg as a considerably younger Agent Coulson at the start of his SHIELD career.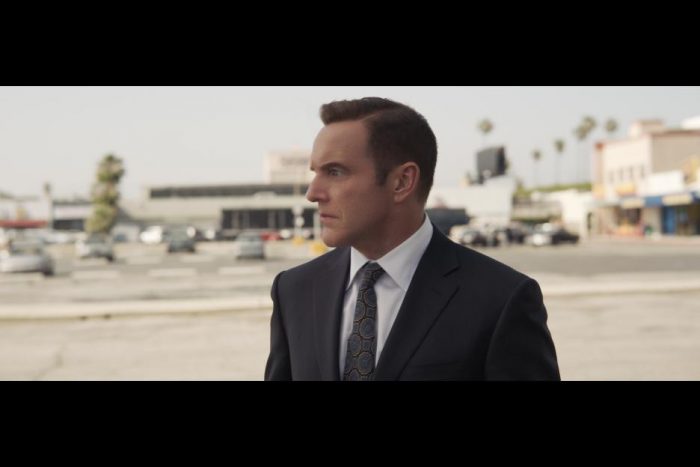 While many will doubtless find Captain Marvel unappealing because she doesn't smile enough (arguable) or has a chip on her shoulder (undeniable), it's equally clear that being ingratiating isn't her job.  Her job is to be a hero, and as her memories return to her in the form of a montage of falls and failures, her ability to always get up again despite jeers and catcalls is a superpower as inspirational as aspirational.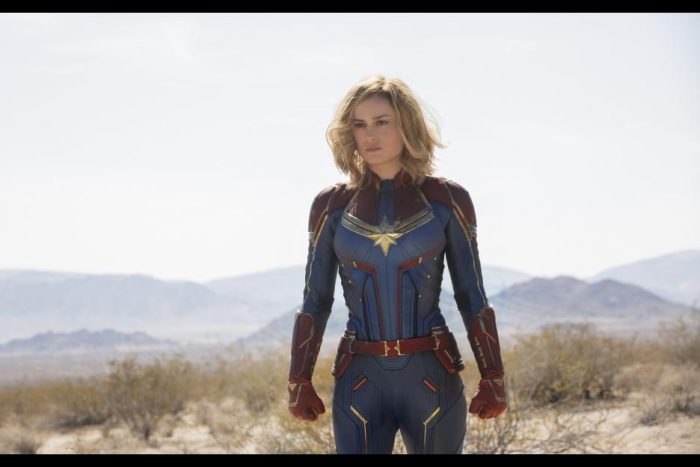 At one point in "Captain Marvel," Danvers wonders why she has powers that she isn't supposed to use, and is patiently told that suppressing them is for her own good, with the veiled threat that everything she is has both been given to her and can be taken away from her.  As the movie progresses, Danvers discovers the same thing that so many women have discovered before her: None of those things are true.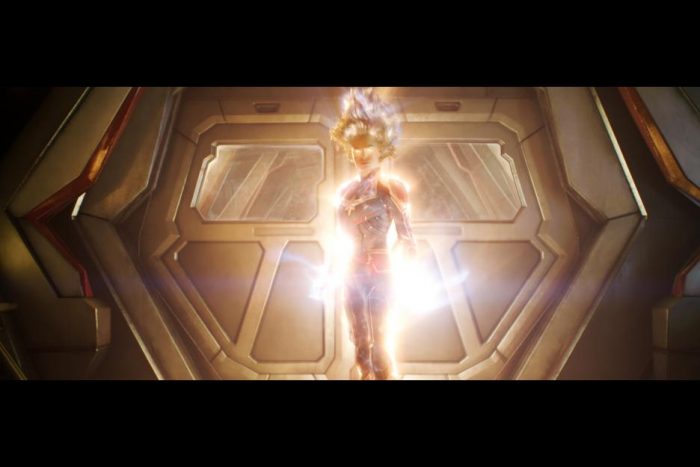 "Captain Marvel" is presented by Marvel Studios. Rated PG-13, it stars Brie Larson, Samuel L. Jackson, Ben Mendelsohn, Djimon Hounsou, Lee Pace, Lashana Lynch, Gemma Chan, Rune Temte, Algenis Perez Soto, Mckenna Grace, with Annette Bening, Clark Gregg, and Jude Law.
*Always stay to the end of the credits. Especially for a Marvel film.
Directed by Anna Boden & Ryan Fleck and produced by Kevin Feige. The Executive Producers are Louis D'Esposito, Victoria Alonso, Jonathan Schwartz, Patricia Whitcher, and Stan Lee. Screenplay by Anna Boden & Ryan Fleck & Geneva Robertson-Dworet, based on a story by Nicole Perlman & Meg LeFauve and Anna Boden & Ryan Fleck & Geneva Robertson-Dworet.
The film enters general release today, March 8, 2019, and is distributed by Walt Disney Studios Motion Pictures.
**Use hand sanitizer after handling objects of cosmic power. You don't know where they've been.
Did you know that starting today Captain Marvel is making appearances at Disney California Adventure?
Also, we got to meet Captain Marvel in January when she made her first appearance on the Disney Cruise Line's Marvel Day at Sea.
In case you've missed it, you can see a trailer for Captain Marvel here: