This November brought us an all-new celebration — Sea World's Craft Beer Festival! The festival ran during the first two weekends in November, and featured more than 100 craft beers. Many of these were from Florida breweries, alongside a few domestic and imported favorites. There were also more than 20 unique food offerings to try. So now, without further ado, let's jump into our Festival favorites!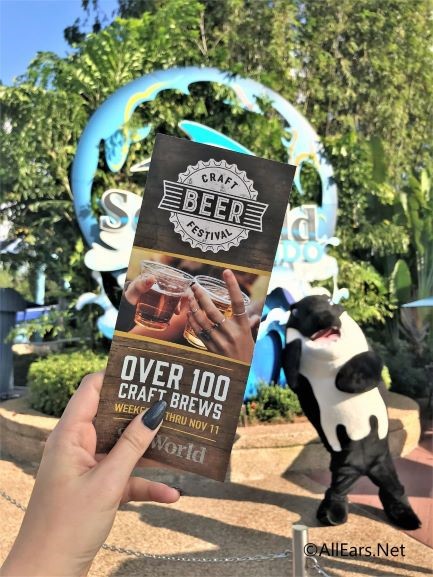 The first thing you should know about festivals at Sea World is they offer Sampler Lanyards. These can be purchased online in advance or at the Festival. They are available in 8 samples ($40) or 12 samples ($54). An annual pass discount is available if purchased online. These lanyards allow you to pre-pay for a certain number of samples, and can be used on any food item or sample-sized beers. If you play your cards right, these are quite the bargain!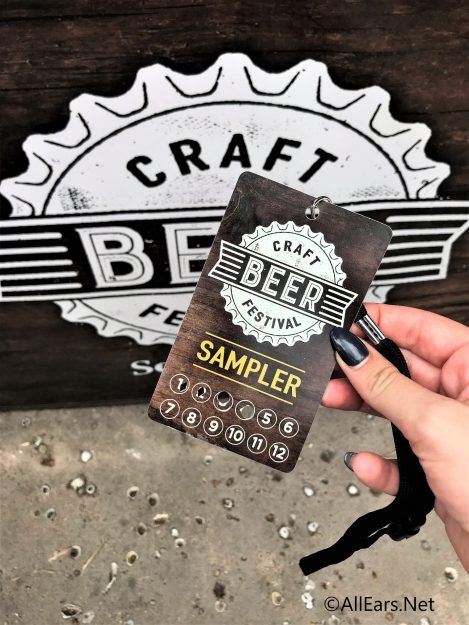 There were 18 kiosks located throughout the park. All of these served beer, and many of them offered food as well.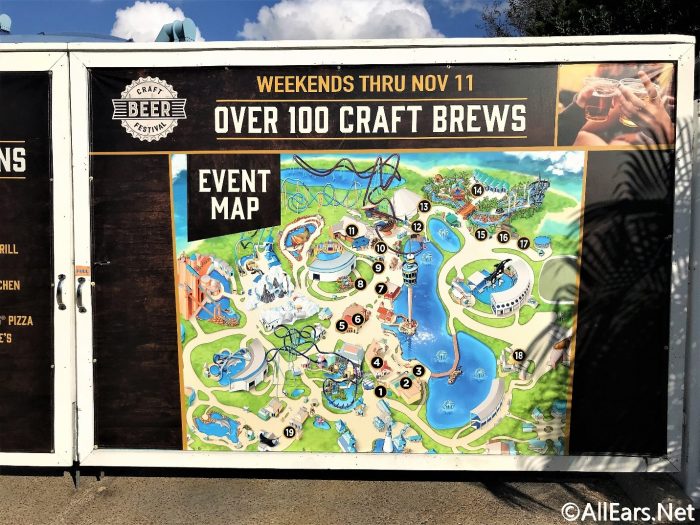 If you are familiar with Sea World's layout, you will notice that some of the kiosks listed below are located at quick-service restaurants throughout the park, while others are stand-alone "Beer Huts."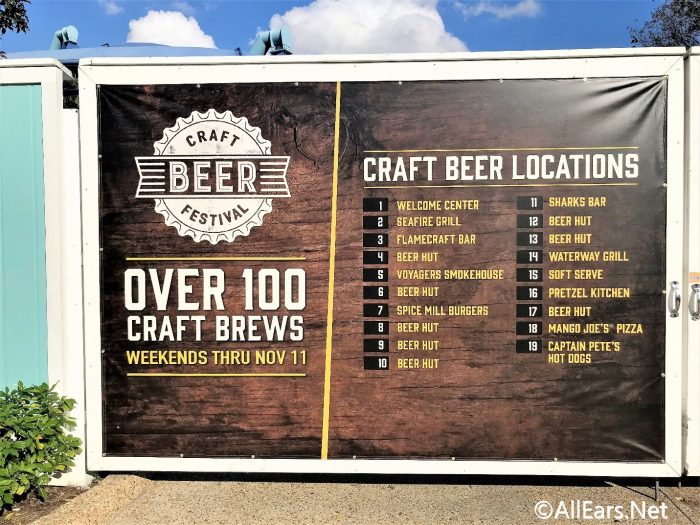 For our first stop, we stopped at the Spice Mill kiosk. There were two great options, but we decided to try the Chorizo Potato Skins.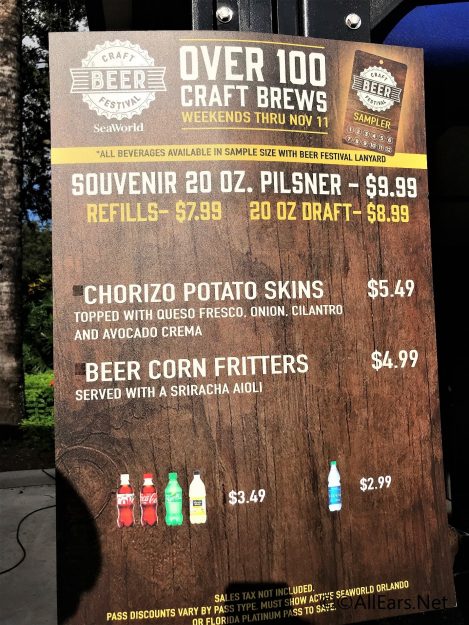 The Chorizo Potato Skins are potatoes topped with chorizo, onion, cilantro, queso fresco, and an avocado crema.  Each order comes with two fully loaded potato skins .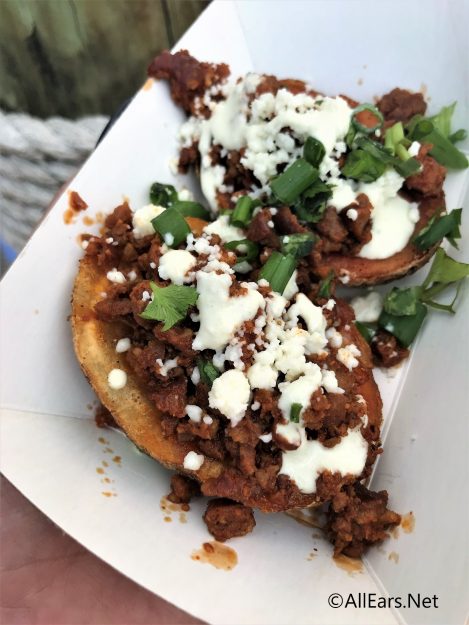 These were fantastic! The potatoes were perfectly cooked – crispy on the outside and soft on the inside. The sausage had a mild kick, that was nicely complimented by the avocado crema and queso fresco. The cilantro and onion added a good element of freshness and flavor. The only negative was that these are pretty greasy, so make sure you grab a napkin! Overall, these were a very tasty way to start our day.
Next up, we headed to the Beer Hut by the shark exhibit.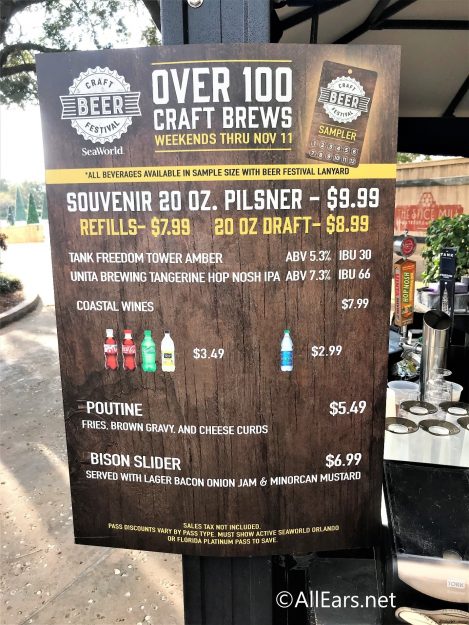 We couldn't resist ordering both food options! First, we tried the Bison Slider. This burger is served with a lager bacon and onion jam, spiced mustard, and greens.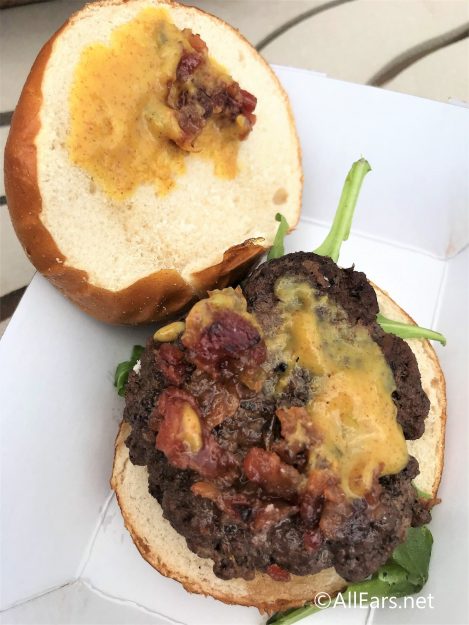 This slider was delicious! The bison was cooked perfectly, and was nice and juicy. The mustard complimented the hearty meat and added a spiced, but not overwhelming flavor. The bacon and onion jam was really the stand-out for me, though! No surprise here – how can something made from beer and bacon be anything but tasty?!
Next, we dug into our poutine. The first thing we noticed is how big a serving we got!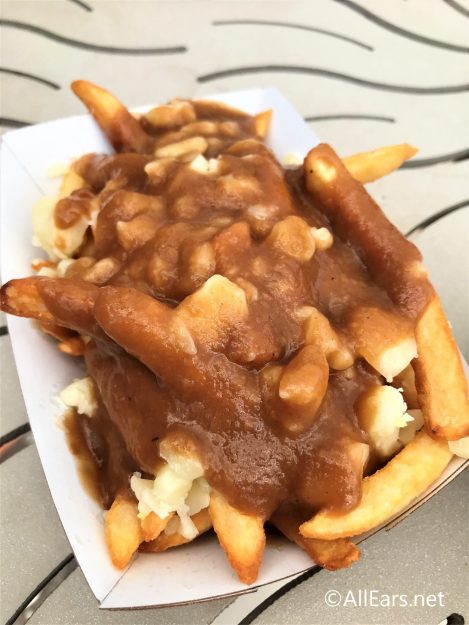 The poutine is fries, covered with brown gravy and cheese curds.  The fries themselves were perfect. They were nice and hot, and still crispy despite being under all that gravy. The cheese curds were good too – they tasted like a mild american cheese. Personally, I'd prefer a bit more bite – perhaps a sharp cheddar – to stand up to the gravy. Speaking of, the gravy was my least favorite part of this dish. It was very bland and didn't add a lot of flavor. Overall, the poutine was good, but not great.
We continued around the park and stopped at one of my favorite Sea World spots: Pretzel Kitchen. I was excited to see what they had on their festival menu.
We decided this would be a great spot for a beer and a pretzel (of course!).  We chose the Big Storm Tropic Pressure and Ocean Sun Bumby Blonde Ale, along with the pretzel bites.
The Big Storm Tropic Pressure is a Florida ale brewed just down the road in Tampa Bay. It was a slightly bold beer with notes of fresh fruit and flowers. I would certainly drink this again! The Ocean Sun Bumby Blonde is brewed right here in Orlando! This was a golden ale, with a slightly sweet taste. I liked this one more than the Tropic Pressure because it was a bit lighter. However, both beers were perfect, refreshing drinks for a hot day at a theme park.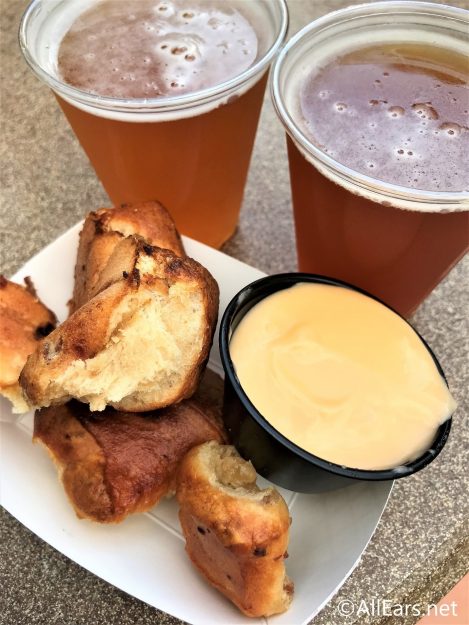 We followed that with the Pretzel Bites. These were a twist on your classic beer & pretzel bar combo – they are bacon and cheddar infused pretzel bites, and are accompanied by a beer cheese dipping sauce.
These were fantastic! There were actual big pieces of bacon scattered throughout the pretzels.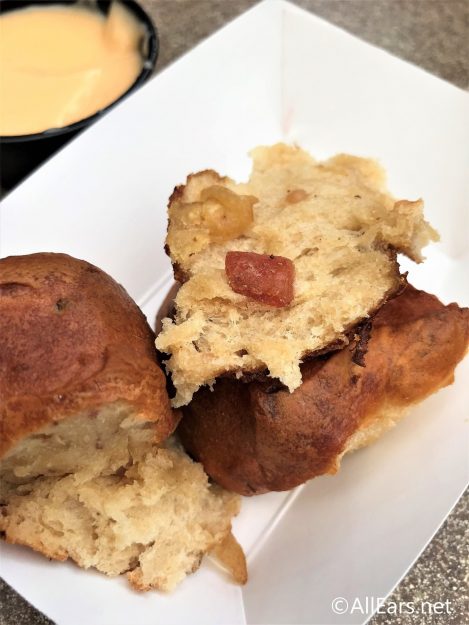 The beer cheese dipping sauce was a perfect compliment to the savory pretzels. It was a tangy, sharp cheddar, and the beer flavor really came through. I would put this on anything! Overall, the Pretzel Kitchen did not disappoint.
Next, we headed to the Flamecraft Bar for one more nosh. This grill typically specializes in bar food, and their Festival menu had a mix of classic choices and updated twists on the basics.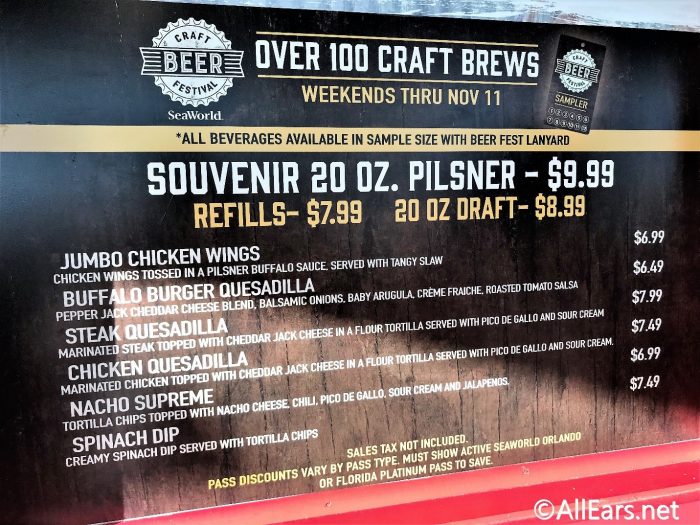 We opted for the Buffalo Burger Quesadilla – I was so intrigued by this dish that combines two of my favorite bar foods! The quesadilla was a flour tortilla filled with a buffalo burger patty, pepper jack cheese, balsamic onions, and arugula, and topped with creme fraiche and a fire-roasted tomato salsa on the side.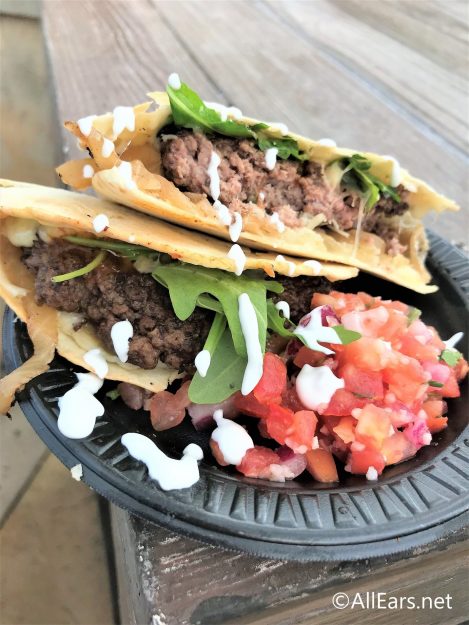 This was the best thing I ate all day! It was a very generous serving but I ate every last bite. The meat was perfectly cooked – nice and tender, and not at all dried out. The balsamic onions were a real highlight, as well. They weren't overpowering but provided a unique flavor and a good contract to the spicy cheese. I also loved the tomato salsa. It was a step up from a classic pico because of the smoky roasted tomatoes. I really hope they bring this back for the Seven Seas Food Festival in the Spring!
Our stomachs full of delicious food, we decided to sample a few more of the brews – it was the Craft Beer Festival after all! We stopped at the Beer Hut by the Voyager's Smokehouse.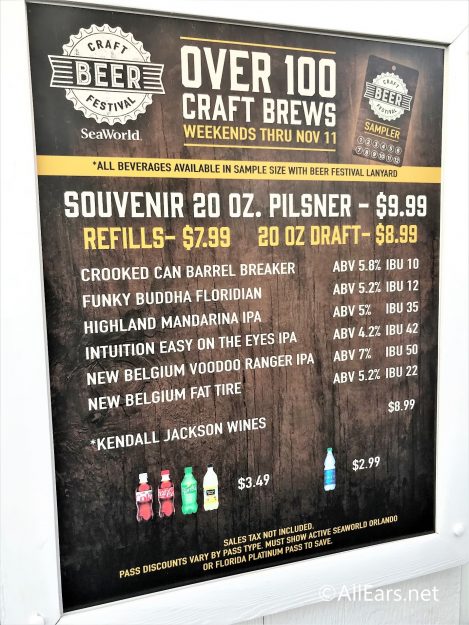 We selected the Crooked Can Barrel Breaker and New Belgium Voodoo Ranger IPA.  Crooked Can is a local Orlando brewery, and the Barrel Breaker was a light, easily drinkable lager. This reminded me of an upscale version of a classic domestic light beer. New Belgium has breweries in Ft. Collins, CO and Asheville, NC. The Voodoo Ranger was a hoppy IPA with a juicy, fruity flavor. If you are a fan of IPAs, this is a refreshing choice.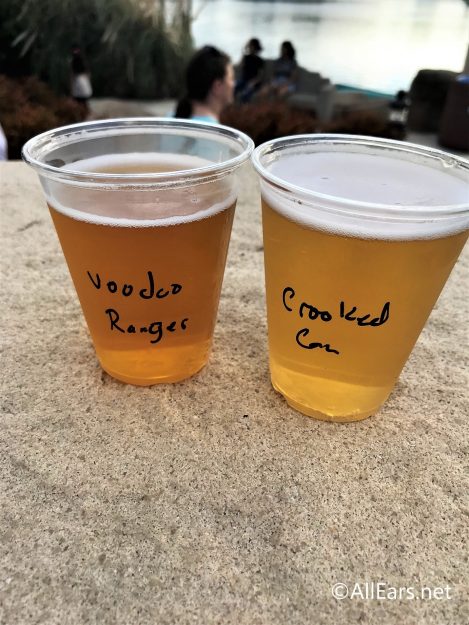 With two punches left on our Sampler Lanyard, we headed back toward the shark exhibit and Mako coaster, and found a Beer Hut that featured fruit-infused brews.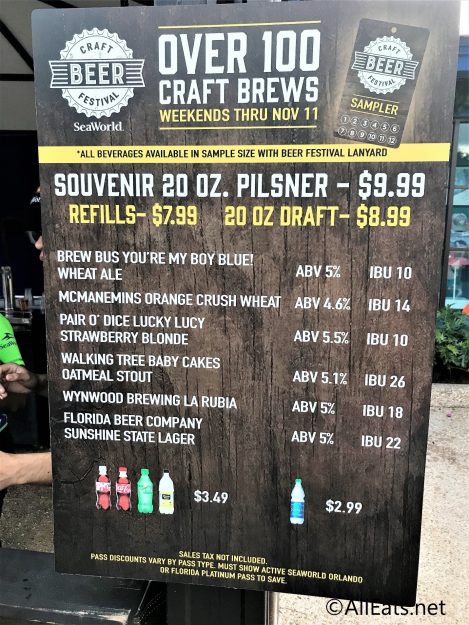 We chose the Brew Bus You're My Boy Blue! Wheat Ale and the Pair O'Dice Lucky Lucy Strawberry Blonde. Brew Bus is located in Tampa, and I couldn't help but laugh at the "Old School" movie reference in the beer name. The You're My Boy Blue! is a wheat ale made with real blueberries. It was sweet and delicious, and the berries were balanced by the noticeable wheat taste. Pair O' Dice Brewery is located in Clearwater, FL, and features West-coasted inspired beer, fused with local Florida ingredients. The Lucky Lucy Strawberry Blonde was my favorite beer I had all day! It's made with naturally grown Florida strawberries, and was very light and refreshing. It almost tasted like I was drinking delicious strawberry jam! I hope this returns next year, and that I can find it locally year-round!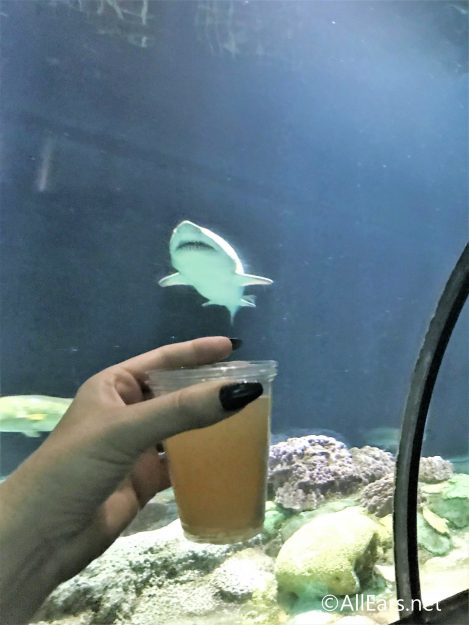 I chose to enjoy my new favorite beer in my favorite exhibit – the Shark Tunnel! One of my favorite things about Sea World is that you can take beverages throughout the animal exhibits, which makes for a really relaxing and enjoyable theme park day – especially when the Christmas decor is up!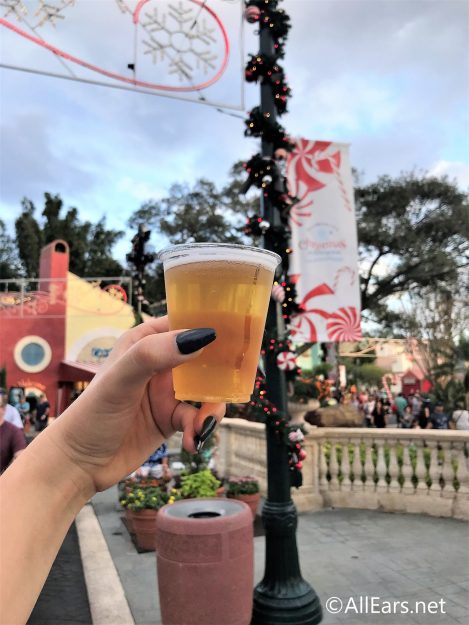 Overall, I greatly enjoyed Sea World's first Craft Beer Festival and my only complaint is that it was only two weekends long! Hopefully, it will be a big hit and they will bring it back for longer next year. Until then, I will look forward to enjoying Sea World's Christmas Celebration, running now through December 31, 2018, and the Seven Seas Food Festival, returning Spring 2019!
Want to stay up-to-date with theme park news, reviews, tips and tricks? Subscribe to our FREE weekly newsletter here!
And don't forget to tag us @allearsnet in your pictures when you're in the park!