To all who come to this photo trivia game, Welcome! Along the way, the photos can make us relive memories and see details Walt's Imagineers put into everything we love in Walt Disney World!
This week is Yom Kippur. Have an easy fast to all the Players who are celebrating.

Now for Challenge #553

And here's the answer:


Copyright © Scott Thomas
The Three Caballeros topiary at Coronado Springs! How many Players said, "Erin got the 3 Caballeros in there again!"
Glad I could help you pick a resort, Gunnels Gang. And here's to my fellow Caballeros fan:

Vicki Britt, did you ever watch the House of Mouse show? Panchito and Jose — and the Aracuan bird — would come to see Donald on it.
Phyllis was the first to send in the correct answer! Congratulations to Phyllis and to all our winners this week! Ken Savage, Joann Albrecht, Ed Suscreba, Michael O'brien, Karen O' Brien, Michaela O'brien, Adolph And Kimberly Timm, Margaret Convery, Gloria Martin, Laurie Walker, Chris Kelly, Herb Miller, Sandie Albrecht, The Kertes Family, Josh Weiss, Wendy T Faler, Patricia Morin, Bob & Kathy Mckim, The Gunnels Gang, Michael & Jackie Mclucas, Andy Hickey, Sands Family, Kris Nixon, Team Hill, Jim Finley, Bonnie Jean, Marsha Waidelich, Grumpy's Groupies, Emma Ramsey, Linda Ranatza, Hillary Waldroop, Jim Thompson, Jim & Lorie Sonnen, Maryann Romagnano, Sue And Ed Adams, Jeremy A Hardy, Maureen And Warren Handy, Claire Gregory, Kelly Albright, Chris, Gretchen, And Katie Barnes, Nancy C., Linda Scrivano, Arlene Vicek, Karen Ramirez, Mickey Eckert, Cheryl Costello, The Tisdale Family, Jeff Blank, Martha & Justin Colllins, Karrie Rodriguez, Theresa Maradei, Mark Hardy, Tricia Petty, The Patterson Family, Elyssa Henry, Robert Wescovich, Emily Hudson, Pensacola Glenn, Sandy Ceplecha, Belicia, Scott C., Jessica Polizzotto, Linda Hoffman, Mis Jamie Marie, Barclay Bakkum, Donald Purney, Vicki Britt, Jackie Graebel, Karen Costa, Maddie Inman, Rebecca Keenan, Theresa Rucando, Tammy Warmouth, Terry Blair, Dee Dee Kenney, Jodie S., Kyra, Fosbender Family, George Mundy Jr, Jo Ann Bailey, and Joseph M. Zafia!
_______________________________________________________
Challenge #554 Where in the world is this?
Back into the parks! Here's a toughie! If you want a hint (otherwise, close your eyes): This is a plate on a ride car. Hmmm, what could the rest of it say: time… bomb: nah! Time and again, time after time; no. Time machine? Hmmm….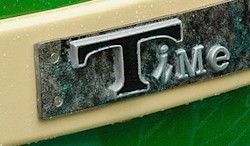 Do you know? Do you have a guess? Please send in your answer, before the end of the day on Thursday, September 20th, by clicking on the blue box below.
Please do not post answers using the Feedback Form link at the bottom of this post.
See you soon, Players!


_______________________________________________________________________
Everyone who sends in a correct answer to a Where in the World Challenge this month will be entered in a drawing at the end of the month for some special AllEars® goodies!