Even though it was several weeks ago, San Diego Comic-Con had so many great panels that I want to try to write about them all. One I can't forget to tell you about was the one that celebrated the 10th anniversary of the animated series, Star Wars: The Clone Wars.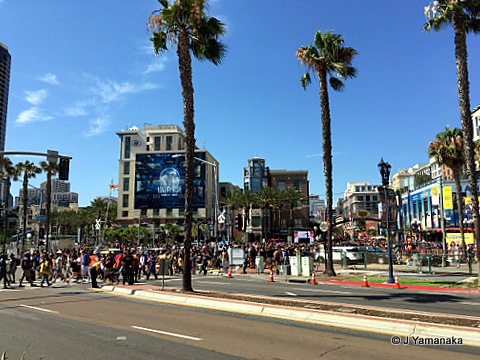 To celebrate the 10th anniversary of "Star Wars: The Clone Wars," executive producer Dave Filoni, producer Athena Portillo, Ashley Eckstein (voice of Ahsoka Tano), Matt Lanter (Anakin Skywalker), and composer Kevin Kiner met on a panel to discuss the long-running animated series.
Throughout the panel, Filoni shared a number of behind-the-scenes photos and concept art from "Clone Wars" as the group reminisced.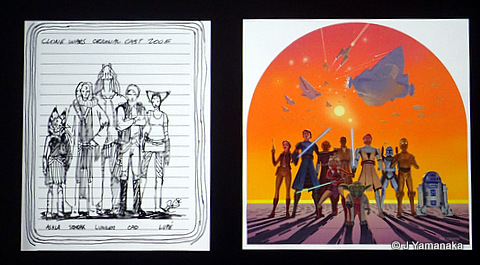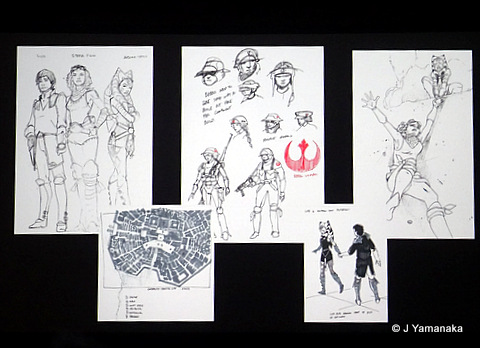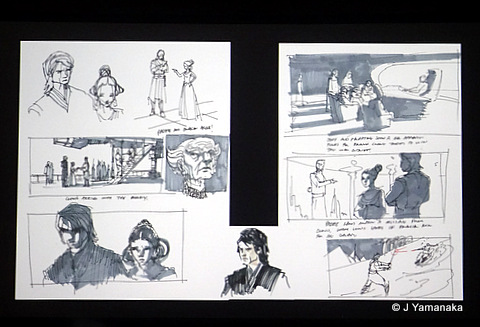 Filoni on casting Anakin: "I felt very strongly that with Anakin Skywalker, whoever played him, even if they were just doing the voice — they had to embody what I always thought Anakin was, when I was growing up: This guy that everybody liked. You have to have a likability as Anakin to understand that when he falls apart, and he thinks he's doing the right thing, it's just that much more devastating because he's trying to hold onto everything so tightly and do good, and unfortunately he does evil because of holding on too tightly. And Matt, when he walked in, he just is that likable person."
Lanter: "Ask my wife. She gets frustrated with me."
Filoni: "…But Matt could be frustrating, so you had both elements."
Filoni on Anakin's story: "The point of Anakin Skywalker's story is that we are all making these choices every day, as Anakin Skywalker does. We start out a day, we don't intend to turn to the Dark Side, but so quickly we make choices that tunnel us down into a darkness… This is what George spoke about the most: Selfless/selflish. One will lift you up, one will tear you down. It's really that simple; and that's the Force in a nutshell."
Filoni: "The Maul one is funny, because when the wheels fell off and we didn't get to make 'Clone Wars' anymore, and it's like…crap."
At the end of the panel, Filoni thanked the fans for their 10 years of relentless devotion to the untimely cancelled show and said he had a gift for them:
As the audience cheered uproariously, Filoni announced that they were currently working on 12 new episodes of "The Clone Wars," continuing the storylines introduced in the original series, which explored the events leading up to "Star Wars: Revenge of the Sith." The new episodes will debut on Disney's direct-to-consumer streaming service.