As I prepare for my vacation to the Northwestern United States, I know I will be using my ultra wide angle (UWA) lens a lot throughout the trip. The Nikon AF-S 16-35mm f/4G ED VR Lens is a favorite of mine since I borrowed a friend's for a Walt Disney World trip back in 2015. On my full-frame sensor Nikon D750 camera it is lite, has wonderful clarity, is fast at f/4, has very little distortion, is very wide at 16mm and versatile at 35mm for a portrait lens.
Here are some examples of the lens at work at Epcot's Future World where I first encountered the fabulous JAMMitors performing their fun musical comedy using trash cans other metal objects.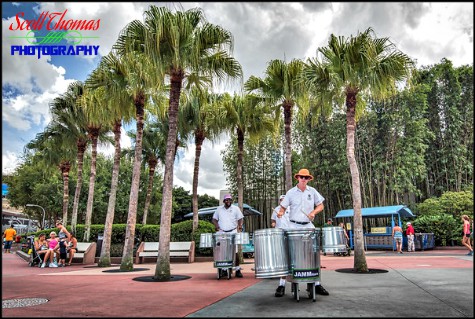 JAMMitors perform at Epcot's Future World.
Nikon D750/16-35VR, 1/250s, f/8, ISO 100, EV 0, 16mm Focal Length, Skylum Intensify CK.
The trick with using an UWA lens is to make sure you find a good subject for the viewers eye's to start with. I put a JAMMitor up front and composed using the Rule of Thirds. Thus your eye's start there before wandering through the rest of a typical Epcot scene.
While waiting for family members inside The Land pavilion and overlooking the Sunshine Seasons Counter Service Restaurant, I took a series of bracketed photos from -2EV to +2EV to take in the large dynamic range of light of the scene. I then merged the photos using Skylum's Aurora HDR software and finished the image off in Adobe Lightroom. The software did an excellent job of getting rid of the ghosts of all the people moving between photographs.
Sunshine Seasons counter service restaurant inside The Land pavilion at Epcot's Future World in HDR.
Nikon D750/16-35VR, f/11, ISO 2000, EV 0, 16mm Focal Length, Skylum Aurora HDR.
With the movie, Finding Dory, having come out just three months before this trip, I found lots of merchandise from the movie. Here is one display inside the Mouse Gears store in Epcot's Future World. Here I wanted everything in focus from the front of the display into the background. I stopped the lens down to f/16 which gave me a shutter speed of 1/30th of a second at 6400 ISO. The Nikon 16-35VR lens is easy to hand hold at such speeds as the image stablization or vibration reduction in Nikonspeak is almost magical in its capabilities.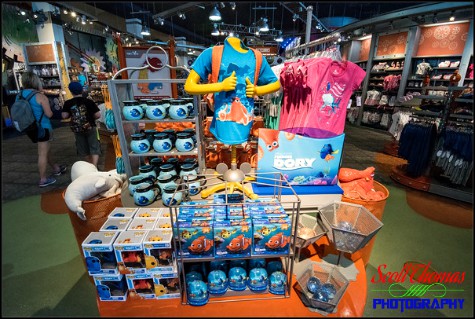 Finding Dory merchandise inside Mouse Gears in Epcot's Future World.
Nikon D750/16-35VR, 1/30s, f/16, ISO 6400, EV 0, 16mm Focal Length.
While people rushed by me as I kneeled down to get a low angle of them heading towards Spaceship Earth in Epcot's Future World after rope drop, I took several photos and found this one to have pleasing guest placement and even some motion blur. To get the blur I had to step the lens down to f/22 and use a circular polarizer filter to get the slow 1/30th of a second shutter speed.
Guests walking towards Spaceship Earth after rope drop in Epcot's Future World .
Nikon D750/16-35VR, 1/30s, f/22, ISO 100, EV 0, 16mm Focal Length, Polarizer, Skylum Intensify CK.
If you have a dSLR or mirrorless camera system, I highly recommend looking at getting an Ultra Wide Angle (UWA) lens for Disney and Landscape photography.
As I mentioned in the beginning, I will be traveling the next two weeks in the Pacific Northwest of the United States. You can follow the adventure via my personal Twitter account @sthomasphotos.