Discovery Cove, SeaWorld Orlando's tropical water park that specializes in dolphin interactions, is suiting up for the summer with new guest experiences.
Longtime readers of my blog might remember that my daughter, who plans to one day become a marine biologist and work with dolphins, and I have visited Discovery Cove twice and raved about it. It is one of the most unique and relaxing parks in Orlando, and our experiences were top-notch. Although the dolphin swim was the highlight of each visit, the entire day is centered around animal interactions — from feeding birds in the aviary to petting stingrays to floating past otters on a natural-looking lazy river. Plus, your admission includes two meals and all snacks and beverages (including alcohol).
Now, guests can customize their visits with the park's new Animal Trek program that gives guests the opportunity to explore behind the scenes and get to know Discovery Cove's animal residents even better.
Visitors ages 6 and older can take a 90-minute Animal Trek tour with Discovery Cove animal experts who encourage participants to interact with many of the park's birds and small mammals. The new experience includes a private tour of the Explorer's Aviary, where guests can feed and handle birds, and a viewing opportunity in the Freshwater Oasis, where participants have a special experience with the park's family of playful otters. Each tour also includes the possibility of interacting with an anteater and a sloth, two of the park's most popular small mammals. All interactions are dependent on the animals' interest in participating, but in general this tour will be full of great photo opportunities. Can you say "slothie"? In keeping with SeaWorld's rescue mission, animal experts will share with participants information about the risks of illegal exotic pet trade, bird longevity and the theme park's role in species survival plans.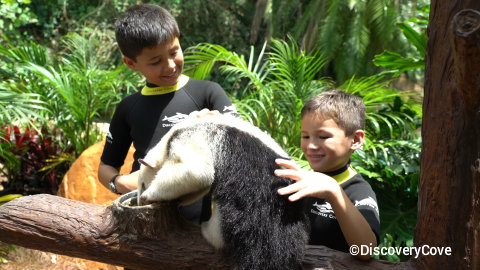 The Animal Trek tour costs $79 per person, and guests ages 6 to 13 must be accompanied by a paying adult. There are two 90-minute sessions each day, with each tour limited to 12 guests.
Last summer Discovery Cove introduced the Ray Feeding and Shark Swim programs, giving guests the opportunity to spend time in the water with some of the world's most misunderstood sea creatures. During the Ray Feeding session, which takes place early in the morning just as the park is opening, guests hand-feed playful rays and get a private tour of the Grand Reef, which is home to the rays and thousands of tropical fish.
In the Shark Swim program, guests meet with the park's shark team and get to see the animals up close, learning about their anatomy and the threats the animals face in the wild. As a second part of the experience, guests can join the sharks in the deeper part of their habitat, embarking on an exhilarating snorkel experience that allows them to swim above sharks and sometimes even come face-to-face with them. Discovery Cove donates 5 percent of the proceeds from Shark Swim to the Guy Harvey Ocean Foundation, which conducts scientific research and hosts educational programs aimed at conserving the marine environment.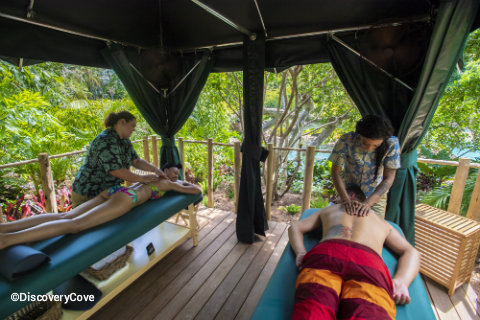 Also new this summer is the Oasis Spa, which is located in a cabana that overlooks the peaceful waters of the park's Freshwater Oasis. On my second visit to Discovery Cove, my daughter and I were given a cabana for the day, which was wonderful, so I can only imagine a spa taking up residence in one of these private getaways. Oasis Spa will offer 25-minute massage performed by licensed therapists.
Massages are performed with a jojoba oil that has a similar pH to human skin and is non-allergenic. Also, jojoba oil is animal-friendly, which is essential at a park where the animal inhabitants outnumber their human guests.
Spa sessions are available from 9 a.m. to 5 p.m. daily and are scheduled on a first-come, first-served basis as guests arrive at the park each morning. Visitors ages 18 and older can choose from individual or couple's massages. A 25-minute session starts at $59, but guests can reserve-back-to-back slots and upgrade to 50-minute sessions if they prefer.
Although the Animal Trek tour and massages are add-ons, most of the experiences at Discovery Cove are included in the price of admission. Currently, summer prices start at $310 per person for the Day Resort plus the Dolphin Swim or $210 for the Day Resort only for ages 3 and older. Florida resident rates start at $220 person for the Day Resort plus the Dolphin Swim or $150 for the Day Resort only. In addition to the all-inclusive day at Discovery Cove, the price of admission also includes unlimited admission to SeaWorld and Aquatica for 14 consecutive days around the Discovery Cove reservation.
To book, go to www.discoverycove.com.