Back in 2013, I brought the Nikon 80-400mm f/4.5-5.6D ED AF VR Zoom lens to Disney's Animal Kingdom. This is the original version of the lens. It is a big, heavy lens which I use mostly for field sports and wildlife photography with an occassional visit to local zoos. Carrying it at a Disney themepark is tiring. However, with an assist from a Disney locker rental, I used the lens for the Kilimanjaro Safari and Pangani Forest Exploration Trail on a day visit.
While the lens is slow at f/5.6 when fully zoomed at 400mm, if the conditions are right with bright sunshine (and when is Florida lacking in that?), it works spectacularly. It was one of the sharpest lenses I owned and had great image quality. I have since upgraded to the lastest version of this lens which has AF-S focusing which is much faster than AF.
The long focal length did give me photos I normally would not have been able to get. This head shot of an Ostrich is only cropped to an 8×10 ratio. He was about 6 feet from the safari jeep. When shooting from a moving vehicle, keep the shutter speed as fast as possible for the available light. I used 1/500th of a second for the entire ride.
Ostrich (Struthio camelus) on the Kilimanjaro Safari.
Nikon D700/80-400VR, 1/500s, f/5.6, ISO 320, EV +0.3, 400mm Focal Length.
I took a series of photos of this African Crowned Crane flying during the Flights of Wonder show at Disney's Animal Kingdom with this one being the best. I liked the wing position and the bird's head is the sharpest of the set. Be careful of people sitting near you when using a long lens in a crowded location like a small theater with bench sitting.
Note, this show has been replaced by the UP! A Great Bird Adventure in the same location.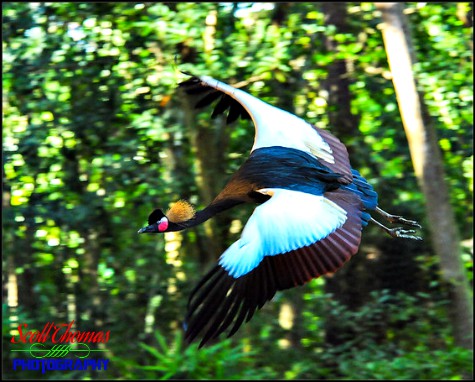 African Crowned Crane flying during the Flights of Wonder show.
Nikon D700/80-400VR, 1/400s, f/5.3, ISO 4500, EV +0.3, 210mm Focal Length.
After working up a sweat, I went back to the locker and switched the large 80-400VR lens with a Nikon 28-300 f/3.5-5.6G ED AF-S VR Zoom lens which is much lighter and compact. I walked over to the bird pool which is the first thing people see after going through Disney's Animal Kingdom turnstiles before taking either path through the Oasis and into the park.
I focused in on this Pink Flamingo who was preening himself and made sure the bird's eye was in sharp focus before pressing the shutter button. I have cropped this in a square ratio.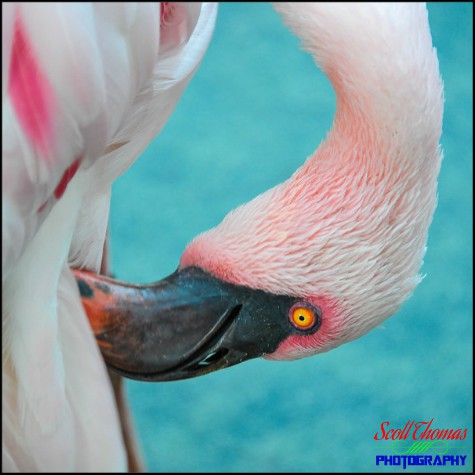 Pink Flamingo preening itself in the Oasis.
Nikon D700/28-300VR, 1/125s, f/5.6, ISO 2200, EV 0, 300mm Focal Length.
As you walk through the Oasis, you will notice a path which cuts between the two main trails. If you walk this path, you will find a very pleasant water pool with a waterfall. Various ducks and black swans live there. I photograhed one of the swans sleeping on a nest. Notice the ISO hit 6400. Not only was it not as bright here, the black color of the swan added to the lower light level.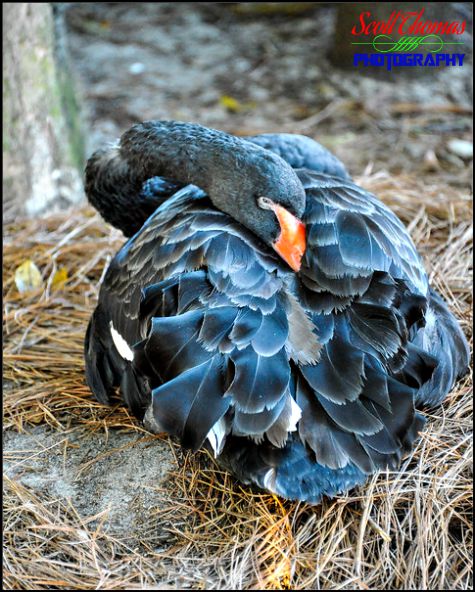 Black Swan (Cygnus atratus) sleeping in the Oasis.
Nikon D700/28-300VR, 1/125s, f/5.6, ISO 6400, EV 0, 180mm Focal Length.
You might be thinking why I am sharing photos from 2013? That was a time when I took three trips to Disney properties. One to Disneyland and the other two to Walt Disney World. Due to my work as a sports photographer, the photos from those trips were not fully edited and processed at the time. I have since switched from using Apple's Aperture photo editing and management program to Adobe's Lightroom. I am currently bringing in those trips into Lightroom and you may see more in future blogs.