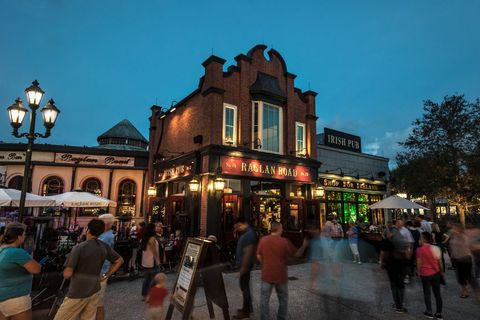 Raglan Road Mighty St. Patrick's Festival 2018 at Disney Springs March 16-18
LAKE BUENA VISTA, Fla. — St. Patrick's Day revelers may go for the perfect-pour Guinness when U2 tribute band Elevation launches into "With or Without You." Families with kids can opt for a fish-and-chips party as award-winning traditional Irish band The Maguires — new to Raglan Road Pub — tunes up their talent dubbed "insanely awesome" by Milwaukee Irish Fest.
And more award-winning bands are lined up for three non-stop days of live music, Irish dance, first-rate food and fun during the Mighty St. Patrick's Festival 2018 at Raglan Road Irish Pub & Restaurant in Disney Springs March 16-18.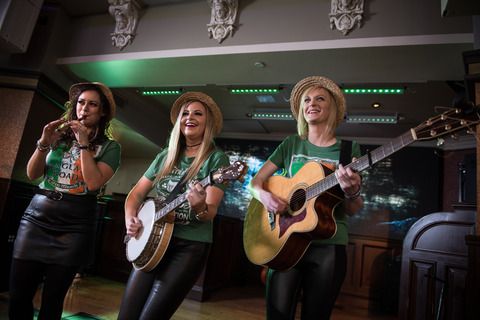 Here's the complete lineup:
Young Dubliners — One of Celtic rock's hardest working bands, the Young Dubliners play hundreds of shows to thousands of fans across the United States and Europe every year. Young Dubliners are known for their hearty rock and Irish-infused live performances.
Elevation (U2) — Back by popular demand, this stellar U2 tribute act will play two special nighttime shows March 16 and 17. They appeared at Raglan Road's Great Irish Hooley last September during U2's world tour celebrating 30 years of the groundbreaking Joshua Tree album.
The Maguires — Called "brilliant" by IrishCentral news, The Maguires traditional Irish family band comprises Emma, 17, on fiddle, flute and whistle; Aoife, 15, on concertina and uilleann pipes; Sean, 12, on bodhrán; and their dad, Philip, on guitar. Trad favorites and modern tunes combine with syncopated, infectious rhythms sure to wow Mighty Festival crowds.
Briste –– This inspiring all-female trio includes Emma Robinson (flute, whistle), Joanna Boyle (banjo, vocals) and Alison Crossey (bodhran, guitar). They grew up listening to and playing traditional Irish music, winning numerous awards at County, Ulster and All Ireland competitions, quickly gaining themselves a fine reputation in traditional music circles. Blending together their rich musical backgrounds, Briste creates a fresh and exciting mix of country, folk and Irish traditional music.
The Byrne Brothers — An exceptionally talented traditional Irish music family from Donegal. They are Luca, 13 (button accordion); Finn, 11 (banjo, mandolin and whistle); Dempsey, 8, (whistle and bodhran); and father,Tommy (guitar, Uilleann pipes, fiddle, whistles, bagpipes and bodhran). Their show combines exciting traditional Irish tunes with modern dance beats, and they love to interact with every audience.
The Raglan Roots Coalition — This edgy house band is known for its soul-rockin' Celtic bluegrass with hip-swingin', knee-shakin' funky roots beats.
Reel Republic — Hailing from the southwest corner of Ireland, Aisling Egan-Sage (fiddle); Liam O'Keefe (box, vocals); and Colin Foley (guitar, vocals) are Reel Republic 2.0, three seriously talented musicians always pushing to make the next gig better than the last.
Out the Gap — Niall McIlroy (guitar, ukulele bass, whistles and flute); Deirdre Ni Mheachair (fiddle); and Aidan Byrne (guitar, vox, keys and percussion) make up the pub's newest house band performing a sweet combination of innate musicianship, beautiful tune playing and fairly outrageous virtuosity.
The Raglan Road Irish Dancers — Plucked from the cast and stages of the world's greatest Irish dance shows, the Raglan Road Irish Dancers perform throughout the Mighty Festival. You can even learn some traditional Irish dance steps — no experience necessary!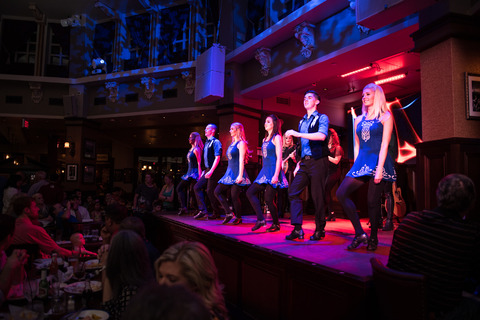 Guests can enjoy a mighty selection of beers, spirits and craft cocktails to pair with exceptional pub grub and more elegant Irish fare while musicians and dancers perform on multiple stages, indoors and out, from noon-1:30 a.m. March 16 and 10 a.m. until 1:30 a.m. March 17 and 18.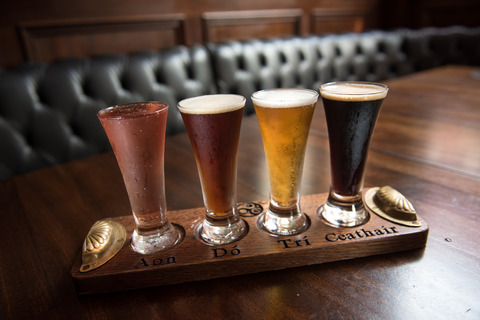 Mighty Festival guests can accent their Irish holiday attire with complimentary face painting available for up to nine or 10 hours each festival day. On March 17, St. Patrick's Day, guests will be seated on a first-come, first-served basis with a cover charge of $10 for each guest age 18 and older. Reservations can be booked for other festival days by calling 407/938-0300.
The entertainment schedule will be posted at raglanroad.com.
Guests can order from Raglan Road's brunch, lunch, dinner and bar menus that include new dishes like the Guinness-braised pulled pork, apple chutney with pork crackling on a homemade bun, and the handmade gnocchi with seared Georges Bank scallops and crispy pork belly. Traditionalists can dig into the pub's loin of bacon and cabbage, the authentic Irish dish of St. Patrick's Day, plus other pub classics. Throughout the event, the restaurant's Cooke's of Dublin counter-service eatery will offer Irish favorites, as well, including fish and chips.
Owned and operated by Irish partners John Cooke and Paul Nolan, Raglan Road features traditional Irish dishes and new creations with a Celtic twist. The restaurant's warm interior of aged walnut and mahogany woods from old Irish bars and churches was built in Ireland and shipped to Orlando. Live entertainment nightly and during weekend brunch includes Irish house band Raglan Roots Coalition, plus the Raglan Road Irish Dancers. Lunch is served 11 a.m.-3 p.m.; Dinner 3-11 p.m.; Bar menu 11 p.m.-late; Saturday and Sunday Rollicking Raglan Brunch from 10 a.m.-3 p.m. Raglan Road Irish Pub & Restaurant is located at Disney Springs in the Walt Disney World Resort, 1640 E. Buena Vista Dr., Lake Buena Vista, Fla. Visit www.raglanroad.com or call 407/938-0300. Follow us @RaglanRoadPub
If you want to celebrate St. Patrick's Day like the Irish, share these truisms:
1. Please don't call the holiday "St. Patty's." It's either "St. Patrick's Day" or "St. Paddy's."
2. A shamrock has three leaves (not four — that would be a clover).
3. Americans invented the St. Patrick's Day parade in 1737 in Boston.
4. Most Irish pubs do a full month's business on St. Patrick's Day.
5. Guinness sell 13 million pints on St. Patrick's Day versus the usual 5 million daily.
6. Raglan Road is America's #1 Irish Pub.
7. Green beer is an American invention. Raglan Road does not serve green beer.