To all who come to this photo trivia game, Welcome! Along the way, the photos can make us relive memories and see details Walt's Imagineers put into everything we love in Walt Disney World!
Now for Challenge #521: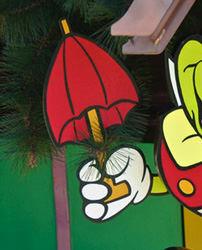 And here's the answer:


Copyright © Scott Thomas
It's Jiminy Cricket! I told you that you didn't need to say where he is, but if you're interested, he's at the base of the Animal Kingdom tree.
The Nufranick Family were the first to send in the correct answer! Congratulations to The Nufranick Family and to all our winners this week! Steve Porter, Linda Hoffman, Joann Albrecht, Al & Kerry Ganter, Michael O'brien, Michaela O'brien, Karen O' Brien, Susie Howard, Sue And Ed Adams, Vera And Izzy Williams, Bonnie Jean, Grumpy's Groupies, Gloria Martin, Nan Amor, Belicia, Scott C., Mike Amor, Matthew Frey, Scott Sangston, The Parker Family, Mark Hardy, Maureen And Warren Handy, Jo Ann Bailey, Vicki Britt, Claire Gregory, Team Hill, Tricia Petty, Chris, Gretchen, And Katie Barnes, Donald Purney, Erin Hammer, and Chris Kelly!
It's time to draw the monthly winner and that person is: Ken Savage! Congratulations, Ken! You will be receiving a prize from Deb Wills!
_______________________________________________________
Challenge #522 Where in the world is this?
So where are we now? Want a hint? You're looking at the bottom of the ride "car" as it goes over you.
Do you know? Do you have a guess? Please send in your answer, before the end of the day on Thursday, February 8th, by clicking on the blue box below.
Please do not post answers using the Feedback Form link at the bottom of this post.
See you soon, Players!


_______________________________________________________________________
Everyone who sends in a correct answer to a Where in the World Challenge this month will be entered in a drawing at the end of the month for some special AllEars® goodies!
–