"Immersive" has been a buzzword in the theme-park industry for years, especially since Universal Orlando allowed its visitors to step into The Wizarding World of Harry Potter in 2010. The Walt Disney Company quickly followed suit a couple years later with Cars Land at Disney California Adventure and new Fantasyland attractions in the Magic Kingdom.
Now, Disney Parks and Resorts are taking immersive to a new level with the Star Wars-themed hotel that is being planned for Walt Disney World. The announcement came at the D23 Expo over the weekend in Anaheim, Calif. Details were not plentiful, but here is what we know so far:
** The hotel will be a luxury hotel. Many are assuming that means it will be on par with Disney World's deluxe category.
** The hotel is a large part of the experience, not just a place to stay. Guests will feel like they are stepping into a place in the Star Wars story, not just a Star Wars-themed hotel.
** To accomplish that feeling of immersion, each guest will be given a storyline that shapes his or her experience.
** Guests will wear Star Wars costumes during the experience.
** Hotel employees will play characters in the Star Wars story while performing their duties. That's different from other Walt Disney World hotel staffs.
** This is advertised as a "multi-day adventure," and it likely will be priced as such. Surveys given to guests visiting Walt Disney World indicated the price point could be $1,000 per person for three days and two nights. Disney has not announced an official price for the experience.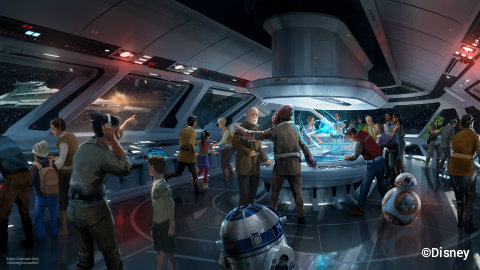 ** The hotel will be a spaceship in the Star Wars fleet. As such, there won't be windows looking out to Walt Disney World grounds. Instead, each window will show space scenes. Some are speculating these fake windows could be like the popular magic portholes on the Disney Dream and Disney Fantasy cruise ships that show changing scenes from the ocean.
To many, the opportunity to participate in this type of continuous role-playing in the Star Wars universe is a dream come true. Others — even those who enjoy Star Wars — may not be certain they want to spend their Disney vacation holed up in a hotel experience. So, I'm curious what YOUR family would do. Would you like to experience the Star Wars hotel? Will your family split up so certain members can enjoy it? If you do the experience, would you stay on afterward to go to the other theme parks? Tell us about it in the comments below.