Opening May 27 at Disney California Adventure is the newly rethemed attraction "Guardians of the Galaxy — Mission: BREAKOUT!."
Taking the place of the lightning-scarred "Twilight Zone Tower of Terror" in the back of Hollywood Land, GotGMB is set in the massive citadel of Taneleer Tivan, The Collector, from the Marvel comics and the MCU films "Thor: The Dark World, " and "Guardians of the Galaxy."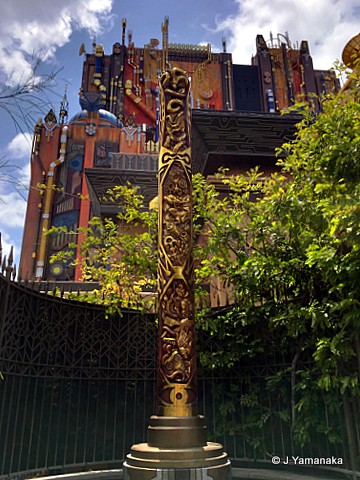 Surrounding the building is a collection of totems and fauna designed to pay tribute to The Collector and his artifacts referred to as "Gardens of the Galaxy."
AllEars.Net was invited to take an early look at the attraction, guided by Imagineer and lead Creative Executive Joe Rohde.
Once inside what used to be the hotel lobby, guests are met by a large assortment of glass cases containing any number of unique items in Tivan's collection.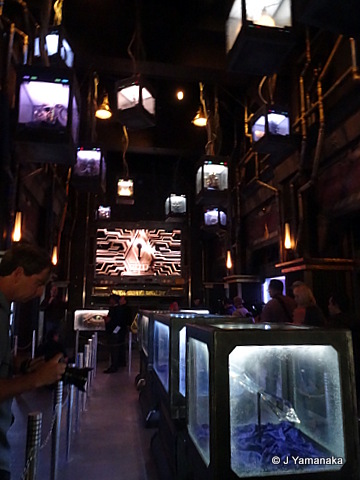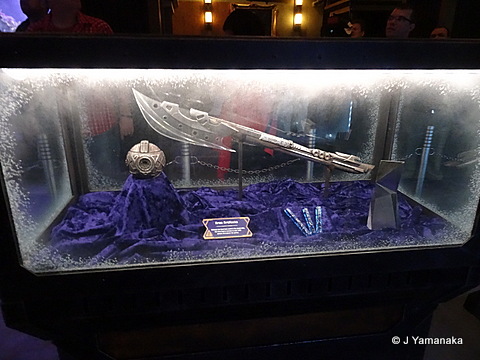 At the far end of the room is a screen where guests touring the collection are met by a video introduction from their host, revealing some of his newer, more reluctant acquisitions.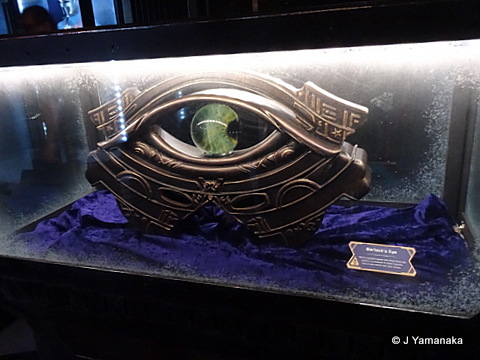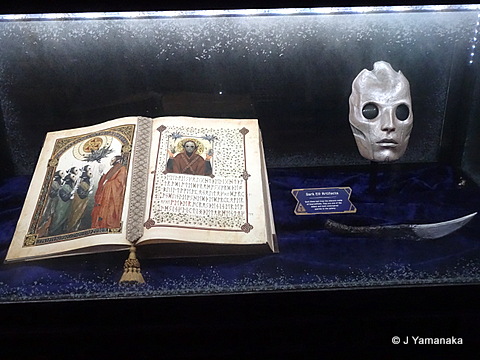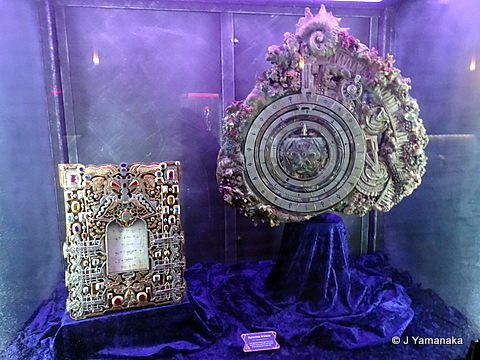 After making their way out of the collection room into Tivan's private office (previously the library,) guests touring the facility are met with another taped message from The Collector that is abruptly interrupted by Rocket Raccoon, a Guardian of the Galaxy (the smart one.) He has a plan to free his friends that requires your participation, some peril, and a lot of explosions.
Moving through the power room, sharp eyes (it's pretty dark) may notice a number of items in the Collection that appear somewhat familiar.
Entering the Gantry Lift, part of The Collector's staff will seat you and have you raise your hands for scanning (coincidentally checking for seatbelts at the same time) and then your tour/breakout commences.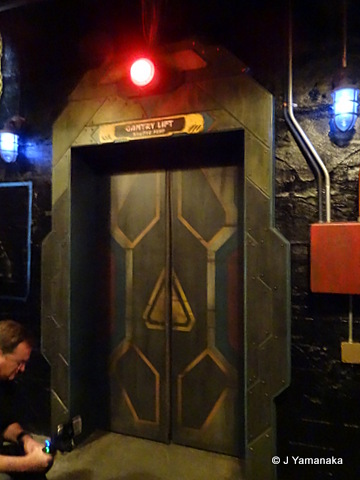 As far as the actual ride is concerned, there are six different drop profiles, each with their own different soundtrack. Intermittent pauses take place where the doors open to reveal clips of the Guardians escaping their boxes, dealing with all the other occupants that have also been let free, and making their getaway. Like Star Tours, these segments can randomize separately, so you may see the same ones in conjunction with different drop profiles or completely different ones. The original cast was present for all the video which was directed by "Guardians" writer/director James Gunn.
Mechanically, as you might expect, the ride isn't intrinsically different from ToT. I did feel that the drops were generally more prolonged/intense, with more time spent hovering in free-fall off the seat than previously. I've seen complaints about the in-ride sequences being just video screens, but unless we're saying the ToT ghosts were real, I don't think that's much of a change. On the whole, I think that whereas ToT depended more on suspense and atmosphere to yield a frightening/thrilling experience, GotGMB uses loud and dynamic action, humor, and mixtape music to give riders more of a shock/surprise.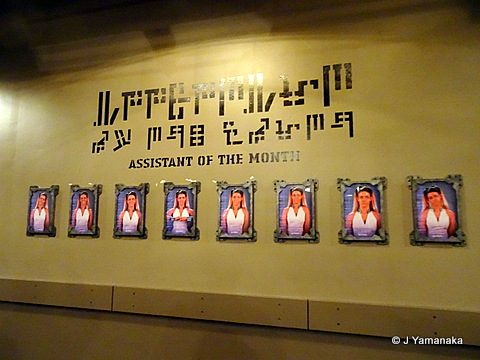 After disembarking the lift, "backstage" corridors lead you, as usual, back to a conveniently located gift store where you can buy all the merchandise a Guardian would want.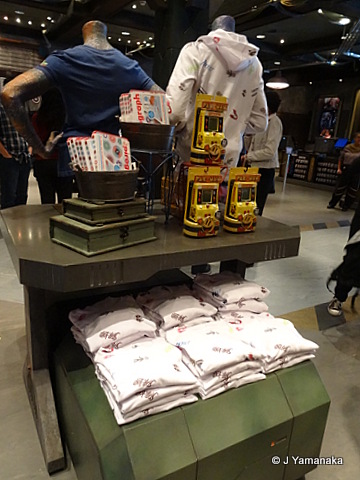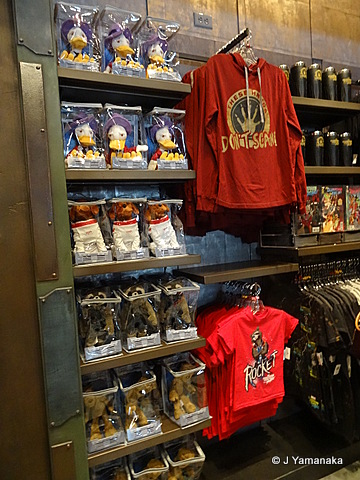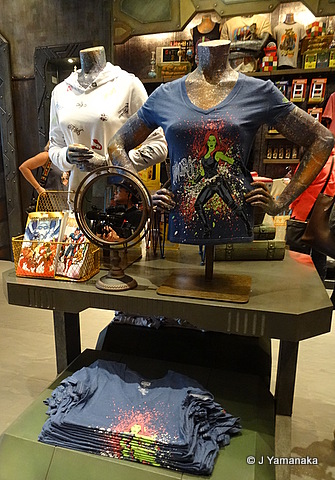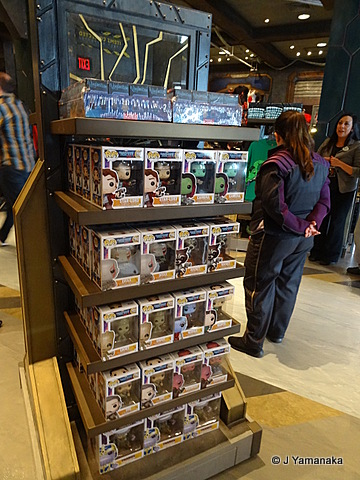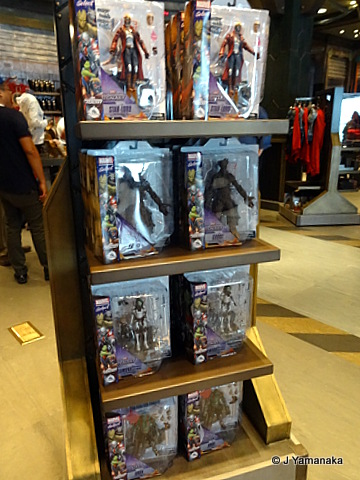 At the end of the ride, Joe Rohde returned for a brief Q&A, along with Dave Bushore, VP, Franchise Creative & Marketing at Marvel Studios and Brian Crosby, Creative Director of Marvel Themed Entertainment. Some things they addressed to varying degrees: Why Guardians? How does The Collector's Citadel fit in with Hollywood Land? What was the reaction of the cast to being a part of a ride?
Having broken out the Guardians, we were then taken backstage where we were given an advance look at some of the different facets of the "Summer of Heroes" event coming to DCA.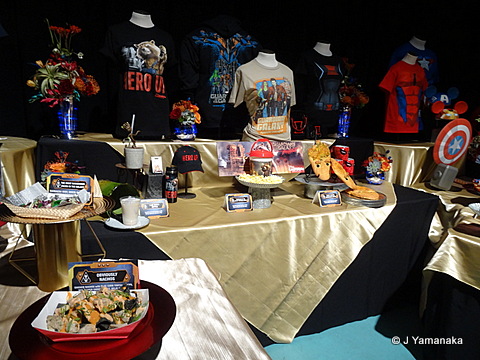 Executive Chef John State shared with us some of the many new culinary creations that will be available around Hollywood Land to keep heroes well-fueled for crime fighting.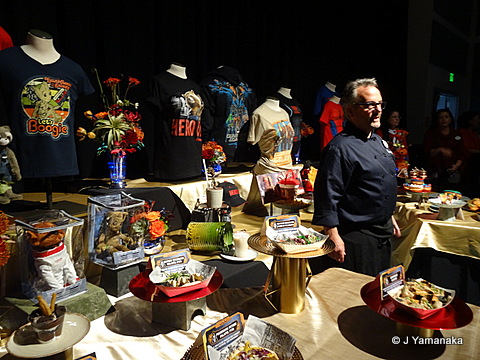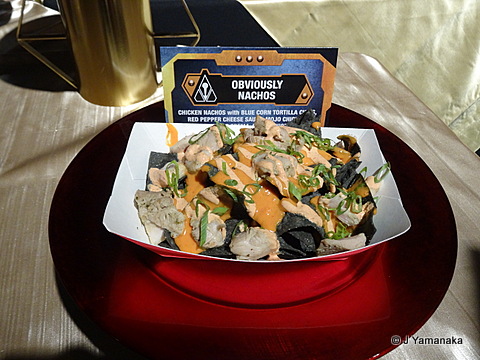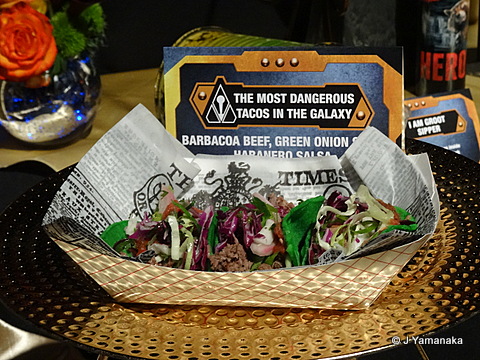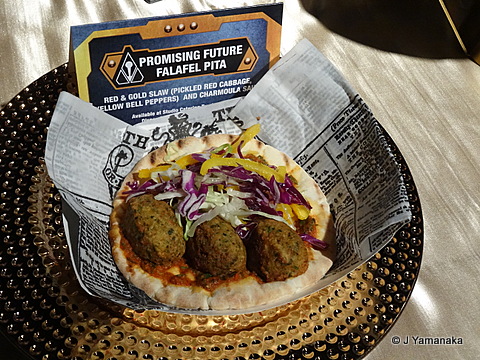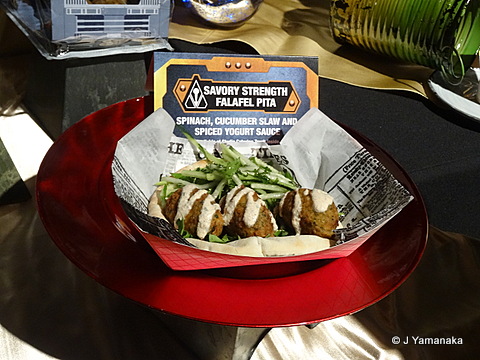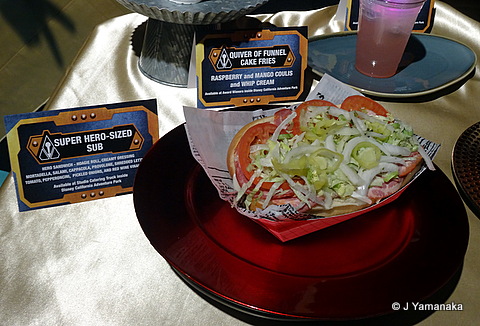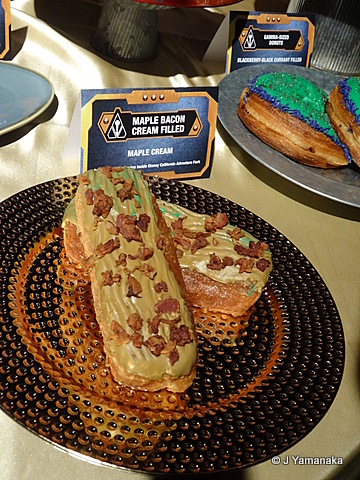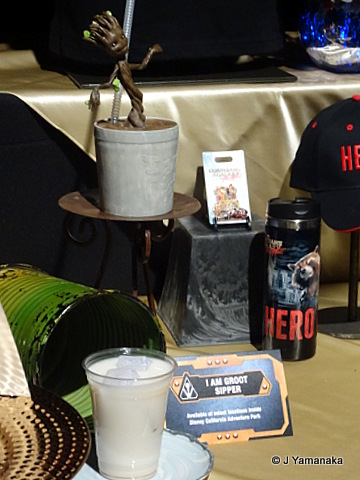 The three things I was able to taste were the Promising Future Falafel, the Most Dangerous Tacos in the Galaxy, and the Multiverse Parfait. My favorite was probably the parfait which was a little on the sweet side but which incorporated an impressive number of different flavored layers. The tacos were too spicy for my palate, but I am a complete spice wimp so your mileage will probably vary.
Finally, Dan Fields, Executive Creative Director, Disney Parks Live Entertainment, gave a presentation (accompanied by some special guests) on a few of the various superheroes that might be encountered this summer.
Whether joining Star-Lord and Gamora for "Guardians of the Galaxy: Awesome Dance Off!" or getting drilled by Black Widow and Hawkeye in "Avengers Training Initiative," guests will find no shortage of chances to Hero Up.
Clearly, a lot of activity going on in Hollywood Land this summer–one thing to note is the increasing emphasis on live character interaction for seasonal events which one could speculate is preparing people for more of the same to come in "Star Wars Land." Whether or not the encroachment of the Marvel Cinematic Universe on DCA signals the beginning of a more wide-spread change in theme remains to be seen, but amidst all this uncertainty, there is a constant…
…He is Groot.