To all who come to this photo trivia game, Welcome! Along the way, the photos can make us relive memories and see details Walt's Imagineers put into everything we love in Walt Disney World!
It's a busy week for holidays!
First, we start with Palm Sunday. I loved it as a kid; I use to "crack" the Palms like a whip and got into trouble with my mom. 😊 Then Passover. I'm not Jewish, but a friend invited me over to celebrate with them; I'm looking forward to it. Then we have Holy Thursday & Good Friday.
Whatever you may be celebrating, I hope you have a wonderful time.
Now for Challenge #478:

And here's the answer: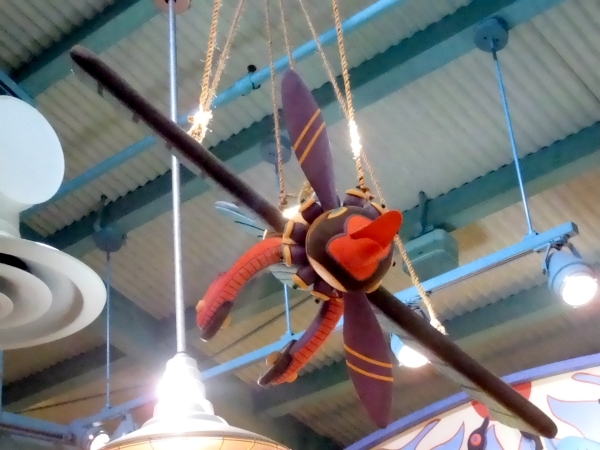 Copyright © Erin Blackwell
Yeah, this was a toughie! Probably the third most difficult one we've had. I hoped the hint would help… let's see if it did:
We're in the Island Mercantile store on Discovery Island in Disney's Animal Kingdom. This particular art piece is a penguin plane; there are butterfly ones too if you look up the next time you're there.
Bob & Kathy Mckim was the first to send in the correct answer! Congratulations to Bob & Kathy Mckim and to all our winners this week! Evanna Huda, Larissa Huda, Kris Nixon, Maureen And Warren Handy, Diane Curfman, The Rider Family, Kristi Strembicki, Donna Frank, Team Hill, Beth Littman, Andrew Carrieri, Joann Albrecht, Theresa Maradei, Isabel Johansen, Jeremy Reichelt, Rebecca Keenan, Vicki Britt, Chris, Gretchen, And Katie Barnes, Linda Hoffman, Smitty, Hillary Waldroop, Don Purney, John Warner, Jane Johnson, Kristan Bertelmann, Kerri Coggins, and Claire Gregory!
_______________________________________________________
Challenge #479 Where in the world is this?
This has things for a lot of different fans! It's part of a new-ish upgrade to an existing classic attraction. I made sure you could Google the tapestry words if you wanted. If you ever had writer's block, you begged your muse for the same thing! And last, just for fun: does anyone else think of the Broadway musical "Hamilton" when you read those words on the page?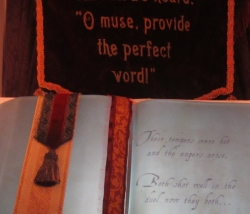 Do you know? Do you have a guess? Please send in your answer, before the end of the day on Thursday, April 6th, by clicking on the blue box below.
Please do not post answers using the Feedback Form link at the bottom of this post.
See you soon, Players!


_______________________________________________________________________
Everyone who sends in a correct answer to a Where in the World Challenge this month will be entered in a drawing at the end of the month for some special AllEars® goodies!
–