Ever witty and urbane, "Beauty and the Beast" Executive Producer Don Hahn was gracious enough to give AllEars.Net a few minutes to talk about both versions of the Tale as Old as Time he has helmed, as well as thoughts on legendary writer, director, and lyricist Howard Ashman.
On the beginnings of a new "Beauty and the Beast": "We had talked about doing a live-action movie for years, even going back to probably ten or fifteen years ago…the movie was well-received as an animated film and on Broadway as well, a few years later, so the chance to complete the trifecta and do a live-action film seemed logical.
"But the elements weren't together. We, at different times, tried different scripts, but it never really came together until this version, and thankfully so, because the effect of having Bill Condon, Emma Watson, Dan Stevens, and having Alan Menken write new songs is kind of the perfect alignment of the planets for this movie to be retold again. So it's something we've talked about for a long time, but it's really about people. You know, computers don't make movies, studios don't make movies..it's about great people, and those people were available at this time, and lucky us to have them."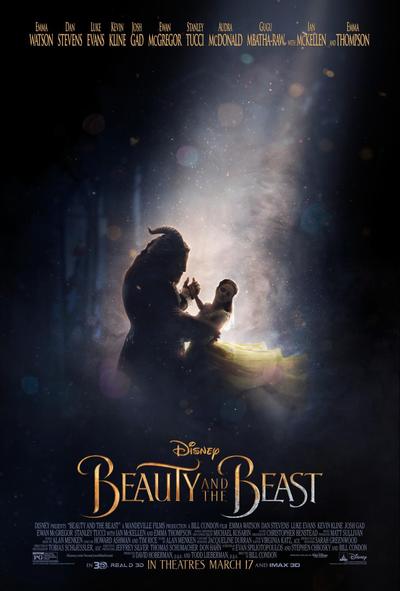 On why a live-action version: "It probably brings a little more depth to the characters, because animation is a medium of caricature–you're kind of painting with a broad brush in animation…a simpler medium in some sense, and the movies are shorter, maybe 85-90 minutes. In a live-action film, it's incredibly direct to the audience. They see the living, breathing actors on the screen, and it's a chance to flesh out their stories more: To find out more about Belle, or where she came from, or who her mother is…just understand more about those characters so you can feel more deeply about them. So that's the approach, to say here's a movie and a story and how can we augment that in ways that are really meaningful and germane to the original story. You don't want to just explode it with new songs and Belle goes surfing or something. You want to be able to take it right to the core of what those characters are and what they mean, and again, I think that's the brilliance of not only what Howard Ashman and Alan Menken gave us in the original movie, along with a great crew of animators, but also what Bill Condon does in this movie, is to be able to reimagine in ways that are really central to those characters, and finding out who they are and where they came from and why they're longing for adventure and why they're cursed and why they would ever get together. So those are all things that you can explore more deeply and I think that's why this movie resonates with people, because it gives you all those layers of the onion to explore more deeply."
On Howard Ashman: "Howard was a really interesting guy. He was tremendously schooled in musical theater–I'm making a documentary about him right now so he's kind of on the tip of my tongue these days–he grew up in Baltimore, he studied theater and got his masters degree in theater from Indiana University, and came to Broadway kind of as an outsider, but he was tremendously learned. He knew every lyric and everything from Lerner and Lowe to Rogers and Hammerstein, and not only the lyric but why they fit into this song and why they fit into this movie or this show.
"So when we would sit there working with him, and he would say 'well this dance with Belle and the Beast…it's like 'King and I,' when Yul Brenner puts her hand on his waist–that's like the consummation of their relationship.' And so suddenly the dance with Belle and the Beast became an homage to 'King and I." So there's all these callbacks: Gaston was loosely based on a kind of arrogant male character from 'Funny Thing Happened on the Way to the Forum.' So he had this tremendous knowledge, and also one of the most funny people I've ever met (and you know that by his lyrics,) and then one of the most articulate people. He could easily have been a trial attorney. If you want to argue with him, you better have your case completely prepared, because he would articulate and be able to quote chapter and verse of any Broadway musical and the reason why this song fit or this lyric fit…and we did disagree with him from time to time and he was collaborative. It wasn't like he was a brick wall, he was really collaborative, but he made you bring your best game.
"So when the songs came in on 'Beauty and the Beast,' there was one day where we got in a cassette tape, back when we had cassette tapes, and it was the 'Belle' song and 'Be Our Guest' on the same tape. And imagine putting a tape in the machine and listening to this four-or-five minute opening number and how brilliant it was and how storytelling it was and how it introduced us not only to Belle but to her father and to the character of Gaston and LeFou and how all that was able to tell story and plot. So a brilliant man, sad to lose him in the middle of this animated movie and he never got to see the finished product. So much of this live-action movie is not only an homage to the original movie, but a kind of celebration of the great work that Howard had done.
"He was great. He would quote Gilbert and Sullivan and kind of an operetta feel to the opening of the movie…and there are some songs that are really original like 'Kill the Beast' is a pretty original and somewhat risky song–to do a song that late in the movie…to have the villain's song be that late. 'Beauty and the Beast' is also a really odd song because it's very poetic; there's not a lot of plot in it, but as the audience, you're sitting on the edge of your seat waiting for these characters to fall in love. Howard was able to bring that to us just through the use of these few selected words. It's funny, at the time Jeffrey Katzenberg, who was the head of the studio, wanted the song to be longer, and Howard said 'well I can't' and Jeffrey said 'of course you can' and he said 'no, I've used all the rhyming words, so all that's left with rhymes with beast would be 'yeast' and 'priest' and all these words that are totally useless.' So he was just a clever, wonderful man."

On Dan Rather's theory of "Beauty and the Beast" as AIDS metaphor: "Well I was there and knew Howard pretty well. Howard was not a political person; he was the consummate professional, and so first and foremost that song ('Kill the Beast') would be about Gaston and Belle and the Beast. Nobody knows, but I'm almost positive it wasn't an overt commentary on the AIDS crisis.
"But having said that, on some subliminal level, it was, because with lyrics like 'we don't like what we don't understand, in fact it scares us,' it's a commentary on fear, and on fear of the Beast, and on the fear that was certainly circulating in the AIDS crisis at the time, and circulates today. I mean, human beings have always been this way, so to comment on something about the Fear Of Each Other is so thematic towards the AIDS crisis but even more so Howard was, I'm sure, professionally and specifically talking about the fear we have about somebody who's different than us. And how relevant is that today? To be able to talk about a movie like 'Beauty and the Beast' that looks beyond the facade of people, into their hearts…I mean, that's what the movie is about: Don't judge a book by its cover. Look inside Gaston and find out he's a pig inside. Look inside the Beast and find out he's this warm, wonderful big-hearted guy who made a mistake and is now living with the consequences. So there's certainly overtones of what Howard was going through in that song particularly; whether it was intentional or not, we'll never know, but it services first and foremost 'Beauty and the Beast' but it's a bittersweet thing to think about how it might be a commentary on his life."
"Beauty and the Beast" opens in theaters March 17, 2017.