If you have been following the Disney Pic of the Week blog posts recently, you have seen Deb and mine's attempt at aerial photography at Walt Disney World. When the subject of aerial photos first came up, Deb and I found we only shared three locations. I wanted to share a couple more with you today.
The trick is to find a high vantage point in the parks. Mostly those are found on attractions. Expedition: EVEREST certainly meets the height requirement. It also has a long, slow ascent early on which has a great view of Disney's Animal Kingdom.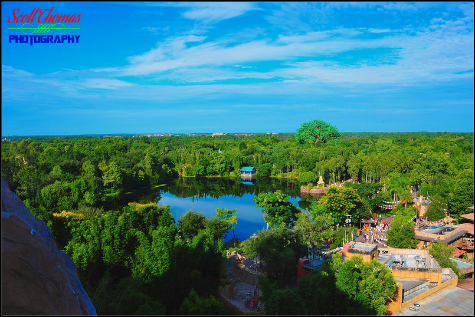 View of Disney's Animal Kingdom from Expedition: EVEREST.
Nikon D700/28-300VR, 1/250s, f/16, ISO 450, EV +0.3, 28mm Focal Length.
We all know the Tree of Life is big. This photo shows how much bigger it is compared to the surrounding buildings and trees. This was taken back in 2010. Once Pandora, the World of AVATAR opens, I will re-take this photo. I did not want the huge construction cranes in a photo which were there on my last few trips.
Another attraction to get aerial photos from at Walt Disney World is the one I took during a ride on the Twilight Zone Tower of Terror in Disney's Hollywood Studios. This is from 2009 when the Earful Tower was still there.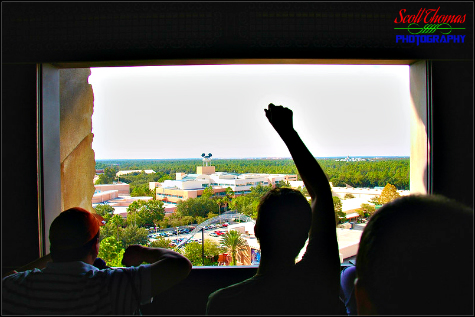 View of Disney's Hollywood Studios from the Twilight Zone Tower of Terror.
Nikon D70/18-200VR, 1/200s, f/7.1, ISO 200, EV +0.3, 18mm (27mm DX) Focal Length.
This is one of those rides you have to secure your camera and be ready to take the picture as soon as the doors open at the top of the shaft.
While these are not true aerial photos, you can get high enough at Walt Disney World to get unique photos from up high.