To all who come to this photo trivia game, Welcome! Along the way, the photos can make us relive memories and see details Walt's Imagineers put into everything we love in Walt Disney World!
Now for Challenge #454:

And here's the answer: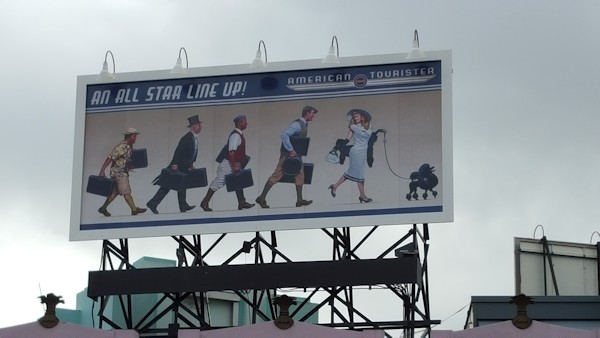 Copyright © Barrie Brewer
It's the American Tourist billboard above Keystone Clothiers on Hollywood Boulevard in Disney's Hollywood Studios. This and 2 sets of prop luggage on Sunset Boulevard celebrated American Tourist becoming the Official Luggage of the Walt Disney World and Disneyland Resorts.
Jim Thompson, that's a wonderful idea! Put inside the buildings a picture of each old Hollywood building that was the inspiration for the park building. The way Brown Derby does!
Ken Savage was the first to send in the correct answer! Congratulations to Ken and to all our winners this week! Ed Suscreba, Kristi Strembicki, The Kertes Family, Linda College, Evanna Huda, Hillary Waldroop, Kerri Coggins, Bonnie Jean, Mike Amor, Eric Berger, Mary Beth Tarbet, Melissa Such, Sharon Pierce, Linda Ranatza, Tammy Warmouth, Emily Hudson, Phyllis, Theresa Rucando, Kris Nixon, Vera And Izzy Williams, Joseph M. Zafia, Paul Dickson, Grumpy's Groupies, Luis Rodriguez, Al & Kerry Ganter, Team Hill, Andreas Beer, Axel Beer, Claire Gregory, Jessica Hernandez, Vanessa Stjohn, Jessica Hernandez, Dvc Mary Or Mary Finkle, Michael O'brien, Karen O'brien, Michaela O'brien, Bob & Kathy Mckim, Krista Serpi, Team Bonnie Sue, Adolph And Kimberly Timm, Margaret Convery, The Gunnels Gang, Jennifer Pichert, Jim & Lorie Sonnen, Becky Norman, Pat Schwier, Sandie Albrecht, K Beasley, Jim Finley, Smitty, Mark Donahue, Andrew Carrieri, Jason Hocker, Ruben O'meara, Deb Ragno, Mike Haeberle, Kyran Smith And Chiara, Arlene Vicek, Duskin Henard, Thetesa Maradei, Linda Scrivano, Maureen And Warren Handy, Mickey Eckert, Susan Higginbotham, Chris, Gretchen, And Katie Barnes, Carol Baranowsky, Hobbes And Snorky, The Parker Family, Lori Rienhardt, Jim Thompson, Trevor Mcnutt, Diane Curfman, Dave Freemyer, Steve Knapp, Robert Wescovich, Anne Duque, Elaine Tomko-deluca, Maryann Romagnano, Donna Frank, The Harper Gang, Tammy Cousin, Laura Walker, Megan Krainski, Hunter Armstrong, Tommy Montgomery, Eric Enli, Andy Hickey, Virginia Pierce, Karen Taylor, Andy Hickey, Bob Patterson, Dee Dee Kenney, Sharon Russo, John Bickers, Alison Rosenberger, Tim Johansen, Les Whitten, Cheryl Costello, Shelly Borella, Scott Sangston, Cathy Fleming, Nick Bryant, Rebecca Keenan, The Holmes Family, Tricia Petty, Jeremy Reichelt, Dave Carriere, Mary Coleman, Les Stewart, George Mundy Jr, Ed Adams, Carla C, Rob Blundin, Matt Holley, Caroline Burmester, Janet T Thorn, Joyce Shipman, Matthew Frey, Will Gates, Jamie Poynton, Melesia Love, Jamie Steiner, Kyra, Barclay Bakkum, Robert P. Flaherty, Chad Citro, Jodi Cook, Leigh Mertz, Vicki Britt, Wendy T Faler, The Patterson Family, Don Purney, Nan Amor, Linda Hoffman, John Warner, Jodie S., Jane Johnson, Linda Hoffman, Stacy Guarracino, and Jared Orth!
_______________________________________________________
Challenge #455 Where in the world is this?
Switching parks! This one does not need a three paragraph explanation. 🙂
Do you know? Do you have a guess? Please send in your answer, before the end of the day on Thursday, October 20th, by clicking on the blue box below.
Please do not post answers using the Feedback Form link at the bottom of this post.
See you soon, Players!


_______________________________________________________________________
Everyone who sends in a correct answer to a Where in the World Challenge this month will be entered in a drawing at the end of the month for some special AllEars® goodies!
–