A new Halloween Time event this year is Trick or Tea at the Disneyland Hotel. It's a seasonal version of the existing afternoon tea served at Steakhouse 55. It's available on Friday-Sunday from September 30-October 30. Service is from noon until 3:00 p.m.
I went on the first day – September 30. Steakhouse 55 is a very nice, quiet restaurant, and very appropriate for a relaxing afternoon tea.
I was a little surprised that there wasn't a specially decorated menu – the only difference in the menu was the addition of some seasonal teas. After I'd sat at my place for a while I finally took a closer look at the flowers on the table – and that made me chuckle. Very clever.
There are two different tea choices for adults: The Classic Tea Party, and The Premium Tea Party. Both include scones, tea sandwiches, dessert, and choice of tea. The premium party adds a glass of Fairy Tale Cuvee, salad, and truffles.
I chose the Premium Tea Party. Since it was a very warm day I opted for iced tea instead of hot tea. I selected one of the seasonal teas: Apple Pie Green Tea. It had a hint of cinnamon. It needed just a little bit of sugar to bring out the apple pie flavor. The salad was nice and fresh – it's served with green goddess dressing.
Once I'd finished the salad my server brought out the tiered platter with the scones, sandwiches, and desserts, and described them to me. It's so pretty!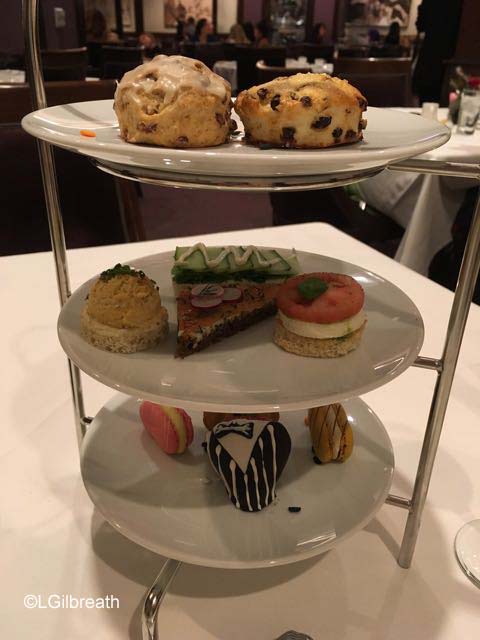 I had a traditional currant scone as well as the new seasonal maple-pecan scone. The latter was especially good. Lots of chopped pecans inside, so you had better like pecans. I do, so that wasn't an issue.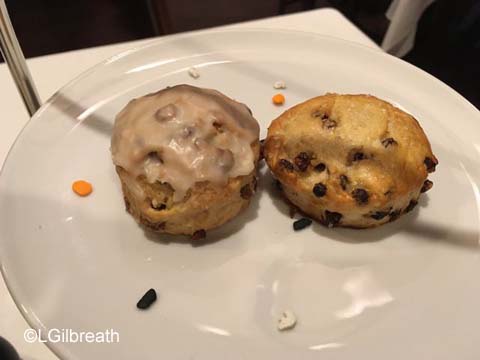 There was a plate of lemon curd, marmalade, and Devonshire cream to go with the scones. Way more than I needed, especially since I don't care for marmalade or lemon curd.
There were no seasonal selections in the tea sandwiches. Egg salad, cucumber and watercress, smoked salmon, and caprese. The bread on the caprese sandwich was toasted, which seemed a little strange. They were all very tasty.
The highlight of the dessert plate was the Jack Skellington chocolate-dipped strawberry. The mini pumpkin bundt cake was excellent, especially with a little Devonshire cream on it. There are a number of different macarons available, and it's always luck of the draw as to which two you receive. The strawberry pistachio was ok, but the other was a speculoos (cookie butter) macaron and that was really excellent.
The truffles are served in a little takeaway box. There were two of them, and I ate them the next day. They were good, but I've had better.
The Premium Tea was $65, and I received a 15% Annual Passholder discount. The Classic Tea is $50.
I was a little disappointed in my server – when I was here the first time back in January the server asked me at the end if there was any tea that I wanted to take away in a ToGo cup. This time, though I heard her offer that to the table next to me, she did not offer it to me, and in fact I had to ask her for a cup so that I could take the rest of my Apple Pie tea.
The tea was very nice, though of the various Disney teas I've had, the Grand Floridian at Walt Disney World is still my favorite.
During Halloween Time there are always things going on at the Disneyland Resort. I attended a Media Day recently and spoke to several different people about some of the events.
Halloween Time and what's new in Haunted Mansion Holiday:
One of the things Brian is responsible for is the large pumpkins on Main Street and over the entrance turnstiles.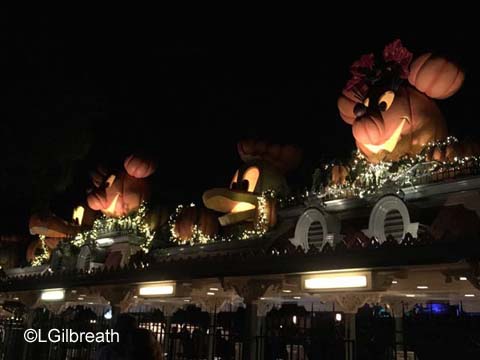 During Halloween Time Jack and Sally are available for Meet and Greets near the Haunted Mansion.
The traditional Tower of Terror is in its final days – it will close on January 2, and will be re-imagined into an attraction based on Guardians of the Galaxy. Mission:Breakout will open in the summer of 2017. In the meantime something called Late Checkout is going on – every night after twilight the lights and sound are turned off in the Tower of Terror, and riders experience it in complete darkness, not even with any of the usual audio cues to warn them of what is coming next.
Through October 31, the Silver Lake Sisters are performing at various times during the day in the lobby of the Hollywood Tower Hotel, for the entertainment of guests waiting in line. (I think it's unfortunate that they aren't performing some place that's more accessible, where guests can watch them for a longer time.) The Silver Lake Sisters are also known as Fiddler, Fifer, and Practical. You'll find their cafe on Buena Vista Street, where the walls are decorated with photos and other memorabilia of their career. I understand that people come for miles for their coffee. 🙂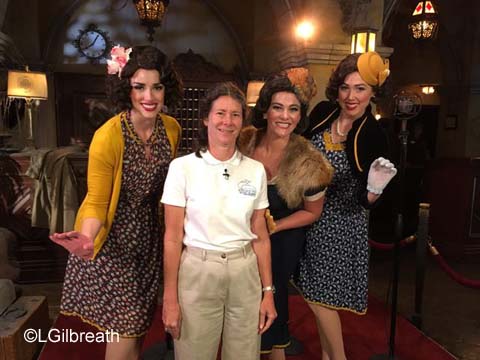 Disneyland always comes up with different Halloween treats every year. Those interviews are always a lot of fun for me since I get the opportunity to do something – and I usually get to sample afterwards.
As Rob mentioned, one of the new treats this year is this Evil Queen Caramel Apple.
I didn't get to take the apple that I actually made home with me, but I received one just like it. And it was good. Apple, chocolate, and caramel – yum. Though my favorite is still the apple dipped in caramel and chocolate and covered in English toffee.
Lee and I had dinner at the Hungry Bear Restaurant Mostly because I wanted dessert there. 🙂
I ordered the Crispy Chicken Sandwich. It comes with fries or zesty slaw, but they will substitute onion rings upon request. Yes, please. The chicken was battered and fried but not greasy, and there was a honey-mustard sauce on it along with lettuce and tomato. It was pretty tasty, and the onion rings were quite good.
Lee had the Classic Cheeseburger with French fries. Your basic hamburger, so nothing special about it.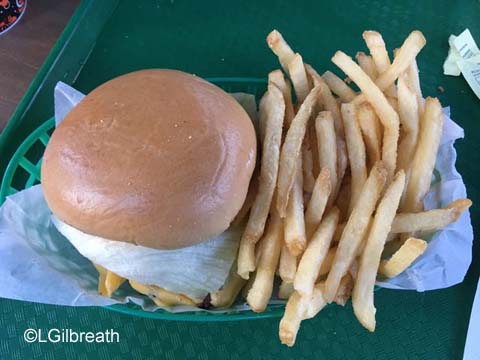 But as I mentioned we really came here for dessert. The Churro Funnel Cake. This was a special last summer, but apparently it was so popular that it's been added to the permanent menu. Fried dough covered in lots of cinnamon sugar and topped with caramel sauce and whipped cream. No redeeming qualities about it whatsoever – but it's sooooo good! And a large serving – we couldn't finish it.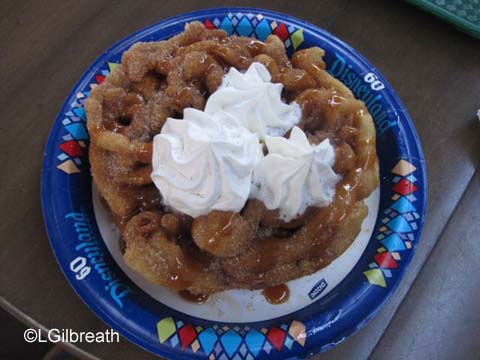 After dark we could see the Halloween Tree lit up in Frontierland. The tree is inspired by the Ray Bradbury novel of the same name. Bradbury was a long-time Disney fan and the tree was dedicated to him on October 31, 2007. It's nice to see it every year.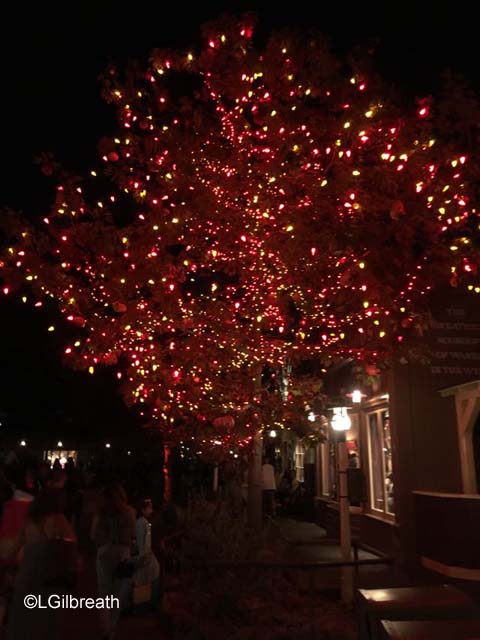 There you have it…a few of the other tricks and treats at Halloween Time this year.