One of the special events during Halloween Time each year is Mickey's Halloween Party at Disneyland. The parties take place on select evenings in September and October. Party goers must purchase a ticket to the event, and they usually sell out, sometimes several weeks in advance. Attending a party is the only way to see the Halloween Screams fireworks show, which I think is one of the best fireworks shows at Disneyland.
This year Disney added something new: Mickey's Frightfully Fun Parade. And to make it even more intriguing, for the first time the Headless Horseman appears at Disneyland, in advance of the parade.
Lee and I had not attended one of the Halloween parties in a number of years, but with these new offerings I wanted to check it out this year.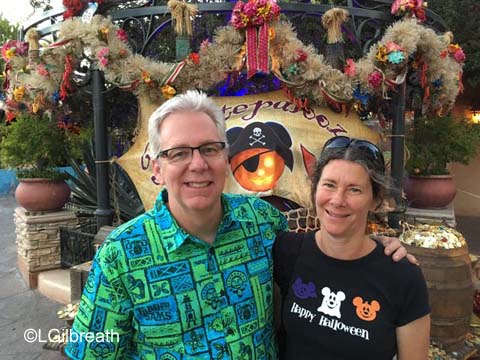 Still, there were a couple of not-so-positive changes this year. The party ticket price went up $10-$15. And the ticket no longer includes parking as it has in the past – that's an $18 value these days. Not a factor for us since we have Annual Passes with parking, but makes it more expensive for families who come just for the party.
Second, the costume guidelines were much more restrictive this year. As I read them, my interpretation was that if you were over the age of 13 – don't wear a costume. While we did see adults in costume, it seemed as though there were fewer than in the past, and that the costumes were much less elaborate. Though part of that could have been because it was a warm afternoon and evening. I'd say I saw more "bounding" than actual costumes. Unfortunate. We chose not to wear costumes.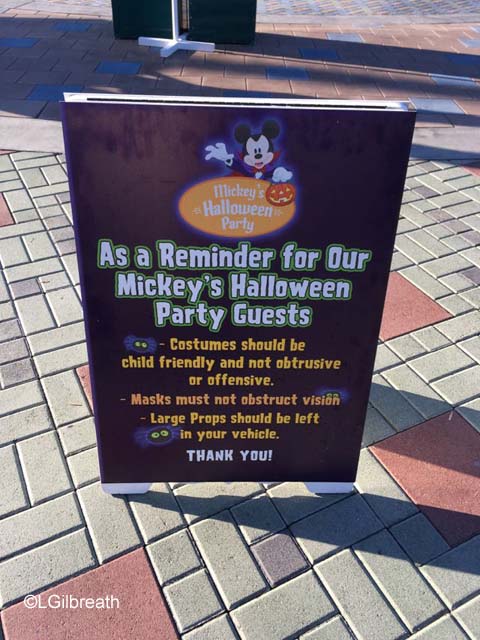 Ticket prices run from $72-$99, with most parties at $89. The $72 price was available to AP holders for some of the weeknight parties. The parties on October 29 and 31 are $99.
Party guests are allowed to enter Disneyland three hours before the party starts. So for guests who don't have annual passes, it's potentially 8 hours of park time for less than the price of a regular one-day passport.
At the park entrance there are separate turnstiles dedicated to party guests. Upon entry we were given our party wristbands. We had e-tickets, and after those were scanned we were given regular one day park tickets, which allowed us to use the Fastpass machines during regular park hours, and would also have allowed us to exit and re-enter Disneyland (handstamp also required).
If you're already in the park, there are some locations within the park you can visit to get your wristband. These locations will also sell same-day party tickets if any are still available.
Just inside the entrance was a location to pick up our trick-or-treat bags. We noticed lots of people had brought their own much larger bags. Later we learned why: we didn't even do that much trick-or-treating and our bags were almost full – for those who visited a lot of the Treat Stations they would've needed those larger bags!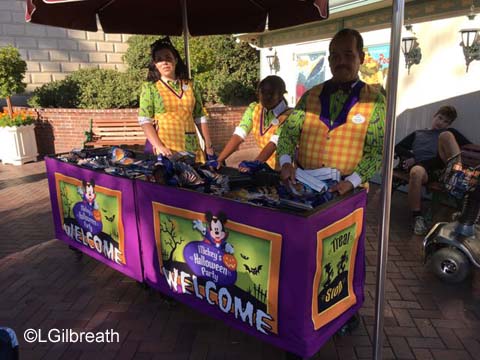 At the entrance, and at other locations around the park, were Mickey's Halloween Party park maps. The maps had the times of the events and showed the locations of Treat Trails, character greetings, dance parties, open restaurants, etc.
We arrived a little before 5:00. The party we attended was sold out, and already there were lots of party attendees in the parks as well as lots of day guests. A lot of the party decoration pieces were up or going up.
But the preparations for the party meant that some of the restaurants were already shut down, since they were sites for party events. Rancho del Zocalo, Village Haus, and Harbour Galley all shut down early.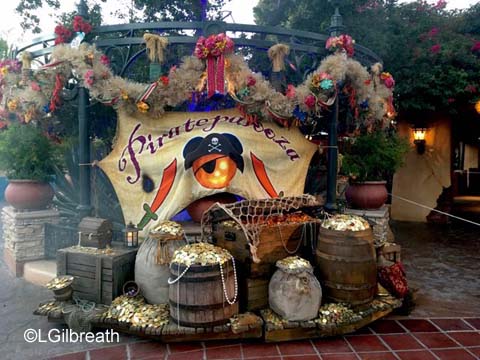 There was early trick-or-treating going on in Toon Town, from 6:00 to 8:00. Treat stations plus some Disney characters. We never made it back there during the party, though.
There were some more extensive decorations in Frontierland at Pirate Wharf, which was one of the character locations.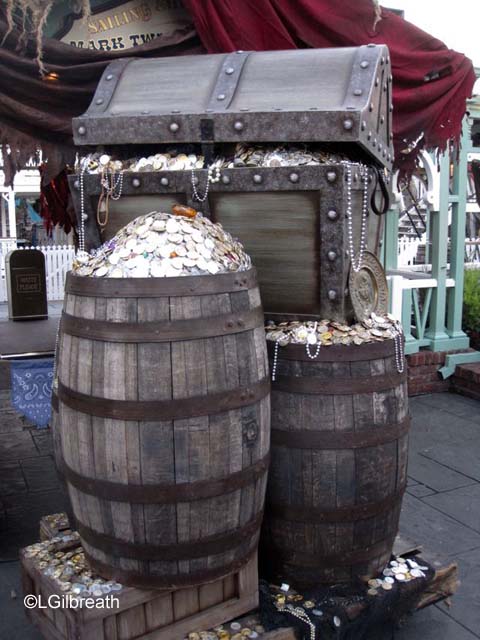 About 6:30 we started hearing park-wide announcements that the park was closing at 7:00 to regular day guests, who were to start making their way out of Disneyland. And at 7:00 the announcement that they really needed to leave. 🙂 We started seeing security and other cast members going around and checking wristbands, and that continued for a while.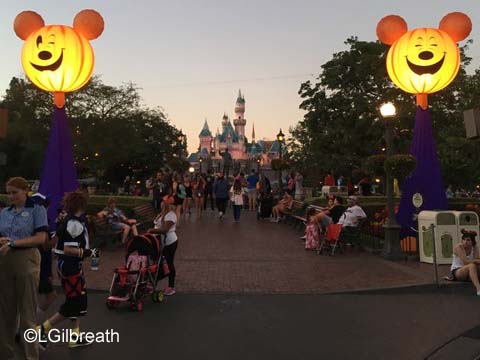 There are a few blow-up ghost and pumpkin figures, but most of the party "decorations" are in the form of projections on buildings or walkways. So the darker it gets, the more festive it seems.
By far the most impressive projections are those on Main Street, "it's a small world" and Sleeping Beauty Castle, which make excellent use of the projectors installed in those areas for the Disneyland Forever fireworks show.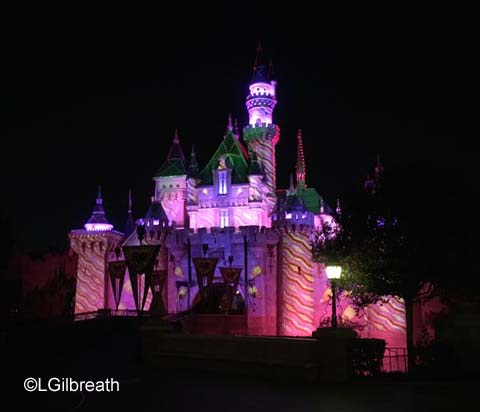 Each location has custom projections that have been choreographed to the Halloween-themed music that plays throughout the park. The music has always been one of my favorite things about the Halloween Party. It's a lot of fun to listen to "Monster Mash", "Skeleton Dance", "Bump in the Night", "Grim Grinning Ghosts", etc., and I thought the projections that went with them were clever and entertaining to watch. Really enhanced the party experience for us.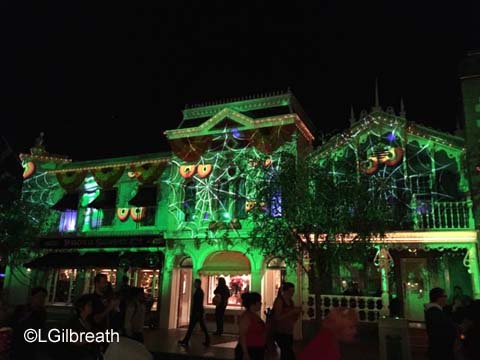 There are lots of different activities going on during the party. Of course one of the most popular is the Trick or Treating. Most areas have been arranged into trails featuring multiple treat stations rather than individual standalone locations. The lines could be long to get into the trails, but they moved fairly quickly.
There were lots of different kinds of candy, including candy bars, M&Ms, Starburst, Laffy Taffy, and SweeTarts. Many of the treat stations offered an unsweetened (though still not necessarily healthy) option such as bags of white cheddar popcorn, whole-grain Cheezit crackers, Goldfish crackers, or fruit chips. We even received small bags of carrots at one location. We had to ask for the "healthy" alternative, otherwise we got candy instead.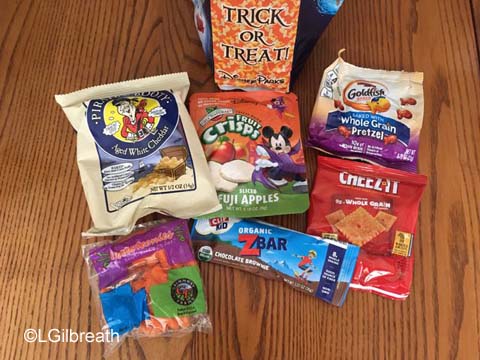 We visited four of the nine treat trails, yet our bags were still pretty full (admittedly the bagged treats take up a lot more room).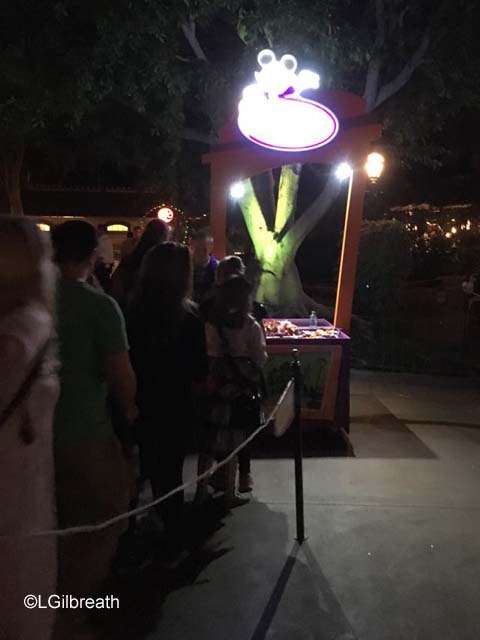 I think this was new this year – three sessions of Jedi Training Academy – Trials of the Temple were offered during the party. We didn't see any of them, but I'm sure they were well-attended – I saw many kids dressed in Star Wars attire. Rey and Princess Leia seemed especially popular this year. Advance signup for the Academy was available in Tomorrowland starting at 5:00.
There were character greeting spots ALL over Disneyland – ten of them. Some locations had multiple characters. We didn't visit any of them, so I can't say how long the lines were. In the final hour of the party the lines for the two villain characters in front of the train station weren't too bad, but the line for Mickey and Minnie in Town Square was still long.
And there were a couple of wisecracking scarecrows "hanging around" in Frontierland. I remembered seeing them at parties we attended in the past.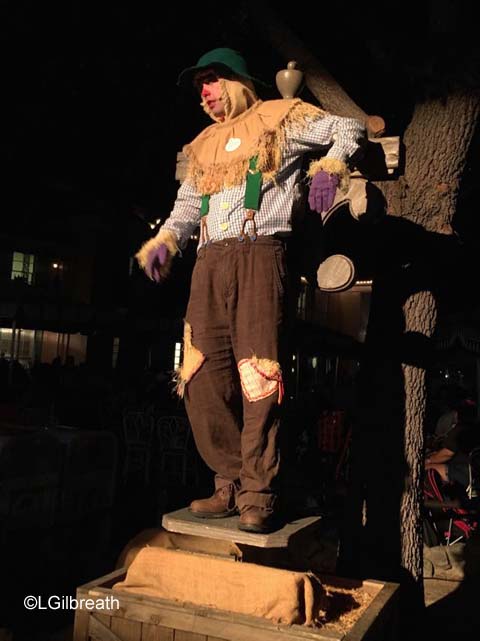 We ate before the party started. As I mentioned, several of the counter service locations shut down early, but there were still a lot of dining opportunities available. There were special Halloween offerings at most locations, though nothing that was exclusive to the party itself. This year Blue Bayou and Carnation Cafe were open for dinner during the party – or at least during the early hours of the party. Blue Bayou offered a special dining package that included access to a viewing area for the parade and fireworks.
There was some special party merchandise available at locations throughout the park.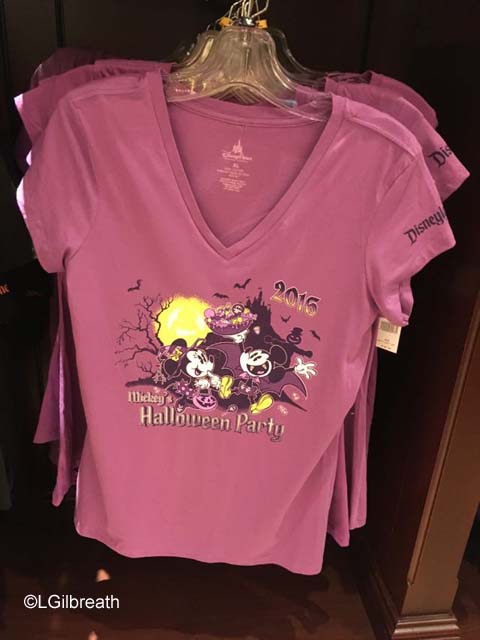 The Cadaver Dans performed several times that evening from a raft on the Rivers of America. Unfortunately our timing was off, and we just missed both of their last two shows. The Rivers of America area had some spooky lighting and fog that looked good.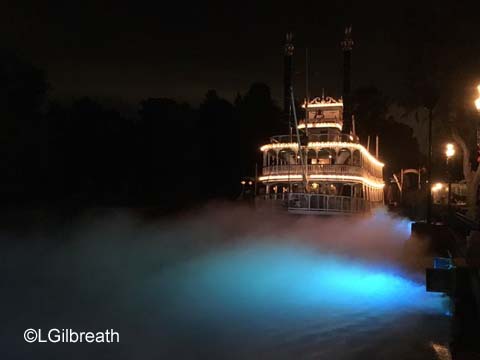 Most attractions were open, though Toon Town closed at 8:00. Lines for Haunted Mansion Holiday and Space Mountain Ghost Galaxy were long all evening. We went on several other attractions after the fireworks show and had only short waits, though.
Of course the main reason that we decided to go to the Halloween Party this year was the new Frightfully Fun Parade, especially since it is preceded by the arrival of the Headless Horseman – the first time he has appeared at Disneyland.
We saw the first parade, which started at 8:30. (Second parade at 10:30.) I wanted to make sure we had a good spot, so we waited quite a long time. The parade runs from "small world" to Town Square for the first performance, and the opposite direction for the second performance.
The Horseman came out about 10 minutes before the parade. Shortly before he arrived there were some spooky sound effects and a voice telling us to: "Gather round, friends, and hear my tale. That started long ago, on the Sleepy Hollow Trail." Nice little rhyme. "With a glowing pumpkin to light the way, he's lurking to find his perfect prey. He's the bringer of Halloween fear. Beware, the Headless Horseman is here!"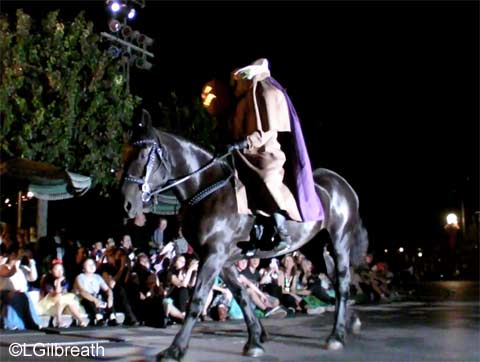 Unlike his appearances at Magic Kingdom, he moved at a slow walk down the parade route. Which gave us much more time to look at him. When he reached the end of Main Street he stopped and his horse turned a full circle before going down Main Street. Very effective. It was really terrific to see him.
>
I was happy to see Disneyland finally get a real Halloween parade. There's still not very much to it – only three floats – but there's more going on in between the floats now – we finally got gravediggers with shovels, too! Though I was surprised that Mickey, Minnie, and the gang are not part of the parade at all – it's much more focused on the villains and the spookier characters.
Here's the full parade, including the Headless Horseman.
The opening unit.
The Mayor.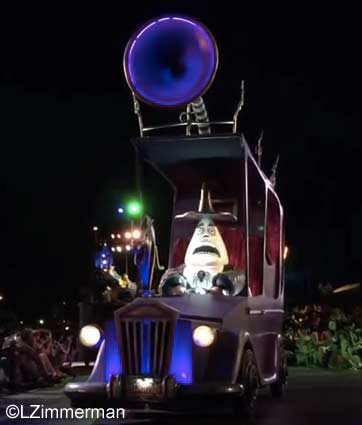 The parade is hosted by Jack and Sally who are on the first float.
I think my favorite was the Haunted Mansion unit. Ghostly ballroom dancers preceded a float of the Haunted Mansion with the hitchhiking ghosts standing in front.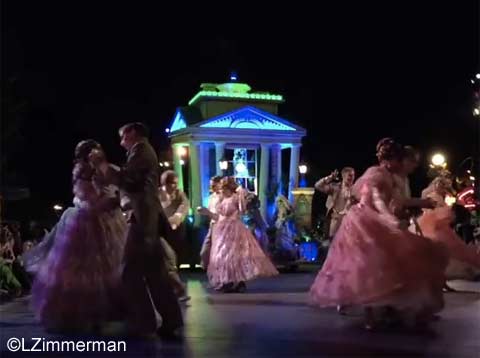 And following that the aforementioned gravediggers. Love the sparks from their shovels!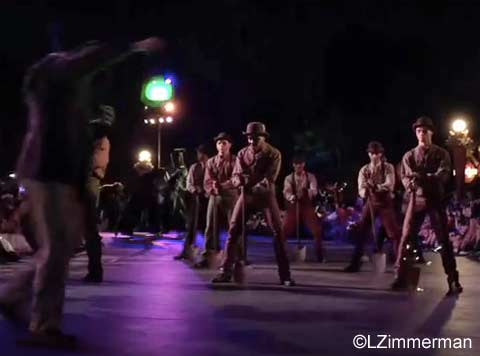 The next float included Dr. Facilier and his friends from the other side.
The final parade unit featured a veritable pantheon of Disney villains, from the Queen of Hearts, Governor Ratcliffe, and Captain Hook, to the Tremaines, Hades, Evil Queen, Jafar, Frollo, and Cruella deVil.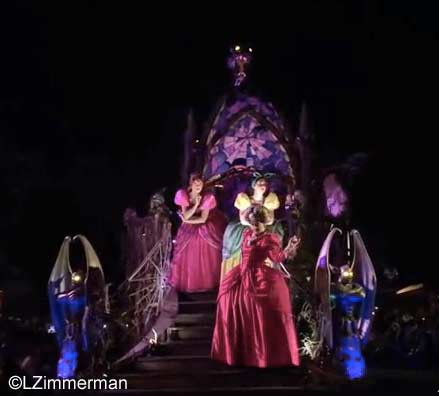 I enjoyed the music, as well – "It's Halloween", "This is Halloween", "Friends From the Other Side", and "Night on Bald Mountain".
The parade is still pretty short – only about 10 minutes long.
At 9:30, the Halloween Screams fireworks show starts. I really like this show, but as I mentioned earlier the only way you can see it now is to attend one of the Halloween parties. It features Jack Skellington as the "Master of Scare-emonies" – his face is projected on a big pumpkin head that appears on the left side of Sleeping Beauty Castle. One of the other really cool things about this show is that Zero flies around the castle! He makes a couple of circuits early in the show, then returns again later.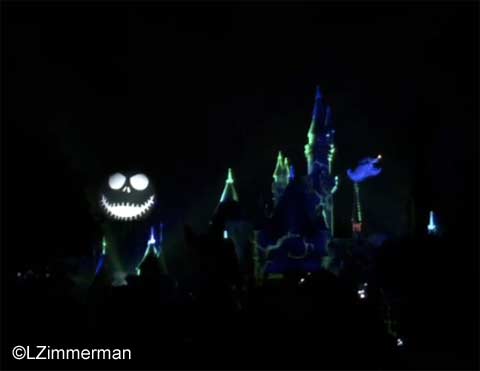 There's fireworks, music, projections, flames – everything you could want in a Halloween-themed fireworks show.
I had fun at the party this year and I enjoyed seeing the new additions. At a price of $89 I'm not sure this is something I'd want to do EVERY year…as an Annual Passholder I don't get the value out of the 8 hours of park time that non-passholders do. But there are certainly plenty of things to do at the party, there were a number of activities that we didn't get to do, since we were concentrating on the parade and fireworks.