Friday marks the end of the summer blockout period for some local Walt Disney World annual passholders, and if you're like my children, you're counting the minutes! Silver annual passholders — Florida residents who have not been able to access the theme parks all summer — gain re-entry tomorrow (Aug. 12). And although some of the Awaken Summer experiences had debuted before the blockout period, there are plenty of new things for passholders and visitors alike to check out.
Magic Kingdom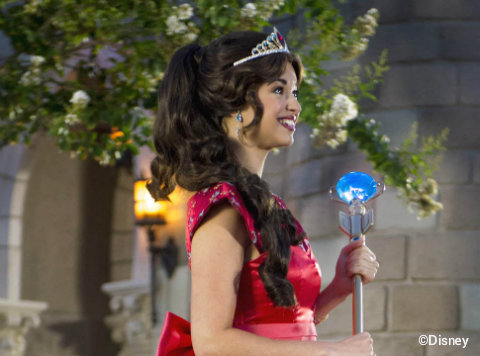 At the Magic Kingdom, Disney's newest princess, Elena of Avalor, will be welcomed to Walt Disney World for the first time in a ceremony on the Cinderella Castle Forecourt Stage at 10:45 a.m. today. The limited-time show, "The Royal Welcome of Princess Elena of Avalor." will be presented several times each day, beginning Friday. Check the daily times guide or My Disney Experience app for times. For more details, see my previous blog post.
The same stage is home to a new production that debuted in mid-June: "Mickey's Royal Friendship Faire." It replaces the long-running "Dream Along With Mickey." Fans may be concerned that the new show doesn't feature as many characters, but there is nothing to worry about on that front: "From the land of the bewitching bayous, Goofy has invited Princess Tiana, Naveen and Louis to add a little spice of New Orleans jazz to the party. Donald Duck brings some new friends he met in the land of the enchanted woods, where Daisy Duck introduces us to her special guests, Rapunzel and Flynn. Finally, Mickey Mouse shares a surprise with Minnie Mouse, as he has traveled to the land of the mystic mountains to invite Olaf, Princess Anna, and Queen Elsa, who swirls a blast of her icy magic." Check the daily times guide or My Disney Experience app for show times.
This week also marks the start of a limited-time meet-and-greet with Belle at the Magic Kingdom. Usually, guests can only meet the princess who loves to read at the Enchanted Tales attraction in Fantasyland. However, through Aug. 31, she will meet with certain guests at Heritage House in Liberty Square from 11 a.m. to 5:30 p.m. To take advantage of this experience, guests must have purchased Memory Maker, Memory Maker One Day or an annual pass that includes complimentary PhotoPass photos. Only one person in each party must have the required entitlement.
Epcot
Frozen Ever After is probably the most-talked-about summer addition at Walt Disney World. The attraction in the Norway pavilion is, of course, based on the "Frozen" movie and it really does live up to its hype with it animatronics and special effects. Deb Wills and I rode Frozen Ever After on its opening day, and we both really enjoyed it. Her report is here and my blog post with tips for parents dealing with the long waits is here. The best thing you can do, above all else, is to get a FastPass. Be online as soon as your booking window opens and, if you cannot secure a ride reservation, keep checking back because other guests do change plans. Also, know that Elsa and Anna have moved from the Magic Kingdom back to the Norway pavilion and they meet guests there.
Soarin' reopened as Soarin' Around the World in mid-June with brand new projections, technology and a new movie. In addition, a third theatre has been added in hopes of reducing stand-by wait times. My family and I experienced the new digital screens and projectors, which give much sharper images than the old celluloid ones, and the new theater before our blockout dates and were impressed with the noticeable upgrade in quality. Now, we need to see the new movie, which takes guests on a tour of the great wonders of the world.
Hollywood Studios
At Hollywood Studios, the "Star Wars"-themed fireworks show got a major upgrade with the addition of lasers, light projections and other special effects combined with music and iconic characters and scenes from the saga. "Star Wars: A Galactic Spectactular" incorporates scenes from all seven films in the "Star Wars" series. A tip from Deb Wills: "In order to fully see the fireworks and projections you need to be in front of the two huge towers on Hollywood Boulevard." If guests want to ensure a good viewing spot, they can book A Galactic Spectacular dessert party. The party takes place inside Star Wars Launch Bay, and 15 minutes before the fireworks show, guests are escorted to a VIP viewing area.
Have fun this weekend with the new-to-you experiences, guests and returning passholders! And please check back for details about all the fall activities that kick off in September.