Carol and I always look forward to our trip to Dayton, Ohio for the Disneyana Show and Sale hosted by the Dayton Plane Crazy Chapter of the Disneyana Fan Club. Carol and Rob love scouring the vendor tables looking for new items for their growing Disneyana collections while I enjoy the seminars and speakers.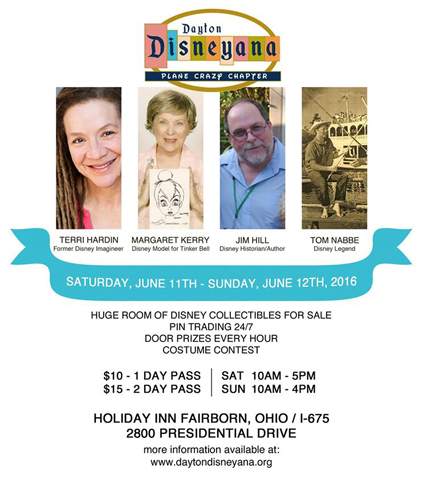 There's something for everyone at Dayton Disneyana!
We normally travel through Ontario, across the north side of Lake Ontario and Lake Erie, but this time we decided that we would try the southerly route to Dayton via New York and Pennsylvania, and on Sunday return home through Ontario.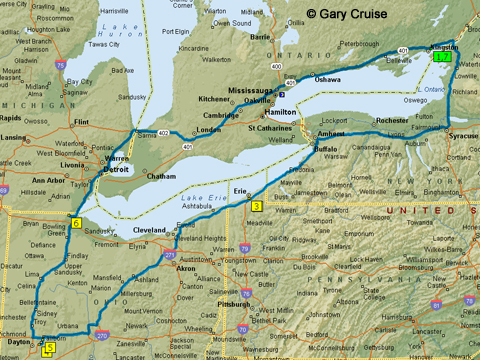 We got away from our home in Eastern Ontario just after 6 a.m. Our 657-mile journey took us into New York, through Syracuse and Buffalo, then into Pennsylvania.
The south shore of Lake Erie is a very pleasant drive; vineyards along both sides of the highway reminded me of Ontario's foremost wine region, The Niagara Peninsula, about 25 miles away on the north shore of that same lake.
We stopped in Erie, PA for a quick bite of lunch and then crossed the Ohio State Line.
At Cleveland we left Interstate 90 behind and took a south-westerly tack to Dayton. We arrived at the Holiday Inn at Fairborn, a suburb of Dayton at 5:30.
I rested for a few minutes after the long drive while Carol got us all unpacked and settled for the weekend! Then it was time to go and meet some of our playmates.
The event chair, Anita, was outside the ballroom, busy with the usual flurry last minute arrangements, but she took a minute to invite the three of us to join them for dinner and meet the panel of guest speakers.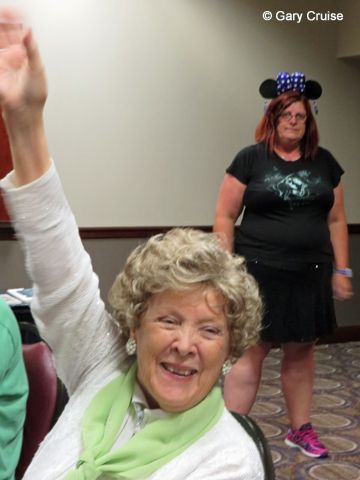 Margaret Kerry with Anita Schaengold the background
Tom Nabbe and his wife Janice
Wow, it was great. After dinner Jim Hill moderated as Terri Hardin, a former Disney Imagineer, dazzled us with her stories. She started her career as a puppeteer and worked with Jim Henson and the Muppets, worked with Michael Jackson in Captain EO, then as an Imagineer she worked on a variety of rides and attractions in the Disney Parks.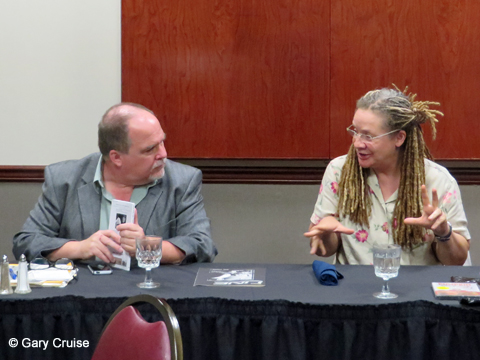 Terri's message was similar to Walt Disney's "If you can dream it, you can do it!" but Terri added that you have to have passion for your dream and you have to fight for it.
Terri certainly displayed passion in her presentation and held us all spellbound for over an hour. She was so vibrant and so animated that it was tough to get a clear photograph. She just wouldn't keep still long enough!
What a great night!
Carol went pin trading until 11:00 – I crashed much earlier.
The Dayton event is very affordable; a one-day pass is $10.00, a two-day pass is $15.00 and the passes include admission to all of the seminars. The Friday and Saturday night dinners, featuring some outstanding guest speakers, are optional and are also very reasonably priced. The hotel offers very attractive group rates for rooms ($99/night this year) and 52 individuals or families took advantage of those rates.
Carol was signed up as an "Early Bird" so we had to get a quick start Saturday morning! The collectible sale opens to the public at 10:00 a.m. but Carol and Rob were two of the fifty people who paid $25.00 to get in 90 minutes early.
I wanted to get a few pictures before the eager shoppers got started so we made sure we got to the ballroom by 8:00 a.m.
Carol picked up a collector plate that friends Bob and Latosha had found for her a few days earlier while I roamed the room snapping pictures.
There is always a fantastic variety of quality merchandise for sale and the vendors come from far and wide! This year there were 28 vendors who had 72 tables loaded with merchandise!
Erin Morehouse doesn't look all that eager to greet the shoppers . . . but she wasn't really as frightened as she appeared to be.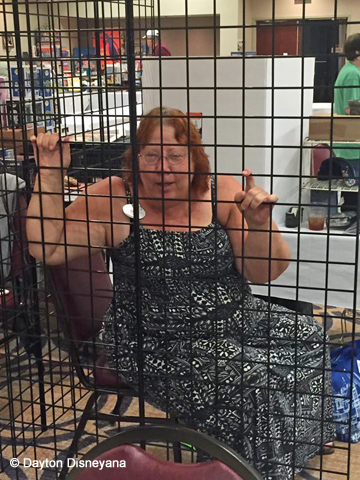 Each year Erin and her husband Robby travel all the way from California to sell at Dayton Disneyana.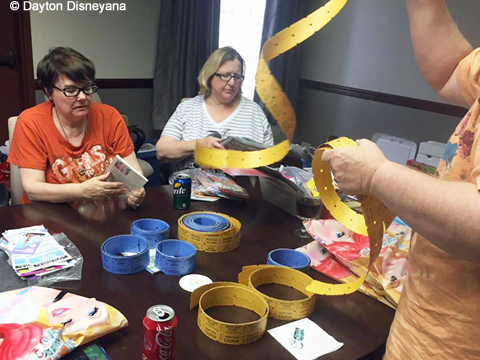 Each early-bird was given a "goodie bag" packed full of little Disney treasures!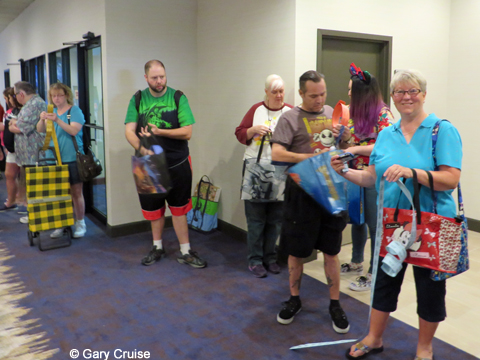 While the Early Birds waited patiently outside the ballroom they were entertained by Dayton Plane Crazy chapter member Mary who pole-danced with the Mickey lamp post I donated for the charity auction!
Finally it was 8:30 and the doors opened. The shoppers rushed in and took full advantage of their 90 minute pre-sale. Carol and Rob had their buying pretty much finished by 10:00 a.m.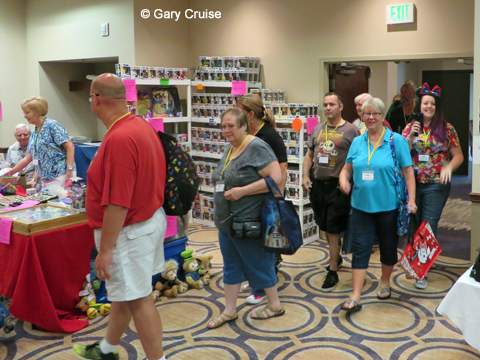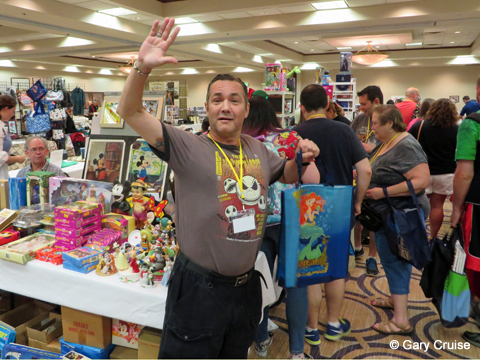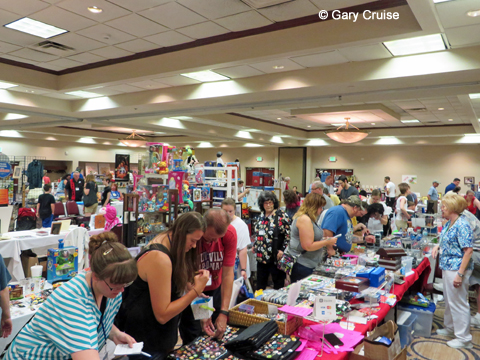 Tom Nabbe and his wife Janice were on hand all day meeting fans, answering questions and autographing books and photos.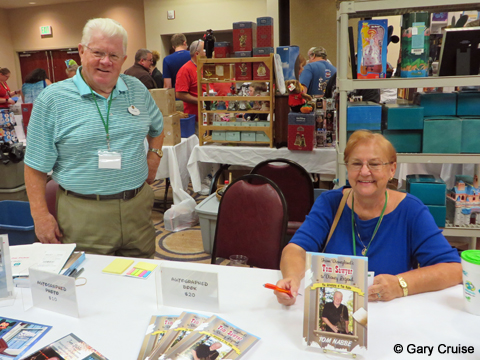 The first seminar speaker, at noon, was well-known Disney insider Jim Hill who spoke about the new live action version of the Jungle Book movie. His fascinating story began by describing how Disney acquired and produced the original animated version and then contrasted that process with the newer live action version.
This is what I enjoy at sessions like Dayton Disneyana. I thrive on the "insider knowledge", the Disney trivia. I like to hear the history behind the successes and failures, the triumphs and the duds.
Jim Hill has some amazing contacts in the Disney organization and he brings a wealth of knowledge and a keen insight to the table when he speaks.
Between seminars I joined Carol for a few minutes in the pin trading room. Things were hopping, there were plenty of traders this year!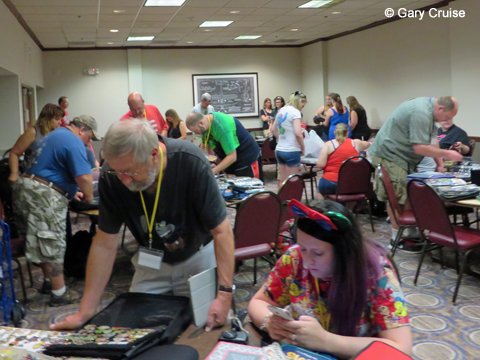 The next speaker was a genuine Disney Legend . . . and being a Disney Legend is a big deal!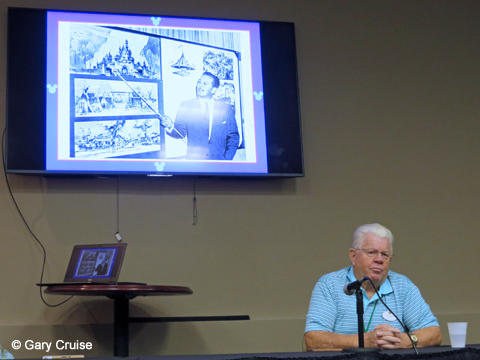 The Disney Legend Award is a hall of fame program that recognizes individuals who have made an extraordinary and integral contribution to The Walt Disney Company. They have been chosen since 1987 by a select committee of senior Disney executives. There are fewer than 300 Disney Legends and our speaker Tom Nabbe is one of them! It's an exclusive group indeed!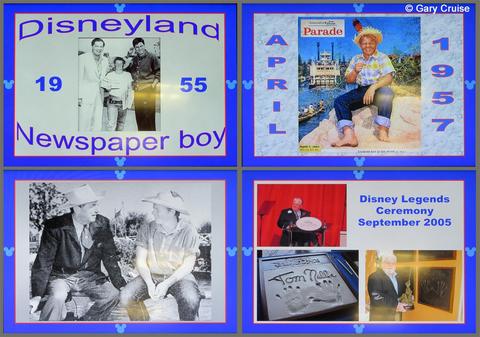 Click on the image above to see a larger version
He told the story of his varied career at Disney . . . and it was fascinating. Tom began selling newspapers outside the Harbor Gate to Disneyland in 1955, when the park was still under construction. The image above is a montage of slides from Tom's PowerPoint presentation. In the upper left slide you see newsboy Tom standing outside that Harbor Gate, flanked by Milton Berle and Jerry Lewis. By 1957 young Tom had persuaded Walt Disney to hire him to portray Tom Sawyer on the newly opened Tom Sawyer Island. The lower left slide shows Tom, in his Tom Sawyer persona, sitting with Walt and the final slide shows scenes from his Disney Legends presentation in 2005.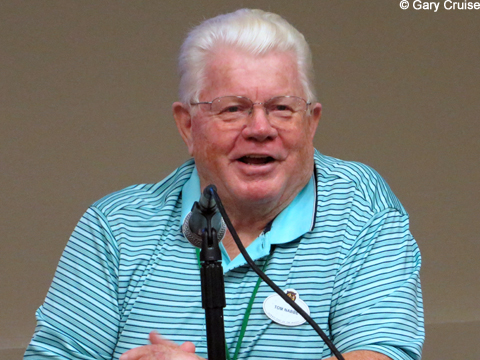 The final seminar of the day featured Margaret Kerry and Terri Hardin. Margaret was a dancer and actress who was the live action model for Tinker Bell. Terri began as a puppeteer and later worked as a Disney Imagineer. Their panel discussion was moderated by Jim Hill.
Margaret Kerry talked extensively about her career before and after Disney. She has worked with an astounding number of stars. She described meeting Walt, auditioning for him and winning the role! Margaret is an amazingly bright, charming and witty 87 year-old dynamo.
In her Friday night presentation Terri Hardin focused on fighting for your dream with passion and Saturday afternoon she told us how she fought for her dream. As a young woman she had a passion for puppeteering and her drive took her to Jim Henson Studios where, at about 20 years of age, she landed a job in the Muppets show. She had us in stitches as she described working puppets from under a couch, under the floor, in some of the dustiest and dirtiest spots you can imagine.
She spoke about Michael Jackson who became her good friend on the set of Captain EO.
It was Terri's other passion, sculpting, that eventually took her to Disney where she worked as an Imagineer.
The seminars wrapped up at 4 p.m. – just in time for the costume contest.
The contestants paraded through the ballroom, between the vendors tables and then assembled in the seminar theatre where they were judged by an expert panel. The happy winners are pictured below.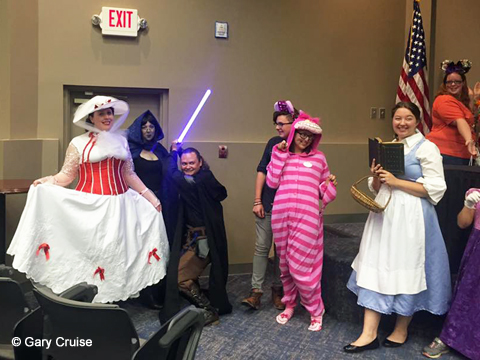 Carol, Rob and I had pre-booked for the special Saturday night dinner. We arrived in time for a cold beverage before dinner and then enjoyed a nice meal served buffet style.
After dinner Jim Hill acted as moderator once again as Tom Nabbe and Margaret Kerry spoke to the assembled group.
Tom grew too old for the Tom Sawyer role within a few years and moved on to other areas in the corporation. As soon as he turned 18 he moved to the Jungle Cruise but that was just the beginning. He spent many years working in the Parks and Attractions Division before moving into Distribution Services. His career spanned 48 years, beginning as a newsboy, hired by Walt Disney himself, and he retired as a senior executive.
Margaret spoke of her film career and we were all simple amazed. She began as a 4-year-old child actress in the "Our Gang" comedies. You might also remember them as "The Little Rascals".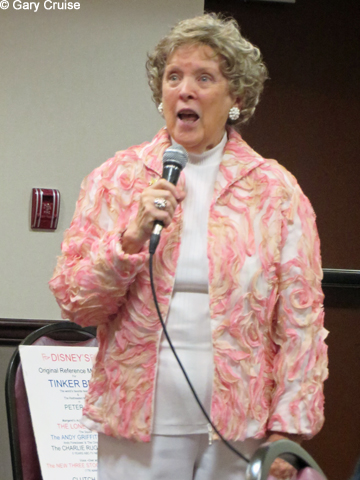 She worked with Bobby Driscoll, Andy Griffith, Eddie Cantor, the Three Stooges and so many others . . . what an amazing career. I can't wait to read her book, Tinker Bell Talks: Tales of a Pixie Dusted Life, which will be released August 7, 2016.
Terri Hardin won a Tsum-Tsum in the raffle draw and it brought out the puppeteer in her once again. You simply wouldn't believe what a talented puppeteer can do with a Tsum-Tsum. It was hilarious!
Then it was time for the final event of the evening, the charity auction. There were some great items, including a Star Wars print signed by the artist, Shag. It sold for $200. The Mickey lamp was sold last and the bidding was intense. It finally sold for $215 and the auction raised a grand total of $710 for Ronald McDonald House and Give Kids The World!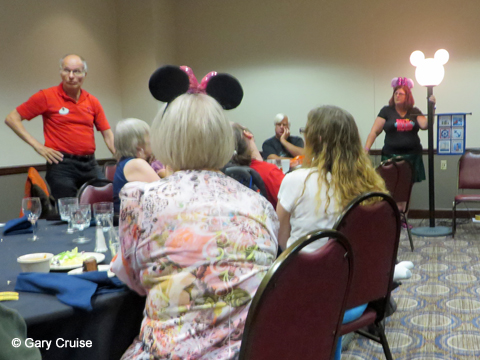 After the auction Rob took a minute to have Margaret Kerry autograph the Tinker Bell print he won in a draw and I had a chat with Tom Nabbe.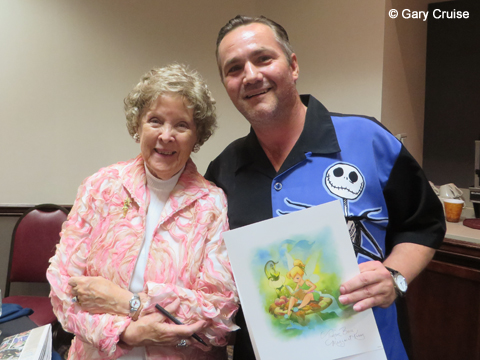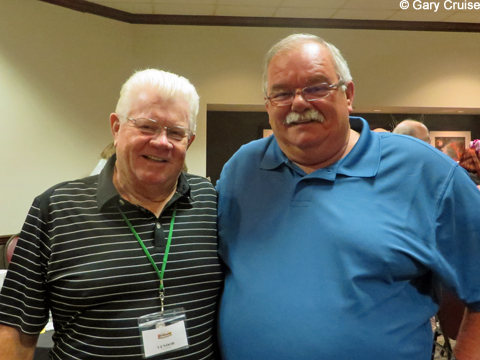 We decided that there was no better way to end a perfect day than with a cold adult beverage.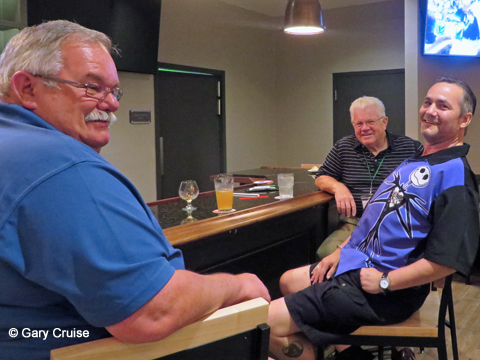 Just Rob and I, hoisting a cold one with a real Disney Legend. How cool is that?
This legend even has a window on Main Street!
We enjoyed a more leisurely start on Sunday morning.
The ballroom full of vendors didn't open until 10 a.m. so we slept a bit later and then had breakfast in the hotel restaurant. Soon after Carol and I settled in the restaurant Tom and Janice Nabbe were seated at the table right beside us and we chatted with them throughout our meal.
We left the restaurant just before 10; it was time for Tom and Janice to get to work, for Carol to get some more browsing done and for me to snap a few more pictures. Along the way I bumped into Margaret Kerry and had a shot taken with her.
The vendors were busy again on Sunday morning. That's when a lot of bargain hunters come out looking for deals . . . and there are usually some deals to be found. Many of the vendors would rather discount the collectibles a bit and sell them than pack them up and take them home again.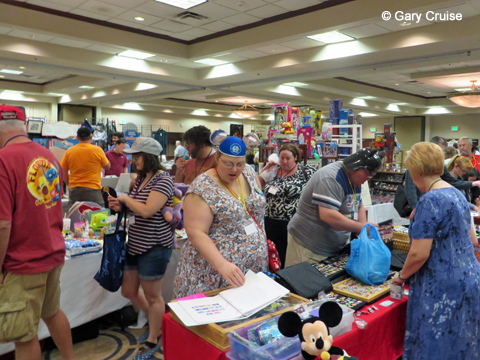 I spotted Carol in front of the Theme Park Connection display; she waved me over, handed me a "Piece of Disney Movies" pin she's been trying to find for years and said, "Buy this right now and wish me Happy Birthday." So I did. Birthday shopping is now all done! Bonus!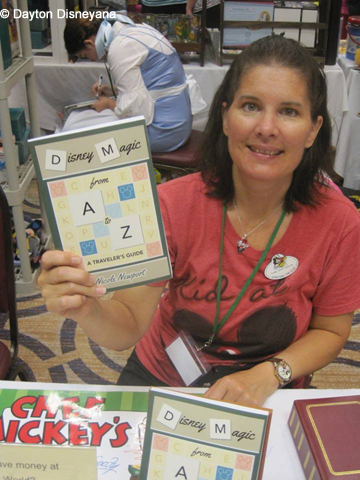 Author Nicole Newport with her book "Disney Magic From A to Z"
I bought a copy of Tom Nabbe's book and he autographed a picture of himself sitting with Walt Disney as part of the deal. My Disney collection isn't quite as extensive as Carol's but it's growing!
Just after 11 a.m. Carol said, "I'm ready to go!" That caught me by surprise; we had planned to get away between noon and 1 p.m. But, she and Rob had both done enough shopping and pin trading, so we did a quick walk around the auditorium saying some goodbyes, hopped in the car and pulled away at 11:30 to begin the 650 mile drive home.
I always feel a bit conflicted when we leave on Sunday; there is another full afternoon of seminars that I miss out on because of the length of our journey home. Maybe one of these years we'll stay for the afternoon sessions and drive home on Monday!
Our original plan had been to follow I-75 north to Detroit and cross the border there but we had heard so much from others about all the construction and delays on I-75 that we decided to return home the same way we came. It turned out to be a wise choice. There was very little traffic and we made excellent time.
We made a couple of stops along the way to stretch our legs, had a quick lunch at Wendy's, fueled the car twice and skipped dinner altogether. We crossed the Canadian border at 9:30, picked up the dogs at Carol's mother's house and were back home just after 10:00 p.m. – more than an hour sooner than my best estimate.
At one point during our north-easterly trip home I asked Rob, "Are you familiar with the theory of Six Degrees of Separation?"
"Yes," he replied, "Like in that old movie, we are all connected to each other by a maximum of six steps."
According to Wikipedia, "Six degrees of separation is the theory that everyone and everything is six or fewer steps away, by way of introduction, from any other person in the world, so that a chain of "a friend of a friend" statements can be made to connect any two people in a maximum of six steps." Like Rob, you probably remember the 1993 movie starring Stockard Channing, Will Smith and Donald Sutherland.
"Exactly," I replied to Rob, "So that means when we sat and had a cold one with Tom Nabbe last night we were only one degree removed from Walt Disney."

He mulled that over for a few seconds then said, "When we spoke with Terri Hardin we were one degree away from Jim Henson and Michael Jackson . . . and when we chatted with Margaret Kerry we were one degree removed from Andy Griffin and The Three Stooges. It really is a small world isn't it?"
I think that's the best thing I'm taking home from Dayton Disneyana!
What did the two collectors bring home?
Everything you see pictured below was free. It came in a goody bag, was a gift from a vendor or it was a door prize.
Click on the image to see a larger version
Rob's purchases are next. His favourite item? The Tinker Bell print signed by Margaret Kerry, pictured above.
Click on the image to see a larger version
Carol was delighted with the pins, plate, figurines, coin, buttons and Vinylmations she brought home. Also included in her goodies are the two books I picked up, Tom Nabbe's new book "From Disneyland's Tom Sawyer to Disney Legend" and "Disney Magic From A to Z" by Nicole Newport.
Click on the image to see a larger version
It was a wonderful weekend, I'm quite sure that every one of the 475 attendees had a terrific time! The organizers, all volunteers, should be congratulated; Anita Schaengold and her committee always do an excellent job.
They have already begun work on next year's event. It will be in the same location, The Holiday Inn, Fairborn, Ohio, June 9 — 11, 2017. Mark it on your calendar right now and then follow their web site (HERE) and Facebook page (HERE) for further details.
For more on Tom Nabbe's career, read his book, From Disneyland's Tom Sawyer to Disney Legend: The Adventures of Tom Nabbe.