Much of SeaWorld Orlando's rescue and rehabilitation work is housed beyond the theme park in a 5-acre Rescue Center that is not part of most visitors' daily experience. However, that is changing with the company's new focus on showing how it helps animals in need. One of the first steps in SeaWorld's campaign to "turn the park inside out" is the opening of the Manatee Rehabilitation area this past week.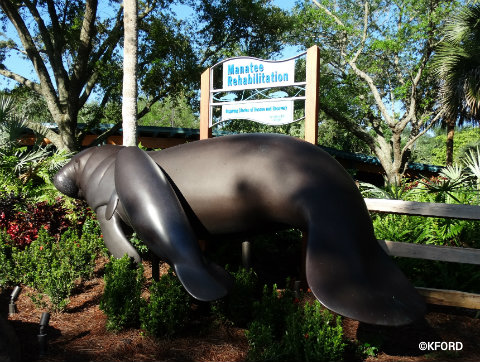 Recuperating manatees have been housed in a natural-looking pool behind Turtle Trek for years. Visitors walk down ramps to enter the attraction and once inside, they have floor-to-ceiling underwater viewing of the manatees. When visitors exit the attraction, they can observe the huge sea cows from the surface of the pools. On Wednesday — Manatee Appreciation Day — the sea cows could be seen gliding through the water and surfacing periodically to eat the lettuce a SeaWorld team member was tossing into the pool. (Manatees can stay underwater, but must come to surface to breathe because they are mammals.) There even were adorable baby manatees that had been orphaned in the pool.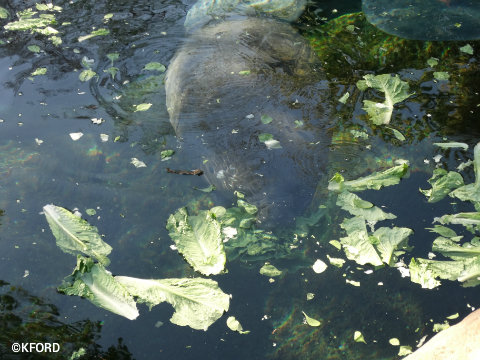 "All the manatees here at SeaWorld are rescued animals," said John "J.P." Peterson, supervisor of animal care at SeaWorld Orlando. "There's a moratorium on breeding, so no one breeds manatees in captivity."
The new Manatee Rehabilitation area connects the manatee pool outside Turtle Trek with two medical pools that have long been part of the Rescue Center. (Guests who pay an extra charge for a behind-the-scenes tour have been able to see the center, which previously included the pools. The cost for the tour is $29 for adults and $9 for children ages 3 to 9. The tour still exists, but the medical pools are open now to all regular SeaWorld visitors. For more about the behind-the-scenes tour, see my previous blog post.)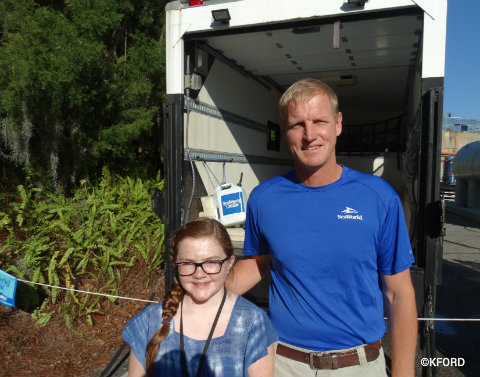 "This new opportunity that our guests have actually allows them to not just see the manatees that are getting better and are almost ready to be returned, but we are allowing you to come back to our rehabilitation pools," Peterson, who can be seen on ABC's "Sea Rescue," said. "These animals might have come in a day ago or week ago or they might be a long-term-care animal that we're having to work with. This allows our guests to come up and watch us work with them, understand them, and know the plight of these animals. Also, it shows what SeaWorld and the Manatee Rescue & Rehabilitation Partnership (MRP) are doing together to help these animals."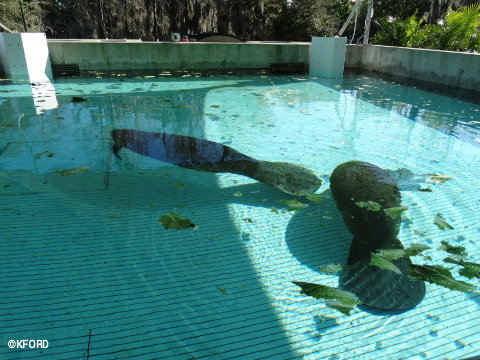 Of the two rehabilitation pools, one has a false bottom, which allows the SeaWorld staff members to easily lower and raise the manatees for medical care. Right now, two manatees inhabit that pool: Trooper and TM1606.
"These manatees typically require a little more care. One in here has some signs of cold stress, which essentially is like hypothermia in humans. They become kind of lethargic, they might stop eating or get some infections," said Mariana, who is with SeaWorld's education team. "The other one, Trooper, wasn't eating the way he should have so he lost a lot of weight. Because of that, we needed to monitor them more closely."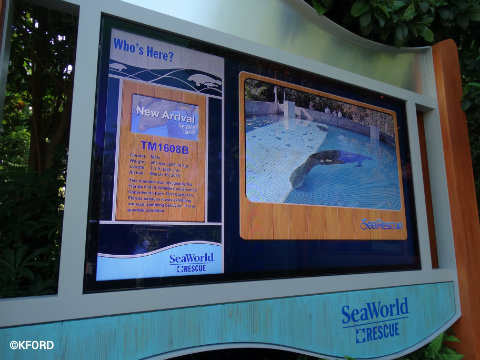 The new walkway and patio between the pools features displays that list dangers to manatees in the wild; solutions that all beachgoers and boaters can implement; and how to correctly dispose of fishing lines so they will not become a hazard to marine animals. There also are videos telling the stories of the rescued animals and even one of the park's rescue vehicles used to transport injured animals is parked nearby.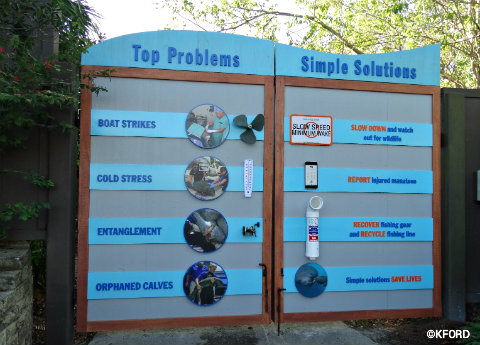 SeaWorld has rescued nine manatees so far this year and has returned 12, Peterson said. "Last year's animals we were able to get out to warm areas during the cold seasons so they can learn their migration routes. The animals coming in this year, hopefully we can get them turned around and back out even quicker. Our entire goal is to rescue these animals, rehabilitate these animals and return them."
DISCLAIMER: I was a guest of SeaWorld Orlando for the opening of its Manatee Rehabilitation area. My opinions are my own, and this did not influence my story.