In landscape photography, the idea of anchoring a photo with an interesting element in the foreground is almost a rule. An anchor creates drama, shows scope, scale and tells a story.
I use anchors a lot at Walt Disney World especially when I have a wide angle lens on my camera. Wide angle lenses allow you to get close to a subject and include a sweeping background. In the photo below of a geyser erupting next to Big Thunder Mountain Railroad in the Magic Kingdom, I was able to encompass not only the geyser but the Liberty Belle Riverboat on the Rivers of America and the clouds in the sky overhead. The geyser anchors the photo and gives a viewer a starting location before moving on to the rest of the image.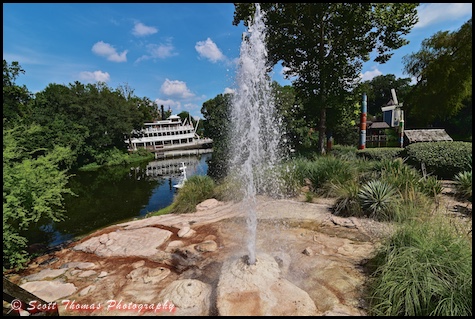 Geyser near Big Thunder Mountain Railroad erupts as the Liberty Belle cruises by on the Rivers of America.
Nikon D750/Tokina 16-28mm, 1/400s, f/10, ISO 100, EV 0, 16mm Focal Length.
Being more of a travel and vacation photographer when at Walt Disney World, I like to add people as the anchor. Specifically, the people I am traveling with. While, it may not be of interest to everyone, it is for my family with me and for those back at home I share the photos with. There are so many places you can do this in all the parks. This one was taken at a favorite location for Disney Photopass photographers. For good reason with the beautiful Cinderella Castle in the background.
Guests pose in front of Cinderella Castle.
Nikon D750/24-120VR, 1/80s, f/18, ISO 200, EV 0, 34mm Focal Length.
The next time you are out with your camera, look for anchors to use to create beautiful story telling photographs.