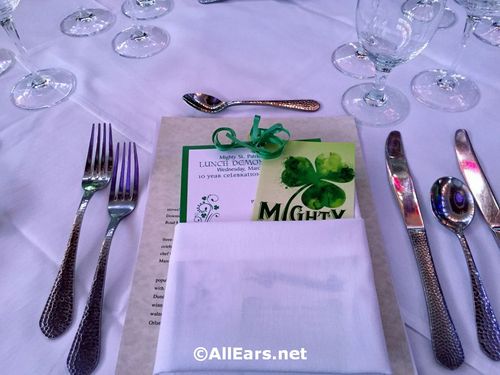 By AllEars Team Member: Linda Eckwerth
Recently, I was invited as a media guest to attend a lunch demonstration at Raglan Road Irish Pub and Restaurant in Downtown Disney. The demonstration was hosted by Irish Master Chef Kevin Dundon and Amy Recicar from Coastal Wine & Spirits who assisted in pairing the wines with the dishes and gave us insights to each of the wines served.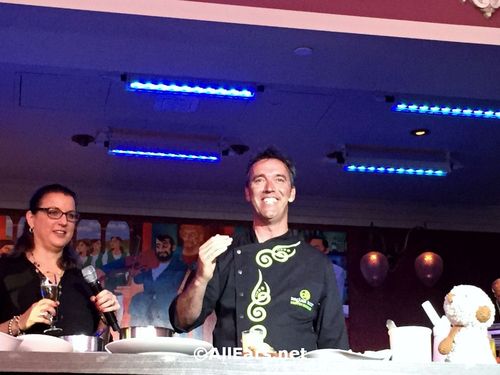 The luncheon kicked off Raglan Road's Mighty St. Patrick's Festival (March 13th – March 17th) and their 10 year anniversary celebration.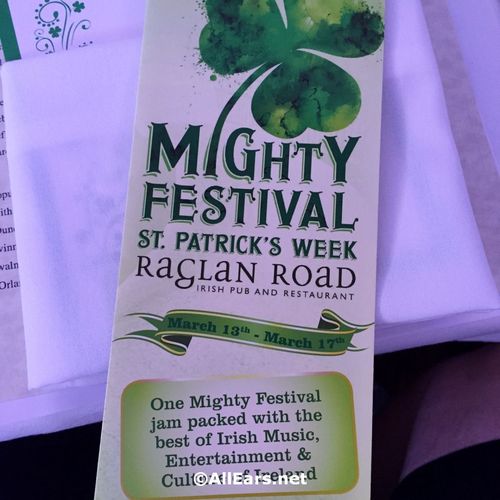 The lunch consisted of four courses. Before each course was served, Chef Dundon showed us how to prepare the dish.
The first course was Coquille St. Jacques – Scallops with Pomme puree and Mornay Gratin
This was paired with a Sterling Napa Sauvignon Blanc
The scallops were seared to perfection and had a simple seasoning of salt, pepper and butter. The Mornay Gratin and small dollops of potato were a wonderful compliment.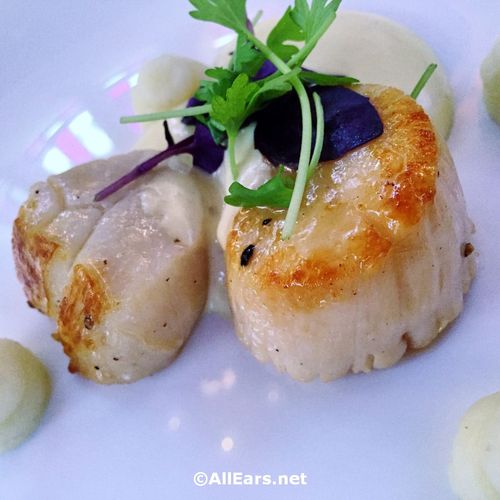 The second course was Duet of Tomato Soup and Champagne Splashed Oyster
Paired with a Chandon Brut Champagne
The soup did not disappoint. It was a cream of tomato soup with one of the ingredients being gin. The oyster was fresh and light. Combining the two was almost like having oyster with a cocktail sauce. Chef Dundon told us their seafood is from Boston and the restaurant gets the last catch of the day to ensure freshness.
The third course was Roast Rack of Spring Lamb РServed with Irish vegetable Consomm̩
This was paired with a B.V. Rutherford Cabernet
I am not a big fan of lamb. However, when it is prepared properly it can be delicious. This dish was outstanding! The lamb was very tender and the simple ingredients of potato, carrots, leeks and consommé were wonderful. The lamb Raglan Road serves is from Colorado. Chef Dundon said this is the closest flavor to Irish lamb.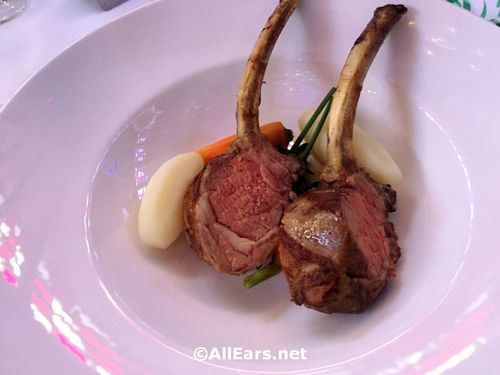 Last but not least was dessert. Pimms Knickerbocker Glory Topped with Vanilla Mousse and Cucumber and Melon foam.
There was so much going on with this dessert. It had a few different textures and several flavors that just melded together. The base was a gelatin with small melon balls. The mousse and foam were light and the small cookie added a nice crunch.
If paying, this lunch would have been $55 per person plus tax and gratuity. In my opinion you would have definitely gotten your monies worth!
Not only did we get to dine on delicious food, listen to Chef Dundon's stories but a big announcement was made regarding Raglan Road's 10th Anniversary. A "Master Chef" Cooking Contest was announced.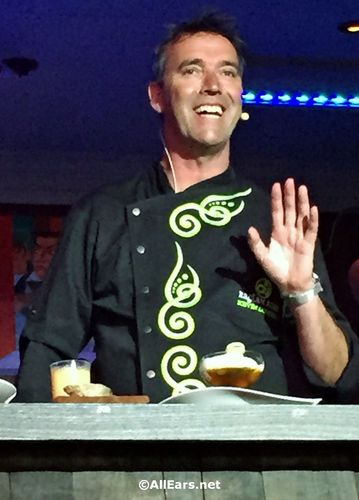 Five finalists will fly to Ireland, all expenses paid, where they will stay at Chef Dundon's popular resort and cooking school, Dunbrody Country House Hotel and work with Dundon to perfect their cooking technique. Come October, each of the finalists will cook a dish chosen by Chef Dundon at a private 10th anniversary celebratory dinner at Raglan Road. For complete competition details visit Raglan Road's Facebook page, or their web site www.raglanroad.com. The complete press release can be seen HERE.
Special lunches and dinners are offered sporadically during the year. Raglan Road has their own website where you can obtain the latest news and information. There is also a newsletter to keep you in the know!