Runners — and a good number of spectators — heading to Walt Disney World Marathon Weekend have been waiting eagerly for New Balance to release the 2015 design for its Limited Edition runDisney shoes that will be sold at the Expo, beginning today. They finally got a glimpse of the sneakers on Tuesday, and judging from an abundance of comments on several online message boards, many were disappointed with this year's design.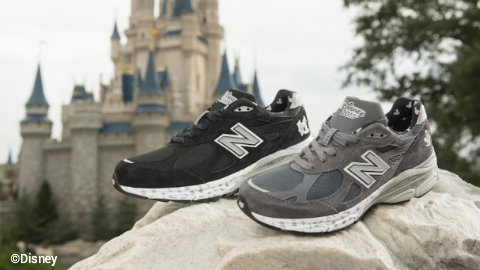 The 2015 design pays homage to Steamboat Willie, the 1928 black-and-white cartoon that introduced most audiences to Mickey Mouse and his girlfriend Minnie. The men's Retro Mickey 990v3 sneaker comes in black and white with musical notes around the front sole, classic images of Mickey and Minnie and character signatures. The women's Retro Minnie 990v3 sneaker is gray and white with the same features. They are priced at $185 per pair, according to New Balance.
The overwhelming complaint I've read seems to be that although the sneakers are true to theme, they are visually unexciting because of the neutral colors. runDisney fans are expressing their preference for styles that have been offered the last two years — bold colors.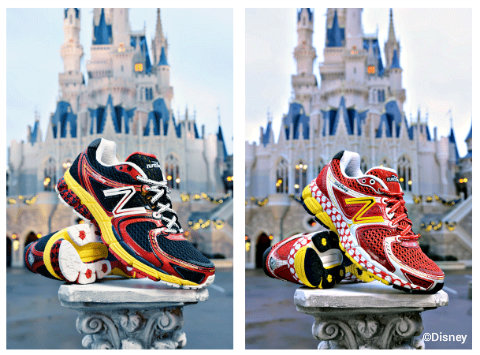 New Balance first released Limited Edition runDisney shoes in 2013. The 860v3 sneakers were designed in bright red, yellow, black and white to mimic the traditional colors of modern Mickey and Minnie. They have since been retired.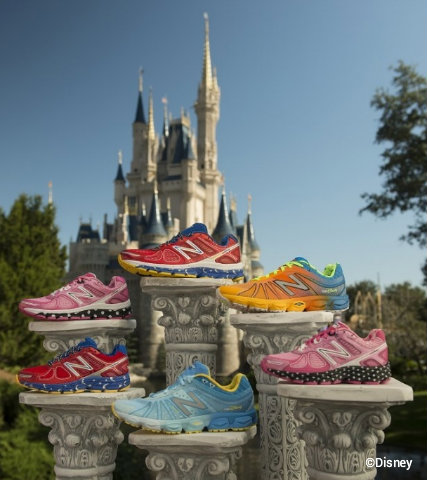 Last year's styles were designed to recall Sorcerer Mickey and Goofy (men's) and Cinderella and Minnie Mouse (women's). Due to popular demand, a limited number of the four New Balance 860v4 shoes will be available at the Walt Disney World Marathon Weekend and at the Star Wars Half Marathon Weekend at Disneyland Resort (Jan. 15 – 18.) They are priced at $125 per pair.
The new Retro designs only will be sold at runDisney events throughout the year, beginning today at the Marathon Expo at ESPN Wide World of Sports at Walt Disney World.
Guests who would like to try on – and possibly purchase — the 2014 and 2015 New Balance running shoes must make an appointment through a virtual queue. There will be no stand-by lines at the Expo. Starting today (Jan.7) at 6 a.m., adult runners can sign up at NBvirtualqueue.com using their bib number, and all other guests can sign up Thursday (Jan. 8) at 6 a.m. Adult runners also can sign up at 6 a.m. Friday (Jan. 9) and all other guests on Saturday (Jan. 10). According to New Balance's posted rules, customers can reserve one pair of running shoes per reservation. They will be able to choose up to five more pairs in the booth and can purchase a total of six pairs of runDisney Collection footwear per event weekend. Only two of the six can be the new style 990v3.
When it's close to a guest's reserved time, he or she will receive a text and then must return within an hour or risk losing the shoes that were saved for that appointment. If the reserved shoes do not fit, the sales associate will check for other sizes. Customers can keep an eye on general inventory levels at NBVirtualQueue.com. The New Balance red tent is located near the west entrance of Josten's Center.
Not happy with this year's selections? New Balance tweeted this on Tuesday: "We've decided to try something different with our release schedules and are planning some exciting surprises for 2015. Stay tuned." Runners were speculating online that the company may be planning to release new shoes for each race.