It's hard to believe that it's been almost a year since we last took a Disney cruise, and yet this is one that we've had planned for quite a long time!
The Disney Wonder has been over on our side of the continent for several months and made several stops in San Diego this season as it made its way to/from Alaska. When the 2014 itineraries were announced, one of the ones that caught our eye was the four-night repositioning cruise at the end of the Alaska season. Start in Vancouver and end in San Diego, with a stop in Victoria along the way. We just couldn't resist the opportunity to have the Disney Wonder bring us back home!
And since the cruise began on a Monday, the timing also worked well to add a few days in Vancouver to the start of the trip. Three years ago we really enjoyed our day in Vancouver when we stopped there for a day on our back-to-back repositioning/first Alaska cruise, and wanted to have time to see more of the city.
We flew to Vancouver on Friday, September 5, and arrived around 5:00. We hadn't flown into Vancouver before – I thought the international terminal was very nice with lots of interesting displays/artwork welcoming us to Canada.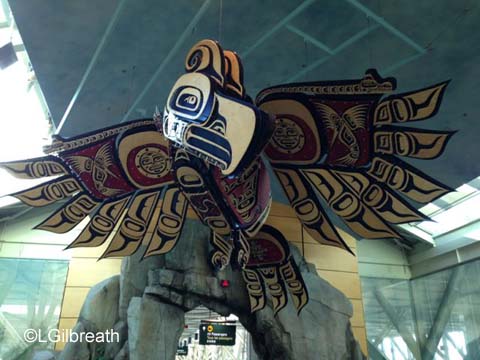 We stayed at the Coast Coal Harbour Hotel in downtown Vancouver. We found it very convenient – almost everything we were interested in was within a 15-20 minute walking distance. And we walked a LOT. Friday night we had a great dinner at Joe Fortes – they had fresh wild-caught sockeye salmon, and it's the best salmon we have ever had. We walked around downtown a big after dinner and went by this really interesting-looking building – it's the Vancouver Public Library – it only looks like the Colosseum . 🙂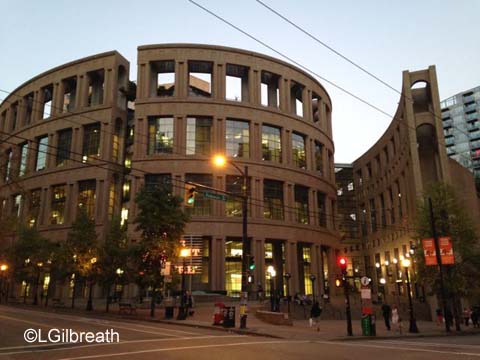 Saturday we had a wonderful visit to Granville Island in the morning, and enjoyed wandering through the Public Market (beautiful produce!) and shops.
We also enjoyed sampling some beers at the Granville Island Brewery.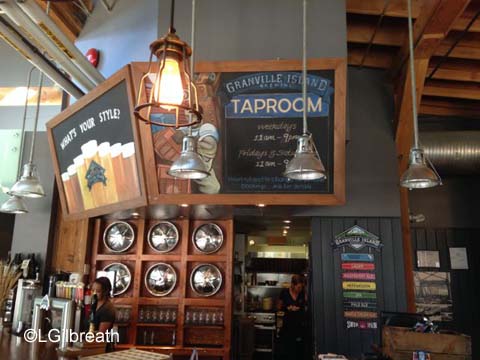 Later in the afternoon we walked down to the seawall and over to Stanley Park, where we saw the totem poles and the 'Girl in Wetsuit' statue, and wandered a bit in the gardens. Beautiful weather that day – in the high 70s.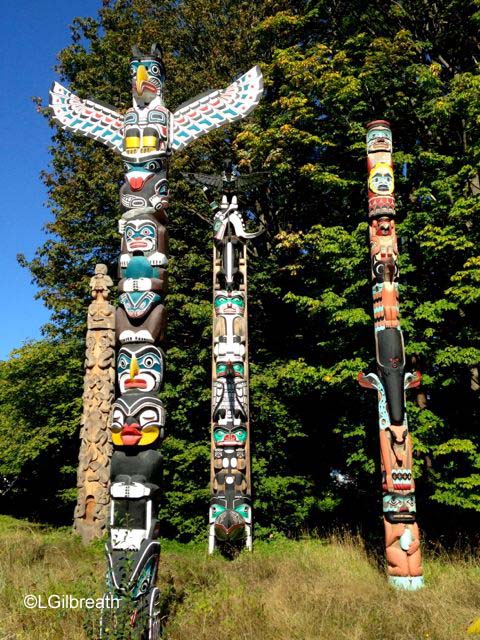 We had dinner in the Gastown area (lots of bars and restaurants and very reminiscent of our Gaslamp district in San Diego) at a pub called Six Acres, which was very good. On the walk to the pub we passed the Steam Clock, which yes, runs on steam, and chimes on the quarter hour. It's hard to see in the photo, but there's steam coming out the top. (Though it looks old, it was actually built in 1977.)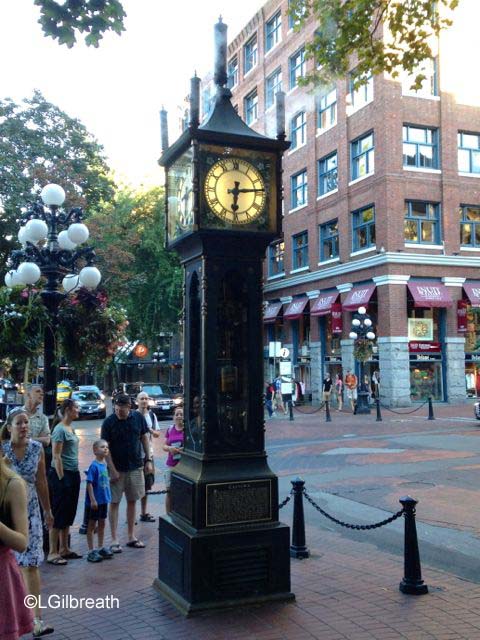 On Sunday morning we took the SeaBus (passenger ferry) over to North Vancouver and then took the bus to Lynn Canyon. There's a (free) suspension bridge there (as opposed to the Capilano Suspension Bridge, which you pay for), and lots of hiking and biking trails. We got a fairly early start and were at the park before 10:00. When we left around 11:45 there were a LOT more people around. But it was another beautiful day – a little cooler than Saturday.
That evening we went back to Gastown and had dinner at a pizza place – Nicli Antica. Neapolitan pizza, which was pretty good. And they served the best Sangria I think I have ever had.
We didn't need to check out of the hotel until noon, so that gave us plenty of time on Monday morning to go out and take a nice walk to Stanley Park again, though this time we went to the southeastern side. We finally saw in person this rock sculpture that we'd seen depicted in so many photos and other artwork around Vancouver. It's called an Inuksuk – an Inuit word.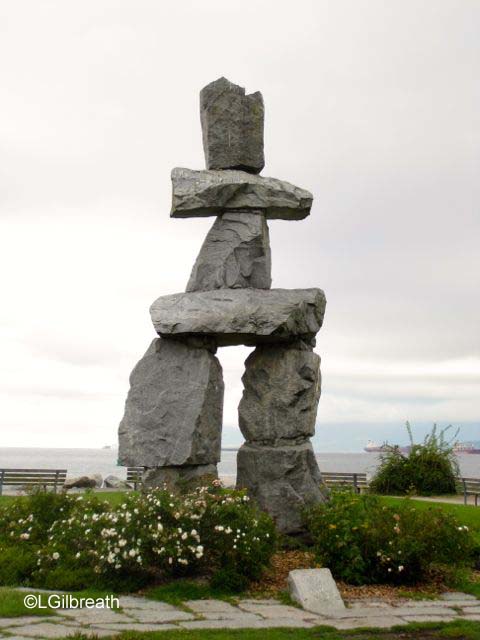 On the nearby beaches we saw some other rock formations – we call these "hoodoos" when we find them in Yosemite. As you can see below, some of them are pretty impressively balanced!
In addition to walking along the seawall we took a couple of trails through the woods. It was a lovely walk.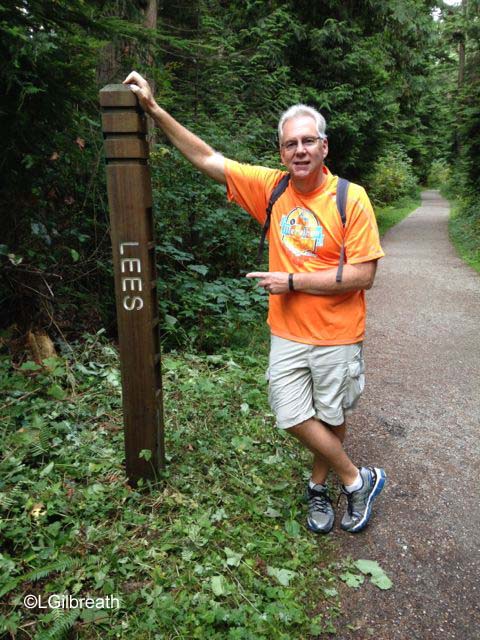 As we walked back to the hotel along the harbor we caught our first sight of the Disney Wonder!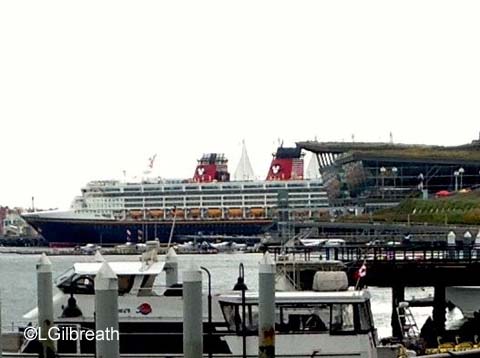 We were packed and showered and checked out by 11:30. It was a short taxi ride to Canada Place and the cruise ship terminal. There were already people there, but it wasn't too crowded. They started boarding not too long after we checked in, so we didn't have to wait too long.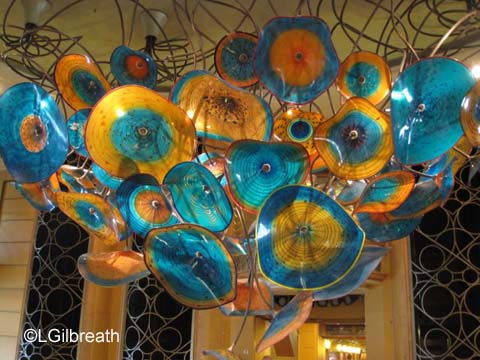 We had studied the Navigator while waiting, so we knew our first stop was going to be WaveBands to sign up for some of the beverage tasting sessions. That was easy.
Next on our agenda was lunch, so we went to Parrot Cay. We were early, and it wasn't crowded when we got there, though that didn't last long. I always enjoy the peel-and-eat shrimp on the buffet.
After lunch we still had some time before we could get into out stateroom, so we wandered around the ship. I have to say the Wonder still looks really good. It's a year newer than the Magic, which underwent an extensive refurbishment last year, so I was expecting that the Wonder might be showing some signs of age, but I was very pleasantly surprised. The public areas are in great condition.
I think where I saw the most signs of wear and tear were in our stateroom, but even there it's not bad – just small things like dings in the paint and furniture, and carpet that is not new. Pretty small stuff. We were on the Magic a year before its refurb, and at that time I felt that it definitely needed some TLC, but I don't feel the same way about the Wonder. (One thing missing in the stateroom photo below is our Castaway Club gift – I had to call Guest Services twice, and it was finally delivered Wednesday afternoon.)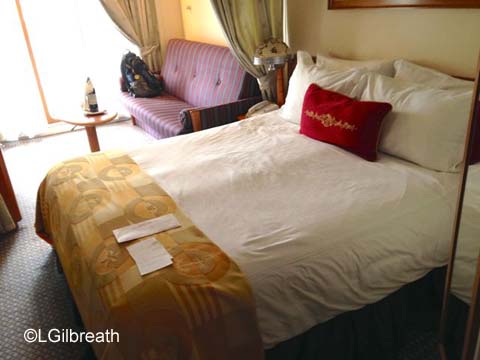 While we were wandering we saw that one of the lifeboats was open, so we took a look inside. That's as close as I ever want to get to the inside of a lifeboat. 🙂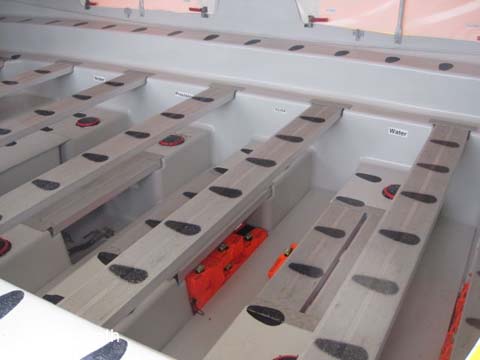 Though the morning had been cloudy and cool, it turned into a beautiful afternoon with lots of sunshine. We really had great weather in Vancouver. It was very nice for the sailaway party, though we were in a DVC Member reception and missed it. We made it up on deck in time to watch us sail past Stanley Park, though.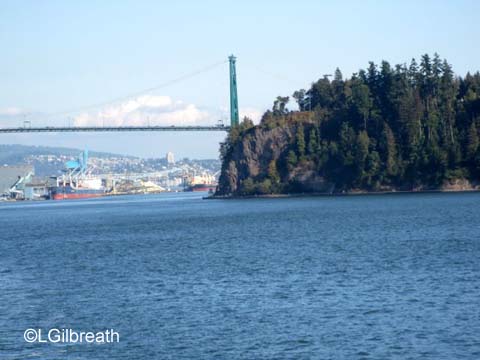 We had early dinner seating (which we prefer) and were seated with three other couples in Parrot Cay. (Of course it's Parrot Cay. Our cruises always start with us being in Parrot Cay – or its equivalent on the other ships.) I'll have a food blog later. Our server was Barbie from Serbia, and the assistant is Tiago from Portugal. Barbie is excellent, and one of the best servers we've had. Our Head Server was Simone, from Italy – he was the head server both times I'd been on the Dream, and he's very good.
After dinner we saw a nice sunset from deck 4 and then went to Diversions to watch the Chargers play on Monday Night Football. There were quite a few other Chargers fans in there. Unfortunately they lost because they made mistakes that Arizona took advantage of, but it was still a good game.
Back in our stateroom we found our first towel animal – I think it's a bear.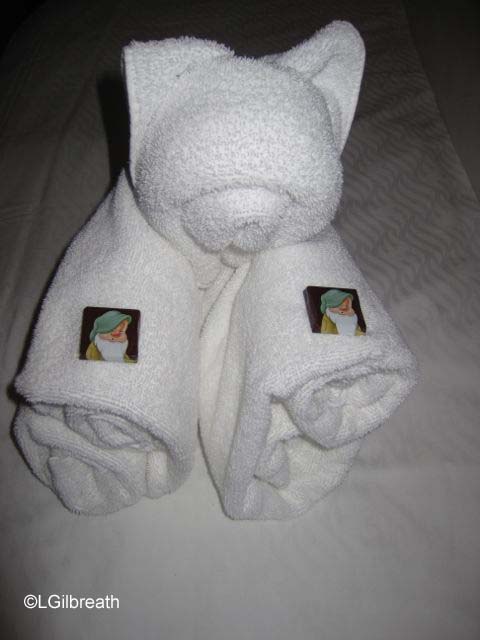 Coming next: Victoria