A Disney Fan's Adventure of a Lifetime
Several members of the AllEars team spent most of March visiting Disney destinations far from home. We visited Hong Kong Disneyland, Tokyo Disneyland, Tokyo Disney Sea, and Aulani in Hawaii. Along for all or part or this journey were AllEars' Deb Wills, Laura Gilbreath, Lee Zimmerman, Jeanine Yamanaka, Linda Eckwerth, and Deb Koma, and friends Jack and Pete.
Tokyo Disney Resort – Day 1
When we last left our merry band of adventurers, we had just finished two wonderful days at Hong Kong Disneyland.
Deb, Linda, Jeanine, Jack, and Pete flew to Tokyo the next day while Lee and I spent a day sightseeing in Hong Kong.
Lee and I had moved to a hotel on the Kowloon Peninsula, so had to make our way back to the airport. We took a shuttle bus that picked up at our hotel as well as several others. Lots of narrow streets and no street signs – I'm really glad our bus driver knew where he was going because I would've been hopelessly lost!
Eventually we got onto the expressway and went over the bridge to Lantau Island (both Disneyland and the airport are there). Along the way we could see the signs indicating directions to Hong Kong Disneyland – that familiar Mickey-head symbol! I was very surprised to see that on the regular green highway signs.
The 4.5 hour flight to Tokyo was on another wide-body jet – I was surprised that it was so large a plane. After we took off and got above the clouds there was SUNSHINE!!!! That was very nice – hadn't seen it in 5 days! They served us lunch, and I slept some, and watched Julie and Julia.
We landed early in Tokyo – just before 3:00 rather than 3:20. Getting through Immigration and baggage claim and Customs was very efficient, but it took just long enough that we barely missed the 3:35 bus to the Tokyo Disney Resort and had to wait for the 5:05 bus. The Narita airport is not very close to Tokyo Disneyland, so you can either take the bus, or catch a train (which then requires a transfer), or a taxi, but a taxi is pretty expensive.
The bus was 2400 yen for each of us, and had to be paid in cash. The yen/dollar conversion is pretty close to 100 yen = one dollar, so that makes it easy to calculate in your head. We'd been warned ahead of time that most Japanese ATM machines do not accept U.S. ATM cards, so we'd brought cash to exchange at the hotel in Tokyo, and while in Hong Kong we'd exchanged some Hong Kong dollars for yen so that we would have enough to get us from the airport to the hotel. We did use credit cards occasionally while at Tokyo Disney, but one thing we noticed is that Japan seems to be largely a cash society – we didn't see very many people paying with plastic.
There wasn't much to do in the Tokyo airport while we were waiting for the bus…we were sitting inside most of the time but could still tell that the outside temperature had dropped at least 20 degrees from what it was in Hong Kong. We had monitored the weather forecast before we left home, so we knew before we came that we were looking at highs in the mid-40s and lows in the 30s for Tokyo, and had brought warmer clothes than we did for Hong Kong.
The bus pulled up right on time and we told the driver we were going to the Tokyo Disneyland Hotel, he took our bags, and we got on board. The bus also stopped at the other airport terminal, but we were soon on our way. Even though it was a Sunday we still hit traffic on the road and it took us over an hour to make the drive. Though we did better than Jeanine – she had taken the bus on Saturday and it took her almost 1:45.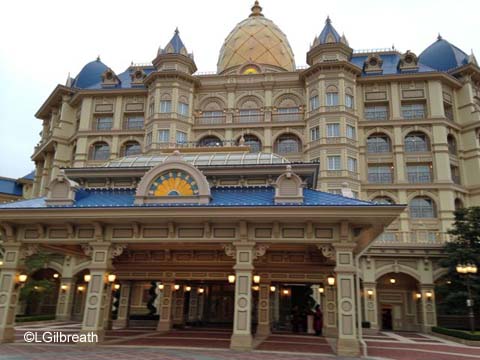 The Tokyo Disneyland Hotel was the first stop, which was very nice. A few other people got off the bus, too. We were quickly ushered into the reception area and up to a counter to check in.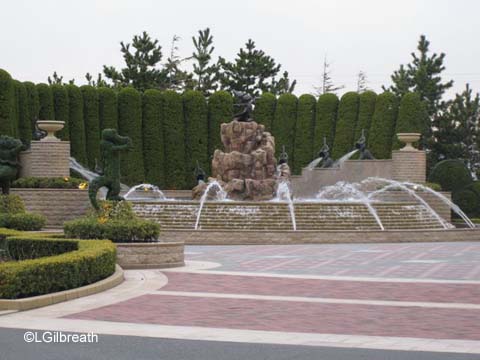 The young lady who checked us in spoke fairly good English, but we were a little confused when she asked us about park days. As hotel guests we got early entry to Tokyo Disneyland, but we had to tell her which days we were going to be in that park so that she could give us an early entry pass for the correct days. At WDW or Disneyland we would've just used our room key, but it doesn't work like that in Tokyo. Though at least in Tokyo we received a personalized room key, even if it wasn't good for charging. We eventually got it all sorted out.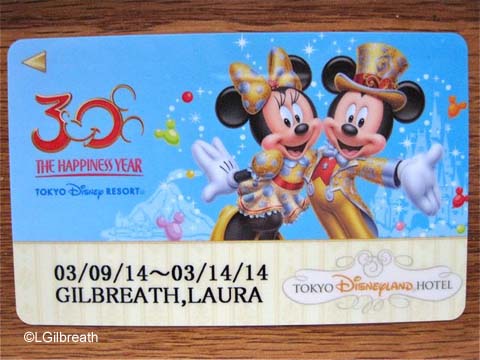 She also gave us monorail passes. Transportation between the parks, hotels, and Ikspiari (their "Downtown Disney", and then some) is via monorail, but in Japan it's considered a public railway system and they have to charge for it. As hotel guests it was free for us, so we each received two three-day monorail tickets to use during our stay.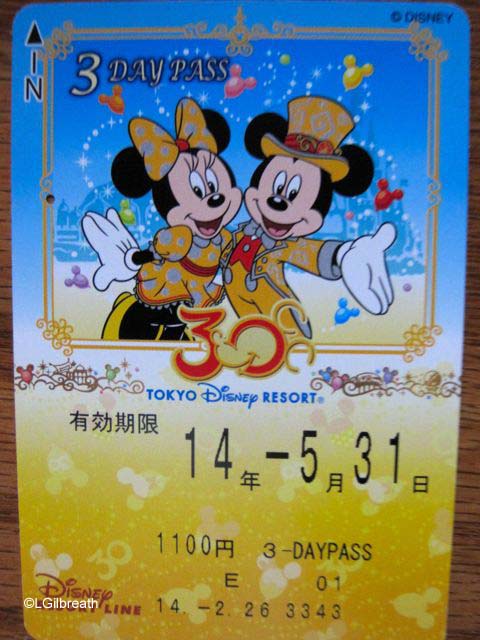 Once we were checked in we were asked to stand in the lobby until someone could take us to our room.
The lobby of the Tokyo Disneyland Hotel is quite beautiful – it's Victorian (we'd seen a lot of that recently!) with an Alice in Wonderland theme. There are huge chandeliers and a big five story open lobby. Marble on the floors, lots of very nice furnishings. There was a glass elevator, though there were much larger banks of elevators in each of the towers.
A young (female) bellhop appeared with our bags to show us to our room. I'm not sure if ALL guests were escorted to their room, or if we received that treatment because they figured it would be easier just to show us rather than try to explain it. 🙂 It wasn't really that hard – we were in the main tower, 8th floor, so mostly we just needed to find the elevator that first time.
But she was very cute as she walked us to our room, and pointed out hidden Mickeys, and where various things were. In our room she did a quick orientation to show us where things were and then left. This is Japan, so no tip was required or expected (and apparently tips aren't even accepted – it's almost considered an insult).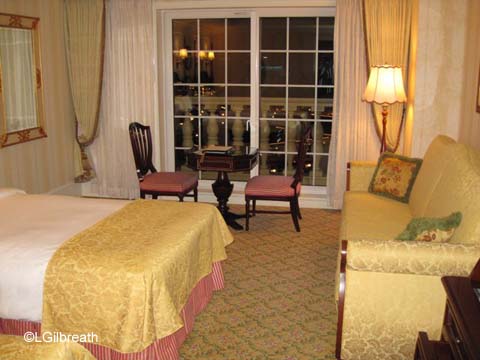 The room was MUCH bigger than I expected – it was certainly the size of typical hotel rooms here, if not a bit larger. The entrance hallway was quite long, on one side were the closet and a counter/desk (Lee told me it was my makeup table) and the coffee/tea service area, and the bathroom was on the other side of the hallway.
There was a mini-bar fridge under the tea service area, but it wasn't full, and we were allowed to store our own food there, too.
There were three parts to the bathroom. In the middle were two sinks, with a large mirror and a shelf underneath it, and some storage cubbies under the sinks.
And a tray with a BOATLOAD of toiletries – all with their "30 Years of Happiness" logo: boxed toothbrush kits (child and adult), soap, a folding brush/comb, plastic cup, a razor, and a metal box with some miscellaneous items like a pony tail band, shower cap, q-tips and nail file. The shampoo/conditioner/body wash bottles weren't 30th anniversary, but had a hotel-specific design to them. If we took any of them they were replenished every day. I have to admit that I took multiples of almost everything – the boxes especially were very nice to include with other gifts.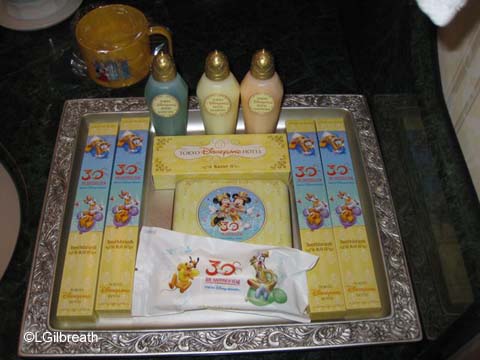 The bathing room was very different – there was a regular bathtub, but then instead of a shower stall, the area outside the tub was all tiled, there was a drain in the floor, and you simply shut the door to the outer bathroom area and turned on the shower that was mounted on the wall.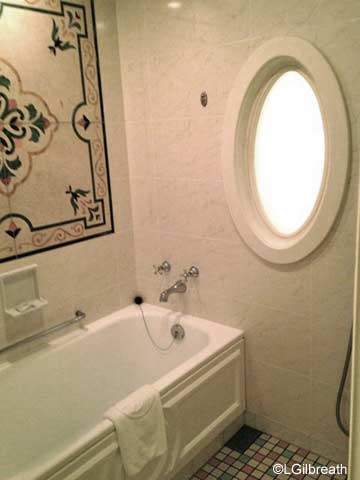 There was a separate hand-held shower wand in addition to the shower head (the shower control turned on one or the other, and the second shower control was for temperature). There was also a small plastic stool to sit on, and a plastic bowl – not exactly sure of its purpose.
And then there was the toilet room…with one of those Japanese toilets where we needed a manual to figure out everything that it could do. 🙂 The toilet seat was heated, and we of course figured out how to flush it, but that was the limit of our experiences. It had buttons that showed a couple different types of "spraying" action, but we didn't try that. Also, when we sat on it, it started playing white noise. (My experience with a different Japanese toilet later in the trip was that it played the sound of a running stream…)
The room itself had two double beds and a table with two chairs, plus a dresser. The dresser didn't have much storage – there were only four usable drawers. Of the two top drawers, one was actually the safe (took us awhile to find that!) and the other had all of the video inputs for the TV.
And the view…it was dark by then, but we looked out and could see the monorail station, the Disneyland entrance, the castle, and Space Mountain, and looking way left could see the volcano in Tokyo DisneySea! It was a great view. Of course it should've been – we were paying for a "Superior Park View".
Deb put together a video of the hotel that you can watch below:
Since we had that view, I wanted to watch the fireworks from our room that night. They had given us park maps and a times guide when we checked in, but guess what? No fireworks show time listed! I called down to the Front Desk and asked and they told me 8:30. It was after 7:00 by then – no time to go and eat somewhere in the hotel – if we could even get in anywhere – and we had no idea how long it might take to try to get something at Ikspiari (which is pronounced "Ick-SPEER-ee"). There's no counter service restaurant at the hotel.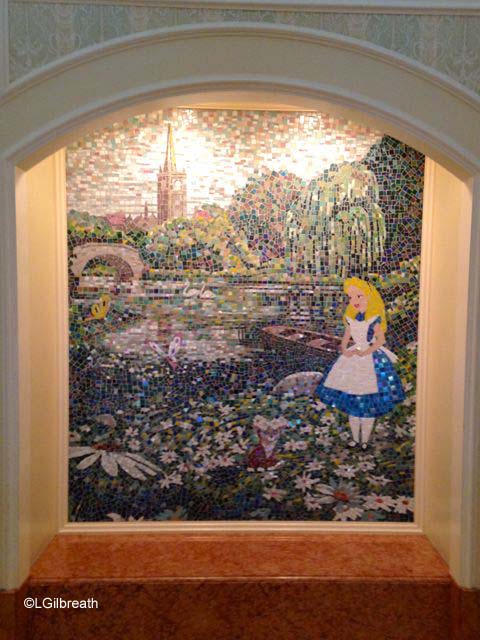 So we went down to the "Looking Glass Gifts" store to see if we could find anything to snack on. And we were VERY pleasantly surprised – instead of just a gift store, it was actually like a mini-market. Several cold cases with lots of noodle dishes, pasta dishes, and some other fresh foods that could be reheated, as well as sandwiches, fruit, yogurt, packaged pastries, sushi, and lots of beverage choices. The prices were quite reasonable. We ended up with a selection of pre-made tea sandwiches, fruit, inari (sushi for Lee), beer (also for Lee), and yogurt and pastries for the next morning since we had an early day and wouldn't have time to eat at the hotel.
While we were in the lobby area we also purchased our park tickets. Multi-day tickets work very differently in Tokyo than here! The maximum length ticket you can purchase is a four-day ticket. For non-hotel guests, you may not park hop the first two days (meaning if you buy a two-day ticket you can't park hop at all), and at the time you purchase the ticket you must specify which park you are going to be in on the first day, and which park you will be in on the second day. You can't choose to be in the same park on both days. You are allowed to parkhop on the third (and fourth) days. And the days must be consecutive – you can't purchase a four-day ticket and go to the parks Monday-Wednesday, skip Thursday, then again on Friday.
Still with me? If you are a hotel guest, then you CAN purchase tickets that will allow you to park-hop every day, but you pay a little more for them (though not the premium that the American parks charge).
I did not know about the consecutive day thing, and since we had a bus tour of the Tokyo area booked for Thursday, it meant that although we planned four park days, they would not be consecutive – we'd be doing Monday-Wednesday, and Friday. Fortunately I asked when we were buying the tickets, and was told yes, the days had to be consecutive. So we bought three-day hoppers, and figured we'd buy the Friday ticket later in the week when we knew what we were doing that day. A three day park hopper was 15,500 yen – which is about $155. A lot cheaper than I expected them to be – I thought tickets would be a lot more expensive in Japan.
We also exchanged dollars for yen. It was weird having bills with the number 100,000 on them! 🙂 Just like Hong Kong, Japanese money is also prettier than ours. Their 50 yen coin is different – it has a hole in the middle. There's 500, 100, 20, and 10 yen coins, also. (I wish we would go to $1 coins here and get rid of the $1 bill.)
The elevators in Tokyo only spoke to us in Japanese, unlike the Hong Kong elevators that spoke English and Chinese. Different characters spoke on different floors. Goofy's voice was very funny.
Back at the room we sat at our table next to the window, enjoyed the view, and ate. The tea sandwiches were surprisingly good – the bread seemed very fresh and soft. Which probably means that it was made with ethylene glycol or some other chemical that wouldn't be permitted here. 🙂 Just before 8:30 I opened the window (it would only open about two inches) so that I could take pictures…and soon after heard the announcement that the fireworks had been canceled. Bummer. (The announcement was in English as well as Japanese.)
Since we were staying in Tokyo for five nights, we figured we would have the opportunity to see them some other night, at least from the park itself.
This was our third hotel of the trip, but the first time that we finally really unpacked our suitcases since we would be there for 5 nights. We did that, and started trying to plan for the next day. Everyone else in our group had been at Tokyo DisneySea that day, so the plan was to go to Tokyo Disneyland on Monday, where we would all have early entry.
We took a last look at the beautiful park view from our window, and called it a night.
Coming Next: Tokyo Disneyland