A Disney Fan's Adventure of a Lifetime
Several members of the AllEars team spent most of March visiting Disney destinations far from home. We visited Hong Kong Disneyland, Tokyo Disneyland, Tokyo Disney Sea, and Aulani in Hawaii. Along for all or part or this journey were AllEars' Deb Wills, Laura Gilbreath, Lee Zimmerman, Jeanine Yamanaka, Linda Eckwerth, and Deb Koma, and friends Jack and Pete.
In Part 1, Laura Gilbreath introduces you to our first stop: Hong Kong Disneyland.
Hong Kong Disneyland is located on Lantau island, about 20 minutes from the international airport and 30-60 (depending on traffic) from downtown Kowloon. The resort consists of a single theme park and two resort hotels, with a third hotel under construction. Some of the information below came from our guides on the park tour we took one day. Hayley and Helen were wonderful and pointed out a lot of interesting details that we otherwise would've missed as they told us about some of the background stories of the lands we visited.
Hong Kong Disneyland is most similar to Disneyland in California, and it opened in 2005, the year of Disneyland's 50th birthday. Like Disneyland, guests pass under the train station and enter Main Street, USA. From the hub they can enter Adventureland, Tomorrowland, and Fantasyland. The park also includes several new lands: Toy Story Land, Grizzly Gulch, and Mystic Point.
At the end of Main Street Hong Kong Disneyland also has a Sleeping Beauty Castle – the same size and design as the one in California, though this one has real mountains behind it.
Joe Lanzisero, the Creative Executive for Hong Kong Disneyland, told AllEars: "There's something that's very warm and charming about the smaller castle. Our site has those beautiful hills behind it and it really juxtaposes itself visually against those hills in a way that I think feels scale appropriate. And it's a new audience in that part of the world that hadn't seen a Disney theme park before and it also worked with the overall scale of the park, too. The park very much followed [Walt's} 1955 layout: the length of Main Street, the size of the buildings, so you had to take the overall scale of the park into consideration."
We found that Hong Kong Disneyland seemed much larger than California: the paths are much longer and wider, and there's a lot more space – but I still thought it felt cozy and welcoming and familiar. The capacity of the park is about 40,000 guests now, which is less than Disneyland, but there are fewer attractions in Hong Kong: about 25 rides and shows compared to more than 40 at Disneyland. A few attractions were undergoing refurbishment while we were there, so we were not able to experience their Disneyland Railroad and The Lion King show.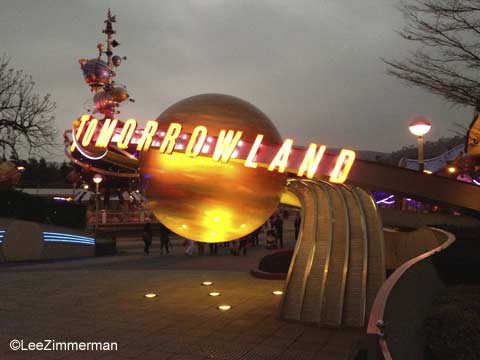 According to our guides, about 30% of the guests are from Hong Kong, 47% from mainland China and the rest from around the world. Most park signs, maps, announcements, etc. are in three languages: English, Cantonese (spoken in Hong Kong) and Mandarin (spoken in mainland China). Most of the cast members speak both Chinese languages as well as English. Some of the attractions are narrated in English, and the Jungle Cruise has separate queues for boats with English, Mandarin, or Cantonese-speaking skippers. English is widely used as a "common" language in Hong Kong and we didn't have any real communication difficulties.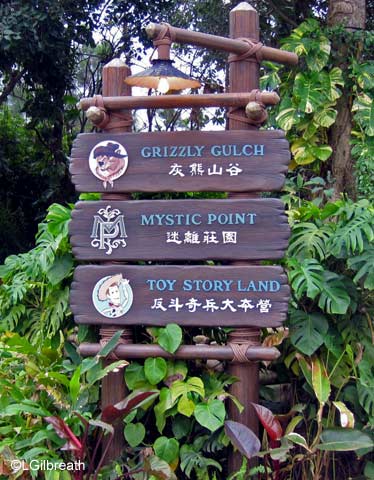 I was pleasantly surprised that park tickets were significantly cheaper than in the U.S. A two-day park ticket was $585HKD, which is about $75USD. Hong Kong Disneyland offers an annual pass type of program called Magic Access, which offers a surprising number of benefits, including Fastpasses and special birthday privileges. Jenny Dam, Associate Marketing Manager for Hong Kong Disneyland, provided this information on the program to AllEars:
"It includes Silver, Gold and Platinum Cards, which bring guests extra privileges all year round. Magic Access offers discounts on merchandise and dining, as well as wonderful birthday privileges, exclusive park experiences and gifts. The majority of the members are locals."
You can view more information about Magic Access here: http://park.hongkongdisneyland.com/hkdl/en_US/ticketsAndReservations/overview?name=MagicAccessPage
Attendance at Hong Kong Disneyland has been steadily growing – last year was a record 7.4 million. In 2012, it was #14 in theme park attendance worldwide, according to TEA, the Themed Entertainment Association. Jenny Dam had this to tell us about their guests:
"With the launch of the three new themed areas, Hong Kong Disneyland now offers over 100 attractions and entertainment offerings designed for families and young adults. The guest mix is ever changing throughout the years and the proportion of young adults has been increasing since the new attractions were launched. We will continue to maintain Hong Kong Disneyland as a family destination, and at the same time, we will offer more attractions and entertainment to attract young adults and repeaters."
One of the upcoming attractions is Stark Expo, scheduled to open in 2016. From the Disney Parks blog:
"Located in Tomorrowland at Hong Kong Disneyland, the Expo will allow guests to see firsthand the progression of Tony's Iron Man suits and many other Stark innovations.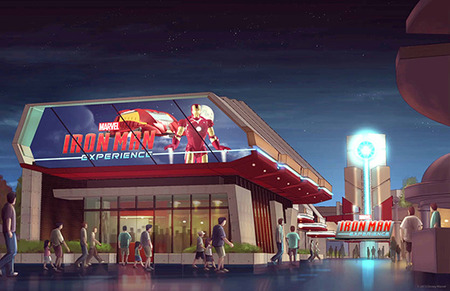 "Upon entering the ride vehicle our guests will be able to take flight with Iron Man on an epic adventure that not surprisingly pits Iron Man, and our guests, against the forces of evil. This adventure will take place in the streets and skies of Hong Kong, which will make an even more unique and special experience for our Hong Kong Disneyland guests. In addition, guests will be able to meet and take photos with Iron Man."
Hayley and Helen were both very excited about the new attraction. The cast had recently been told that it will be similar to Soarin', though with a very different movie. Flying through the skies of Hong Kong sounds terrific!
Joe Lanzisero had this to say about Stark Expo:
"The total build-out of this little area will include the ride, the attraction, a meet and greet which extends the story of the Expo because you're going to be seeing some new technology that happens to be demonstrated by Tony Stark, and then our merchandise shop. We're actually going to try to broaden how we present the merchandise and the kinds of things that people can buy in a more kind of tech workshop-like environment. So that story kind of works through all three of those elements of the Expo."
One of the things we were curious about was the cultural differences that we might experience, both in the attractions and in the way the park was designed. Almost the first thing that I noticed was the color palette. More deep, vibrant jewel tones than I have seen in the U.S. I remarked on that to our guide Hayley, and she said those colors are important in the Chinese culture.
Other culturally-inspired design differences included all of the park-like areas with beautiful landscaping and lots of benches. As Helen told me, many of their guests like to maximize their park time by purchasing a quick snack at one of the food kiosks, then sit down to eat on one of the benches before moving to their next destination.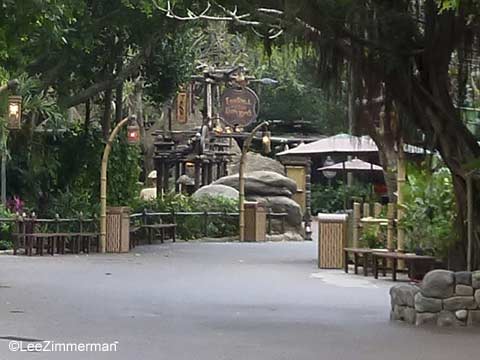 And speaking of the park areas, there were some really unique photo opportunities in some of them, because guests love taking pictures. I really enjoyed this one in Mystic Point's Garden of Wonders – it initially looks like this: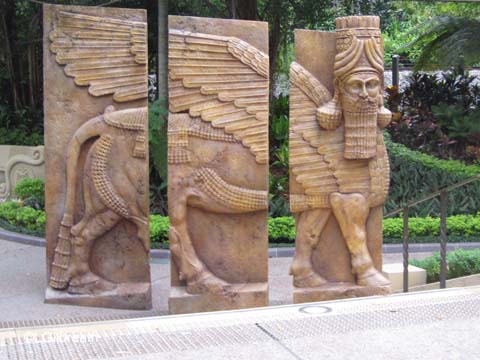 But when viewed from just the right place, it becomes this!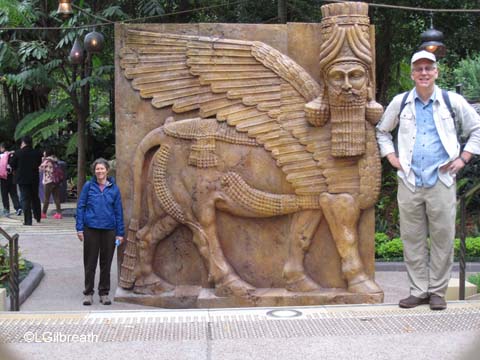 This one was also a lot of fun: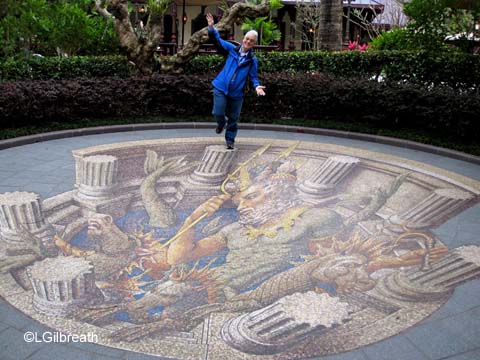 Most of the "lands" had various photo cutouts and many places to take some really fun photos – I think we could've spent most of a park day just doing that!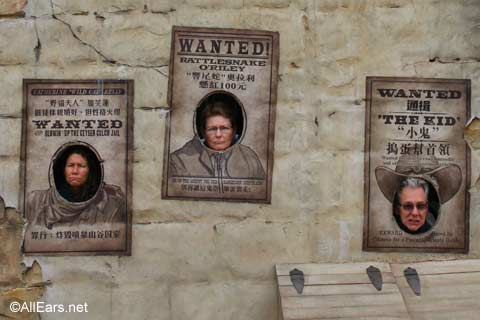 Helen told us that Disney surveys in Asia indicated that character meet-and-greet opportunities were very important to guests there. We saw greeting spots throughout the park, but the main one is Fantasy Gardens. There are multiple character gazebos, and various characters appear there for most of the day. The area has all of these beautiful topiaries, inspired by the movie "Fantasia".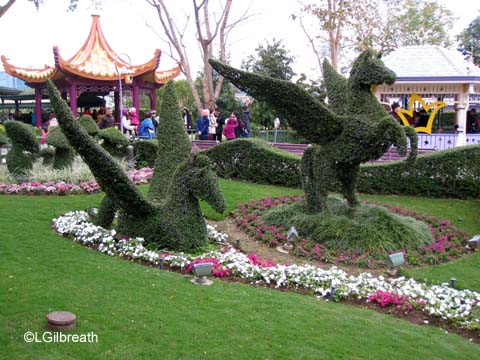 We also saw characters just hanging out in places and playing with guests – of course that's not really a culture thing since we see it in the U.S. also, though more in California than in Florida.
When AllEars asked Joe Lanzisero about cultural differences, he had this response:
"You know I think the basic park concepts in terms of the big ideas that glue the park together are always the same and I think there's universal appeal in what we do.
"But we have looked for opportunities to inject some Chinese stories, I think in special events. The most obvious is that we celebrate Chinese New Year in a very big way, just like in Japan there's certain Japanese holidays that they build events around. As we look at some of the attractions…in "small world" and Mystic Manor we have made specific nods to Chinese culture using imagery and iconography that the guests there can relate to directly."
And with that teaser, I'm going to end part 1 – we'll get to the attractions like Mystic Manor in part 2!