Walking back from breakfast to my room at the Dolphin Resort last Fall, I stopped and watched the comings and goings of the Friendship boats. It was a typical beautiful day in central Florida filled with warm sunshine and blue skies. Something living in the northeastern United States, as I do, is still months away. I know I am a bit weary of this year's winter and wanted to remind myself it will get better or, at least, get me to start planning my next trip to Walt Disney World.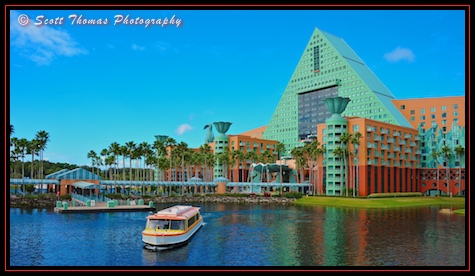 A Friendship boat leaving the dock of the Swan and Dolphin Resort complex.
Nikon D700/28-300VR, 1/125s, f/16, ISO 450, EV +0.3, 28mm focal length.
Remember, to get sharp focus from the front to back in your photographs, use a small aperture like I did here. f/16 or f/22 is usually good enough. If you have Scenes to choose from on your camera, select the Landscape scene to get this kind of result.