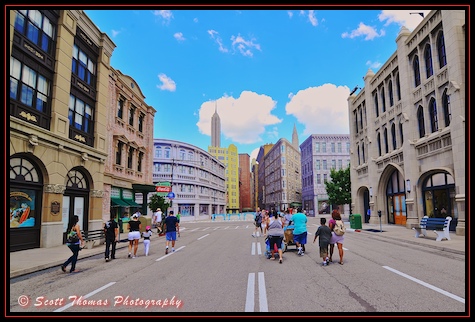 People walk towards the facades of New York City Skyscrapers on the Streets of America.
Nikon D700/Tokina 11-16mm, 1/250s, f/8, ISO 200, EV 0, 16mm focal length.
Of course, this is not New York City. Really, blue sky and sunny and were are all the yellow taxis?
The Streets of America in Disney's Hollwood Studios has an illusion of a street in New York City complete with stores, signs, subway entrance and a view of the Empire State Building. They are all facades or the front exterior side of buildings. The facades people walk next to are more complete with sidewalks, fences, stairs, doorways and windows with merchandise on display. Behind those exteriors are empty shells. The skyscrapers are even less than that being not much more than cutouts. This is how Hollywood saves money as such "sets" can be used over and over without having to travel to New York City. Hey, change a few signs, storefronts and, bang, you have Chicago or Paris.
Hollywood magic trick for the Disney Pic of the Week about the Streets of America.