After visiting Disneyland in September, I had two trips to Walt Disney World in October and December. The first was a family vacation where I photographed while touring the parks. The other was a planned couple of days photographing with other Disney fan photographers. Both trips were fun, enjoyable and presented new challenges and experiences in each park. Today, I am sharing with you some of the highlights from those trips.
It is exciting to see something new at Walt Disney World even if it happens every day. In all my visits, I never saw the IllumiNations barges enter Epcot's World Showcase Lagoon. When I noticed the Earth barge coming through the draw bridge, I stopped and took several photos.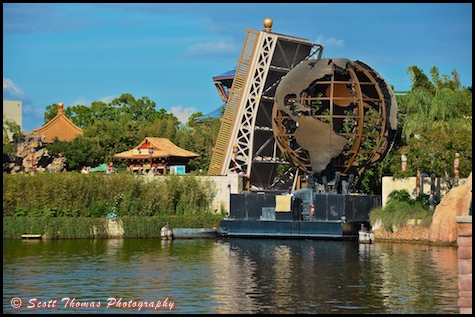 IllumiNations Earth barge entering Epcot's World Showcase lagoon.
Nikon D700/28-300VR, 1/250s, f/8, ISO 200, EV 0, 150mm focal length.
This was the first time I had the Fisheye lens with me at Walt Disney World. I probably used it way too much but it was a lot fun. While waiting for my ride on Rock'n'Roller Coaster, I photographed fellow guests being launched. The lens' f/2.8 aperture and a high ISO allowed me to photograph inside the dark ride.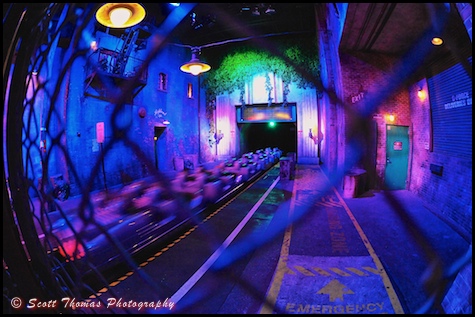 Guests are launched into the Rock'n'Roller Coaster.
Nikon D700/15mm, 1/30s, f/2.8, ISO 6400, EV 0.
Each December, Disney fan photographers always watch for Extra Magic Hours at Disney's Animal Kingdom. This allows for photographing in the park after sunset. Something that is a rarity. The bare light bulbs hanging over the path to Expedition EVEREST made for good foreground interest to the Forbidden Mountain. By using a small aperture of f/22, the small light sources became small starbursts. I waited for Blue Hour, the time between sunset and full night, to give it a magical light.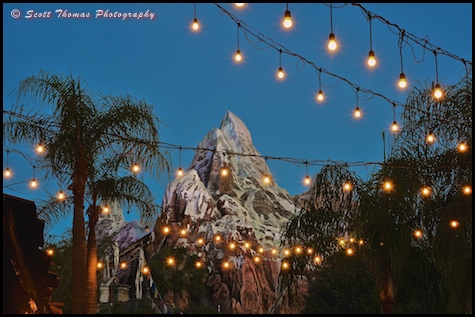 Blue hour at Expedition EVEREST.
Nikon D700/28-300VR, 2.5s, f/22, ISO 200, EV 0, 92mm focal length, tripod.
After Blue Hour in Disney's Animal Kingdom, I traveled to the Magic Kingdom to take advantage of its late night closing. Putting the Fisheye lens back on my camera, I photographed the lights and movement of the park. Fantasyland's Mad Tea Party is colorful and full of motion when using a long exposure and tripod to photograph it.
Mad Tea Party tea cups whiz around at night.
Nikon D700/15mm, 10s, f/5, ISO 200, EV 0, tripod.
These are my favorites from this year's trips to Walt Disney World. Here's to even more in 2014. Do you have any favorites from the past year?