To all who come to this photo trivia game, Welcome! Along the way, the photos can make us relive memories and see details Walt's Imagineers put into everything we love in Walt Disney World!
Players, great news! Jason and Melinda Lenz are announcing they are expecting twins! They're already planning their children's first Disney trip in 2018! I think I speak for everyone here when I say: Send Pictures! I mean, Congratulations!

Jeremy Mccaffrey, I hear your Aunt Patti is enjoying your AllEars' prizes. 😉
From last week: Challenge #301:

And here's the answer: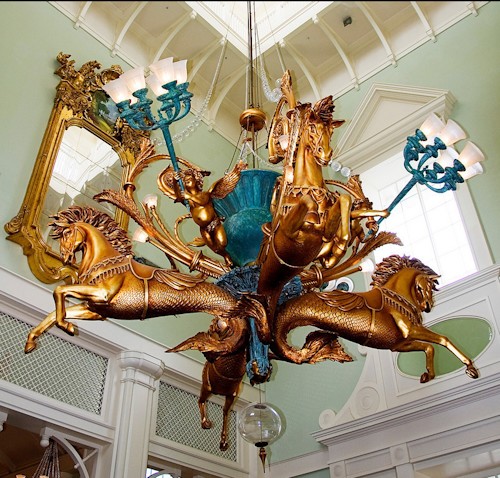 Copyright © 2012 Erin Blackwell
The Hippocampus Electrolier Chandelier (it's a tongue twister, isn't it Bruce Hinterleitner?) in the Boardwalk resort lobby. Thankfully, Jack Spencer did a blog on the resort so I had the actual name or I would have just called it the chandelier or the " the swimmin' end of a seahorse all saddled up and ready to ride. (bring a snorkel)", right, Chris Stockton? — or, as Wendy Snelgrove, "some weird decoration in the lobby". Some of you knew the right name. I am impressed, Players!
Dave Carriere said, "There is a crystal globe at the bottom that is a time capsule that is scheduled to be opened at WDW's 50th anniversary…hope I am around to see what is in there!" Of course you will! Just 8 more years. We'll meet up to watch it open. Who else wants to join us?
Herb Miller and his wife stayed at the Boardwalk for their honeymoon and his wife wanted to take the resort home with them. Did she take the pens and paper home, tease you that she was going to unhook the phone and bring it home because it has the logo on it? ". not that I did that, joke about it, 'cause you know, it's not nice to make your husband's veins stand out on his forehead.
We need to recognize a particular Player: Izzy Williams who answered this challenge for her grandmother Vera Williams. Thank you, Izzy!
Patty Carty, I hadn't seen the Nanny Chairs before. Oh my god, those are TERRIFYING! I'm never turning my backs on those again as I cross through the lobby! The Gunnels Family, you sit in those?! You are braver than me. This is you:

This is me:

On a positive note, you will also see a reproduction of Lucy the Elephant who still stands near my town. Because Lucy rocks! I should know because I've been inside this hotel. 🙂
Kristi Strembicki was the first to send in the correct answer! Congratulations to Kristi and all our winners this week! Jennifer Rowell, Heather Keenan, Pat Schwier, Patty Carty, Phyllis, Pam Vanaustin, Linda Ranatza, Julie Wickware, Robin Ward, Mary Beth Tarbet, Carol Ney, Phil Vickers, Axel Beer, Betsy Silvestri, Chris Kelly, Bethany Angermaier, Ed Suscreba, Nick Cristea, Melissa Such, Stuart Hale, John And Annette Melcher, Chris Schrider, Claire Gregory, Pat Morin, Paul Dickson, Colette Stanton , Keirsten Sangster, Joyce Selby, Lori Rienhardt, Cindy Strachan, Lindsay Coram, Morag Lemon, Darlene Harmon, Kye Layton, Judy Simonsen, The Emich Family, Deb Ragno, The Gunnels Family, Tricia Petty , Tim Johansen, Wendy Mowery, Elaine Kleinhenz, K Beasley, Team Hill, Mary Ann Eckenrode, The Kertes Family, Rebecca Smith, Karen Schlumpf, Shelly Metcalfe, Maggie Klotz, Barbara, Dee Dee Kenney, Ashley P. , Jim & Lorie Sonnen, Kathy Morris, Donna Frank, Craig, Karen Adamakis, Audra Miller, Kevin Miller, Susie Howard, Louise Barton, Barbara, Jeremy Hardy, Jason And Melinda Lenz, Kevin Carter, Andrew And Carolyn Poirier, Sheryl Hicks, Hunter B Cantrell, Christine Rowlands, Kristen Mccoy, Chris, Gretchen, And Katie Barnes, Wendy Barney, Paul Moore, Daniel Record, Karen Buckingham, Stephanie Newell, Steve Morin, Dawn Bach, Cindy Carrigan, Roxann B Burke, Olivia Giambalvo, Sharon Pierce, Jacquelyn Law, Maureen Handy, Herb Miller, Lori Bennett, Hillary Waldroop, Megan Krainski, Darlene Haven, Tammy Kennedy, Taryn Dewald, Bruce Hinterleitner, John Mahoney, Kris Nixon, Izzy and Vera Williams, Nathaniel Clements, Wendy Snelgrove, Katrina Wanner, Hulse Family, Rick R., Shelly Borella, Matt Holley, Schuyler Stewart, Terry Fleming, Sara Alaimo, Ron Harper, Larry Sprenkle, Joanna, Teresa Cole, Tom Hermes, Jared Orth, Matthew Jadro, Deb Patterson, Jim Finley , Anastasia Macneil, Carri Marotto, Josh Carney, Mike Haven, Maureen, Stephanie Visco, Dave Carriere, Matt Cofone, Ellie Argaluza, Patti Mccaffrey, Paul Sankey, Carolyn Como, Theresa Rucando, Sandra Edwards, Andrew Pettit, Rob Blundin, Elizabeth Scarborough, Gail States, Terry Watt, Ken Rhinehart, Kate Kozlowski, Nicole Benoit, Caroline Williams, Jane Johnson, Paul Knott, Les Stewart, Team Bonnie Sue, Agnes Ciotti, Danielle Ciotti Harsley, Tricia Noble, Barclay Bakkum, Vicki Britt, Melissa Littman, Chris Rooney, Vicki Shearman, Betsy Dross, Chris Stockton, Diane Butler, Peggy Saeger, Theresa Maradei, John Dupre, Patrick Broaddus, Matt Kocher, Dwayne Fontenot, Tjg, Dave Kanigowski, and Sandy Kanigowski. Each of you are entered in this month's winners' drawing.
_____________________________________________________ _____________________
Challenge #302 Where in the world is this?
Back into the parks, Players!

Do you know? Do you have a guess? Please send in your answer, before the end of the day on
Thursday, October 24th, by clicking on the blue box below. Please do not post answers using the Feedback Form link at the bottom of this post.
See you next week, Players!


_______________________________________________________________________
Everyone who sends in a correct answer to a Where in the World Challenge this month will be entered in a drawing at the end of the month for some special AllEars® goodies!