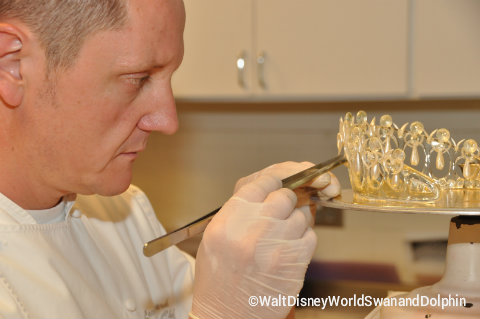 Foodies who enjoy sampling gourmet foods paired with fine wines and beers likely have already visited this year's Epcot International Food and Wine Festival. But this weekend, they have another opportunity waiting for them at the Walt Disney World Swan and Dolphin, where the fourth annual Food & Wine Classic takes place along the causeway between the hotels.
I spoke with the resort's executive pastry chef, Laurent Branlard, about his role in creating the mouth-watering desserts that will be available at the Classic. A native of France, Branlard began his pursuit of a culinary career at age 16 in Paris. He moved to the United States about 15 years ago and has been at the Swan & Dolphin since 2002. During that time, he won the World Pastry Team Championship not once, but twice. Branlard is responsible for the dessert menus at all of the hotel's 17 restaurants and lounges, including Todd English's bluezoo, Shula's Steak House and Il Mulino New York Trattoria, as well as banquets at the Walt Disney World Resort.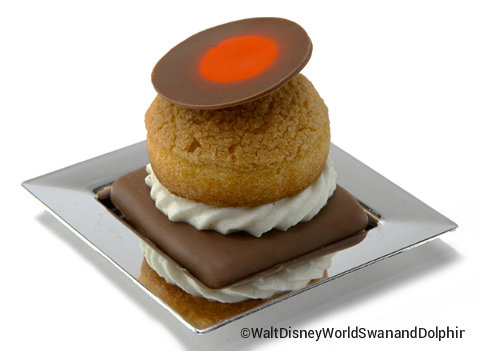 O Saint O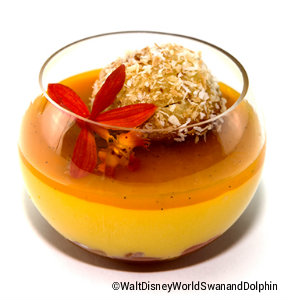 Tropic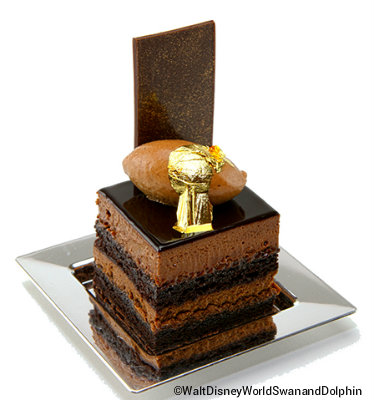 Intense
The dessert menu at this year's Food & Wine Classic differs each night. Guests tonight can sample O Saint O — an orange cream-filled puff, milk chocolate covered orange cooked and whipped vanilla cream; Tropic — passion fruit cream, mango papaya pineapple compote, coconut cake and mango vanilla sauce; and Intense — flourless chocolate sponge and Arriba 72% chocolate mousse. On Saturday, guests will be offered Dome — milk chocolate mousse and caramel cream center, hazelnut dacquoise sponge, milk chocolate glaze; Bla — blueberry compote, lemon creme Fraiche Panacotta, almond pound cake; and Raspberry S'More — raspberry marshmallow, raspberry compote and white chocolate cream on cinnamon sable dough.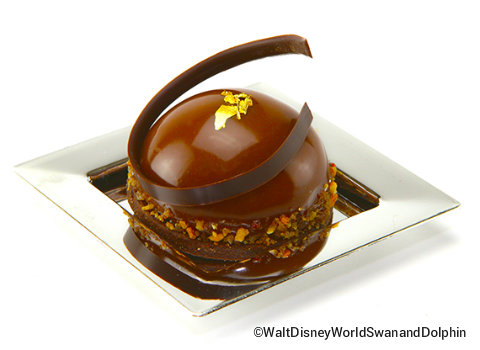 Dome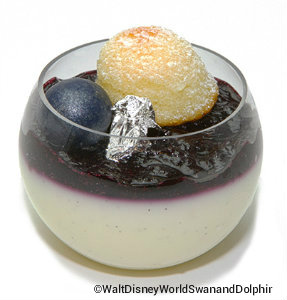 Bla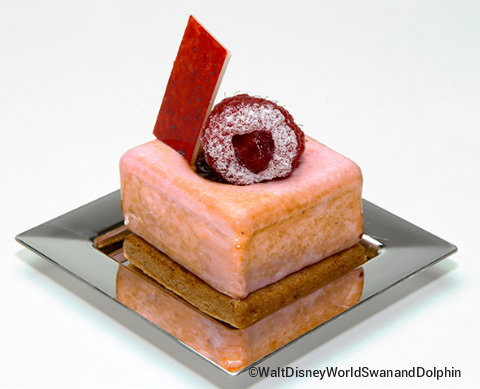 Raspberry S'More
Here's what Branlard had to say about this weekend's event:

What are you most excited about at this year's Food & Wine Classic?
Every year I'm very excited because it's a good opportunity to showcase our desserts not only to our hotel customers but also to people coming from town. For me, it's always great! It's also an opportunity to do the desserts we like to do because it's up to us to decide what we want to serve, so it's exciting.
How do you determine what the desserts will be?
I like to bring some French influence to the desserts. On Friday, we have O Saint O. It's a mini version of a classic French dessert that I tweaked a little bit. So I bring desserts that come from my background but that everyone will recognize. Of course, I always have a chocolate dessert because you cannot do a menu without chocolate. People like chocolate!
In the Walt Disney World Swan and Dolphin restaurants, do you find that kids like different desserts than adults?
I like to tweak the desserts a little because I know that American kids have a palate that's a lot determined by what they eat every day … When it comes to sweets, it has a lot to do with what they find in the grocery store. I try to understand what they're used to, so they don't have a shock when they eat my desserts. In a chocolate dessert for kids, I'm going to tone down the cocoa percentage so it's not too strong, too bitter for them. But I will still use a really intense and dark chocolate.
We do it a little bit different, but not too much because that's the way we function. I like to educate about food. Like my son: I always wanted him to grow up very fast as far as taste goes. For me, it was very important that he understand right away what is good food.
Is there a particular dessert that you think is a favorite for kids and also for adults?
That's a tricky question "¦ always chocolate desserts. In bluezoo, for instance, we do a molten chocolate cake. It doesn't matter what you put on the menu, you know that about 50 percent of the dessert sales will be the molten chocolate cake. It's a moist, soft chocolate cake, so kids will order it, too. You can't beat that.
How do you appeal to the palates of tourists not just from the United States, but all over the world?
In general, globally the dessert world has evolved and especially in America these past 10 years. People are more aware of what's going on as far as European flavors. It's all mixed now. I don't think the customer makes a big difference as far as taste choices.

Where can guests go to get your desserts served at the Classic during the rest of the year?
They are not available in the hotel. They are specially designed in smaller portions for the Food & Wine Classic. We [repeat] them sometimes when we have VIP parties and things like that. People that come often to the Swan & Dolphin in our restaurants might recognize what we do, but the way that they are served is very different than what we do in the restaurants.
Will you be out on the causeway or in the kitchen during the Classic?
I will be in both locations. I will be back and forth. Usually I spend a good amount of time on the stations. I always like to spend time with the guests.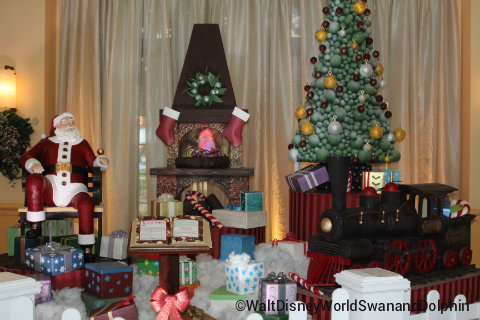 Looking ahead, the holiday season is traditionally associated with wonderful desserts and sweets of all kinds. Can you give our readers a preview of what they can expect at the Walt Disney World Swan and Dolphin?
[The holiday desserts] are usually something traditional with a twist for Thanksgiving and Christmas. [The pastry chefs] also put up the display in the Swan lobby and we have very large chocolate pieces — Santa Claus, a Christmas tree, a fireplace, a train and a nutcracker. We decorate with gingerbread houses everywhere, in the restaurants, to get in the Christmas spirit.
For now, guests can sample Branlard's desserts at the Food & Wine Classic, which begins at 5:30 tonight and Saturday and goes until 9 p.m. Wristbands, which allow unlimited food and beverage tastings on the causeway, are about $80. Guests also can choose to purchase a la carte tickets as $2 apiece; most items take two to six tickets each. The Food & Wine Classic also is offering one-hour beverage seminars, plus a new pasta class, beginning at 4:30 p.m. The cost of those is $60 per person.
The Food & Wine Classic will feature plenty of alluring samples of main-course selections, and different wine and beer pairings, too. But the desserts alone just might be the sweetest part of this delicious event.