When you enter Adventureland from the Hub in Walt Disney World, you are greeted by native drums and lush vegetation. You know you are going to have to be careful. Yet, you still sign up to be a crew member on a Jungle Cruise. It is not until just before boarding your first boat do you find out the crew mess menu. I sure hope you like chicken! It's a long three week or month or year expedition depending on who's your skipper. Bon Voyage!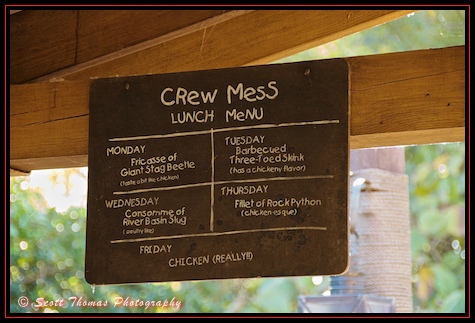 Crew Mess Menu. Hope you like chicken.
Nikon D700/28-300VR, 1/60s, f/5.6, ISO 1100, EV +0.3, 112mm focal length.
Lisa will be here on Thursday to share her Disney Pic of the Week in Adventureland.