Very soon, Linda and I will be on a plane to Scotland! We have never been and we are both quite excited about the adventure. Having done a few Adventure by Disney s (ABDs) in the past, we know it will be an awesome time.
This is an AllEars Group Adventures by Disney and we are excited to share the experience with our friends – new and old.
Scotland has been on Linda's bucket list and she hopes to golf and drink some great Scotch. Me, I'm just hoping with my limited palate and food allergies, I'll have plenty to eat. Never fear, I am bring a few boxes of my favorite meal bar with me.
To make life easier, we are staying at the Balmoral hotel, the same one we will stay at when the ABD begins. We have no specific plans for our pre-stay other than to get used to the time change and relax. Those AbD guides keep you hopping!
As long as we have internet service we plan to keep you updated on our Adventure! You don't need your own Twitter or Instagram account to follow us. Your internet browser will take you to our updates.
Deb's Twitter Account: https://twitter.com/AllEarsDeb
All Ears Twitter Account: https://twitter.com/allearsnet
All Ears Instagram Account: http://instagram.com/allearsnet
Deb's Instagram Account: http://instagram.com/allearsdeb
Here's a look at our itinerary.
This 9 day/8 night adventure begins and ends in Edinburgh with visits to Inverness, Isle of Skye and Isle of Lewis.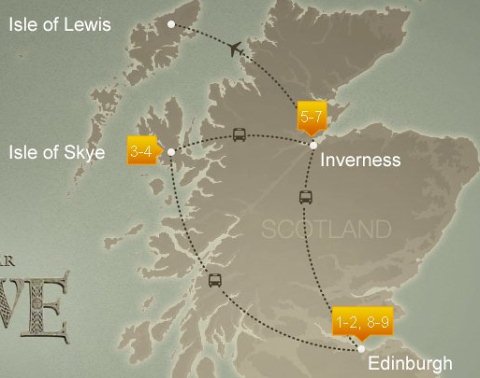 Highlights include a private tour and dinner in Edinburgh Castle, checking out the Loch Ness center and flying to the Isle of Lewis to see the Callanish Standing Stones (like you saw in Brave!). We will be making scones, tasting whiskey, horseback riding and maybe even some Celtic dancing!.
So, please follow our Adventure with us!
FIRST-HAND REPORTS ABOUT ADVENTURES BY DISNEY
Read all about my Southwest Splendors Adventure by Disney!

Here's my trip report from the Backstage Magic Adventure!
Beci shared her Adventure by Disney to Ireland!

Erin enjoyed the Costa Rica Adventures with her family!