How was your trip?, my co-workers asked me repeatedly on Tuesday. My responses varied from "Eh" to "Not so good" to "I'll write up my trip report blog and hand out copies. It's a long story."
Before I jump into the actual trip, let me back up by telling you what they already know. I booked my flights and made the decision to visit Walt Disney World on May 15th. As I was booking, one flight sold out of the lowest fare. It cost me an additional $48 plus tax. Buying plane tickets before asking for Friday off was a gamble and my vacation day request was denied. The next day, I prevailed by getting a part-time employee in my department to cover for me. My friend and travel agent John Ames provided hotel costs for both on and off property resorts. Since my plan was to spend 24 hours at Magic Kingdom on Friday, I only booked rooms for Thursday and Saturday. The first night was a tolerable price but Saturday's price tag for a value resort was ridonkulous (however the hipsters spell it). Hey, Mickey! I need to take out a loan.
On Thursday, Southwest repeatedly called my cell phone with departure time changes. I think they called 3 or 4 times going back and forth. In the end, we left T.F. Greene an hour late which meant one less hour of sleep.
It should also be known that I ordered 4 memory cards, batteries and a new charger for the trip to be delivered on Wednesday. They didn't arrive. Tracking showed that they left the warehouse on Monday. The end. After some nudging, I got the Amazon customer service rep to re-ship my items via overnight mail. In order for me to get the package, I had to leave work an hour early (unhappy manager) and run home before driving to the airport. Guess what? No package. UPS' website said it would deliver by 3 PM. At 4:45 PM I was still without my purchase, angry, and yelling. Off to the airport I went with 2 stops to try and find a compact flash card. Thankfully I found Staples near the airport parking lot.
You're up to speed with my fellow co-workers so everyone pay attention because I'm only going to say all of this once.
I checked into All-Star Sports around 1:20 AM on Friday. I went to bed and woke up at 5 AM, packed my survival kit bag which included a complete wardrobe change, toiletries, snacks, and, glow sticks. Passing by the pool bar, I grooved to the theme song from The Endless Summer thinking this is a great way to start my day. My luggage was gently tossed into the rental car trunk and a Disney bus drove me to Magic Kingdom. At 6:40 AM I was in the surprisingly empty park. The weather was humid but not hot, about 72 degrees with lots of clouds. Prior to the AllEars.Net meet at 9 o'clock, I enjoyed Enchanted Tales with Belle (funniest guard ever), Journey of the Little Mermaid (the queue is longer than Rapunzel's hair), Many Adventures of Winnie the Pooh ( stopped, lights came on, lights went off, ride continued), Dumbo (single-handed operation), and Barnstormer with the Great Goofini (insert Goofy screaming).
At the meet I got dizzy. I was thirsty and drank water bottle after water bottle and was starving so I picked up fruit cup and oatmeal. Sleep-deprivation, I figured as much. My plan was not to worry about how many hours were left in the all-nighter but rather to focus on how I felt at the moment. After seeing and talking with my teamsters (Gloria, Koma, and Deb) I headed into Adventureland and stared at Aladdin. Then I climbed the many steps of Swiss Family Treehouse, talked to a Cast Member in the shops, admired Aladdin some more, and then tried to nap in The Enchanted Tiki Room.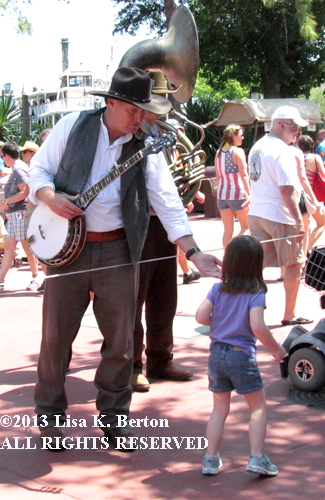 The Notorious Banjo Brothers and Bob entertained crowds awaiting the parade.
I lined up for the parade, took photos of the Monsters University pre-parade parade (that's intentional), bopped into more stores, bought a Vitamin Water and Rice Krispie bar then sat in to watch the Country Bear Jamboree. Not feeling so good, I dragged myself to First Aid for air conditioning and a place to sit. I'm not sure if the woman I spoke to in the waiting area was a nurse but I told her I was hot but cold rushes were going through me. She said I was behind on my fluids. Okay. While sitting there I knew there was no way I'd make it through the full 24 hours or even 12 hours. Recognizing defeat and listening to my body, I called John (Mouse Fan Travel) and he found me a room at Ramada Gateway.

Stars of the silver screen, Sully and Mike. That's Mike with one eye!
I shuffled down Main Street USA to the Emporium and bought the event T-shirt. I checked in early at Tony's Town Square and had a nice made-to-order lunch of pasta, chicken, and mixed veggies. Unsure of when I'd return, I took out my bag from the locker, made my way to the bus stop and headed back to All-Star Sports. Did you catch my error? I forgot to return the key to the locker. That boo-boo cost me $12.00. It was a short drive to the hotel where the nice fella at the front desk upgraded me to a deluxe room. Unfortunately, the TV was broken, something I found out late that night. They don't have maintenance workers on site so a security guard tried to figure out the problem. We decided the physical cable might have been the culprit. No TV for Lisa.

24 hours? I can't do it. Stop pressuring me. Dang cupcake bullies.
I slept for 3 1/2 hours. When I awoke I felt better so I took a quick shower, dressed and headed back to the Magic Kingdom…until I saw the sign. Magic Kingdom Lot Full, Park at Epcot. Uh oh. Epcot had just closed to non-resort guests and the line for the monorail stretched all the way back to the turnstyles. There was no way I was going to wait in line so I wandered around Epcot, had dinner at Yorkshire County Fish Shop, and started feeling sick again. I quit. Dehydration and lack of sleep got the better of me. At Mouse Gears I had a nice long chat with a Cast Member about a variety of topics and retreated back to my TV-less hotel room for the night.

Dinner at Tony's Town Square. Yes, the stick says allergy. That's my arch enemy taunting me, pepper.
I'll finish the saga next week.
Come on over and "Like" my Facebook; page or follow me on Twitter, my handle is lisano1.