One of my family's favorite displays at the Epcot International Flower & Garden Festival is the Pixie Hollow Garden. Sure, the topiaries of Tinker Bell and her fellow fairies are amazing, but what we really like to study are the miniature fairy houses.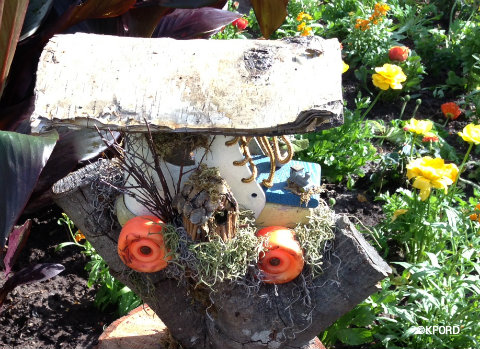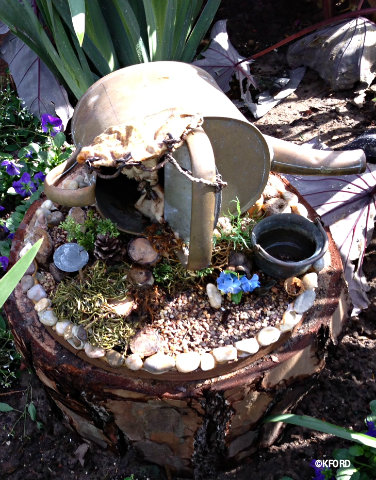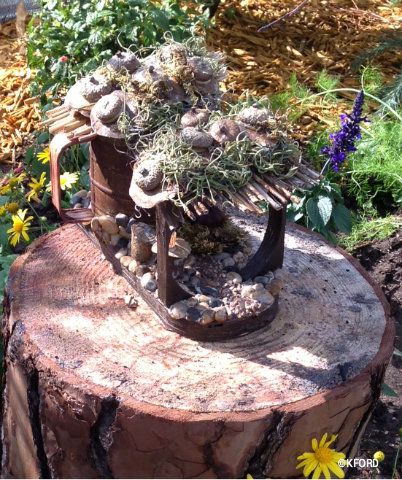 Near each topiary is a representation of what that fairy's house would be like. The tiny dwellings are imaginative in their use of everyday household items. One of the most memorable uses a roller skate as its base. Other miniature model homes that have been displayed for multiple years feature water cans and teapots. A Disney landscape artist said they use these objects because they help illustrate the size of fairies.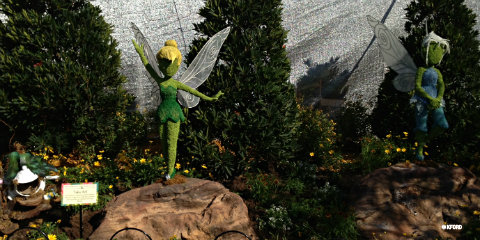 The Epcot horticulture team has been creating these shelters since 2009, and there are some new fairy houses each year. That's largely because Pixie Hollow Garden has grown each year with annual direct-to-DVD Tinker Bell movies that feature new characters. This year, however, is the first since 2008 that a new Tinker Bell movie will not hit the shelves. ("Quest for the Queen" is expected in Spring 2014.) So, the theming highlights Tinker Bell and her long lost sister, Periwinkle, who was revealed in "Secret of the Wings" in October 2012. In fact, their topiaries are the focal point at the entrance to this year's garden.
Last year, Pixie Hollow Garden offered a special Winter Woods section that was made to recall the hues of snow and ice with beds of blue and white flowers. In years past, the garden contained a play structure for younger kids. This year, however, the play structure has been separated from the fairies; it still remains near the Test Track Walkway but has been re-imagined as a Radiator Springs outdoor area. The fairies have moved into the Butterfly House, which is located on the opposite side of the park. (Take a photo tour of the lifelike topiaries and even more images of the tiny houses in the AllEars.Net gallery.)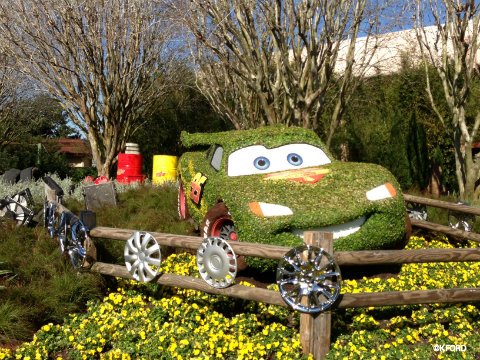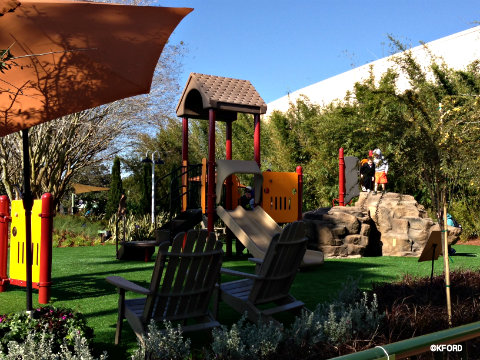 Like other aspects of the Epcot International Flower & Garden Festival, the fairy houses can be replicated at home. Disney's April issue of "Family Fun" magazine shows readers how to create a miniature house, called a Toad Abode, with very little construction involved. The editors suggest buying a small birdhouse and placing it in a shallow plastic plant saucer with small flowers and moss that are appropriate for your area of the country. (Be sure to drill drainage holes in the saucer beforehand.) Then, accessorize with doll furniture, small toys or craft-store items, such as a miniature fence.
Finally, wait for the fairies to move in. Though you're not likely to see them, you'll be alerted to their presence when things have been moved around in the saucer.
RELATED LINKS:
** Kids tour Epcot Flower & Garden Show TRYit food booths

** My Yard Goes Disney' host Brandon Johnson takes guests behind the scenes of backyard makeovers at Epcot International Flower & Garden Festival
** Check out our extensive Epcot Flower and Garden Festival Information!