I like to recheck Hidden Mickeys at times, to make certain they're still present and visible! I visited Blizzard Beach and Typhoon Lagoon to enjoy the atmosphere of the Water Parks and to look for Hidden Mickeys. To spot the terrific Mickey rock image at Blizzard Beach, hop onto the Chairlift (use the Single Rider queue for a shorter wait) and look straight down to the ground under the right side of your lift seat just past support pole #4.

This standing image at the end of Teamboat Springs (the "World's longest family raft ride" to quote the park map) at Blizzard Beach is not Hidden, it's a decorative (decor) Mickey.

Over at Typhoon Lagoon, some of the walkways are lined with logs on end. In several places around the park, the log ends form classic Mickeys, like this image on the left of the walkway near the top of the long stair climb to Humunga Kowabunga.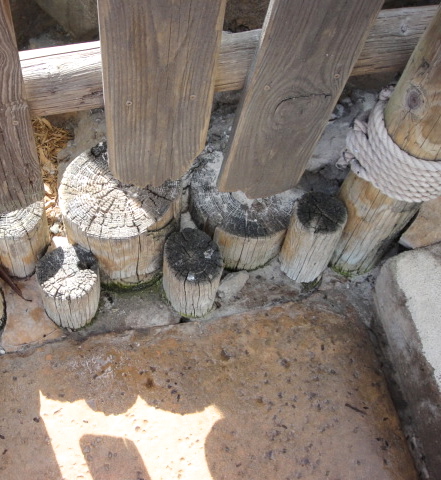 The classic Mickey hole in the rock wall is still there in the walk-through cave at the rear of Ketchakiddee Creek!

Along the path to Crush 'n' Gusher, I spotted this sign with information about bananas. I might try this technique, as the banana strands are sometimes annoying!