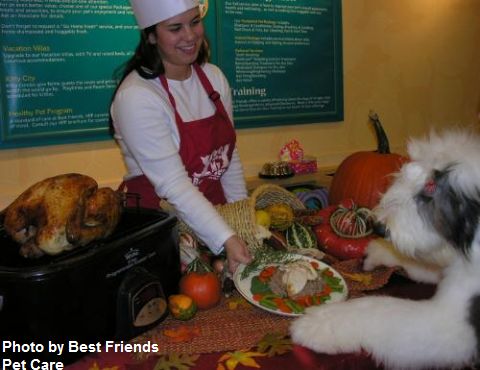 NORWALK, Conn., Nov. 17, 2011 /PRNewswire/ — Chef Penny slices some turkey, places it on a fancy plate, adds some trimmings, and serves it to Henry and Eloise, two of her eager holiday guests. Henry's ears promptly fall into his plate while Eloise dives face first into her meal.
Not your usual Thanksgiving vignette, but this is no ordinary Thanksgiving dinner: Henry is a Basset Hound, Eloise is an Old English Sheepdog and this feast was specially prepared for four-legged guests boarding at Best Friends Pet Care (www.bestfriendspetcare.com).
For the fifth year, each of Best Friends 42 U.S. locations will host a special feast on Thanksgiving Day for family pets boarding over the holiday. The meal will feature freshly roasted slices of turkey atop turkey-and-rice dog food, trimmed with green beans and carrots. There's a sweet potato biscuit for dessert.
"Pets are family members," explains Renee Coughlin, VP of Marketing for Best Friends Pet Care. "If they were at home on Thanksgiving, they'd be sharing the holiday feast with their families. So, we decided that the dogs staying with us over the holiday should be able to celebrate with a special meal."
The holiday fun kicks off Wednesday morning during drop-off, when clients arriving with their pets are greeted by the aroma of turkey slow-roasting in the lobby. Best Friends staffers don chef's hats and leave no detail unattended as their special guests arrive. A few lucky dogs even get to taste test the meal that will be served on Thursday.
In the holiday spirit of sharing, boarders at Best Friends aren't the only ones included in the Thanksgiving celebration. Each Best Friends location donates holiday meals to a local animal shelter so that homeless pets have the chance to enjoy a special treat, too.