On May 13, 2010, AllEars® began publishing special Trading Cards. These unique cards are not for sale and may only be obtained directly from an AllEars® Team Member or by trading with other Disney fans.
These two-sided high-gloss cards measure 2 3/4″ by 3 1/4″ and feature different aspects of our favorite vacation destinations. Special Series trading cards include the Fan Meets, Photography, Transportation, Animals, Holidays and more to be announced. You can learn more about the trading cards on our website.
More than 39 cards have currently been released and more cards will be released throughout the year.
Our 2 newest cards debut today, September 30th, at the AllEars Meet and Greet at the Walt Disney World Dolphin's Picabu eatery!
We will also be handing out previously released cards honoring early Walt Disney World attractions as well as Halloween!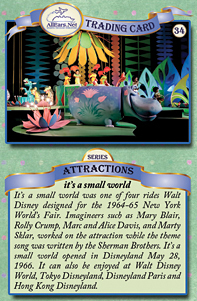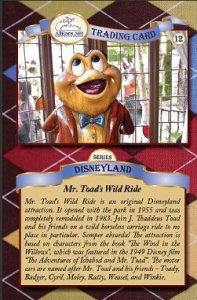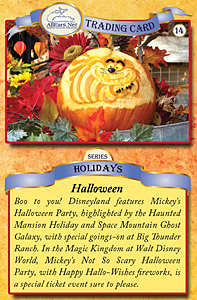 Be sure to get one of our AllEars® 15th Anniversary Celebration trading cards too!
Both Deb Koma and Jack Marshall are in town this weekend and they have their own brand new trading cards too! Be sure to ask them for one!
Cards are not available through the mail. although a limited number of card may be offered as part of a charity auction from time to time.