If someone was sitting in a shaking tram while flames burst out of an oil truck and a massive flash flood rushed towards them, what camera setting would you use? The answer is image stabilization or IS for short. Believe or not, millions of folks just like you have found themselves in this exact predicament. How? Why? What? Parlez vous francais? The how of it is, they climbed aboard the Backlot Tour tram at Disney's Hollywood Studios. It's not for certain why other than the tour promised a behind-the-scenes look at how movies are made. What it turned out to be…well…unsteady is a good word. Oui. Boulangerie Paitisserie. Serveur Amusant. Remy.
To better prepare you for such a situation I put myself in the previously mentioned position of riding the Backlot Tour tram. My camera of choice was a Canon PowerShot SX100 IS. Under the Menu's various image stabilizing options I went back and forth from Shoot Only and Continuous, The difference being that Continuous is always locking down on the focus and Shoot Only steps in when you depress the shutter release button. More often than not, Shoot Only produces a sharper image. Aside from these setttings, the camera was dialed to Auto.
Once the tram rolled into place, I aimed the lens and locked my elbows for better physical control. The sun was coming from just behind the wall of fake rock walls in just the right position to create lens flare. While it does look cool, the camera's sensor is fooled and sets the wrong exposure.
I shifted in my seat and avoided most of the sunlight aimed directly into the camera lens by zooming in a tad. Compared to the photo above, the exposure is better by far. Things were starting to move, pop, and catch on fire. At this point the camera was set to Continuous stabilization.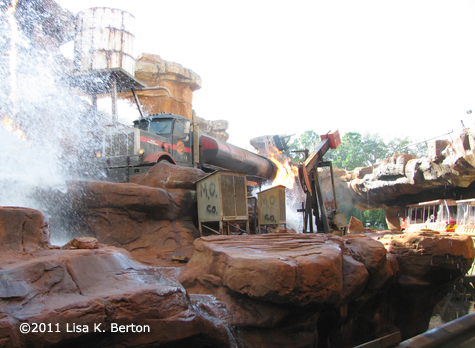 Switching over to Shoot Only for image stabilization created a sharper image. Lifting the license plate from the truck, you can see what an excellent job my point and shoot camera did.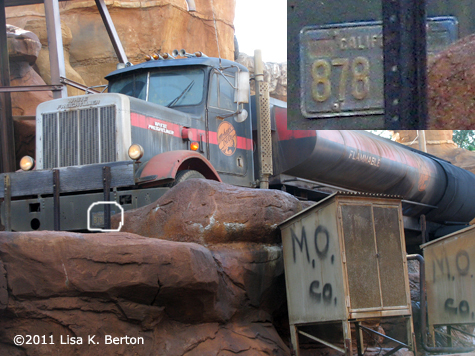 Sitting in a rear car gives you an excellent perspective of the entire scene. Knowing what's to come, once again I braced myself and focused, keeping the stabilizer set to Shoot Only. The image is pretty clear and once the water comes charging, all I'll need to do is hit the shutter button.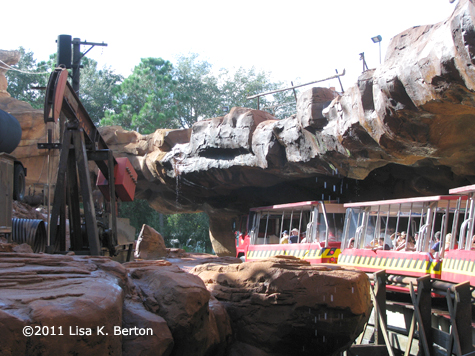 Here it is.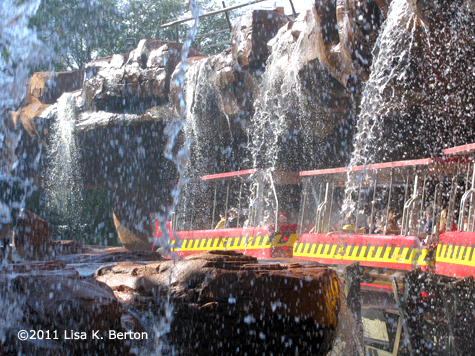 One last setup. Just like the images used in advertising, I was going for a reaction of those unaware tourists sitting in front of me. Having people in photos makes a big difference. It would have made a bigger difference had this gentleman reacted somehow. Asi es la vida.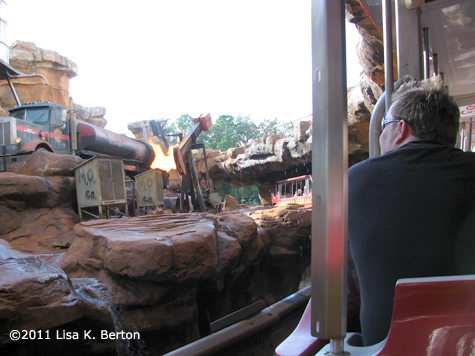 For sure, the devastatingly powerful thurst of water would cause great reaction from Guests.
Alas, I was wrong. One other thing I should have thought of ahead of time was to use the fill flash for this shot. It's actually a smidge underexposed because the camera saw blue sky and white water. thinking it was brightly lit.
Consider yourselves warned. If you dare to take the tour, have your cameras ready and sit on the left side. For better reaction shots, have your family and friends sit in the row ahead of you. Oh, and keep your fingers out of the water. There may be sharks.
"Like" my professional Facebook page for updates on my freelance writing and photography. Ya never know what I might spill.